The Best Women's Backpacking Packs
Women need packs that are just as capable as men's—and they need them to fit right. Here are the best, most comfortable performers for all-around backpacking.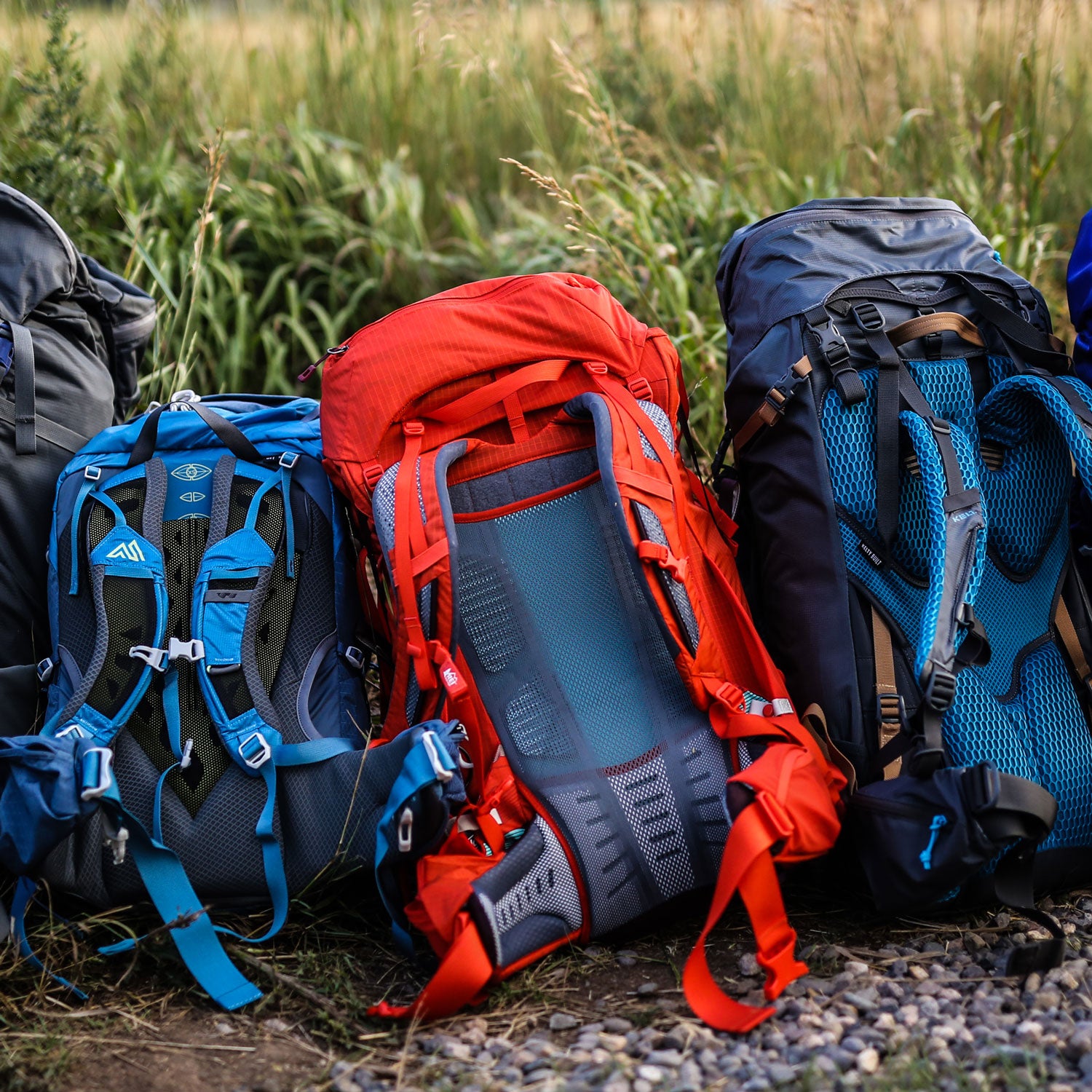 Heading out the door? Read this article on the new Outside+ app available now on iOS devices for members! Download the app.
Most hikers need a middle-ground backpack, one in the 40-to-60-liter range that can manage loads for one- to five-day trips. For this test, we looked at 18 leading packs, some slightly smaller and some larger, and have written about nine, below. The Osprey Ariel AG 55 stood out as the best women-specific pack in that category. It makes 35-pound loads feel more like 25 and accommodates a broad variety of body shapes and sizes.
Our Favorite Backpacking Pack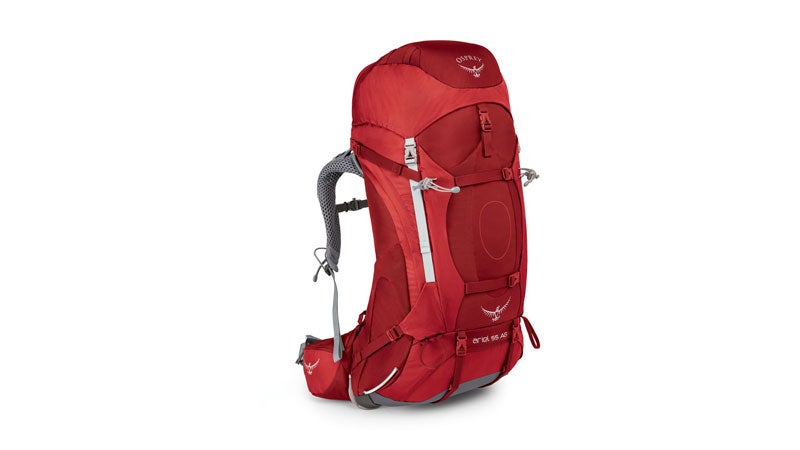 Osprey Ariel AG 55 ($290)
The Osprey Ariel AG 55 won our backpack test, even though, at four pounds 14 ounces in size small, it's one to two pounds heavier than other packs in the test. The Ariel is a feature-rich, versatile pack that presents a case study in how a sturdy, weight-bearing suspension design is often more comfortable than a design that shaves ounces by way of flimsier built-in support. Weight isn't everything.
The Ariel has a mostly mesh back-panel fabric that extends into the hipbelt. The whole unit is supported by a metal beam that wraps around the pack's periphery, creating a continuity between the back panel and hipbelt. With most packs, the hipbelt is either stitched to the lumbar pad (as it is on the models from Deuter and REI that I recommend below) or fed through a sleeve behind the back panel (as with the Kelty Reva, my choice for shorter weekend trips). In practice, the Ariel AG 55's continuous build made the test's 35-pound load feel significantly lighter—more like 25 pounds. The difference was so dramatic, I kept wondering if the Ariel had been stuffed with lighter gear. Of course it hadn't, as I used the same amount of weight for every pack in the test.
Even when I carried a heavy load of water on a recent backpacking trip to Canyonlands National Park, the Ariel didn't feel overloaded. That trip involved lots of shimmying and scrambling across uneven rock slabs and ledges, plus off-trail maneuvers. Nor did jamming 50 pounds into the pack feel punishing to my body, which is a lot of weight relative to my 115-pound frame.
The Ariel accommodated a variety of breast sizes, accomplished with shoulder straps that curve higher into the armpit, rather than around the mid-torso. That design made me worried about underarm chafing, but no testers reported any problems. The hipbelt is heat-moldable, and Osprey retailers have an oven that will warm up the belt for a custom fit, which is a nice insurance policy, though I found the stock hipbelt to fit well. It was, however, too short for hippier gals: one tester with 41.5-inch hips discovered that the belt stopped short of wrapping around her pelvis. The Ariel's interchangeable hipbelt and/or harness should mitigate that issue, allowing buyers to put a small or medium hipbelt on an extra-small pack.
Some of the Ariel's extra weight comes from an abundance of features, and the number of straps, attachments, and conversion options may make it too fussy and cluttered for hikers who prefer a more streamlined design. (Those shoppers should consider the REI Flash 45 or Deuter ACT Lite 35+10 SL.) There are pockets on the hipbelt; there's a way to lash your trekking poles onto the pack without taking it off (it works! it's slick!); the adjustable harness lets you fine-tune the strap height to fit your torso length; a long side zipper provides additional access to the pack's contents. The detachable lid contains a deployable daypack that's more comfortable than most, though hikers who really value the blitz-pack option should consider the Mystery Ranch Stein, below. All these options increase this pack's versatility: it's convenient for hikes that combine trail and road walks, as well as trips that have you bagging summits from a central base camp.
The Ariel isn't perfect. At $290 it's relatively expensive, and hikers who don't care for hydration bladders won't like that it has no water-bottle holsters. Long-distance hikers who are prepared to keep pack loads low would be better served by a trimmer, lighter backpack, like REI's Flash 45. But for the majority of female backpackers, this is the pack I recommend.
---
The Best Affordable Backpacking Pack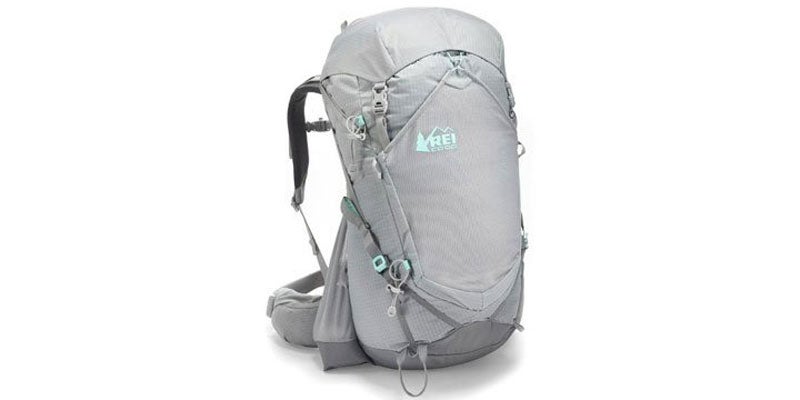 REI Co-op Women's Flash 45 ($149)
Given its two pound 11-ounce weight and low price, our expectations for comfort were low with the Flash 45. But it more than ably supported the test's 35-pound load, even when I pushed it off-trail and into steep, scrambling terrain. That is a function of what REI calls its "UpLift" compression straps, which keep the bag's mass from drooping below the hips, cinching it to the rigid internal frame. The straps markedly improved the load's comfort and stability.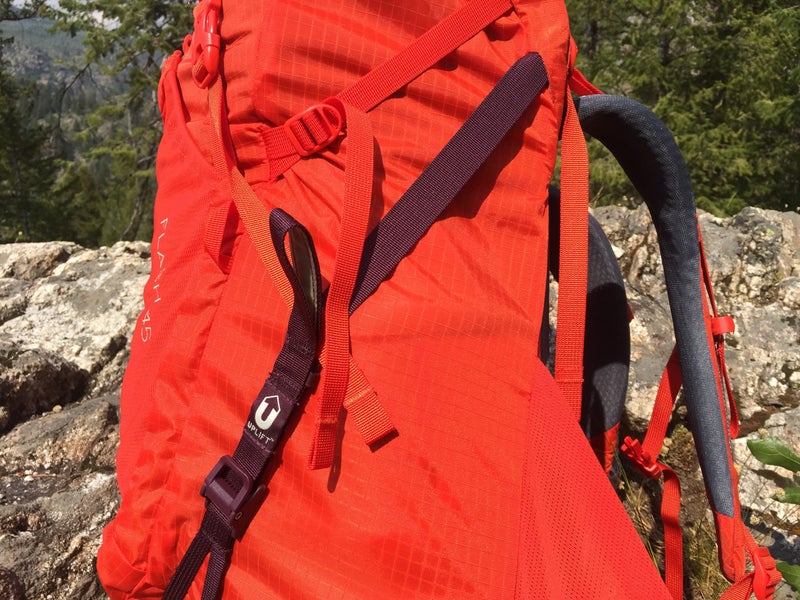 That comfort, with its price and weight, are what sold me on the Flash 45, since there aren't a ton of other features to speak of, or even pockets: just two well-placed hipbelt pockets, two water-bottle pockets, and a big stretchy pouch on the pack body that holds a jacket or a soaked rain fly. The water-bottle pockets are truly functional, letting me withdraw and replace a bottle without having to remove the pack. An adjustable harness customizes the pack's torso length.
The shoulder straps accommodate both large and small breasts, and the hipbelt has a deep groove that conformed to my hip bones, making the Flash 45 more comfortable than most of the packs I tested, including the Kelty. Consequently, the belt didn't slide down as the miles ticked past, as happened on other packs. But it's not a great option for broad-hipped hikers: the hipbelt is not interchangeable, and one tester with 41.5-inch hips found that the belt stopped short of reaching her pelvic bones.
Despite the Flash's excellent load support, its fabric felt scratchy and slightly abrasive, a problem if you wear tank tops or broad-necked shirts. (In that case, you'd be happier with the Deuter.) It also feels rather blocky and planklike, so hikers who prefer a more supple, movement-facilitating fit might consider the Kelty Reva, below. And while the Flash 45 had no problem with the test's 35-pound load, it won't make 35 pounds feel like 25; for that, you'll have to shell out for the Osprey. But for $149, you'd be hard-pressed to find a better built or more comfortable pack.
---
Best for Short Overnight Trips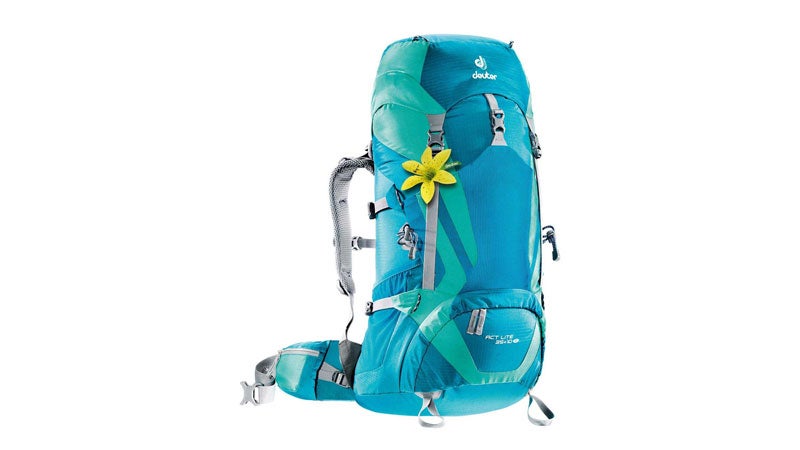 Deuter ACT Lite 35+10 SL ($179)
Two features make the three-pound-eight-ounce Deuter ACT Lite 35+10 a versatile pack and won it inclusion on this list. First is a collar that acts like the expansion zipper you'd find on a roller-bag suitcase: stand up the collar, and you've got a 45-liter pack, but when you tuck it inside and cinch the top, it's just 35 liters. In the smaller configuration, it works well for a quick overnight trip, and with the collar expanded it can pull duty as a no-frills weekend pack.
Second, the height-adjustable harness accommodates a wide range of bodies, including really short people—the shortest torso setting even fit my 10-year-old neighbor—and it would be an ideal choice for growing teens as well as adult women. All the testers who tried this pack loved it. From slender to wide and straight to curvy, all said it felt unobtrusive. If you're shopping online and can't try on the pack in person, the ACT Lite is likely to feel comfy no matter your shape. Elsewhere, the ACT Lite has a stiff, beefy (noninterchangeable) hipbelt and a back panel that uses two mesh-wrapped foam panels that extend up from the lumbar in a V. As a result, it doesn't cover your entire back, leaving a lot of your back feeling free. Similarly, the suspension incorporates two crossed metal stays (rather than a metal wire around the pack's perimeter), and the resulting X shape allowed for a bit of twist as I strode and kept the ACT Lite from feeling blocky even while it ably supported the 35-pound test load.
---
Also Great for Weekend Trips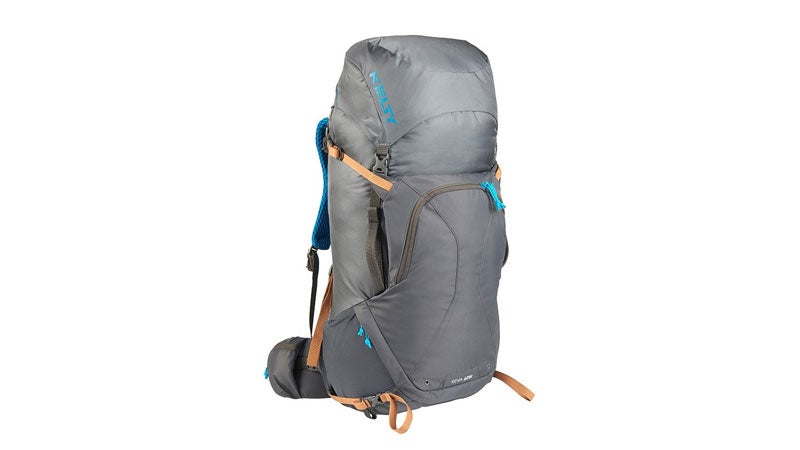 Kelty Reva 60 ($220)
There are things I don't love about this pack: adjusting the height of the shoulder straps is futzy; the U-shaped zipper on the sleeping-bag compartment makes it hard to keep contents from spilling out into the mud; the hipbelt isn't long enough to wrap around curvy figures (I'm a 37-inch hip, and it barely reaches my hip bones). On some testers, the space between the shoulder straps was too narrow, so the straps rubbed against their necks.[/photo]
Despite all that, if this pack fits you, it'll wow you with its non-blocky feel. Whereas some packs feel like wooden planks strapped to your back, this one moves with you, allowing your hips their natural tilt and flexing just enough to let you hike, bend, and twist without feeling like a turtle.
Instead of stitching the hipbelt to the back panel, Kelty feeds it behind the lumbar pad and allows it a few millimeters of movement, as if each wing of the hipbelt were a playground teeter-totter. It's not enough slippage to compromise load support—the Reva is four pounds and kept the 35-pound test load from feeling anvil-heavy—but it's just enough to give the pack a natural feel when you walk. That really upped its on-trail comfort. And when I took it off for breaks, I didn't feel like Han Solo released at long last from his prison of carbonite.
More props: all testers praised its boob accommodation. The water-bottle pockets let me grab a drink without major contortions. The huge exterior pouch holds a wet rain fly, river shoes, and jacket—all at once. And the way the top cinches shut is particularly clever: a little thumb of fabric extends over the center hole, preventing rain from dripping inside when you open the lid.
---
The Best Backpacking Pack for Long Trips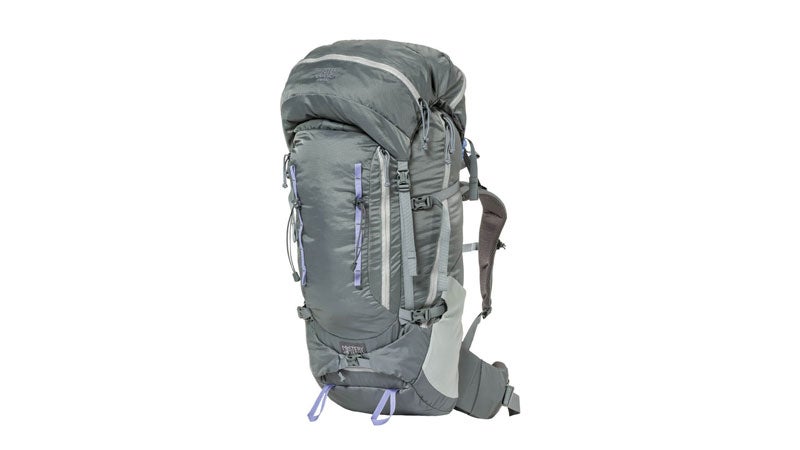 Mystery Ranch Women's Stein 62 ($299)
Owing in large part to its marvelous hipbelt, the Stein 62 is excellent with heavy loads. It is cushioned but not sloppy—thick, squishy hipbelts sometimes droop under big loads, instead of supporting them—and I never felt and of the hot spots or pressure points I've come to expect when I'm carrying a bigger load. Plus, the stock hipbelt can be swapped out for a different size, so women who are tall but thin (and need a smaller belt) or short but curvy (and need a longer belt than the XS or S might offer) can tailor the Stein to suit.
Packs of this capacity should be capable of hauling 35 pounds with ease, and the Stein does. Since it's meant to carry big loads, I heaped it with 50 pounds' worth of gear on a kids-included backpacking trip in Colorado's Mount Zirkel Wilderness, and it remained comfy and stable.
I also loved the detachable lid, which converts into a truly awesome daypack. The typical daypack conversion is little more than a flimsy shopping bag that feels bouncy and awkward throughout your summit bid. But the Stein mates the lid to the harness (rather than a few strips of nylon webbing) so it's comfy and stable. Hikers who like to establish a base camp amid a bunch of summit objectives should look hard at the Stein.
There are a few downsides. I couldn't get my water bottle back into its pocket without help. Storage for a hydration bladder is in the lid, which is practical from the standpoint of refilling (bladders stored along the back panel can be hard to refill unless you empty your pack) but having water slosh behind my head was annoying.
Nor will the Stein offer quite enough capacity for cold-weather trips, or ones lasting longer than a week without resupply. And this year's Stein only fits women taller than five foot three. (Mystery Ranch says it's devising a solution for 2019 models that would fit hikers as short as four foot eleven). So if you're short and need a pack now, or if you want the largest possible volume, go with the Gregory Deva, which is offered in 70-liter ($320) and 80-liter ($350) versions. I've carried the Deva 70 on several long backpacking trips and can vouch for its comfort. But at four pounds seven ounces (in my test size of extra small), the Stein is lighter than the Deva, which is five pounds in size small, and it's more comfortable.
4 More Packs that Stand Out (but Didn't Make Our Final List)
Need max capacity? The Gregory Deva 70 ($320) is the biggest, most comfortable women's pack on the market. Hikers who travel fast-and-light, and a few who often carry heavy climbing equipment to their local crag, loved the Gregory Maven 35 ($160). It's great for overnights or dense, weighty loads. The Mountainsmith Apex 60 WSD ($200) is heavier than most but could be a good choice for hikers who need greater capacity than the Osprey's and can't get a good fit with the Kelty.
Testers liked the fit of Thule's Capstone 50L ($200), which can be adjusted on the go while on your back, as well as its confidence-inspiring thick nylon fabrics and quality zippers. There's also an option to attach a camera holster (sold separately for $30) to keep a DSLR at the ready.
How We Picked the Best Backpacking Pack
I've used a lot of packs over the years. As a through-hiker on the Appalachian Trail, I geeked out about ultralight everything and spent months experimenting with pack-loading principles to find the best, comfiest way to organize my gear. I've also spent the past decade reviewing outdoor gear, and so I've hiked all over the U.S. and the world testing backpacks and assorted adventure equipment.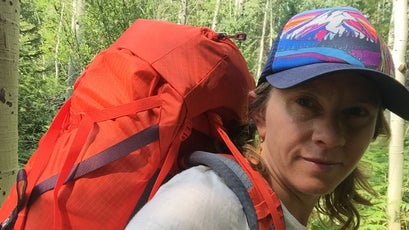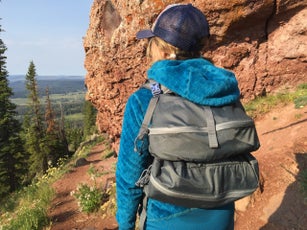 For this test, I conducted a side-by-side evaluation of 18 of the market's top all-around backpacks—not the niche ultralight models preferred by fastpackers and long-distance through-hikers, but the do-everything packs that suit most hikers, most of the time. Samples circulated among eight testers representing a wide variety of body shapes to find out the packs' fit limitations, and we tested the packs on trips ranging from one to five nights. I also consulted trail builders, backpack designers, and outdoor instructors, all women.
A product description can't tell you whether a backpack accommodates wide hips or whether its suspension design is more comfortable than comparable options—only field-testing can do that. So I loaded up actual backpacks and took them out onto the trail.
After poring over product info and polling experienced backpack users to determine the best candidates currently on the market, I called in a fleet of packs and conducted a side-by-side test. Each backpack was evaluated using the same 35-pound load of overnight gear: sleeping bag and pad, tent, cooking kit, food, clothes, and accessories; then carried it for at least five continuous miles. I also tested each pack independently, using a load appropriate for its intended use.
And, because body type can influence how a pack fits and feels, I recruited a panel of female fit-testers to round out my evaluation. Some had extra-broad hips, and breast sizes varied from A to DD, but all of the testers shared a fairly similar torso length—so that, technically, our sample packs "fit" everybody. We found that there's much more to a great fit than just matching a torso measurement.
What Should I Know Before Buying a Backpacking Pack?
When I bought my first backpack, I chose the lightest model I could find—the lighter the load, the happier I'd be, I figured. But I soon learned that low pack weight doesn't guarantee comfort. Capacity doesn't tell the whole story either: that 70-liter expedition pack I bought was overkill for the short-mileage weekend trips I was logging.
Backpacks (just like skis, and mountain bikes, and running shoes) are designed for different types of users and different trips. Ultralight packs, which weigh around two pounds for 45- to 55-liter models, are best suited for backpackers who log long-mileage days and can fill that pack with ultralight sleeping and cooking systems. Their minimal suspension generally can't support heavy loads. Nor can daypacks carry much weight; they don't have rigid framesheets, metal beams, or beefy hipbelts to help distribute heavy loads. Expedition packs combine those suspension features with an extra-large capacity for carrying weeks' worth of food and clothing.
Most hikers—those of you who go backpacking at least once a year, on trips lasting one to five nights—need a middle-ground backpack. Such models are big and sturdy enough to haul your sleeping gear, tent, and a few indulgences, like a camp chair or an espresso maker. But they won't fit all the stuff you'd need for a longer expedition; nor can they handle expedition-level weight.
Pack Weight
Lighter is better—to a point. Sometimes the extra ounces you spend on a capable suspension design and cushy hip and shoulder straps pay huge dividends in trail comfort. In other words, a four-pound pack that makes a 35-pound load feel tolerable is preferable to a three-pound pack that turns the same load into a torture device. For packs with 50-ish liters of capacity, look for backpacks weighing three to five pounds.
Volume
You'll carry the same assortment of overnight gear whether you're out for one night or five—the only difference is in the quantity of food. So even short trips require a pack capacity of at least 40 liters (50 liters gives you room to throw in an extra puffy jacket). Most weekenders need 50 to 60. Some backpackers can fit a week's worth of supplies in a 60-liter pack, but most will need more volume, especially if they're carrying cold-weather gear. Consider, too, how luxe you like to travel. If you're the type who insists on packing your mini-blowtorch for making backcountry crème brûlée, tack five to ten liters onto the above recommendations.
Carry Comfort
A backpack's suspension design plays a critical role in keeping the pack's contents from grinding down on your shoulders and hips. Padded straps help too, and so does built-in ventilation: look for air channels between the padding and mesh on the straps and back panel (all help alleviate sweat buildup).
Features and Organization
Almost all backpacking models are top-loaders, meaning you put stuff in (and take it out) from the top. But some large-capacity packs also have a zipper running along the length to help you reach items stashed anywhere inside. Pockets on the hipbelt let you access snacks or sunscreen without taking off your pack. And some backpacks have detachable lids that convert into daypacks, which are handy for short hikes from base camp.
Price
It's expensive to build backpacks that are both light and comfortable. To save money, determine whether you're willing to carry a heavier pack (materials that are strong but light tend to cost more) or sacrifice some comfort (with cheaper fabrics or a simpler suspension system).