Long-Term Review: Black Diamond Alpine Carbon Cork
The Alpine Carbon Corks aren't cheap, but they're the best collapsible poles for rugged use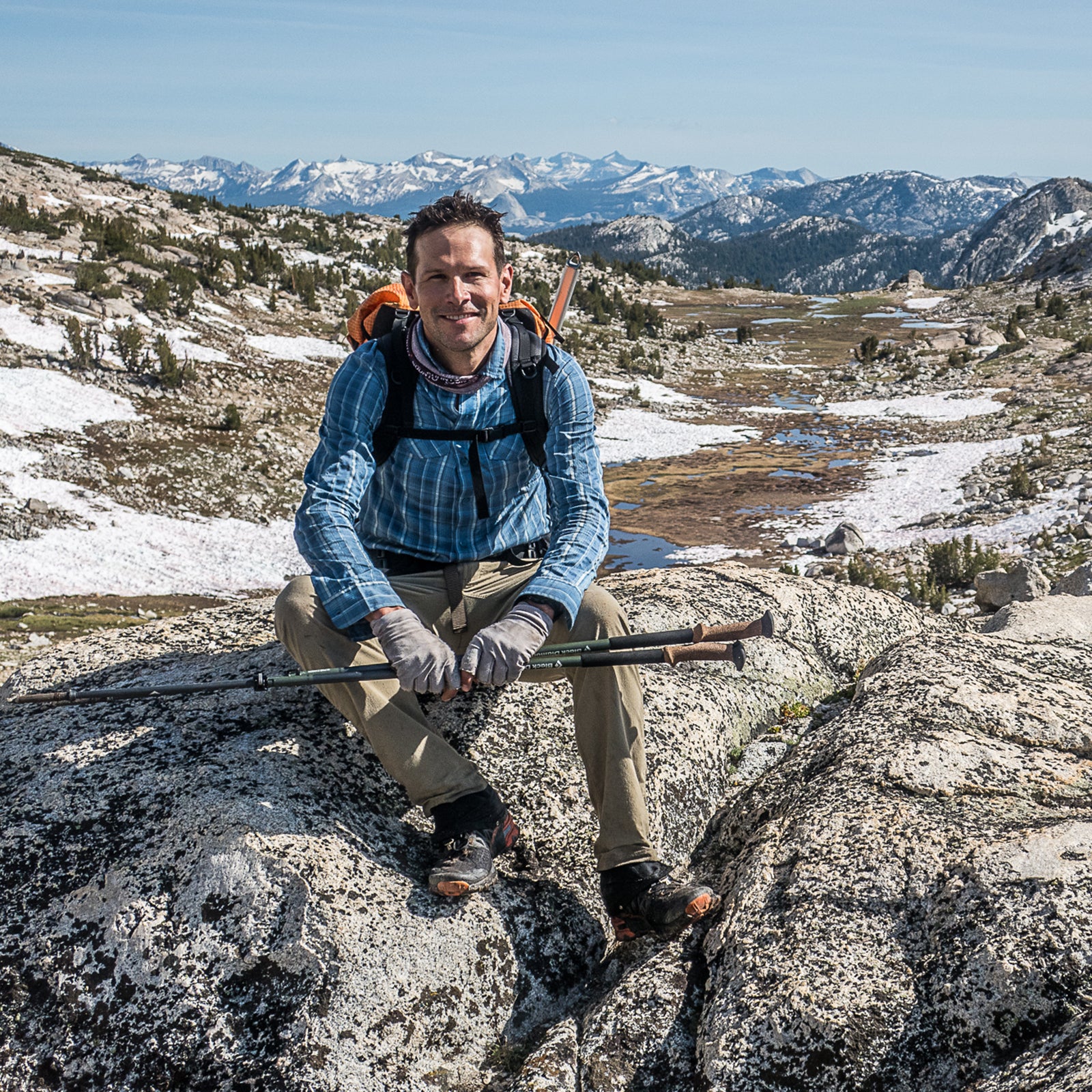 Andrew Skurka(Photo)
Heading out the door? Read this article on the new Outside+ app available now on iOS devices for members! Download the app.
In spring 2011, I purchased Black Diamond Alpine Carbon Cork poles. I used them for about 450 days over the next eight backpacking seasons. That pair wasn't dead yet, but last spring Black Diamond sent me the current model for an updated review.
Some of my use was mild—short days and on-trail—but a considerable portion was not. My original sticks probably endured more than 1,000 miles of spring snowfields, rough Utah canyons, Alaska river crossings, and endless scree.
At $180 MSRP, the Alpine Carbon Corks are among the most expensive poles on the market and will not be a trivial expense for most backpackers. But I still recommend them if you:
Can afford the best.
Will justify the expense with extended use.
Hike on extremely rugged trails or off-trail and on early season snow.
Are generally hard on your gear.
Will stress these poles with a heavy body and/or pack.
These poles have won me over with their comfortable cork grips and functional foam extension grips. The shafts are steady under load, with minimal vibration or bending. The locks do not slip, wiggle, or corrode and can be easily operated and adjusted.
If you're on a budget, don't backpack often, stay on easy trails, and/or have a petite build and tiny pack, look elsewhere. For most backpackers, I typically recommend the Cascade Mountain Tech Carbon Fiber Quick-Lock poles ($48), which offer 75 percent of the performance for less than one-third the price, or the niche Ultimate Direction FK Carbon Fiber poles ($150), which are the lightest and stiffest poles I've ever used.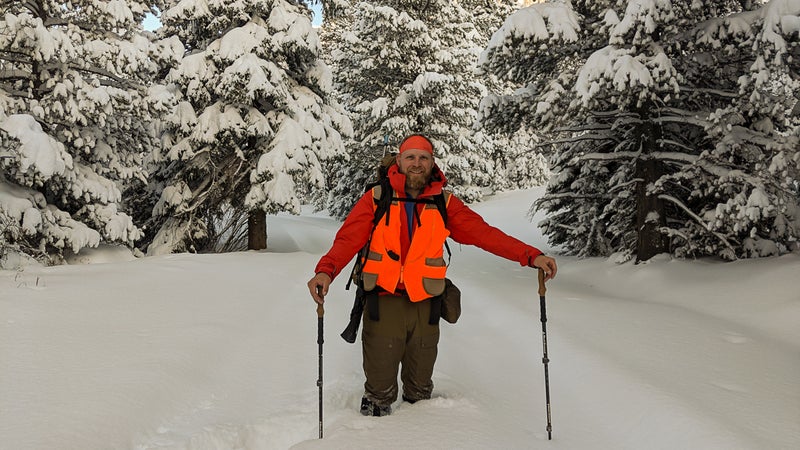 Design Changes
From 2011 to 2019, we've seen three generations of Alpine Carbon Corks. The colors, locks, and grips have changed each time, but the intended/optimal use has not. I'm uncertain if the pole shafts have ever changed—they don't feel like it, and it's difficult to discern by looking at them.
My set from 2011 is mostly black with some white. The lever-action FlickLocks are made of plastic, and the grips are the "trigger" style.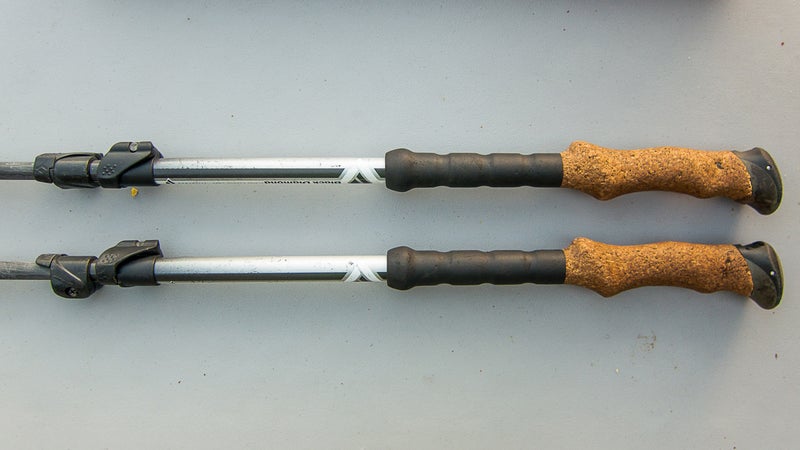 The second-generation is still available from Black Diamond, currently at $153. They're mostly white with some black. The redesigned FlickLock Pro is lower profile and made of stainless steel, but many people found them hard to use for a variety of reasons. The cork grips are straight, save for a bottom flare.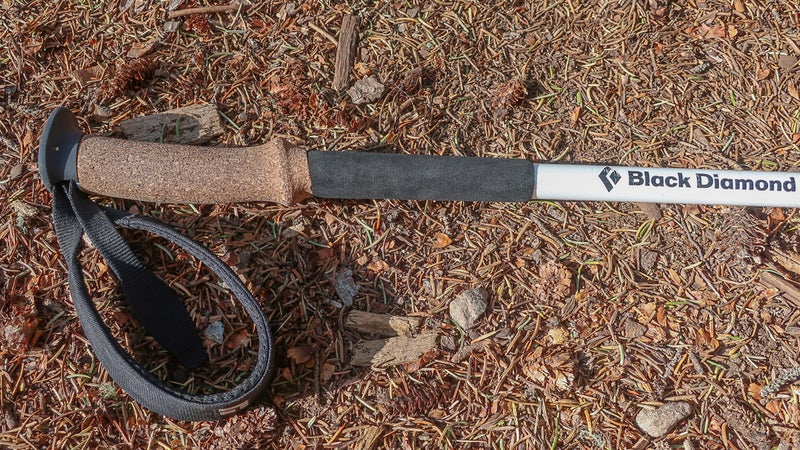 The latest generation was released in spring 2019 and comes in a pleasant matte forest green. The grips have remained the same, but thankfully the locks were redesigned in both material and shape. They're now made of aluminum and are easier to operate.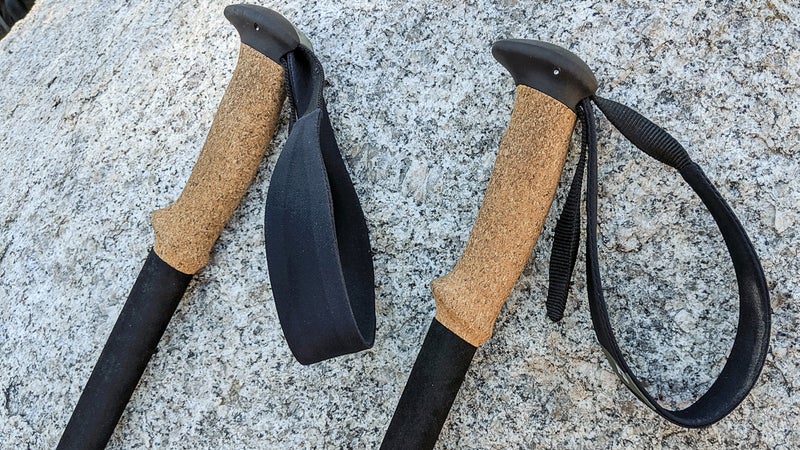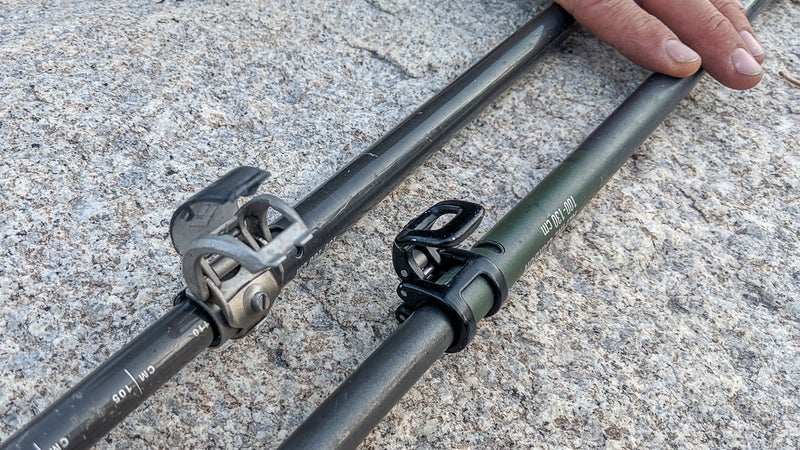 Worth Their Weight
Like with footwear, the weight of trekking poles is especially important because they undergo more movement than your pack or most of your body. Heavy poles are difficult to swing quickly and place where desired, and using them burns up more energy than with lighter poles.
The weight of the Carbon Corks is not ideal, but it's competitive and explainable. The latest generation weighs in at 17.1 ounces (486 grams), or 15.6 ounces without the straps and baskets, as I like them. This is in line with my 2011 set, which weighs 17.2 ounces (16 ounces without straps and baskets).
Sacrifices would be necessary to create a substantially lighter pole. Thinner shafts would be less stiff. Fixed-length models would be less packable and have no adjustment. Removing the grip extension would save some weight but greatly reduce functionality.
…And Expense
$180 retail, ouch. And since these poles aren't redesigned every year, they rarely get marked down. This makes the Carbon Corks a good candidate for one of the "20 percent off one full-priced item" sales at REI or the other large online outdoor retailers.
I wish I could suggest a less expensive model with comparable build quality and specs, but it does not exist. If you spend less, you'll get something heavier and with more vibration and bending, less reliable locks, less durable tips, no extension grips, etc.
Packed Length
The telescoping shafts collapse to 24 inches (61 centimeters), which is comparable to other models in this category. Folding sets like the Black Diamond Alpine FLZ ($160, 17 ounces) do about 30 percent better in this regard, but they use thinner shafts to keep the weight the same.
Grips and Extensions
Plastic grips are uncomfortable and slippery. Rubber grips are abrasive on bare hands. Foam grips are nice but not very durable. Cork grips are the best: soft, durable, slightly absorbent, with sufficient friction.
I regularly choke up on my poles for improved balance and leverage, mostly when hiking steeply uphill or side-hilling. The foam extension grips below the primary cork grip on the Alpine Carbon Cork Poles offers a much more secure grip than a slick and narrow pole shaft. In fact, I would consider this feature a must-have for the type of backpacking I do.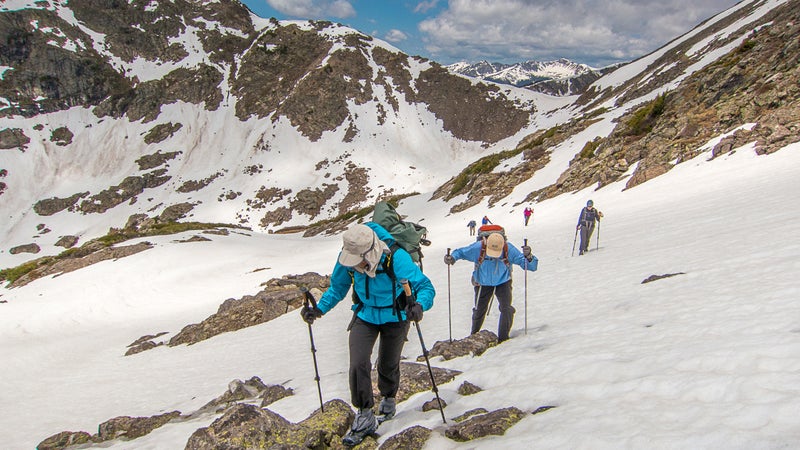 Recommended Alternatives
If you like the performance of the Black Diamond Alpine Carbon Corks but can't or don't want to spend $180, I recommend the Cascade Mountain Tech Quick-Lock poles, which are available from Amazon ($60). Every component is inferior, but they cost less than half the Black Diamond model and have survived some of my hardest hikes, notably a yo-yo of the Wind River High Route.
The Ultimate Direction FK Carbon Fiber poles are another recommended option. They're not collapsible, and the carbide tips will need to be replaced, but they're stiffer than the Carbon Corks and weigh half as much. If all of my backpacking was local, I'd buy the FK poles and never look back.
Finally, ultrarunners and petite backpackers should consider folding models like the Distance or Distance Carbon, either the Z (nonadjustable, $100) or FLZ (adjustable, $190). They are less durable and steady than the Alpine Carbon Corks, but they're lighter, more packable, and durable enough.
Lead Photo: Andrew Skurka