Crampons and an Ice Ax: High Sierra Recommendations
The best way to deal with the wild winter's lingering snowpack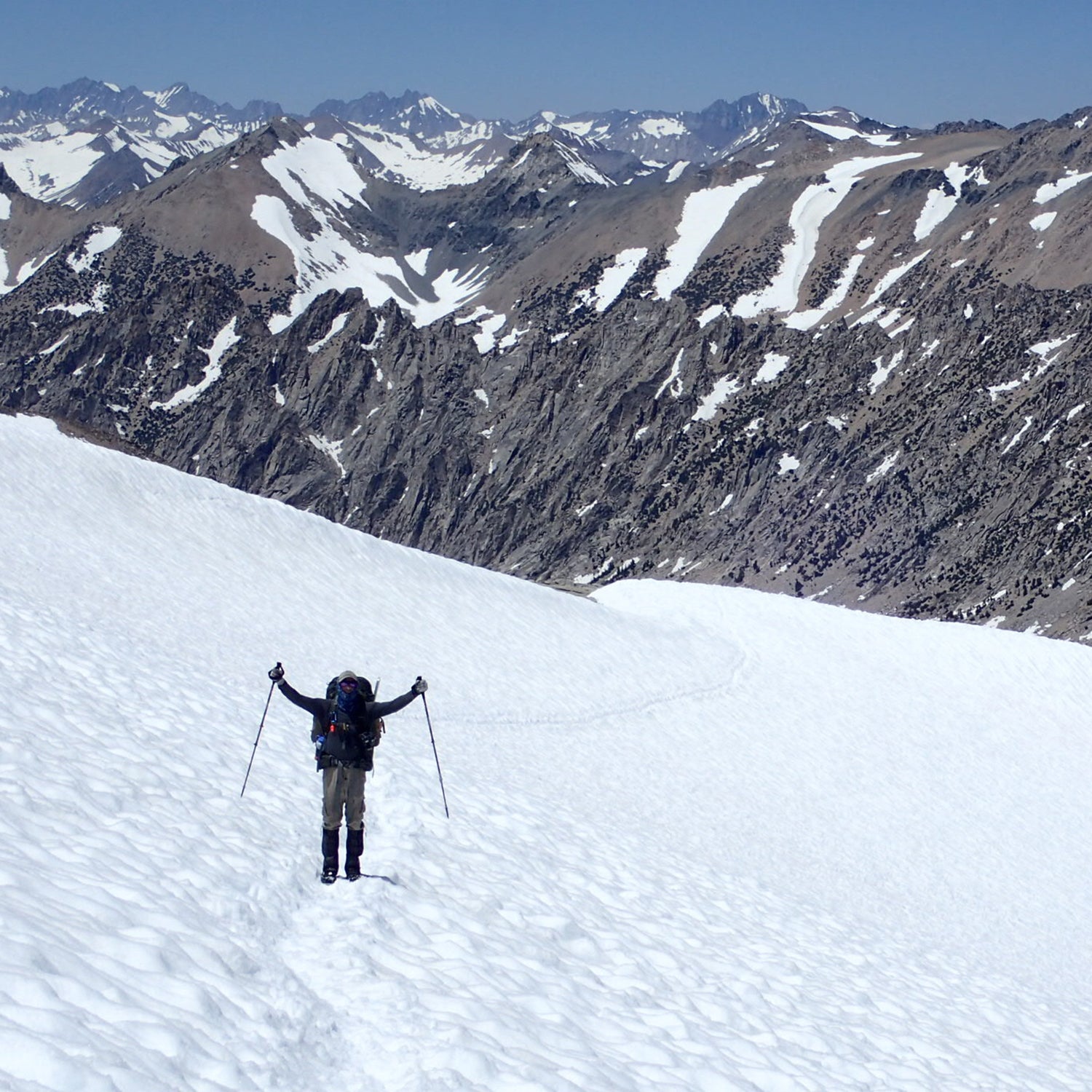 Sam Chaneles(Photo)
Heading out the door? Read this article on the new Outside+ app available now on iOS devices for members! Download the app.
In July, I'm running six trips in Yosemite National Park: two intro-level three-day courses and four more advanced five- and seven-day trips. We'll be hiking sections of the John Muir Trail, Pacific Crest Trail, Sierra High Route, and Yosemite High Route, in addition to other trails and off-trail routes.
Because of the exceptional 2018–19 snowfall and a stormy spring, we expect to encounter more lingering snowpack than normal. Which means that each client and guide will likely need to bring crampons and an ice ax.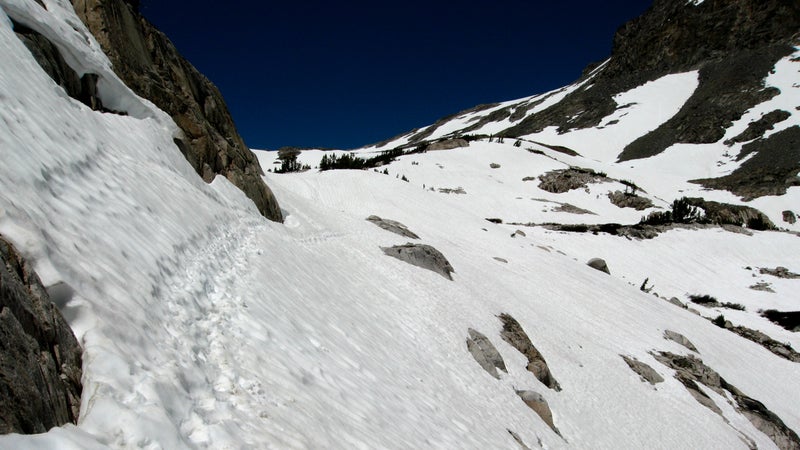 Considerations
Do you need crampons and an ice ax? And what specific model should you buy?
Well, it depends. I know that's not the answer you wanted, but it's a nuanced topic.
My general advice is to purchase what you are most likely to need now and exchange or return the items later if your needs change. This approach has two benefits. It allows you to take advantage of start-of-summer sales (usually about 20 percent off) and move on to other aspects of your trip planning.
In determining whether you need crampons and an ax, and which products to purchase, here are four considerations to inform your decision.
1. Current Conditions
We know that the High Sierra got whacked this winter. But what do conditions look like right now? Nowadays, the most current information and images are shared online by hikers after they leave the trail or while they resupply.
Start your search with the name of the bigger trail that transects the High Sierra and receives heavy backcountry use; e.g., #JohnMuirTrail, r/PacificCrestTrail, John Muir Trail Group. Then narrow your search for more specific results (e.g., #RaeLakesLoop), or start following specific hikers to observe trends.
2. Time of Day
Throughout the spring and summer, the snowpack is in a general state of melt. The seasonal trend line is interrupted most nights, however, when radiant heat loss and colder ambient air temperatures cause the snow to firm up or crust over. This can make even low-angle snow problematic for early risers and dawn-to-dusk hikers. 
3. Individual Comfort and Skills
If you have prior relevant experience (e.g., in early-season backpacking, mountaineering, or climbing) or if you're fit and athletic, you may need less equipment than others. For example, on steep but soft snow, you may feel comfortable with just an ax, whereas another hiker would want an ax and crampons.
4. Route
What challenges should you expect? For example:
How often will you hike on snow (which is a function of elevation)?
What steep pitches along your route are unavoidable? Pour over those maps!
Might you encounter a cornice on the leeward sides of some passes or ridges?
Will a boot track or glissade track have been formed by hikers ahead of you?
Prior experience—with map reading, early-season conditions, and the High Sierra in general—is really helpful in accurately predicting the likely conditions.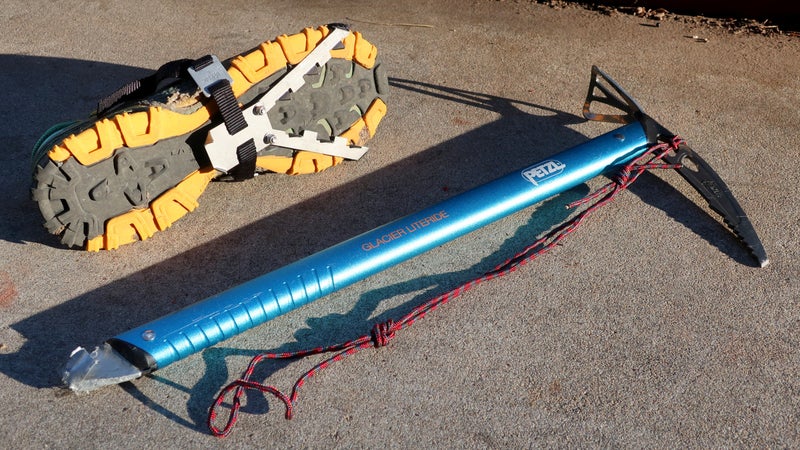 Ice Axes
An ax is used to:
Self-arrest a fall
Self-belay up or down a snowfield
Control movement on a glissade
Cut steps in or cut through a small cornice
On most backpacking routes, axes are needed only occasionally, usually to ascend or descend a pass or to contour across a steep snowfield or avalanche chute below a pass.
I recognize that it's difficult to justify a roughly $100 expense and 12 ounces of extra pack weight for an item that you don't need often. But it can be a vital safety tool. I'm requiring that every client in my five- and seven-day trips carry an ax, since we'll be hiking over several steep off-trail passes like Don't Be a Smart, Stanton, and Matterhorn. Generally, I'd recommend an ax for backpackers who will:
Travel on or across steep slopes in June and July without the aid of a boot track. This includes low-traffic trails and off-trail routes. By August, most snowfields will have melted and most cornices will have lost volume and steepness.
Follow a major trail (e.g., the Pacific Crest Trail or High Sierra Trail) in June and early July. After that, the increase in summer backcountry traffic will form a boot track on the trade routes, helping take the edge off steep slopes and chutes that are holding snow. The consequences of a fall could still be very bad, but the risk of falling will be lower.
Specific Ice Axes
Shopping for an ice ax is fairly simple, because options are limited and the styling and technologies are mostly the same. The entry-level Black Diamond Raven ($85, 16.1 ounces) is cheap but heavy. A performance ax like the Petzl Glacier ($100, 12.5 ounces) is more appropriate if you plan to use the ax often and/or need a longer length. Ultralight axes like the CAMP Corsa ($120, 8.9 ounces) won't weigh you down but are expensive. Personally, I own an ultralight ax. Its performance has been sufficient for the occasional instances I want it, and I don't curse its weight during the miles in between.
Sizing
Conventional wisdom says that when standing upright, with the pick in your hand and your arm at your side, the spike should fall between your ankle and midcalf. For early-season backpacking, I think midcalf is better, because you probably will use it only on steep slopes. Mountaineers use their ax like a cane and thus prefer a longer shaft.
Leash
I installed a wrist leash on my ax, believing that the risk of losing it on a steep slope is greater than the leash's fussiness.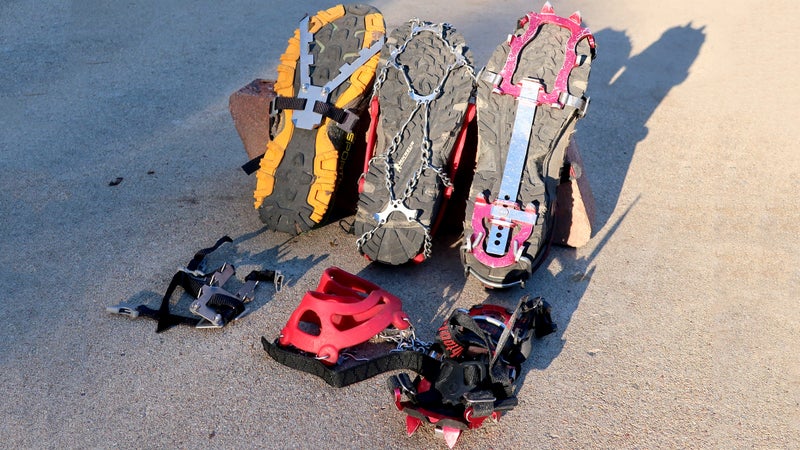 Crampons
On slick and steep snowfields, boot rubber alone will probably not cut it. And on low-angle and slushy slopes, hours of slip and slide can be tedious and energy sapping. The solution is to increase your purchase with crampons or shoe chains.
Recommendations
I told my groups to skip the crampons. By mid-July more ground will be melted out than still covered with snow, and the snow will be soft enough to kick steps. Generally, I'd recommend:
Hiking crampons in June and for aggressive or steep routes in July
Shoe chains for high-traffic trails in July to maintain traction in the boot track, which can get packed out and sometimes slick
Specific Products
Traction devices fall into three categories:
Just-in-case crampons, like the Vargo V3 Pocket Cleats Titanium ($60, 2.4 ounces), which are better than nothing and weigh very little. If there's a low chance of needing traction, or if there's just one token problem spot, this is a good option.
Shoe chains like the Kahoola MicroSpikes ($70, 11 ounces), good for packed-out trails and boot tracks. They're lightweight, relatively inexpensive, easy to put on and take off, and bite well into firm surfaces.
Hiking crampons like the Hillsound Trail Pro ($80, 23.5 ounces), best for icy, crusty, and deep snow and steep slopes. For backpackers, these are the most robust option.
Lead Photo: Sam Chaneles
Trending on Outside Online