The Crowdsourced Survival Kit
Five gadgets from Kickstarter designed for the backcountry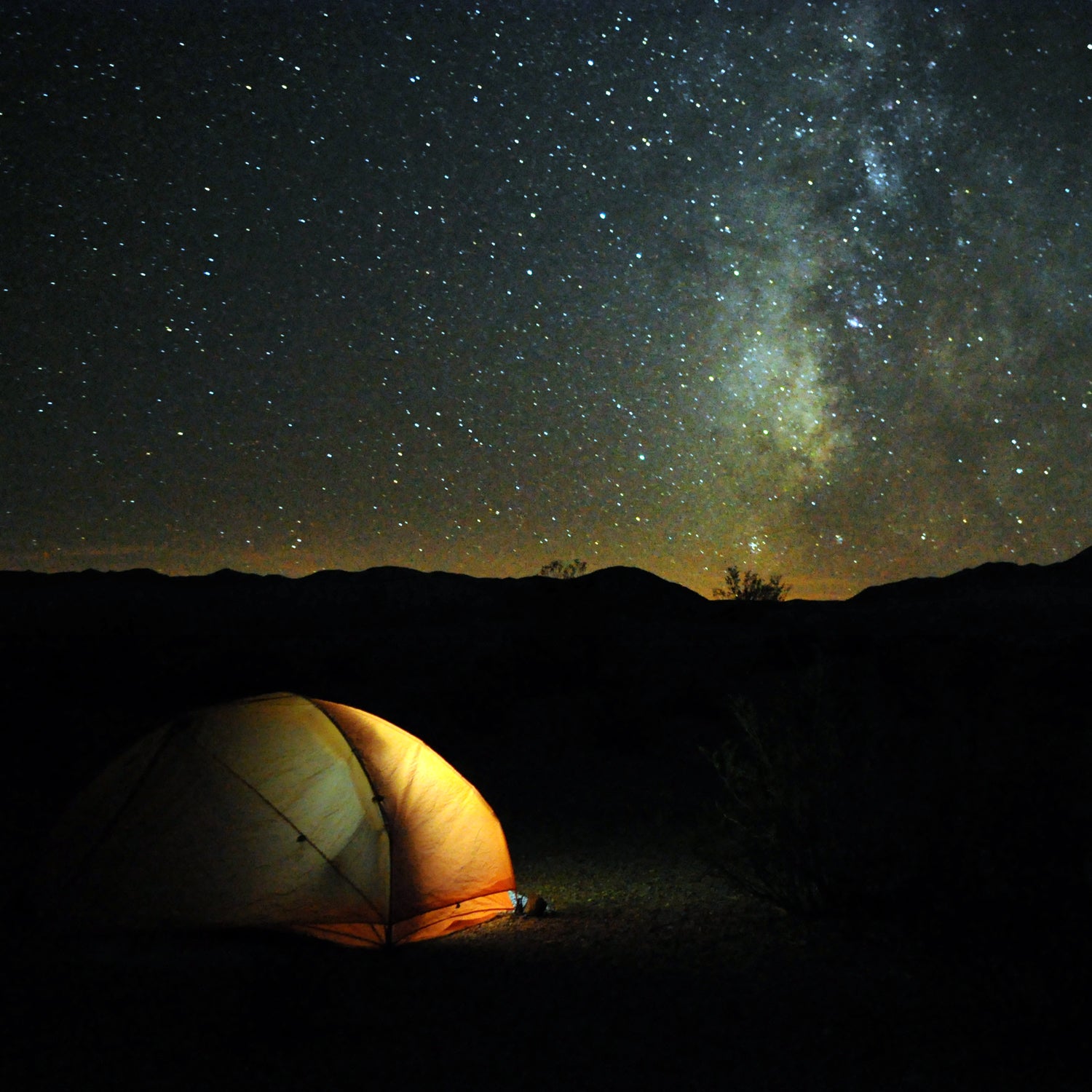 Heading out the door? Read this article on the new Outside+ app available now on iOS devices for members! Download the app.
Kickstarter is home to many gear ideas, some more groundbreaking than others, intended to make the outdoors more hospitable. We trawled the crowdfunding capital of the Internet for the five most promising survival tools—from utility-centric multitools that fit in your wallet to eco-friendly USB chargers that can keep you connected in the backcountry. All items have exceeded their funding goals, which means they could soon be coming to a shelter near you. 
FireSLEEVE Waterproof Lighter Case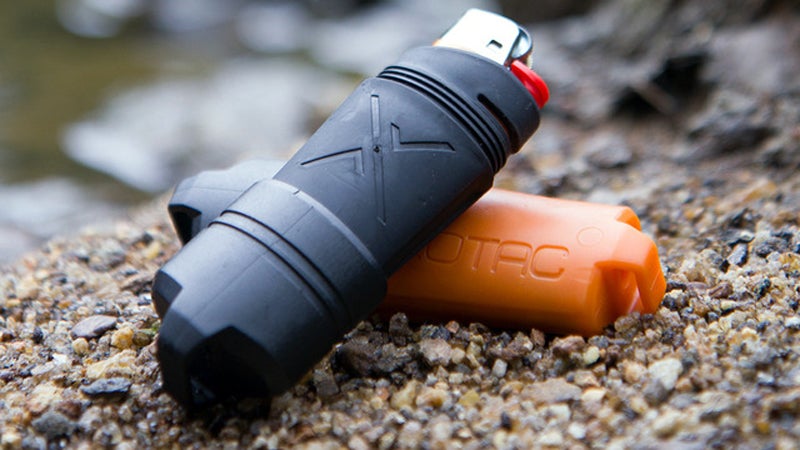 We mastered fire thousands of years ago, yet we're completely at its mercy when our survival is at stake. The FireSLEEVE ($TBD) can help. It converts any old Bic into a waterproof, insulated, eminently grippable fire-starting machine. Need a persistent flame? Lock out the gas spring and say goodbye to burnt thumbs. Want quick access? Attachment points on the cap and base loop directly onto carabiners and keychains. The best part: you can reuse the case indefinitely. Take that expensive "military survival lighter" off your Christmas list immediately.
---
LightMan Pocket Flashlight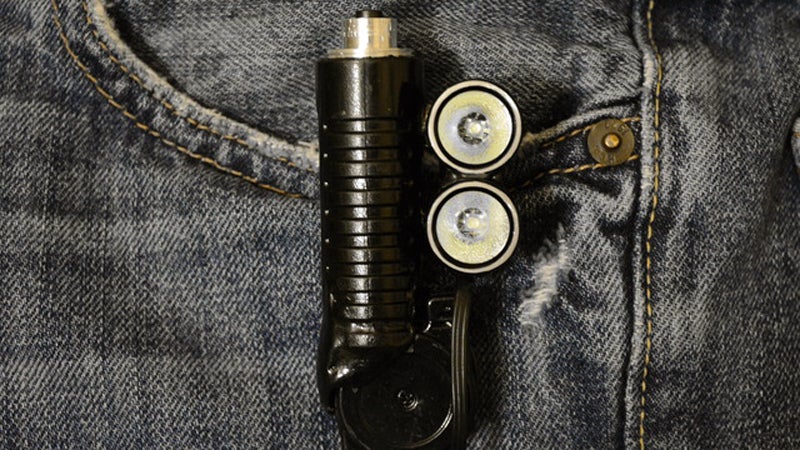 The LightMan ($50) flashlight provides more than just illumination. The lights and housing are connected by a retractable cable—you can reel them apart when you need to light up a snug space or keep them coupled when a more traditional flashlight will suffice. High-performance Cree XPC LEDs feed into a twin beam design to deliver serious brightness, while an extra-strong clip holds tight on backpacks, handlebars, and iPhone screens. It uses a single CR123 battery.
---
EDC Card Tool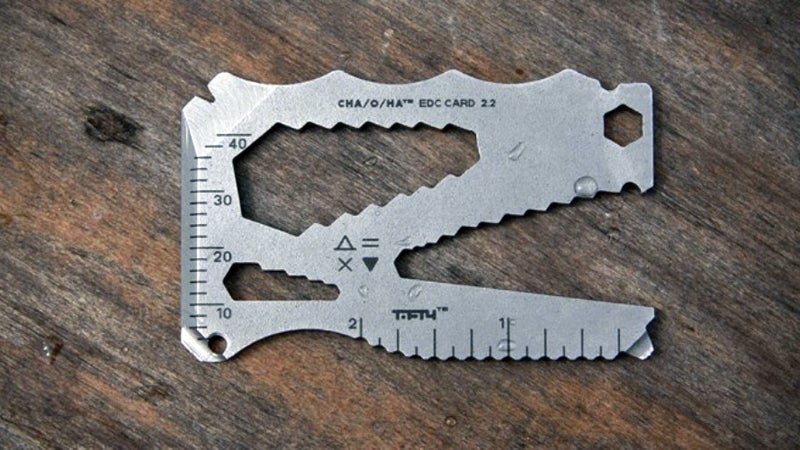 The Amex-sized "Every Day Carry" Card (from $60) is never farther away than your wallet, and it has more than 30 tools and functions built in—closed-hex drivers, nail lifter, pry-bar, flathead driver and Phillips driver to name a few. Made with extra-strong S35VN steel (the same stuff used for hunting knives) and coated in durable zirconium nitride, it's the kind of tool you buy once and use forever. Plus, it's TSA compliant, so you won't get tackled when you bring it through security. 
---
Granola Strolla Portable Solar USB Charger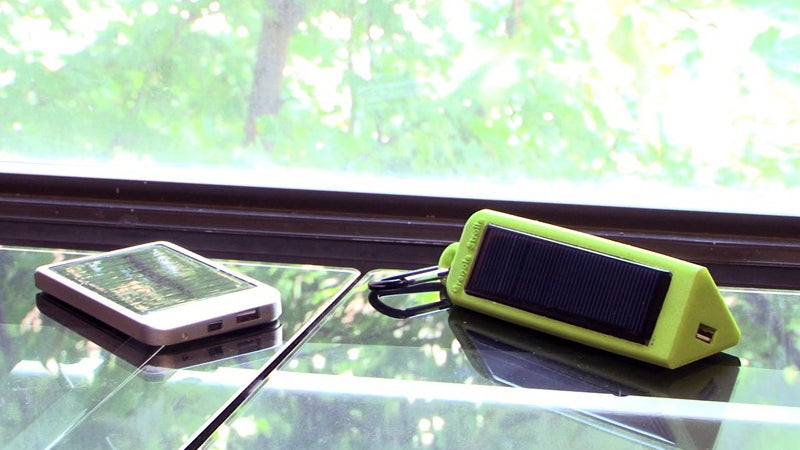 The Granola Strolla ($50) can charge almost any USB device as fast as a dedicated wall outlet. It doesn't even need direct sunlight: you can use it on cloudy days or indoors with some natural light. The design is eco-friendly, from the Lithium Iron Phosphate battery to the high-density polyurethane shell. The entire unit weighs less than six ounces. Time to kiss low-battery anxiety goodbye.
---
Vertex Ultralight Backpacking Stove
Weighing just 1.8 ounces and packing down to the size of a cutlery set, the Vertex ($40) makes other ultralight stoves look like heifers. Curved construction and durable 301-brushed stainless steel provide strength, stability, wind protection, and pot stand all in one. The unit, which can be assembled by hand in seconds, uses solid fuel tablets (advantages: they're lightweight, they work great in adverse conditions, and you can eyeball how much you have left) as fuel. It's also compatible with denatured alcohol burners such as popular models made by Trangia. For an optimal fit on the stove, buy a pot with a diameter that's 3.5 inches or larger.