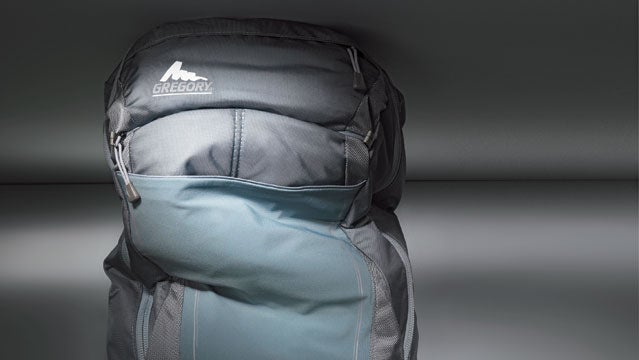 Heading out the door? Read this article on the new Outside+ app available now on iOS devices for members! Download the app.
Gregory Border 35
For weekend jaunts outside the city, nothing beats a backpack, especially when it comes equipped with padded slots for both laptop and tablet—in other words, one designed for gadget-addicted geeks like us. Compared with the other travelworthy packs we tested, the carry-on-size Gregory offered more space for the weight and some distinct airport­security features, like a clamshell design that zips in half to facilitate quick scans of your tablet while it's still inside the pouch. We also liked the outdoor-style pack's beefy zippers and heavy 840-denier weave. But it all came down to on-the-fly convenience, with handy details like a system for securing it to a wheelie bag, an ID slot within easy reach, and a zippered clothes organizer. 3.1 lbs.
DURABILITY: 4 
PERFORMANCE: 5
Eagle Creek Gear Warrior Wheeled Duffel 32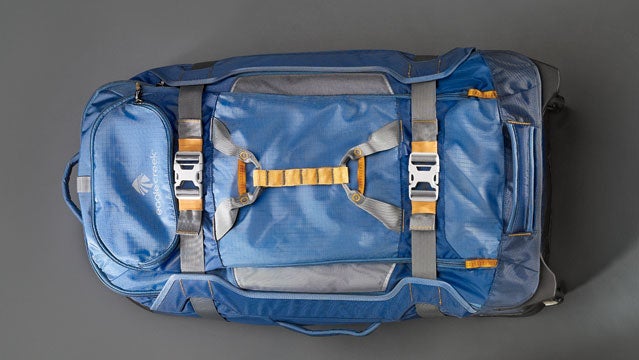 BEST FOR: Gear-intensive treks.
THE TEST: There are plenty of big-ass rollers around. What makes this one so great? High-­quality construction (beefy zippers, top-shelf materials, and reinforcements at high-stress areas) but also little things like reflective piping for nighttime visibility, lots of haul handles, and (our favorite) a metal-hooked bungee for affixing bulky items like helmets. (It was with great joy that we found that this same hook doubled as a bottle opener.) There's also a laundry-chute compartment to seal off muddy shoes or wetsuits.
THE VERDICT: Compared with the other big haulers we tried, the Warrior was better built and more user friendly. 8.4 lbs.
DURABILITY: 4.5 
PERFORMANCE: 5
Arc'teryx Covert ICO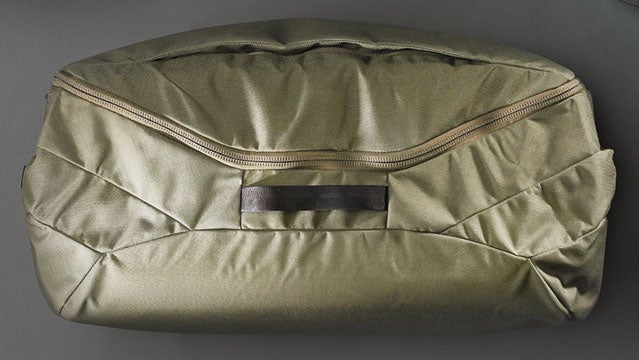 BEST FOR: Slipping through airports discreetly.
THE TEST: The Covert ICO is padded on all sides with dense EVA foam, and there's enough structure to protect your gear from bumps and give the bag a solid rectangular shape. Unlike ordinary duffels, it stands up on either end without tipping over. At two and a half pounds, it was the lightest carry-on in our test. Even more impressive: you can wear it as a shoulder bag or backpack (the straps tuck away), and there are two pockets inside and a padded laptop sleeve.
THE VERDICT: Sleek and lightweight, just don't overdo it—it doesn't carry well when overstuffed. 2.5 lbs.
DURABILITY: 4 
PERFORMANCE: 4.5
Henty Wingman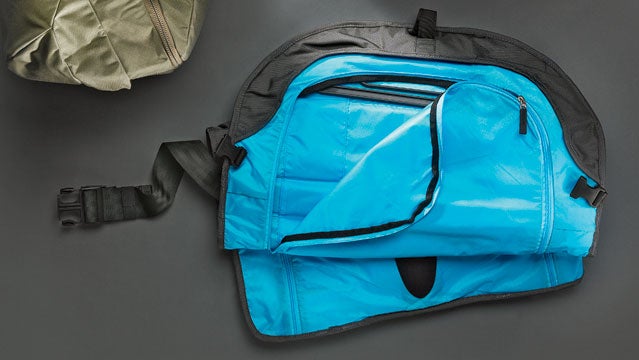 BEST FOR: Carrying a suit and essentials via bike or plane.
THE TEST: The 12-liter Wingman cradles a pressed suit inside a compact cylindrical messenger bag. The secret is the springy plastic internal ribs, which hold the bag in an even, rounded shape en route. There's also a small removable duffel at the center for toiletries, camera, shoes, and skivvies. When you arrive, the bag unrolls, unzips, and hangs up neatly. It performed well on and off the bike (reflective piping, slot for bike light), and suits generally made it to their destination with minimal rumpling.
THE VERDICT: Smart redesign of your dad's garment bag. If only it came in a bigger size (the largest version fits only a suit and shirt or three shirts comfortably). 3.9 lbs.
DURABILITY: 4 
PERFORMANCE: 5
Timbuk2 Conveyor Wheeled Duffel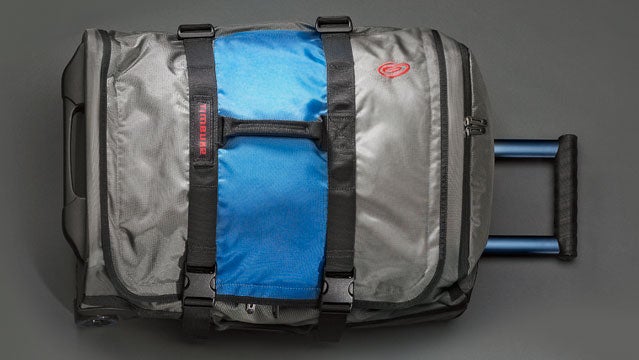 BEST FOR: Keeping it light and simple.
THE TEST: We liked the durability of the 420­-denier nylon, the giant mesh pocket for quarantining dirty clothes, and the standard skateboard wheels underneath for easy replacement. The hyperorganized might prefer more pockets and sleeves, but less fastidious testers—and those who own all that stuff à la carte—loved how much gear they could cram in.
THE VERDICT: It's better looking than your average roller, but the zippers wouldn't close (though they didn't break) in our overstuff-it-and-see-what-happens test. 7 lbs.
DURABILITY: 3 
PERFORMANCE: 4
Ortlieb Waterproof Duffel 85L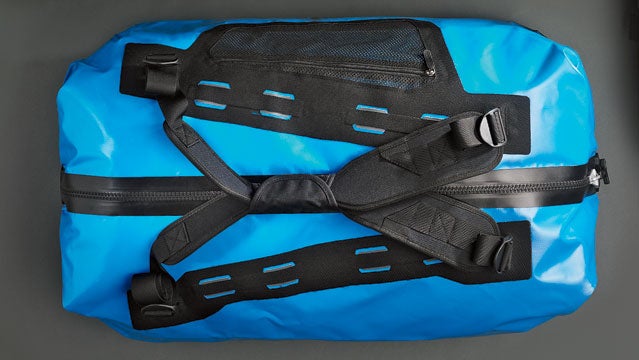 BEST FOR: Adventures near water.
THE TEST: With a thick hide and truly waterproof zippers, this 85-liter duffel is the real, you-can-submerge-it deal. During a fishing trip out of Gloucester, our tester was almost disappointed when Atlantic chop failed to infiltrate the bag. So he left it at the bottom of a river for an hour—and still had dry shirts. We also liked the loading feature, in which you hook the zipper end to clips to hold the bag open like "a big, bottomless blue cave." For longer humps, the backpack straps carry surprisingly well. And there are lash points for affixing it to a truck, raft, or other conveyance.
THE VERDICT: "Who needs a rocket box when you can just lash the Ortlieb to your roof?" asked one tester. 3 lbs.
DURABILITY: 5 
PERFORMANCE: 4
Briggs and Riley BRX Exchange Rolling Backpack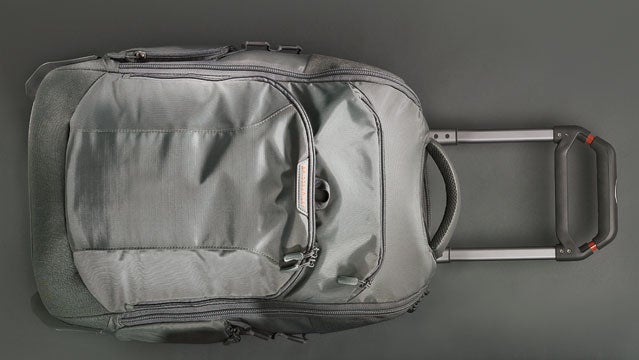 BEST FOR: Trips that begin in the air and end on a mountain path.
THE TEST: The longer we traveled with the 32-liter, carry-on-size BRX Exchange convertible bag, the more we discovered its hidden talents. When the sidewalks ended in Bavaria, our tester unzipped a back panel to reveal padded backpack straps and a hipbelt. And though the bag was muddy, his clothes stayed clean, because the back panel zips down to cover the grimy wheels. Daisy-chain loops allow you to strap it to car roofs and boats, and the contrasting orange interior of the front pocket makes it easy to find small items like keys. Our only gripe: the padded laptop sleeve is a bit flimsy.
THE VERDICT: Perhaps a touch overpriced, the BRX Exchange is the most civilized hybrid we've tested. 7.8 lbs.
DURABILITY: 4 
PERFORMANCE: 5
Lead Photo: Inga Hendrickson