Lighting Out
Want to go from day tripper to trail ripper? Lose the weight, hit the throttle, and have a 21st-century blast.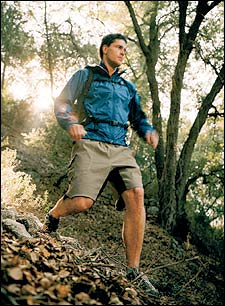 Blake Little
Heading out the door? Read this article on the new Outside+ app available now on iOS devices for members! Download the app.
There's gas in the tank, steaming French roast in the travel mug, and a city still hitting the snooze button in the rearview mirror. A busy Saturday lies ahead, but it won't involve running errands. Your mission? Fly over as much terrain and check out as many fresh vistas as possible before nightfall. You'll be navigating your geography of choice-sweet, cool forests; serious mountain vertical; or forgotten side canyons rife with creeks, waterfalls, and verdant hideaways. And thanks to the advanced day-hiking clothing, footwear, and equipment on the following pages, you'll be well outfitted to pull off even the most ambitious outback ramble. The wild world is waiting. Why are you?
day hiking gear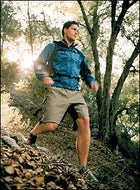 Primed for Speed

Along the way, you're likely to forget you're carrying the three-ounce, windproof MOUNTAIN HARDWEAR PHANTOM ANORAK—until the wind whips up and you unfurl it for instant protection. ($95; 800-953-8375, www.mountainhardwear.com) LOWE ALPINE's WARM ZONE TOP ushers in a new era of versatility, thanks to the garment's high-gain reversibility—turn it inside out for 25 percent more warmth—and the result is a wide comfort range. ($79; 877-888-8533, www.lowealpine.com) Nothing ruins a day on the trail like shorts that chafe. Enter PATAGONIA's ULTRA SHORTS: featherweight, sweat-wicking trou built expressly for high-mileage hikes. ($45; 800-866-4595, www.patagonia.com) Do your dogs right with SMARTWOOL's ADRENALINE MINI socks. They're anatomically engineered to conform to the foot, and they come with a padded sole and a sweat-wicking wool interior. ($15; 800-550-9665, www.smartwool.com) The superlight LA SPORTIVA EXUM RIDGES make for ideal trail shoes, thanks to abrasion-resistant side panels, rubber toe caps, and to-the-toe lacing for a glove-like fit. ($90; 303-443-8710, www.sportiva.com) Use LIFE-LINK GUIDE ULTRALIGHT TREKKING POLES to spread some of the work to your arms and leave your legs with more juice to keep a brisk pace. ($105; 800-443-8620, www.life-link.com)

day hiking gear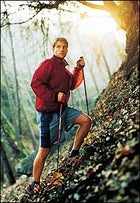 JULBO's sunglasses use photochromic lens technology—when it gets brighter, they get darker. Their ultralight, snug-wrap ADVANCE frames give your eyes superb UV protection whether the sun's out or not. ($99; 800-651-0833, www.julbo.fr) Think of THE NORTH FACE's PROPHECY JACKET as foul-weather insurance. The proprietary HyVent material waterproofs admirably, while thousands of microdots in the lining ensure breathability. ($159; 800-447-2333, www.thenorthface.com) For pure agua while on the move, carry a PRISTINE WATER BOTTLE. Inside is a built-in filter that removes bacteria and parasitic nasties like giardia and cryptosporidium. ($30; 877-533-3901, www.pristine.ca) THE SALOMON DIRT 250 BACKPACK, the day hiker's 1,400-cubic-inch workhorse, uses the same heavy-duty suspension found in the company's full-size backcountry packs. ($69; 800-654-2668, www.salomonsports.com) The light nylon in GOLITE's BASELINE SHORTS holds up like canvas, and the Lycra in the gusseted crotch and side panels provides a healthy amount of stretch. ($60; 888-546-5483, www.golite.com) Lace up GARMONT'S STICKY SPINS, sweet approach shoes for trots above tree line. The shoes come armed with a dual-compound tread that's harder and flatter on the inside of your foot, for edging up steep rock, and softer in the middle, for traction on low-angled slabs. ($100; 800-343-6752, www.garmontusa.com)

day hiking gear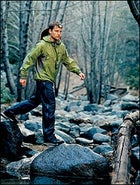 THE OR MONSOON HAT keeps downpours off your noggin and neck with its seam-taped, waterproof-breathable Gore-Tex liner. ($54; 800-421-2421, www.orgear.com) For complete coverage when the weather turns biblical, whip out the CLOUDVEIL DRIZZLE ANORAK and PANTS. Both are constructed from a superthin, microporous, waterproof-breathable fabric. Total weight: 24 ounces. (Anorak, $190; pants, $185; 877-255-8345, www.cloudveil.com) Though designed for serious canyoneering—a sport that involves rock climbing, hiking, and swimming through slick slot canyons—the NIKE ACG AIR RIOVEROS, with water-resistant uppers and sticky rubber treads, are ideal for any soggy adventure. ($100; 800-806-6453, www.nikeacg.com) If dusk catches you on the home stretch, turn on the PETZL ZIPKA PLUS headlamp, which sports four LED bulbs (up from the previous model's three) without adding bulk. ($38; 877-807-3805, www.petzl.com) Are those fulminating clouds on the horizon the snarling front of a daylong storm? Find out with HIGH GEAR's ALTITECH2. If the digital barometer plummets from 1,013 (sunny) to 911 (hurricane) millibars, get the hell outta there. ($150; 888-295-4949, www.highgearusa.com)