Miles Ahead
Eight ingenious innovations to help you dial in your run, hike, or scramble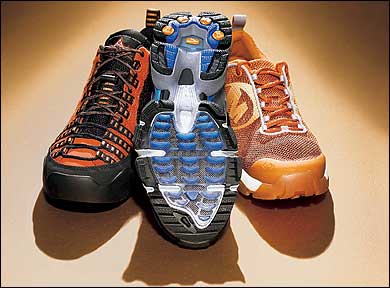 Spencer Jones
Heading out the door? Read this article on the new Outside+ app available now on iOS devices for members! Download the app.
TIME WAS, YOU KNEW WHERE you stood with mountain footwear. You had light off-road runners over here, beefier low-cut hikers over there, and sticky-soled approach shoes in the middle. But these days, your local shop is likely to offer a dizzying variety of specialized shoes for everything from quick trail trots to multi-day adventure racing, along with runner-hiker hybrids that—you're promised—can do it all.


The upside to the shoe revolution is choice. The downside is confusion—when you wander into a store and see a huge wall of kicks, it's hard to know where to start. Our advice: Think carefully about your planned activity, local terrain, and climate, then choose a shoe whose features are best suited to what you really do. Size up these 21 excellent choices, which feature an array of innovations to consider when you shop.
The Nike ACG Air Teewinot II, Icebug MR 2, & the Dunham Trail Mix
Nike ACG Air Teewinot II

Nike ACG Air Teewinot II
Iceburg MR2

Iceburg MR2
Dunham Trail Mix

Dunham Trail Mix
GREAT IDEA» TO-THE-TOE LACING
To stay stable on scrambly approaches, you need precision-fitted footwear. Enter climbing-shoe-style lacing. Two partly intertwined sets of laces on the NIKE ACG AIR TEEWINOT II invite you to fine-tune your fit. ($85; 800-806-6453, www.nikeacg.com) EQUALLY COOL: La Sportiva Exum Ridge, Five Ten Quarter Dome
GREAT IDEA» TRACTION STUDS
On slick terrain, staying on your feet is half the battle. The ICEBURG MR2 trail runner's carbon-steel studs, built into the outsole, bite into wet roots and mud but retract into the shoe's soft rubber soles when you hit hard rock. ($115; 800-943-4453, www.icebugrunningshoes.com) EQUALLY COOL: Nike ACG Air Teocalli
GREAT IDEA» STABILIZATION STRAPS
Traveling light over rough terrain? Consider the DUNHAM TRAIL MIX. With a simple tug on the laces, straps sewn on this shoe's sides will cinch tight across your entire foot for stability and control. ($75; 800-743-2668, www.dunhamfits.com) EQUALLY COOL: Teva Citral, Montrail Hardrock


Adidas Adistar Trail GCS, Salomon Raidrace 2 & Vasque's Borneo
Adidas Adistar Trail GCS

Adidas Adistar Trail GCS
Salomon Raidrace 2

Salomon Raidrace 2
Vasque's Borneo

Vasque's Borneo
GREAT IDEA» INDEPENDENT SUSPENSION
The ADIDAS ADISTAR TRAIL GCS not only absorbs shock but also adapts handily to tilted terrain. How? The heelpiece contains four rubber springs, and it's separated from the front half of the sole. On sloping rock faces, this one will help straighten your stride. ($120; 800-448-1796, www.adidas.com) EQUALLY COOL: Saucony Grid Advance TR
GREAT IDEA» PROTECTION PLATE
Mountain running used to mean bruised soles. Now the SALOMON RAIDRACE 2, an adventure-racing shoe, tucks a plastic shield into the midsole to protect your feet against painful "stingers," i.e., sharp rocks. ($110; 800-654-2668, www.salomonsports.com) EQUALLY COOL: Montrail Leona Divide, Garmont Nagevi
GREAT IDEA» SCREE COLLAR
Just one tiny stone in your shoe can stop you cold. Thankfully, several new runner-hiker hybrids—including the VASQUE BORNEO—come equipped with an ankle collar. These neoprene gaskets keep pebbles where they belong: in the dust. ($95; 800-224-4453, www.vasque.com) EQUALLY COOL: New Balance 1100OR, Columbia Black Rock

The North Face's Ultra Gore-Text XCR & Merrell's Helium Ventilator
The North Face Ultra Gore-Tex XCR

The North Face's Ultra Gore-Tex XCR
Merrell Helium Ventilator

Merrell Helium Ventilator
GREAT IDEA» DETACHABLE GAITER
In serious grit, a mini-gaiter protects like a high-cut boot, without bulk. The North Face's Ultra GORE-TEX XCR trail runner is gaiter-ready, thanks to three nylon attachment loops. Clip on the optional cuff and head for the talus. ($130 with gaiters; 800-447-2333, www.thenorthface.com) EQUALLY COOL: Montrail Susitna XCR
GREAT IDEA» MESH UPPER
Live in a warmer region and like long workouts over light terrain? Your main concern is breathability. The MERRELL HELIUM VENTILATOR's polyester netting ushers in the air and ejects moisture but still has enough backbone to offer serious support. ($80; 888-637-7001, www.merrell.com) EQUALLY COOL: Salomon XA Pro 2, Adidas ClimaCool 3


Trending on Outside Online