How Bear Canisters Fail
There's no point in hauling one around if you're going to make these mistakes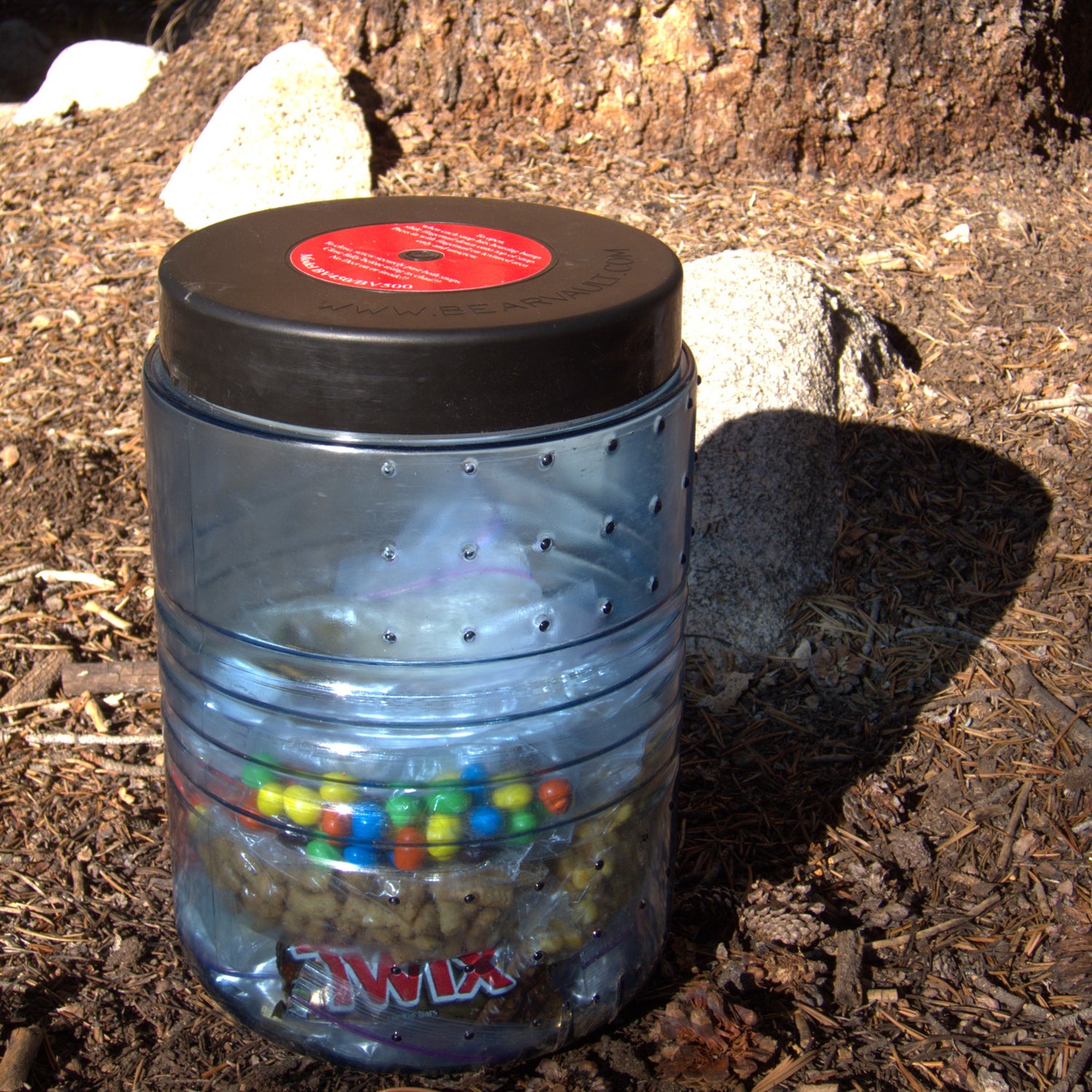 Andrew Skurka(Photo)
Heading out the door? Read this article on the new Outside+ app available now on iOS devices for members! Download the app.
At least most of the time, hard-sided canisters, like the BearVault BV500, protect food in the backcountry from bears and "mini bears" (mice, squirrels, gray jays, and other small scavenging animals). But it turns out that they're not 100 percent bear- or idiotproof.
Recently, I looked through a spreadsheet complied by the National Park Service that documented 199 food-related bear incidents with backpackers in Yosemite between July 2012 and July 2017. The actual number of incidents in Yosemite and the larger High Sierra is probably greater (maybe much greater), because many incidents are not reported and because black bears inhabit most corners of this world-class wilderness.
The sheet describes case studies on multiple failures of canisters (from companies like Bearikade, BearVault, Garcia, and Lighter1 plus the Ursack bear bag) that were due predominantly to human error as well as design or structural flaws. It also provides anecdotal support for Yosemite's food storage regulations—for every bear-canister failure there are several cases of bears obtaining food or scented items that were hung in a tree, buried, or left unprotected overnight . These storage "techniques" may work elsewhere but not in Yosemite, which is home to arguably the best-trained camp robbers in North America. I dove into the data and came up with these takeaways. 
Geographical Concentration
One striking pattern in the spreadsheet was the geographical concentration of the incidents. Of the 199 reports, 142 (or 71 percent) happened in just four places:
Snow Creek

Little Yosemite Valley 

John Muir Trail

Lyell Canyon
While it's reasonable to expect more incidents in high-use backcountry areas, the frequency still seems disproportionate—I doubt that on any given night, three-quarters of all backpackers in Yosemite are camped in just these four locations.
These epicenters make a strong case for selecting campsites more deliberately and avoiding high-use spots and corridors. Like a berry patch in August, bears have learned that some sites are reliable sources of calories.
It's also worth mentioning that these four areas tend to attract many beginner backpackers, who generally will not be as educated in backcountry matters like proper food storage and bear behavior.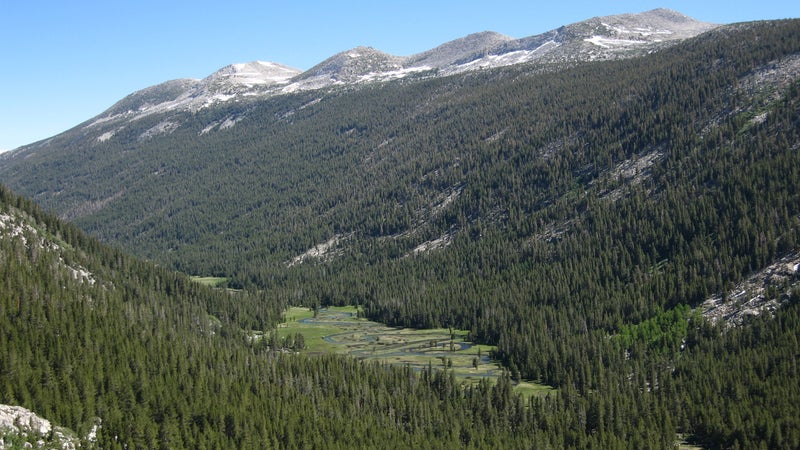 Failures
Bear canisters are more vulnerable to failure than I thought, though mostly due to human error. A closer look at the incidents reveals that failures fall into five buckets:
#1. Overflow
Case #5 (July 31, 2012): "Troop of boy scouts couldn't fit all their food into their 14 bear canisters, so they hung two stuff sacks with food from a tree. The bear climbed the tree and dragged the food down and ate it. There was approximately 5 to 10 pounds of food. Troop leader got a mandatory appearance citation."
For a canister to do its job, all food and scented items (like toothpaste and sunscreen) must be stored inside. This can be a challenge at the start of long trips, because the typical capacity of a full-size canister is about six days' worth of food, depending on your daily intake and the amount of room those calories take up (i.e., bagels versus Snickers, canned soup versus dried soup mix).
But, understandably, you may be reluctant to carry two canisters and double the weight and cumbersomeness. In that case, what are your options? Until all of your food and scented items can fit in one canister, consider:
Staying in established backcountry campsites with permanent food lockers. In Yosemite, find them in Little Yosemite Valley and at High Sierra campgrounds like Glen Aulin. In Sequoia-Kings, refer to this map. 
Camping in areas where noncanister storage methods (e.g., a hanging Ursack Major) are permitted. Canisters are required throughout Yosemite but only in the highest-use areas of Sequoia-Kings and the national forests (e.g., Mt. Whitney Zone in Inyo). In lower-use areas, there tends to be less bear activity.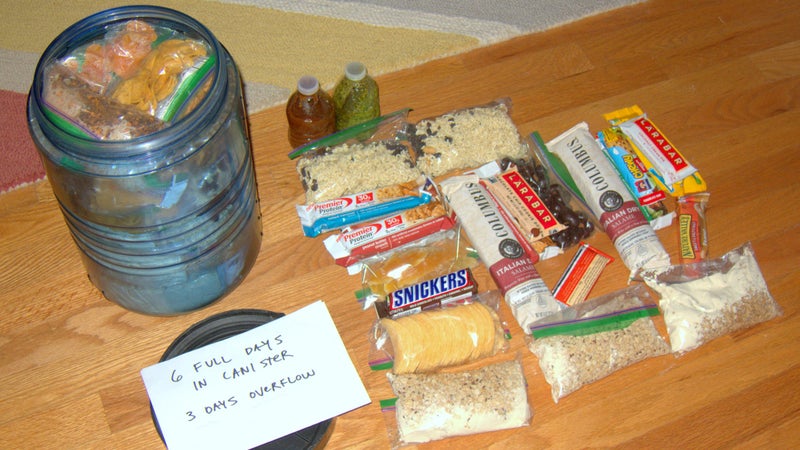 #2. Unlocked
Case #3 (July 20, 2012): "A bear came into the campsite and broke into an improperly closed carbon fiber canister. The bear was able to eat a bag of trail mix before it was scared away. Initial verbal yells and rocks did not phase the bear. After screaming loudly the bear ran away. The visitor was contacted and disclosed that only one of three clasps on the canister were latched properly. The bear pried the top off and sheared the single closed clasp to obtain the food. The canister was not smashed."
Case #61 (July 25, 2013): "The bear canister was screwed closed but not past the locks on the lid. The canister was opened but not broken. The bear clawed through plastic bags and obtained food. Food eaten includes pancake mix, salami, power bars, Gu gel, crackers, and nuts."
This would seem like an obvious one, but there were at least ten cases of bears getting into unlocked canisters. Bears are smart and persistent and have exceptionally strong and dexterous claws. Due to past successes, they will attempt to twist off the tops of BearVaults and pry off the tops of Bearikades and Garcias.
The solution to unlocked canisters is easy: lock them! Establish the double-checking of canisters as part of your nightly routine. In some groups, it may be worth assigning a canister csar who oversees this responsibility.
#3. Open
Case #157 (August 29, 2015): "2 bear cans in camp, one was closed the other was open. Hikers were cooking soup. Bear walked up behind a log and stood up on its hind legs to peer at the hikers cooking soup. Hikers yelled and stood up and grabbed poles to bang together. Hikers became scared and thought the bear was becoming aggressive so they backed away from their open canister. Bear approached canister, grabbed it by its opening, and walked away. Canister was unrecovered. Bear obtained trail mix, bars, and medications from a first aid kit."
Some bears in Yosemite exhibit remarkably brazen behavior, because they've found that it often results in food. Sometimes they get shot with rubber bullets by rangers or hit by rock-throwing backpackers when they get too close, but they also encounter scared individuals and groups who sacrifice their canister for the sake of personal safety.
That reaction is understandable, but it does not help the backpacker or the bear. If your canister is open, never be more than a step away from it. And if a bear enters camp, immediately lock your canisters and then start throwing things at its body. (Rocks, sticks, pine cones will all do.) In bear language, this defensive behavior says, "Go away. There are easier calories elsewhere."
#4. Rolled Away
Case #122 (June 2, 2015): "Campers at Snow Creek bridge had bear canister taken. Second time in 2 years at the same area. Could not find canister in surrounding area. No evidence of bear. Model of container is Bear Vault 450."
Case #123 (June 5, 2015): "Two bear canisters were rolled into Snow Creek overnight. Even after taking all precautions. Also the bear chewed on some camping gear like our table cloth and plastic bag probably due to tiny amounts of food residue."
At least 30 canisters went "missing" after a bear rolled it away in the middle of the night. This was exceptionally common along Snow Creek—canisters get rolled into the creek (which has enough volume in late spring and early summer to carry away a canister) or off the nearby cliffs. NPS no longer permits camping at the top of the switchbacks due to the bear activity. The NPS told me that the Snow Creek incidents were "caused by one particularly smart bear that has learned this behavior only at this specific location."
The park recommends storing canisters outside camp for safety reasons. But: pick the spot wisely. Personally, I keep my canister about 20 feet away and leave my (clean) cook pot on top, so I will be woken up by the commotion.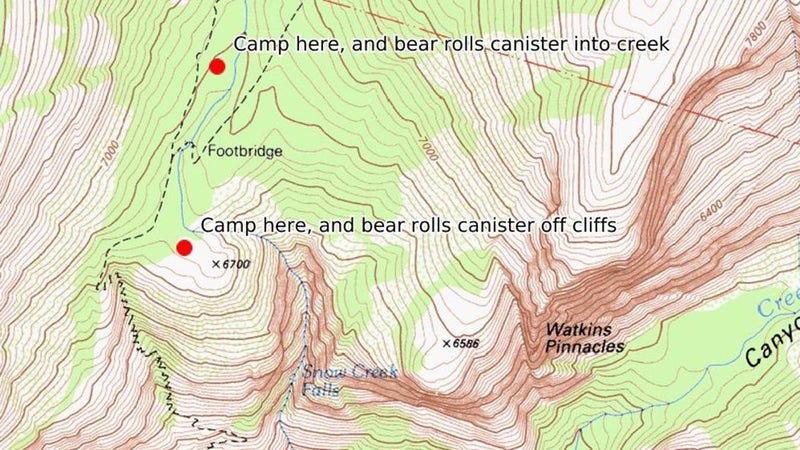 #5. Structural Failure
Case #21 (August 3, 2012): "Bear got food from IGBC approved 'Lighter1.com' brand canister by breaking the hardware that keeps the lid on. The visitor reported the bear at 2300 and described it as being 'black.' The bear got the complete contents of the container including: 2.5 bags of mixed nuts, half a salami, 2 bags of triscuits, 6 'Zoneperfect' bars, half a bag of vita-light juice mix."
Case #57 (July 18, 2013): "Bear took rental Garcia canister out of a spot in the bushes around 1:40am. I got out and chased the bear away. I placed the canister deeper in the bushes. We were awake for another hour-hour and a half. We didn't hear it again, but in the morning it was gone. On our hike out we found the empty and broken canister without lid about half way down the [Snow Creek Trail] switchbacks."
Case #114 (August 10, 2014): "Bear juggled and threw bear canister until it popped open. Bear consumed all contents: oatmeal, rice, shot blocks, cliff bars."
When used properly, only a few canisters flat-out failed. In most cases, they were smashed open after being rolled off a cliff, usually along—you guessed it—Snow Creek.
From what I can gather, when used properly, there were no reported cases of broken Bearikades or the Ursack Major (formerly S.29 AllWhite), and only one BearVault. The Garcia canister failed most often, but you'd expect that since they are the most common rental canister. Indeed the NPS determined that "rental Garcia containers were not being properly maintained, and so the lids were loose."
Lead Photo: Andrew Skurka
Trending on Outside Online