The Sandal Bracket Is Here. Vote for Your Favorite in Outside's Sandal Battle.
Eight fan favorites. Three head-to-head rounds. Only one winner.
Heading out the door? Read this article on the new Outside+ app available now on iOS devices for members! Download the app.
Nothing tells us that warm weather has arrived quite like the sight of a pair of sandals.
But boy, do we have opinions about which sandals are the best. We all know people who are true brand loyalists. I'm thinking of your pal who swears by their decades-old, raggedy shoes, still worn only because they're reinforced with duct tape. Or the buddy who seems to always have a new pair of the same sandal every month, just with straps in a slightly different shade of green. Those same friends are the ones who have strap tans so permanently stamped onto their feet that they might as well be tattoos. And when talking to them, you can't help but shake the feeling that if you're not rocking their brand, you're doing something wrong.
Outdoor-sandal loyalty can be as tenuous as pulling for a random school to win your March Madness bracket, yet as rock-solid as your coffee preference. When people ask you what your favorite sandal is, you have one in mind, and you stand by it.
That's why we thought it would be interesting to pose this question to our readers. You might be wondering: Favorite sandal for what, exactly? Aren't these sandals made for specific activities? True, true. As gear editors who test products and write reviews about them for a living, we know there's no one right answer. But the goal for this project, reader, is to go with your gut. Throw out any knowledge you have about strap mechanics, sole grip, and nascent rubber technology. Which sandal would you pledge your sword to?
You'll have a week to vote for eight fan favorites in three rounds: the elite eight, the final four, and the championship. Check out our bracket, below, where you'll see how we've seeded each brand of sandal, noted in parentheses in the following matchup descriptions. (Also, check out our collections page, where you can find our editors' essays and odes about their favorites.) We'll recap each round, dissecting the winners and losers, the sleeper picks and the upsets. When the voting is done—check back regularly for updates and for the outcome—all of those beer-fueled debates around the campfire about lugs and waterproofness and versatility will be pointless, because there will be an undisputed winner. So cast your vote. If not for yourself, for your feet, and for bragging rights.
We wish you good fortune in the wars to come.
The Bracket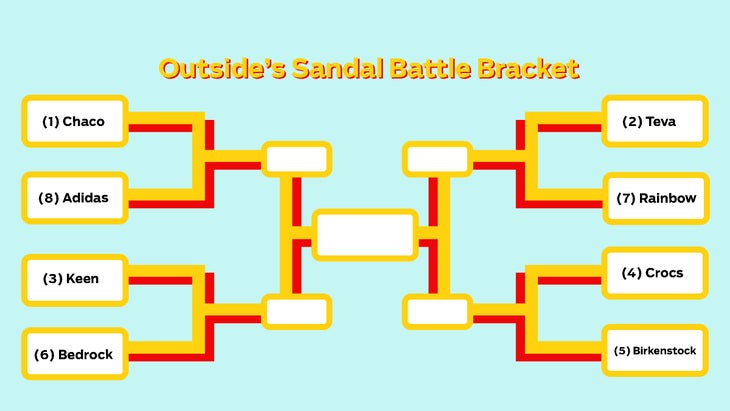 The Elite Eight
(1) Chaco Versus (8) Adidas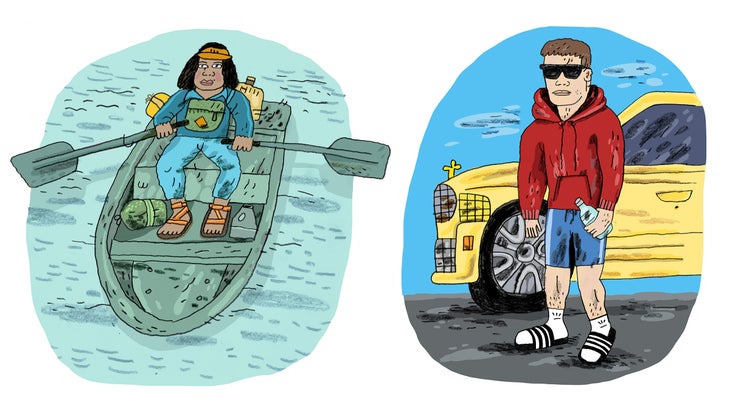 Chaco. The clear tournament favorite. That chunky sole and zigzag strap pattern are undeniable. Their dominance, like the Kentucky Wildcats men's basketball team, lies in consistent top-notch performance. As associate group gear director Ariella Gintzler wrote in an ode to her Chacos, "Swim, wade, hike, haul—I could put my Chacos on in the morning and not take them off until it was time to rinse away the salt and sand at the end of the day."
Yet perhaps the same typical hiker who takes off their Chacos after a long day will also slip into a pair of Adidas slides, which offer an unmatched level of post-adventure comfort. Ever since Adidas unveiled the Adilette in 1970 as a shower slide for the German national soccer team, they've become the gold standard for athletes. Given the sheer number of Chaco stans, Adidas fans will have a tough road ahead of them with this first-round matchup. But as 15-seeded St. Peter's showed us in this year's March Madness, upsets do happen (against top-ranked Kentucky, nonetheless).

(2) Teva Versus (7) Rainbow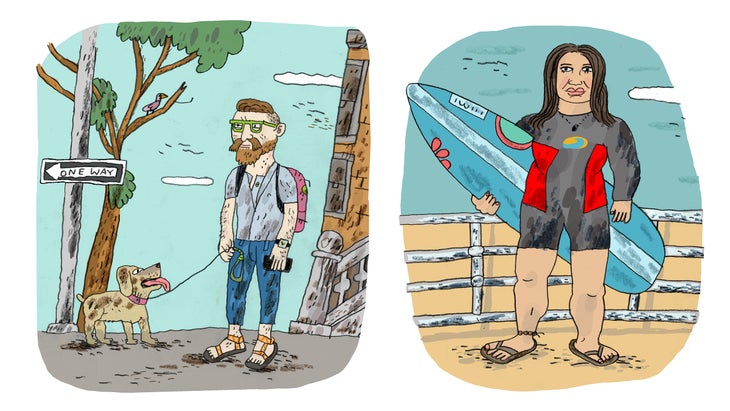 Tevas are like the Subaru Outbacks of the sandal world. They're reliable, not flashy, and last forever. Plus, you can take them pretty much anywhere. Group gear director Will Taylor put it perfectly when he pledged his loyalty to #TeamTeva: "They're simple, not overbuilt, and—against all odds—currently considered stylish by some wonderful tear in the time-space continuum of the fashion industry."
Rainbow sandals, on the other hand, are akin to Toyota pickups. "They're like the pre-Tacoma version of the Toyota truck," features editor Matt Skenazy says. A surfer and Santa Cruz, California, native, Skenazy included two other words in this comparison: "Durable, classic." It checks out. Just don't tell him what happens when leather gets wet.

(3) Keen Versus (6) Bedrock
As the cruel orchestrator of this tournament, I'm most excited for this first-round contest in particular. Keen is the veteran from dad-sandals fame; Bedrock, the hotshot rookie. To keep this college-basketball analogy going, Keen is like the Gonzaga of this bracket. Your dad knows the brand and probably has an opinion about it. Keen's signature toe protection lends an upper hand in this field of open-toed competitors.
Bedrock's minimal design, however, is the ying to Keen's yang. Senior editor Abigail Barronian put it this way: "Bedrocks are a happy medium between a flip-flop and a Chaco: just enough strap and sole, but not too much." Like Keens, Bedrocks "have not yet been dubbed cool," Barronian writes. "But let me tell you, they are the best sandals you can buy."

(4) Crocs Versus (5) Birkenstock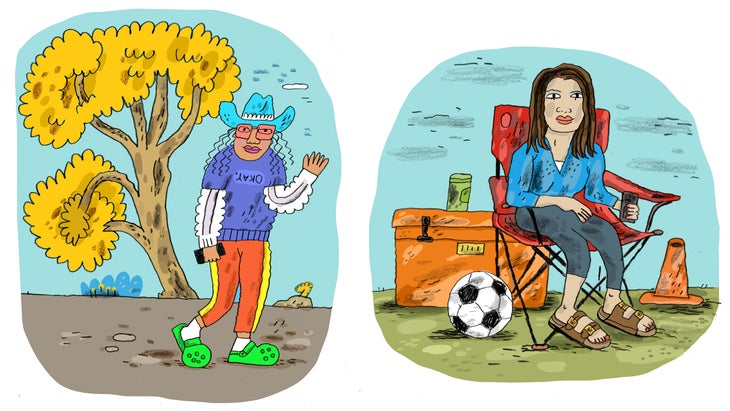 Now this is where I expect the sandal battle to be the bloodiest. What two other factions have as fervent supporters as Crocs and Birkenstock? Both competitors brandish a similar strategy: be casual, be versatile, be stylish—all at once. And quite honestly, reader, I'm not sure which camp will come out on top.
"I've chosen my side in the sandal battle, and I will passionately defend the 'earthy' looks of the Birkenstock to the last," wrote podcast producer Maren Larsen. "For me, other sandals just don't cut it. I want something comfortable and functional that I can slip on at a moment's notice and be ready for almost anything a summer day has to offer."
In his ode to Crocs, contributor Kevin Koczwara wrote: "Despite how ugly they are, Crocs serve a vital purpose during these times: They're perfect for the outdoors. They're waterproof and easy to clean. They float. They're cushy and bright." Need we say more about the iconic shoe? What about their goofy silhouette? Koczwara isn't holding back his love: "I won't be afraid of the hideous clown shoes. I've embraced them."

Lead Illustration: Mark Todd