If You Haven't Tried Allbirds Running Shoes Yet, Now Is the Time
The Allbirds Tree Flyer 2 proves you can care about the environment and still get high performance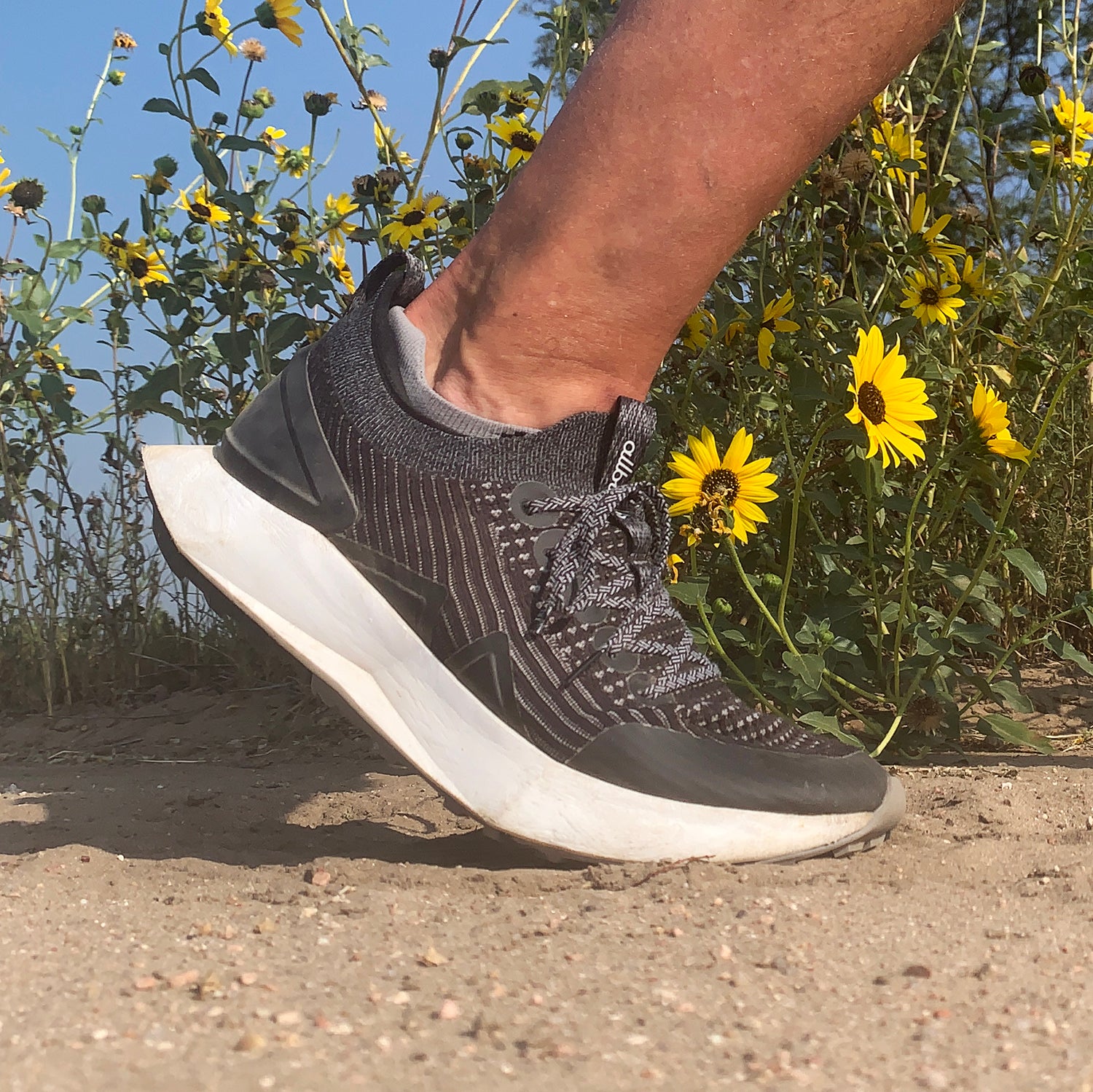 101 Degrees West
Heading out the door? Read this article on the new Outside+ app available now on iOS devices for members! Download the app.
Seven years ago, Allbirds launched with a single product:  a merino wool running shoe. Time magazine labeled that product "the most comfortable shoe in the world." But while it was comfortable to wear to the office or out for a meal, it lost much of its appeal out on a run. Fortunately, a lot has changed since 2016.
Allbirds—named as an allusion to one of its founder's native New Zealand, an island originally inhabited by all birds and no mammals—took off with rapid growth, fueled by online purchases from tech workers attracted to the brand's emphasis on comfort, simplicity, and sustainability. Allbirds uses natural materials such as merino wool, eucalyptus fibers, banana oil, rice husks, castor beans, and sugarcane to produce soft, breathable, odor-fighting, carbon-neutral—and now, high-performance—materials.
Runability Follows Nature
Allbirds was co-founded by Tim Brown, a former professional soccer player (he's the New Zealand connection), and Joey Zwillinger, an American biotech engineer specializing in renewable materials. The two worked on the brand's concept for several years before developing superfine New Zealand merino wool worthy of use in footwear.
The company's stellar growth was fueled by a direct-to-consumer model that cut out the intermediate steps of wholesalers, distributors, and retail chains—all of which exact considerable markup from the retail price. Allbirds was able to keep its prices down and, at the same time, avoid major retail discounting that often damages a brand's reputation. Allbirds also got to where it is today by staying true to its core values of reduced impact on the planet, using ingredients that sound like they belong on a vegan menu instead of in a shoe recipe.
Jad Finck, VP of Innovation and Sustainability at Allbirds, who joined the company in its earliest days, has helped along its evolution by establishing pioneering partnerships that saw the creation of new bio-based materials which have driven the apparel and footwear industry to new eco standards. While Allbirds has emerged as a leader in developing new nature-based materials, it hasn't kept them secret. Fink says it's company policy to work toward being "a leader that the industry follows."
Finck offers the example of SweetFoam, a midsole compound made from sugar cane. Allbirds uses SweetFoam in many of its shoes, but a similar formulation of this compound is now being adopted by other brands. "Allbirds invites that, and even encourages it," says Finck. Allbirds has given competitors tours of its SweetFoam facility in Brazil to spur more use of the sugarcane alternative in place of traditional, petroleum-based EVA.
Brooks Running adopted a similar follow-us-as-we-all-try-to-restore-Earth-to-a greener-planet approach back in 2008. Carson Caprara, Brooks Running's senior vice president of footwear, says the brand offered up the formulation to its eco-friendly "biobatch" tech to all footwear companies when they launched BioMogo DNA in the Green Silence.
SwiftFoam, the new midsole material of the Tree Flyer, is another example of the sort of environmental ingenuity Allbirds has introduced. In 2019, Allbirds began working with the supplier that makes Pebax, a key ingredient in the super shoe revolution, to formulate SwiftFoam—also known as BioPebax, bio-based Pebax, or Pebax Rnew. This new cushioning material is made using a more sustainable manufacturing process that requires no chemical additives, and its formula integrates low-water-using, non-edible castor plant seed oil. The resulting foam is 48% bio-based and, Finck says, rates an 11 on a performance scale where standard Pebax grades a 12. It is, however, a premium midsole compound that commands an expensive price tag, more so than standard Pebax, which is a pricey foam in the first place.
The Tree Flyer 2's construction further pushes the eco-friendly envelope by cannibalizing what might have been wasted SwiftFoam midsole material, rendering it into TPU-like upper overlays and heel counter reinforcements that enhance rearfoot and lateral stability—plus boost durability, further reducing the environmental impact as a shoe that lasts longer keeps more out of landfills.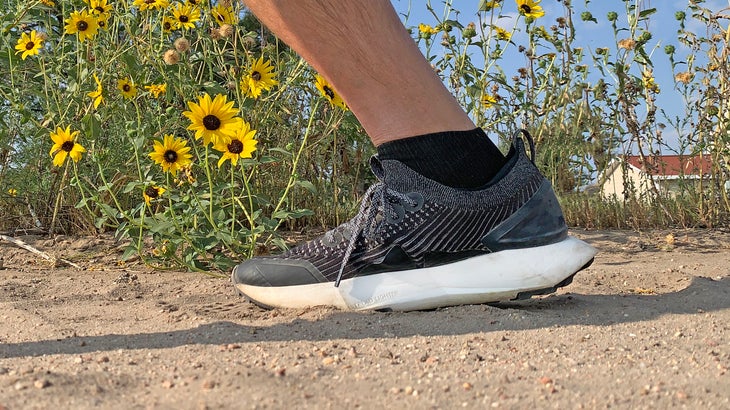 Allbirds Tree Flyer 2 in Action
I tested the Tree Flyer 2 over a dozen runs of various lengths and speeds, some off-road on dirt paths and rocky singletrack; some on pavement and concrete. I even ran once while wearing an original Tree Flyer on my left foot and a Tree Flyer 2 on my right.
I was impressed with the fit, feel, and ride of the Tree Flyer 2—so much so that the brand's environment-oriented focus didn't occupy much head space during the runs. I was simply cruising, the way you can when footwear is doing what it ought to; not interrupting a good flow. My testing confirmed that Allbirds didn't compromise the Tree Flyer's performance to meet its exacting environmental standards.
The Swiftfoam was firmly bouncy, like a trampoline made of homespun natural fibers, offering just the right amount of softness to provide comfort but not bog you down. The foot shape provided plenty of room in the midfoot, perhaps on the wide side for some, and allowed a comfortable splay at the toes. In action, the flexibility and roll of the shoe seemed a tad firmer than that of conventional Pebax—at least as it is tuned in most high-stack supershoes—but was far superior to most other environmentally-oriented midsole materials (including the Allbirds Tree Dasher's SweetFoam) and felt lively, with a snappy energy return upon impact.
The mesh upper, lined with merino wool, was skin-friendly enough to wear the Tree Flyer 2 without socks. The fit of the stretchy, eucalyptus-fiber-based, sock-like upper was both secure and smoothly enveloping, and the heel wrap held my rearfoot firmly in place.
While both the original and updated Tree Flyer share the same midsole, the new version has bigger lugs arranged in a different pattern to improve traction in the certified natural rubber tread. Added upper overlays also give the shoe better lateral support, cornering, and durability. Both updates make the new version better suited for off-road ventures and solidify the shoe's performance.
The look appeals to the eye, which also supports the brand's environmental goal. If shoes look good in action and inaction, you can wear them both as running shoes and casual attire, and are less likely to have additional pairs—decreasing consumption and resource depletion. The carved, geometric, edgy, look, and the flared heel design even drew the eye of Gen-Zers I encountered, who commented on their "sleek" appearance.
The only gripe I had was with the laces made of recycled plastic. Even when double-knotted, I found myself retying them midway through my runs. Plus, I've heard the argument that it's better to keep recycled plastic from bottles in the plastic bottle sphere instead of diverting it to the apparel and footwear market, from where it is unlikely to be recirculated.
While the Tree Flyer is a marked improvement over other eco-oriented attempts at performance running shoes, at 10.6 ounces for a men's size nine, they are relatively heavy and lack the pop of a rockered supershoe (all of which are currently made from petrochemicals and carbon fiber). As such, I'll likely reserve the Tree Flyers for training sessions and not racing.
At $160, the Tree Flyer 2 is in line with shoes with similar tech and performance. And, as a bonus, you get to support its carbon-neutral, low-impact construction and Allbirds' sustainable practices of using natural materials and funding carbon projects to balance out its emissions. Plus, it especially seems a fair price when you factor in that it looks smart enough to be worn casually too.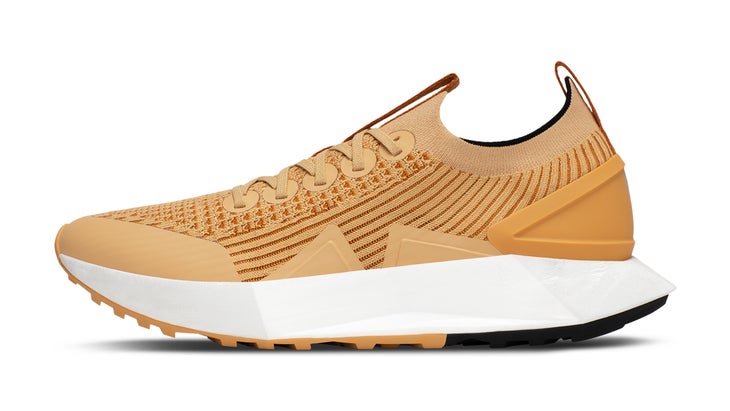 Bottom Line
Allbirds Tree Flyer 2 is the first shoe to come along since Brooks' Green Silence to get both the environmental and performance qualities right, hopefully setting the pace for others to follow so conscientious consumers won't have to compromise to feel better about our impact on the planet.
Stats:
MSRP: $160
Weight: 10.6 oz (men's); 8.3 oz (women's)
Stack Height: 30.5mm heel/ 22.0mm forefoot (8.5mm drop)
Lead Photo: 101 Degrees West