Seven Great Affordable Running Shoes for $120 or Less
These bargain picks cost half as much as top-end supershoes, but that doesn't mean you can't be super in them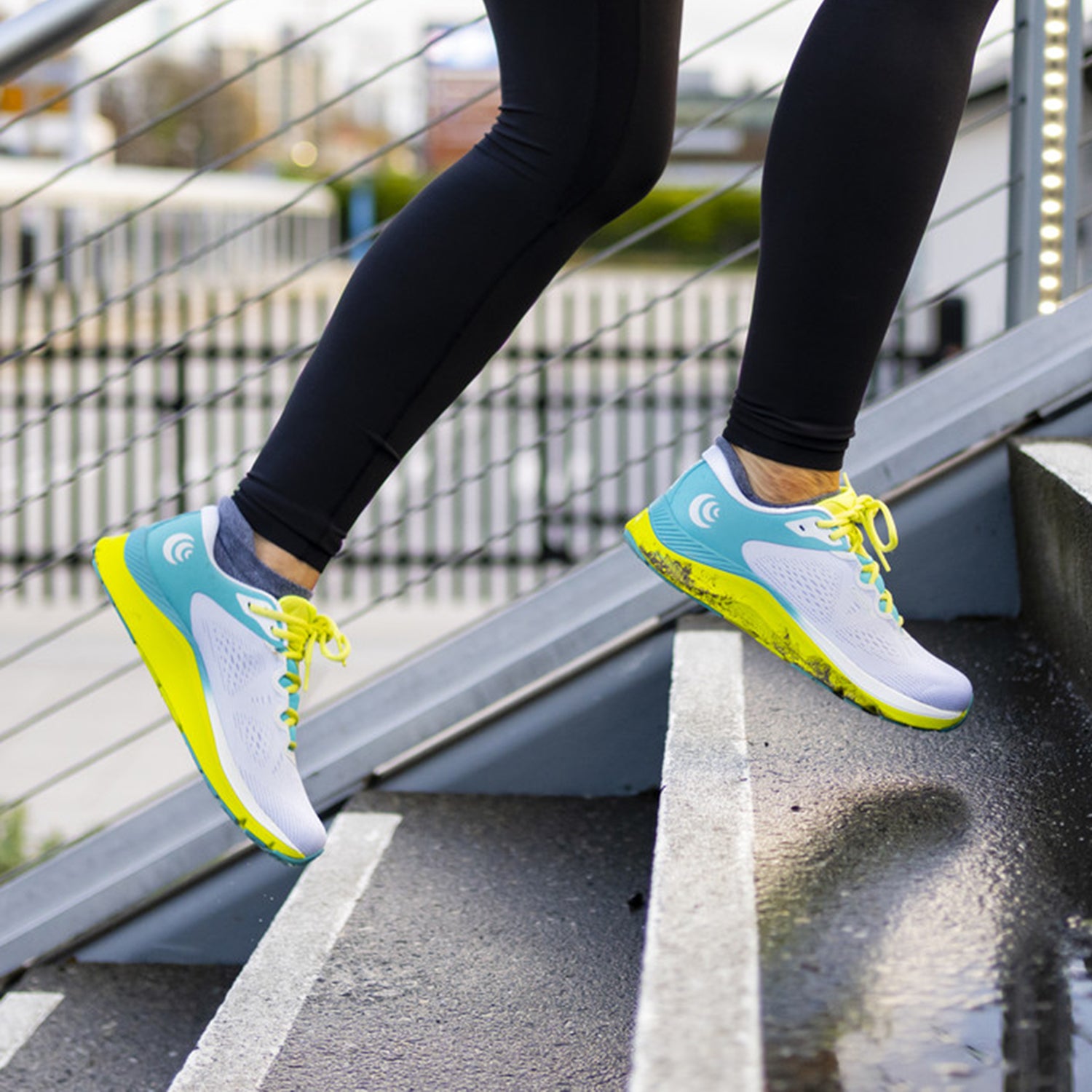 Courtesy Topo Athletic
Heading out the door? Read this article on the new Outside+ app available now on iOS devices for members! Download the app.
With running shoe technology advancing season after season, propelling elite runners to world records, older runners to new levels of comfort and longevity, and trail runners to new heights, shoe prices tend to go up, up, up. There's good reason for that—high-end materials like carbon fiber, BOA lacing systems, and nitrogen-infused cushioning composites are expensive, as is the research and development behind such creations.
But with these advancements comes the ability for shoe companies to apply versions of those technologies to other shoes in their lines. These models tout smatterings of trickle-down tech, combined with less-pricey materials and design features—and can be excellent tools for budget-minded runners, beginners, and those who just like the feel of a simpler shoe for their daily miles.
The following models may not propel you to an out-of-body experience provided by a super-shoe. But then again, is it about the shoe, or the runner? Each of the picks below costs $120 or less, runs comfortably, and won't fall apart after a hundred miles. Heck, some of them are even more versatile than their higher-end counterparts.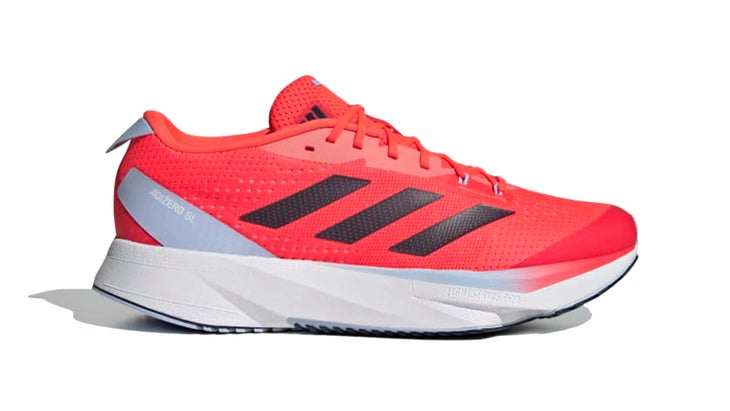 Adidas Adizero SL ($120)
Adidas took a slice of their Lightstrike Pro foam, a wildly responsive TPU compound found in the $250 Adizero Pro 3 supershoes of world-record-breakers, and placed it under the forefoot of this (much) more reasonably priced Adizero SL. The rest of the midsole is comprised of Lightstrike EVA, and the combo of foams make this a peppy trainer that testers noted was "fun" and "energizing." A wide forefoot base and narrow heel feels secure at all speeds, and a comfortable, engineered mesh upper and padded tongue add to the premium vibe of this every-runner's shoe.
Upgrade: Compare this to the Adidas Adizero Boston 11 ($160). It also utilizes Likestrike EVA and Lightstrike Pro, but has a carbon-plate-like technology called Energy Rods that the Adizero SL does not, which gives it a snappier toe-off. While the Adizero Boston 11 is built for and excels at mid- to long-distance training, the lighter-weight Adizero SL is arguably more versatile for any distance, pace, or stride.
Weight: 8.6 ounces (men's),7.4 ounces (women's)
Stack height: 35mm (heel), 26.5mm (forefoot); 8.5mm drop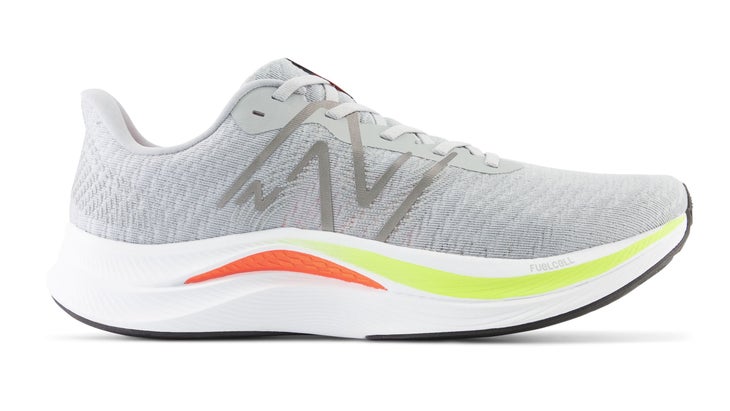 New Balance FuelCell Propel v4 ($110)
If you want the feeling of a plated shoe—one with a springy toe-off that encourages forward propulsion—but don't want to pay carbon prices, look to the FuelCell Propel v4. A slightly flexible TPU plate is embedded in the midsole, which is made of New Balance's proprietary, lively, nitrogen-injected compound. "It's got tons of cushioning without sacrificing speed and the ability to roll off your toes easily. It's super speed inspiring," said a tester. Another called it "pretty bouncy," and raved that "it has an efficient ride." This daily trainer gives you a lot of bang for your buck.
Upgrade: Compare this to the New Balance FuelCell SuperComp Pacer ($150), which has the same FuelCell cushioning surrounding a plate—but the plate of the SuperComp Pacer is made of carbon fiber that is stiffer and more responsive than the TPU plate of the Propel. The SuperComp Pacer and the Propel v4 both have hollowed-out segments under the foot to harness the rebound energy of their prospective plates. The SuperComp Pacer has a lower stack height and sleeker, lighter-weight materials to maximize a speedy, racy feel, whereas the Propel is a bit plusher and cushier.
Weight: 10.7 ounces (men's), 8.1 ounces
Stack Height: 31mm (heel), 25mm (forefoot); 6mm offset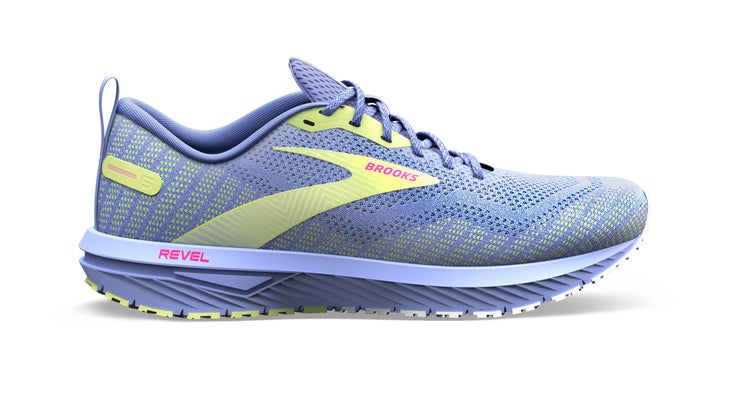 Brooks Revel 6 ($100)
We loved this low-profile shoe for short runs, cross-training, and casual wear. The knit upper looks and feels good while holding our feet securely on top of the midsole. About that midsole: it's made of an EVA-based blend called Brooks DNA that is said to morph with each individual runner's needs (weight, gait pattern, etc.). We found this shoe capable, but not overly cushy—a no-nonsense trainer for a range of distances and activities.
Upgrade: Compare this to the Levitate 6 ($150), which will give you an upgrade in midsole foams to DNA Amp 2, a TPU-based foam that is lighter weight and more springy/responsive than the DNA in the Revel. Both the Levitate and the Revel have an arrow-point outsole pattern for traction on road surfaces and quick-rolling toe-offs.
Weight: 6.1 ounces (men's), 8.1 ounces (women's)
Stack Height: 25mm (heel), 15mm (forefoot); 10mm offset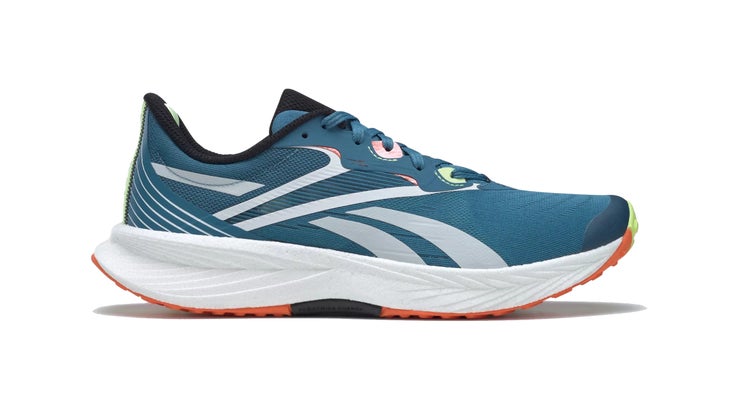 Reebok Floatride Energy 5 ($110)
This lightweight trainer features an X-shaped plate made out of TPU that's sandwiched within the midfoot cushioning to provide torsional control (you can't bend the otherwise flexible shoe side-to-side), which Reebok says helps keep excessive pronation in check. Testers found that the Floatride Energy 5 felt and ran light with a tad of noticeable structure. The new, TPE-based cushioning provides a smooth, bouncy ride reminiscent of Adidas' Boost foam. It isn't quite as poppy as a nitrogen-infused or Pebax-based foam, but we appreciated the responsive, minimalist feel.
Those who have run in the previous iteration of this shoe, the Floatride Energy 4, should know that the 5 got a full revamp of the upper (it has a more secure foothold), midsole, outsole, and fit (it's wider). Recycled materials in the upper shaved weight, as did the new midsole compound. Other changes include an increase of .5 millimeter height in the heel and 1.5 millimeter in the forefoot, giving the shoe a lower drop and more bounce under the toes.
Upgrade: Compare this to the Reebok Floatride Energy X ($170), which has a partial carbon plate in the forefoot, Reebok's more responsive, TPU-based midsole foam, and a woven textile upper. The Energy X is targeted towards marathon training and racing, and can stand up to high mileage at max effort. It delivers a snappier ride than the Energy 5, but one that is more prescriptive, tuned to optimize forward-balanced, powerful, up-tempo strides.
Weight: 9.4 ounces (men's), 7.7 ounces (women's)
Stack Height: 27mm (heel), 19mm (forefoot); 8mm offset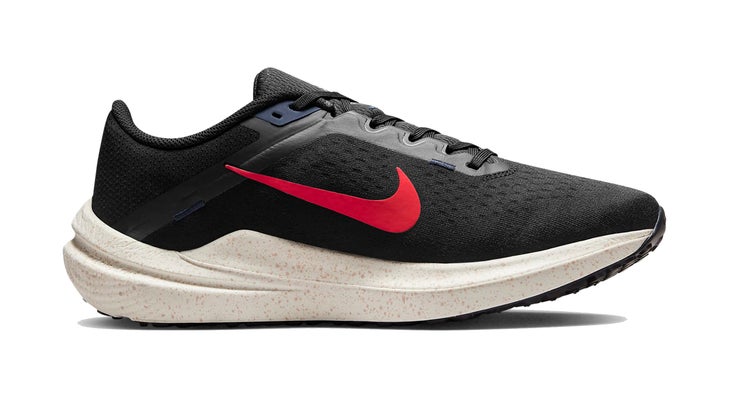 Nike Winflo 10, $100
Comfort ranks high here, as the Winflo's padded tongue and heel collar enveloped our feet upon first step-in. The Nike Zoom Air cushioning underfoot (three-quarters the length of the shoe, from heel to ball) feels plentiful without absorbing too much energy. This feels like a nicely cushy, responsive shoe that's up for anything, from run-walks to distance training. And it stays comfortable all day.
Upgrade: Compare this to the Nike Pegasus 40 ($130). They're both smooth-riding, neutral, cushioned shoes. What you get when upgrading to the Pegasus is more advanced cushioning in Nike's React foam with two Zoom Air units (one under the forefoot and one under the heel) for a more responsive ride. And while the Winflo has a wide forefoot fit and engineered mesh upper, the Pegasus touts more of an arch hold and a single-layer (read: lightweight, streamlined) mesh upper.
Weight: 10.4 ounces (men's), 8.5 ounces (women's)
Stack Height: 37.3mm (heel); 27.3mm (forefoot); 10mm drop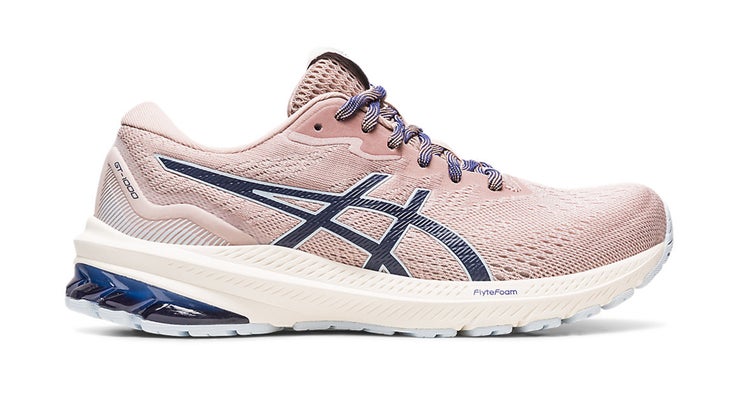 Asics GT-1000 11 Nagino, $100
The Nagino is a solid choice for runners with a narrow foot looking for a bit of pronation control. The shoe works for neutral runners as well, but a touch of firmer-density midsole foam placed on the medial side of the shoe (under the arch) is designed to prevent feet from rolling excessively inward. An external heel cup also helps keep feet aligned. This is a plush shoe with a stretchy, jacquard mesh upper and nicely padded tongue and heel cup. We found the EVA-based midsole cushioning well capable of absorbing impact and keeping us comfortable on runs and cross-training workouts alike—it's not so soft that we felt unstable doing moves like air squats and lunges.
Upgrade: Compare to the GT-2000 11 Nagino ($145), the GT-1000 Nagino's big brother—or sister. The main difference between the two is the GT-2000's softer, lighter, and more responsive midsole foam. The GT-2000 also has a different, weaved patterning on the upper (while the 1000 has more traditional-looking mesh). But both models have rear-foot gel technology to absorb impact, and both aim to provide pronation control.
Weight: 9.4 ounces (men), 8.3 ounces (women)
Stack Height: 32.5mm (heel), 24.5mm (forefoot) men's, 31.5mm–23.5mm (women's); 8mm offset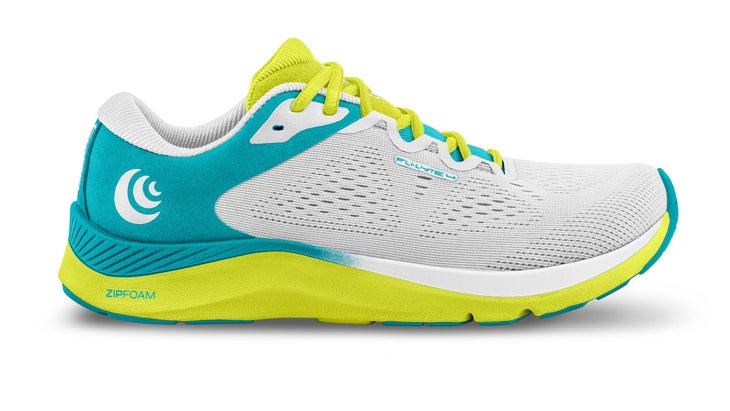 Topo Athletic Fli-Lyte 4, $120
The Fli-Lyte 4 is a good choice for those seeking a low-drop (three-millimeter) shoe with a notably wide toe box and connected ground feel. The cushioning—a TPU/EVA blend—absorbs impact but rides slightly firmer than soft, which some runners prefer for the stable feel and effective toe-off platform. A wide, low-stack shoe like the Fli-Lyte 4 is also ideal for gym workouts and lifting weights, giving you a more proprioceptive, stable platform than overly cushy, high-stack shoes. The engineered mesh upper with zero overlays keeps these uber-breathable and lightweight. We also love the casual-wear crossover ability of these shoes. The lack of overlays and the cool (in our opinion) dual-tone of the shoe's color scheme makes them versatile beyond the run or workout.
Upgrade: Compare to Topo Athletic's Magnifly ($130), also a neutral, foot-shaped shoe, but with a zero-drop, slightly thicker (25-millimeter) dual-density midsole (softer near the foot and firmer close to the ground), and enhanced overlays securing the foot.
Weight: 8.3 ounces (men's), 6.3 ounces (women's)
Stack Height: 23 mm (heel); 20 mm (forefoot);  3mm offset
Lead Photo: Courtesy Topo Athletic
Trending on Outside Online