Gear Guy
Can There Be a True Waterproof-Breathable Running Shoe?
I put my own feet on the line to find out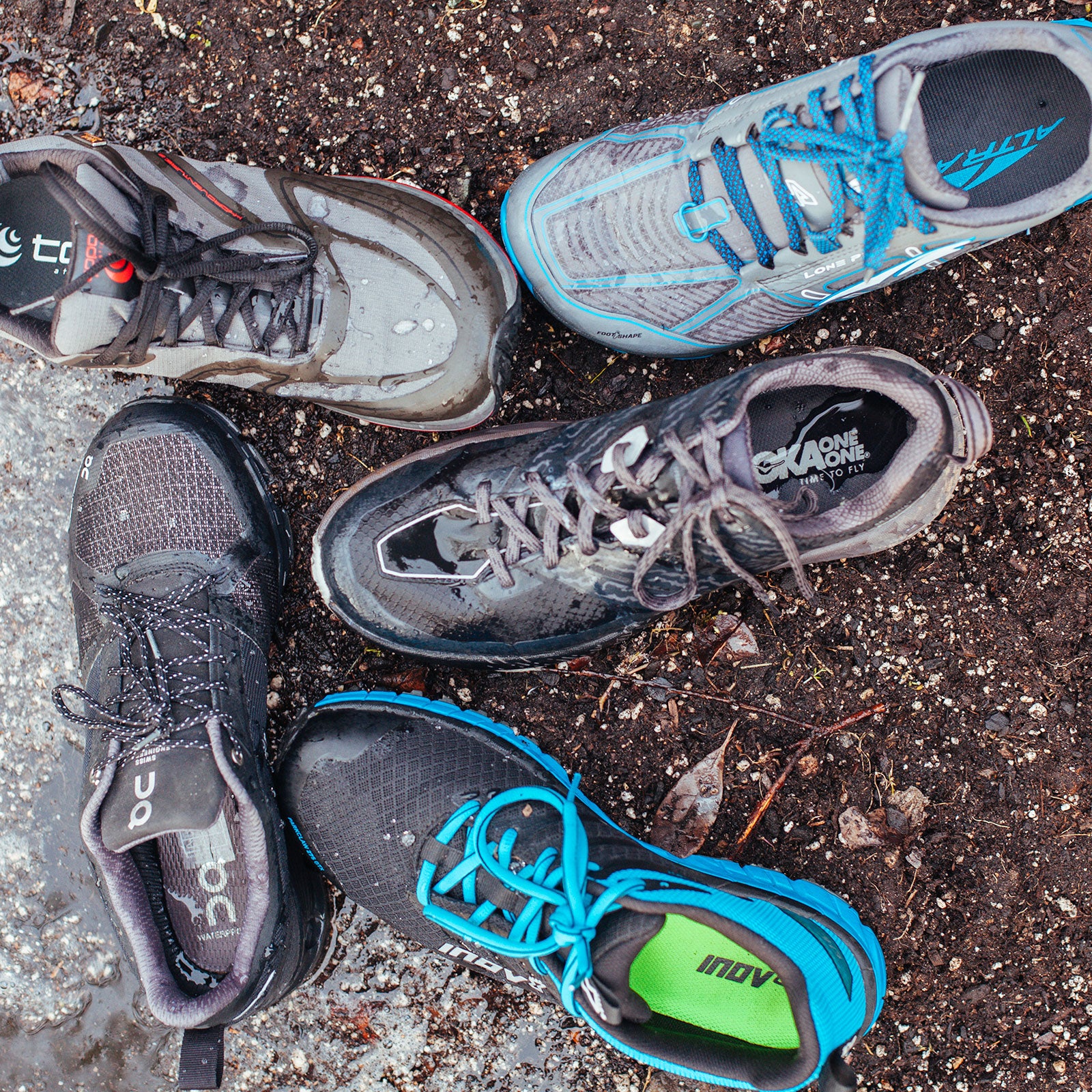 Heading out the door? Read this article on the new Outside+ app available now on iOS devices for members! Download the app.
Now, to be fair, I've argued against waterproof running and hiking shoes at least half a dozen times in this column. Reason? The membrane that keeps water out often also locks sweat in, which can cause discomfort and blisters. But I'll admit that waterproof shoes do have their place, like in the damp Pacific Northwest where I live. And now that spring rains have come, I've decided to give them a second chance. April showers should not bring May fitness loss, after all.
The Test
For the past three months, I ran in the five pairs of shoes you'll read about below three to six days a week, logging at least 30 miles in each. (Since these are all crossover shoes, I made sure to take them on both roads and trails.) To test waterproofing in a real-word setting, I ran in them for an hour in the rain, then took them out for a run in temperatures between 65 and 70 degrees to gauge how well they breathed. Finally, I filled up my cooler with an inch and a half of water and stood in it for a minute wearing each shoe with socks. I weighed my socks on a kitchen scale before and after each soak to see how much water they absorbed.
The Results
Winner: Hoka One One Speedgoat 3 WP ($150)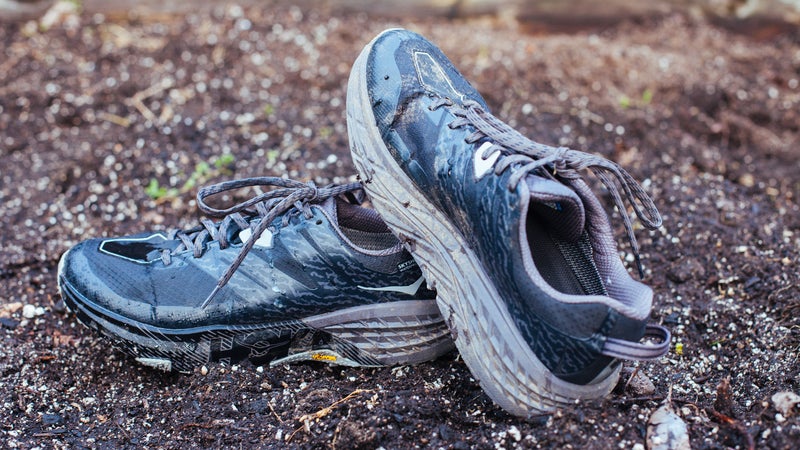 Comfort: 5/5
Responsiveness: 4.5/5
Waterproofing: 5/5
Breathability: 5/5
Though the thick, cushy soles and neutral four-millimeter drop made the Speedgoat the most comfortable shoe in this test, it was still plenty responsive considering its massive stack height. But what clinched the win was the superb balance of waterproofing and breathability. Hoka's Skyshell membrane never let a drop of water in while venting sweat and heat well enough that my feet didn't get clammy. I ran the Salmon Run Half Marathon in Bend, Oregon, in this pair, and it rained more than 90 percent of the race. When I got back to my hotel and pulled the shoes off, my socks were dry and free of both rain and nearly all sweat. During the soak test, I felt no water seeping in while I rested my dogs in the cooler, and my socks weighed the same 55 grams when they came out as when they went in.
---
2. On Cloudflyer Waterproof ($180)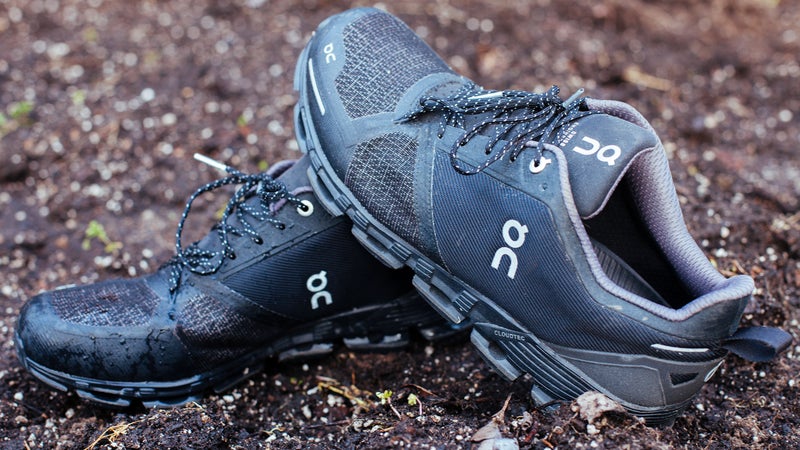 Comfort: 4/5
Responsiveness: 4.5/5
Waterproofing: 5/5
Breathability: 4/5
Full disclosure: I was expecting to not like this shoe. From afar the CloudTec pods (six hollow spherical shocks on the outsole) make it look like something you'd see on Marty McFly. And I'm skeptical whenever a company claims that one shoe can deliver both cushioning and responsiveness. But the Cloudflyer delivered in that regard. And while the waterproofing was right on par with the Speedgoats, my feet got sweaty after three miles. My other beef was that gravel got stuck easily in the pods, and I found myself having to stop to pluck them out.
---
3. Altra Lone Peak 4 Low RSM ($150)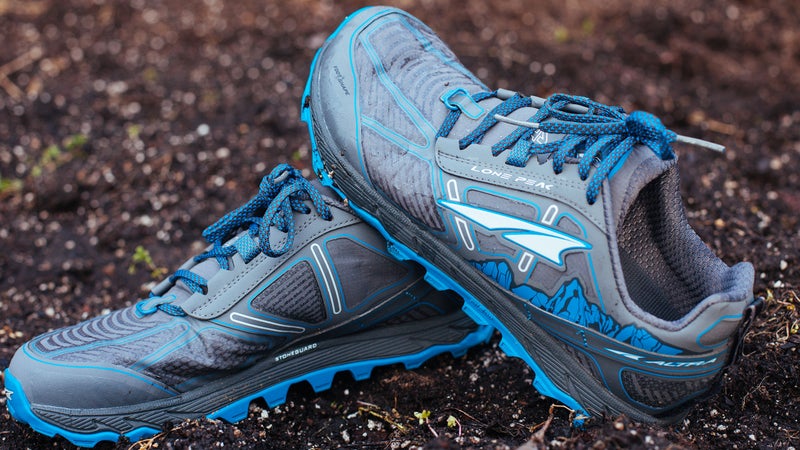 Comfort: 4/5
Responsiveness: 5/5
Waterproofing: 3/5
Breathability: 4/5
The Lone Peak 4 Low RSM was in second place for most of the test. Then came the dunk portion—I noticed some leakage along the seams of the shoe, and my socks took on 1.5 grams of water. That wasn't enough to noticeably weigh my feet down, but it was the most on this list, so I had to ding the Lone Peak. It would have dropped lower in the rankings if it weren't for how well it ran. Altra's signature zero drop, along with a generous 25-millimeter stack height, facilitated a natural yet supported stride. And the super-roomy toe box allowed my feet to splay out with each step.
---
4. Topo Athletic Hydroventure 2 ($140)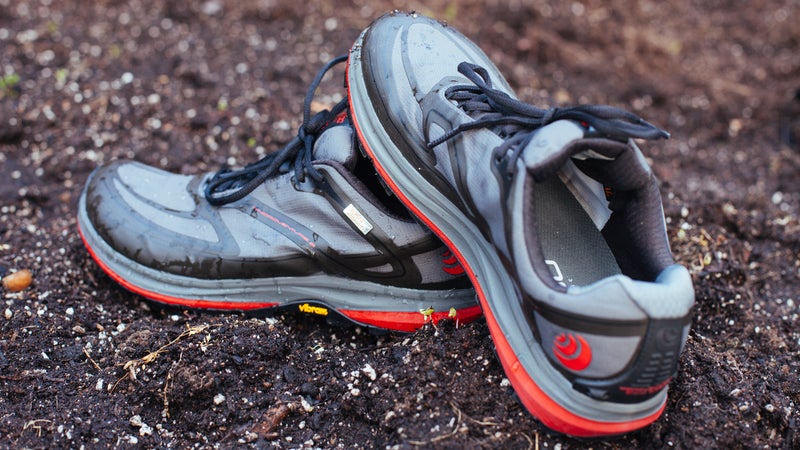 Comfort: 4/5
Responsiveness: 4/5
Waterproofing: 3.5/5
Breathability: 3/5
Topo Athletic makes some of my favorite shoes. Like Altra, the company favors a wide toe box, and its MT-2 is one of my go-to trail runners. While the Hydroventure very much held its own in the run and comfort departments, its membrane was outgunned when it came to waterproofing and venting. On hotter days, my feet got noticeably sweaty within the first mile. And the shoe absorbed a gram of water during the soak test, the second most behind the Lone Peak (and notable, considering three of these five shoes didn't take on any at all).
---
5. Inov-8 Parkclaw 275 GTX ($150)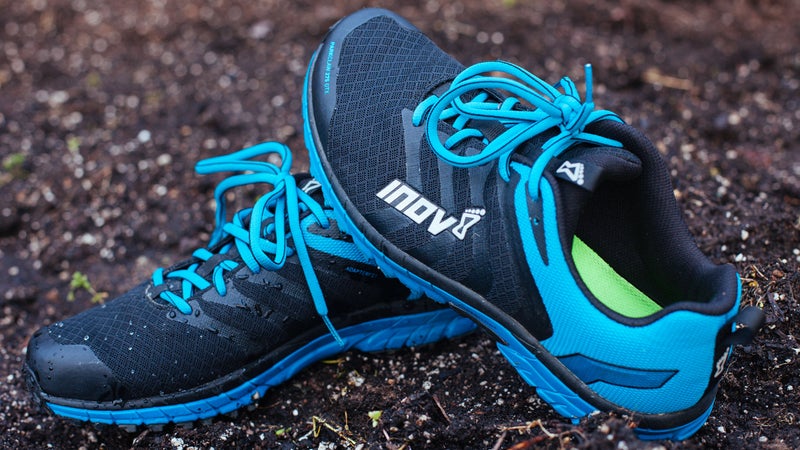 Comfort: 3/5
Responsiveness: 3/5
Waterproofing: 5/5
Breathability: 3/5
The Parkclaw is bomber, with aggressive lugs and Gore-Tex bonded directly to the shoe's upper. While it was amazing on long runs in the rain—keeping my feet perfectly warm and dry—it unfortunately didn't breathe well. On one three-mile trail run, I got back to my car, pulled off the shoes and socks, and my feet were pruney, like I'd just stepped out of the bathtub. The eight-millimeter drop was a little much for my stride (which I admit is personal preference), and the midsole and outsole ran a bit stiff. All of that said, if you like a shoe with more drop and near impenetrable weatherproofing, the Parkclaw 275 GTX is an excellent choice.
Lead Photo: Sarah Jackson