2023 Summer Gear Guide
The Best Women's Summer Running Tops and Shorts of 2023
We tested dozens of pieces of apparel on all types of runs—short and long, slow and fast, road and trail, from New Mexico to New Hampshire. These emerged as our favorites.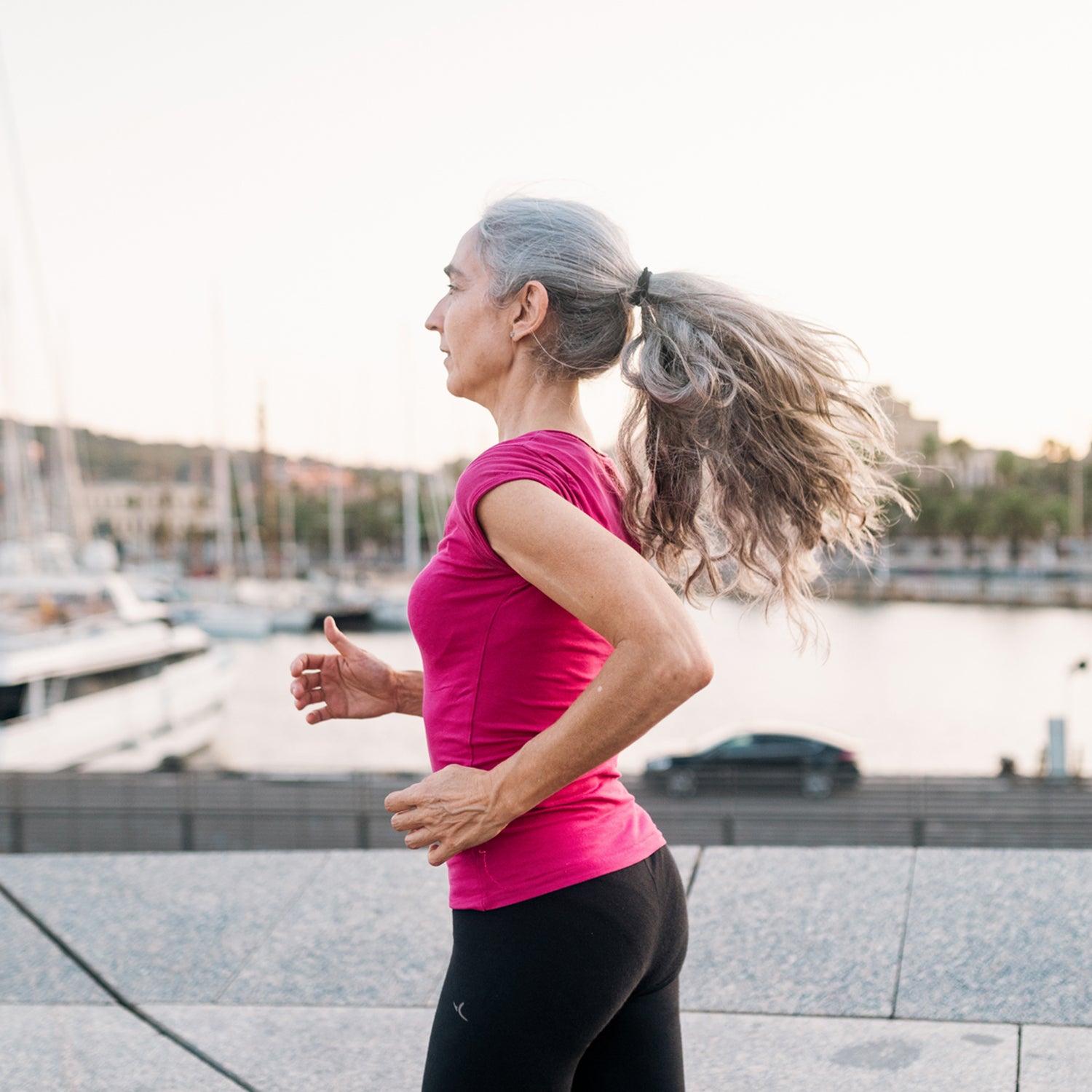 Heading out the door? Read this article on the new Outside+ app available now on iOS devices for members! Download the app.
Summer running is a challenge. Getting up early to put in miles before the sun gets too high and too hot is one thing; dodging evening thunderstorms is another. This is the season when we need running clothes to inspire us—like shorts and tops that slip on effortlessly when we're still half-asleep in the morning and float on our skin when we're cramming in a tempo workout on a sticky afternoon. We searched for, and found, gear that can handle the challenges of summer while making us look good and feel cool.
The Winners At a Glance
Shorts
Mountain Hardwear Shade Lite Shorts
Tracksmith Run Cannonball Run Short Tights
Nathan Interval Bike Shorts
Ibex Springbok Short
Tops
Craft Pro Hypervent Singlet
Brooks Distance Short Sleeve 2.0
Rabbit EZ Tee Cropped
Rabbit Seabreeze Tank
How We Test
Number of Testers: 4
Number of Products Tested: 72
Total miles: 500+
Over 12 weeks, we tested more than 70 pieces of women's summer running apparel from 20 brands. Our team included four runners of varying sizes and fitness—one of us spent the summer training for her second ultramarathon while another was just getting back into running after having her first child. We tested sizes Small to Large, from New Mexico to New Hampshire, on all types of runs: speedy track workouts, early morning road miles, and multi-hour trail races. Every product recommended here was worn and liked by at least two of us. Everything we tested was functional, but the shorts and tops that rose above the rest scored high on comfort and style. Comfort was the priority: No matter how many useful pockets a pair of shorts has or how flattering a tank top looks, we aren't willing to compromise on fit. The pieces on our final list weren't too tight or too loose, and didn't need adjustment on the run.
Meet Our Lead Testers
Svati Kirsten Narula is a writer and editor in Santa Fe. She has been a competitive runner for 17 years, and tested all the apparel on this page while training for a 50k trail race. Her favorite runs were the extra slow ones with lots of elevation gain in the mountains above Santa Fe—in the company of her dog, Cabot. But she also enjoyed putting gear to the test in the humidity and salt air of the New England coast.
Anna Morenz is a primary care internist in Seattle. An avid climber, she fell in love with trail running and skate skiing after moving to the northwest four years ago and spends as much time in the mountains as possible. For this review, Anna tested 10 tops and eight shorts on more than 40 runs, including her favorite Seattle summer special: a divine two-for-one combining a trail run in the arboretum with a swim in Lake Washington.
The Best Women's Summer Running Shorts of 2023
Mountain Hardwear Shade Lite Shorts ($59)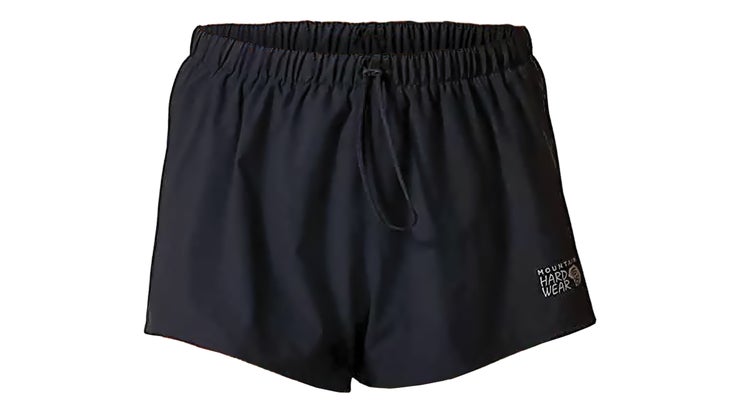 Sizes: XS-XL
Pros: Comfortable and flattering for most body types
Cons: Just one tiny pocket
These all-purpose shorts were an instant favorite because of their comfortable and flattering fit. One tester described them as, "loose enough that they make you feel like you're in loungewear, but snug enough in the waist that they don't fall down, and not so much extra fabric that they chafe." After wearing the Shadelite shorts for a trail half-marathon, Anna praised them for being "light and breezy." That's thanks to the stretchy, quick-drying 100% polyester fabric shell and interior mesh brief. An adjustable drawstring waistband secures the fit just above the hips, and the five-inch-long inseam, slightly longer than usual for running shorts, was the perfect length for several testers. It's also available with a three-inch inseam for those who prefer less leg coverage.
Tracksmith Run Cannonball Run Short Tights ($88)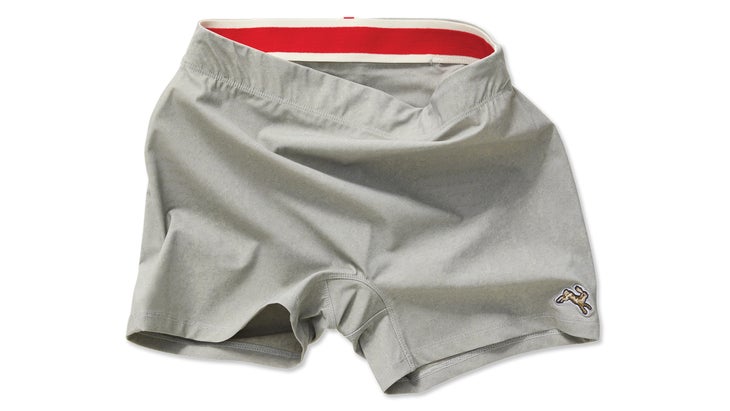 Sizes: XS-L
Pros: Exceptionally capable at wicking water and sweat
Cons: Slim fit
Wearing these shorts, Anna loved jumping into Puget Sound in the middle of runs and sometimes she hopped on a bike before or after. Svati took them on 3-mile runs to and from swims in the Atlantic Ocean while on vacation—a summer routine that usually causes chafing in other shorts. A sleek zippered back pocket is perfect for carrying a credit card or keys. The nylon-elastane fabric has just the right amount of stretch and dries shockingly quickly; it's also cool to the touch, so you don't need to take a dip to feel comfortable in the heat. Like all Tracksmith apparel, these shorts run slightly small so we recommend sizing up, but once you find the right fit you'll reach for them over and over all summer.
Nathan Interval Bike Shorts ($65–70)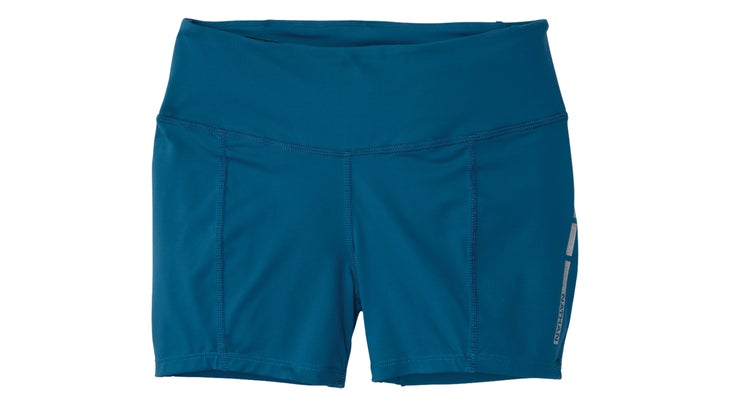 Sizes: XS-XL
Pros: Support, comfort, and they don't budge
Cons: Not light or breezy
These nylon-elastane compression shorts got the job done on days when we wanted to feel sleek and supported. The wide waistband didn't dig in or fold over, and it held the shorts up even when we had a heavy phone in the back pocket. Testers also noted that these are comfortable enough to run errands in before or after running, which isn't always the case with such skin-hugging fabric. Available in both a 6-inch and 3-inch inseam.
Ibex Springbok Short ($100)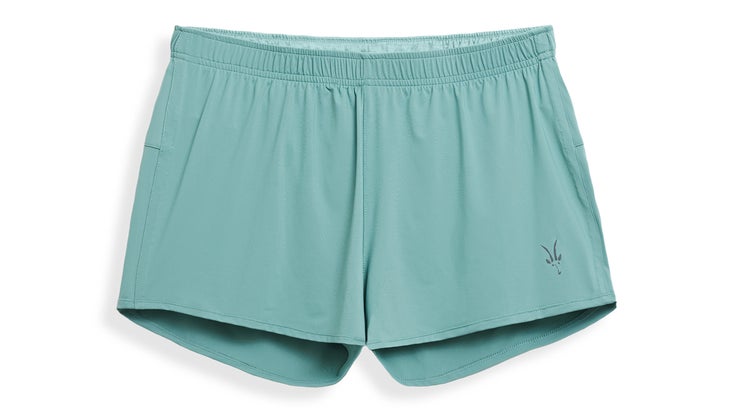 Sizes: XS-XL
Pros: The softest interior liner we've ever felt on running shorts
Cons: Slim fit
Nothing fancy here, just incredible comfort and a wide back zippered pocket that holds our essentials—phone, keys, glucose gel—perfectly. Ibex combined its signature merino wool with eucalyptus-based Tencel to make the liner on these shorts, which has the stinkproof breathability we love from merino plus extra softness, stretch, and durability. The outer short is a durable, slightly stretchy nylon-spandex blend. With a 3.5-inch inseam, these don't feel too long or too short. We wish we had multiple pairs.
The Best Women's Summer Running Tops of 2023
Craft Pro Hypervent Singlet ($60)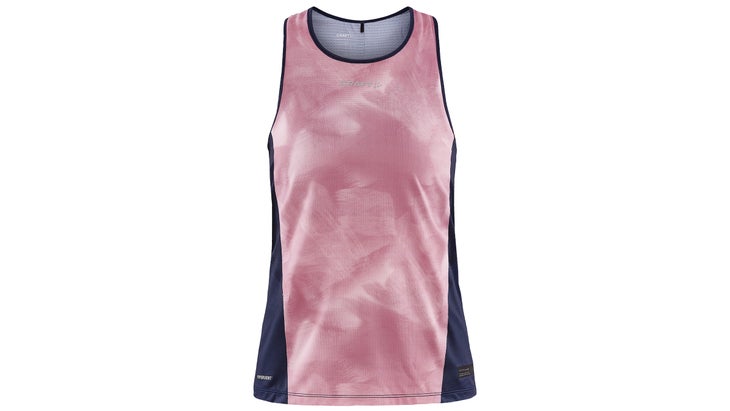 Sizes: XS-XL
Pros: Incredibly light and durable
Cons: Slim fit
This whisper of a polyester mesh tank was an instant favorite among our higher-mileage trail runners. The racerback design and soft flatlock seams around the neck and armpits made the singlet feel invisible when we were wearing it. Anna noted that this piece held up particularly well to dirt, looking fresh even after her dustiest trail runs.
Brooks Distance Short Sleeve 2.0 ($36)
Sizes: XS-XXL
Pros: Classic, flattering, and versatile
Cons: Not the most sweat-wicking
This tee is for the runners who still love the soft, old-school feeling of cotton shirts. (We know you're out there.) Brooks made it with its proprietary DriLayer fabric, a 50-50 mix of cotton and recycled polyester that's surprisingly good at wicking moisture. Smooth seams and a slightly tapered fit around the waist keep it flattering and comfy, and it comes in 11 colors, some with fun graphic designs.
Rabbit EZ Tee Cropped ($48)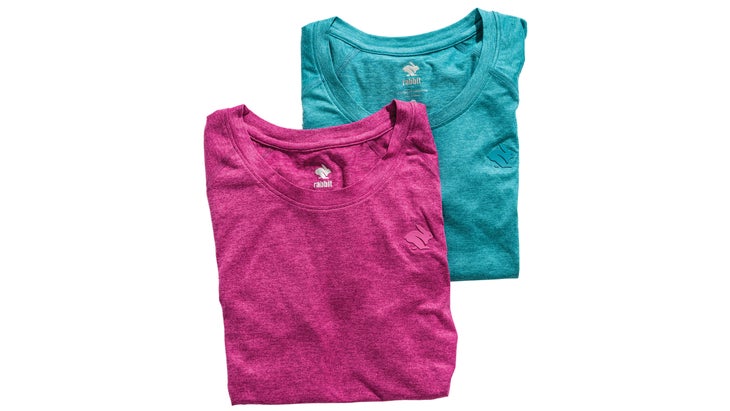 Sizes: XS-XL
Pros: Delightfully silky fabric, cute colors
Cons: Cropped style may feel awkward for those with longer torsos
We fell in love with the silky feel of this polyester-spandex top. The cut is relaxed but not boxy, and it falls just above the hips for a shorter fit than most running tees or tanks in our rotation. Multiple testers found themselves sporting this one around town in addition to wearing it on runs. The cropped cut didn't get in the way of layering this tee under a light jacket on chilly evenings.
Rabbit Seabreeze Tank ($50)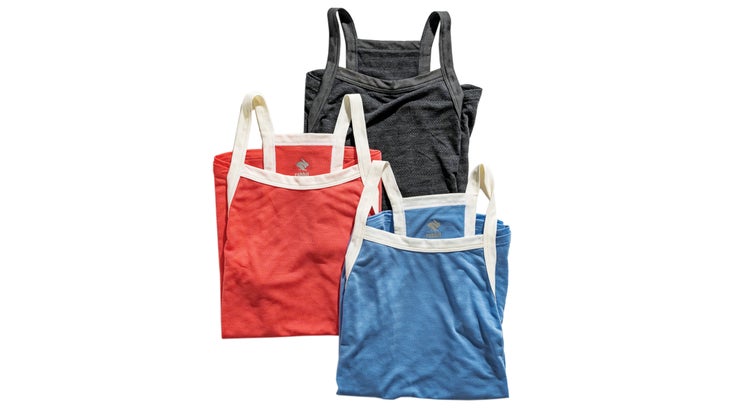 Sizes: XS-XL
Pros: Perfect for showing off glistening shoulders on the hottest days
Cons: The high neckline wasn't loved by all
We found ourselves reaching for this barely-there tank on the hottest days because it felt like it disappeared into thin air once we put it on. With a high neckline and square racerback, this polyester-lyocell tank fit smoothly over even the bulkiest sports bras, and it never showed signs of sweat.
How to Buy
Look for apparel that's intentionally designed for running. Fit and feel are incredibly important: running clothes should not restrict your leg and arm movement or be so tight as to interfere with your breathing at all. Watch out for how many seams are on the fabric and where they are placed, as they can cause chafing. When trying on garments, do some dynamic stretching such as leg swings, lunges, and arm circles to experience your body's whole range of motion in the apparel. If you're trying on a piece with pockets, make sure you test how it feels when the pockets are full—especially if you intend on carrying something heavy like a cell phone which can drastically change the way a pair of shorts fits and rides.
For summer running, sweat-wicking and quick-drying materials are essential. These are usually made of polyester or wool blends and have a wide variety of names and textures. Polyester weaves tend to be the most breathable and often highly durable, while wool resists odors and has a soft feel against the skin. The final choice is personal: find a fabric that makes you feel cool and comfortable, even when working up a sweat.
When it's time to upgrade your gear, don't let the old stuff go to waste–donate it for a good cause and divert it from the landfill. our partner, Gear Fix, will repair and resell your stuff for free! Just box up your retired items, print a free shipping label, and send them off. We'll donate 100 percent of the proceeds to The Outdoorist Oath.
Lead Photo: Mal de Ojo Studio/Stocksy