Eight Fast and Agile Carbon-Plated Trail Running Shoes
These off-road-ready supershoes provide pop while adapting to tippy terrain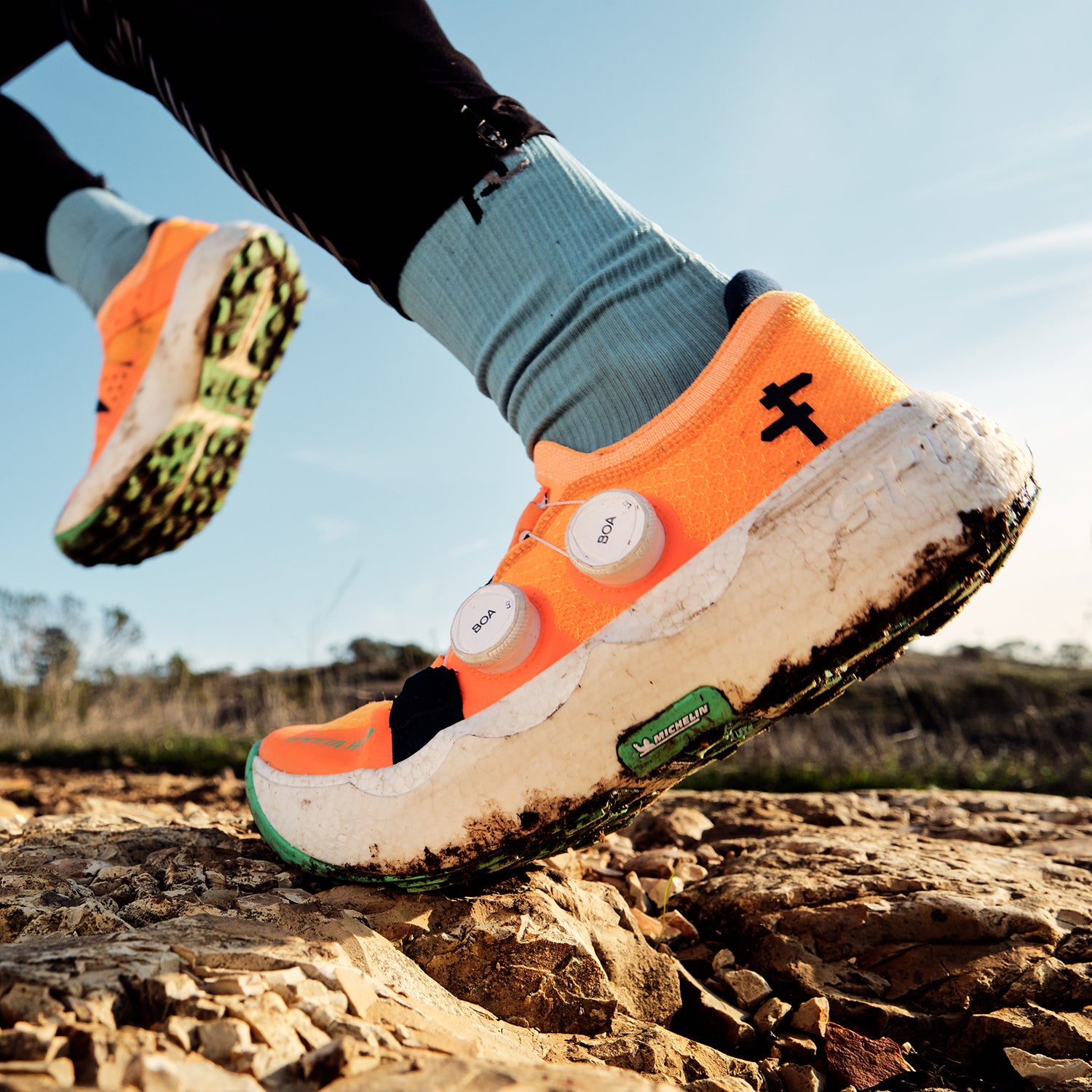 Kody Kohlman/Speedland
Heading out the door? Read this article on the new Outside+ app available now on iOS devices for members! Download the app.
Here's why I love carbon-plated running shoes: They allow me to run farther and faster with less effort. They also allow my strained metatarsal ligament—and other overused muscles, ligaments, and tendons in my feet—to not work as hard as they do in shoes without a plate. I reach for them when I feel like my feet need a break but I want to keep running.
Here's why I don't always love carbon-plated trail running shoes: They can feel tippy on technical terrain, the plate acting like a lever when stepping onto protrusions and uneven ground, rocking my foot in unpredictable directions. Also, while I love relying on plated trail shoes to give my feet a break, depending on them too often makes me think my muscles, tendons, and ligaments will weaken and not function properly when I need them. And, carbon-plated shoes are pricey.
But, while I won't use them every day, I'll reach for carbon-plated running shoes often because they're fun to run in, speedy, supportive, and forgiving. (I don't feel as trashed after trail runs in plated shoes than if I wear "regular" shoes.) And today's versions are dealing with the tippy issue by varying the shape of the plate, its stiffness, and where it's sandwiched within the midsole. There's a whole slew of great options now on the market, and the tech continues to improve.
Five testers, ranging widely in age and speed, and I ran in eight different models over six months on the trails around Boulder, Colorado, and the Bay Area, California. Here's what we found:
Hoka Tecton X 2 ($225)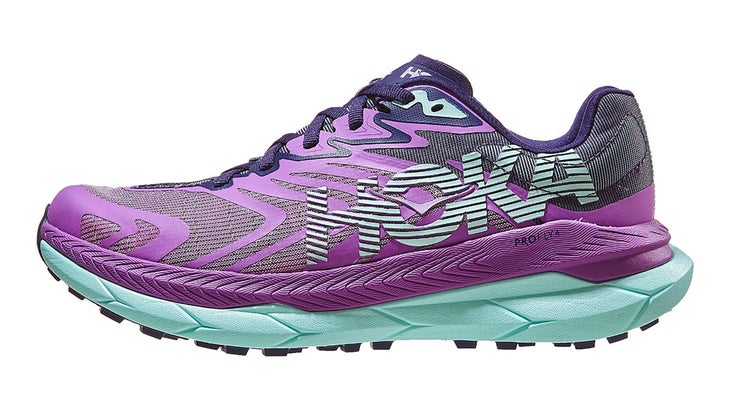 We loved the first iteration of this shoe—in fact, we named it the 2022 Gear of the Year pick among running shoes the summer it debuted. This version is even better, making it a favorite of this roundup. Like in the first edition, two plates run parallel to each other within the midsole, letting them operate independently, which seems to make this shoe the least tippy of the test. Combined with soft, responsive cushioning, the sole morphs around pokey rocks and sticks, and delivers a comfy and peppy ride. An updated Matrix upper improves the fit and lightens the weight from the first version. 8.8 ounces (men), 7.4 ounces (women's); 5mm drop.
Nike ZoomX Ultrafly ($250)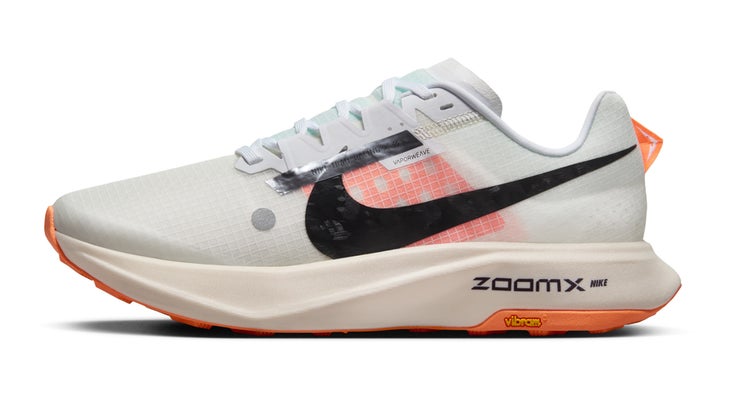 There's been a buzz around this model for nearly a year, as it's the first shoe that applies Nike's carbon-plating tech for the trail, and has already been spotted on the podium of races like Western States. It's also the first Nike trail shoe with great traction, using a proven Vibram Megagrip Litebase outsole with 3.5mm lugs to grip rock and dirt. The foam, Nike's Pebax-based ZoomX found in their Vaporfly models, is soft and springy, lively and energizing. Here, it is encased in a textile wrap that protects from punctures and reduces lateral squish, creating a noticeably more stable ride than ZoomX alone. A nicely padded heel collar and secure midfoot make this a comfy shoe that's as ready to race as it is to log long, slow mountain miles. 10.6 ounces (men's), 8.8 ounces (women's); 8.5mm drop.
AVAILABLE IN AUGUST
Speedland GS:TAM ($275)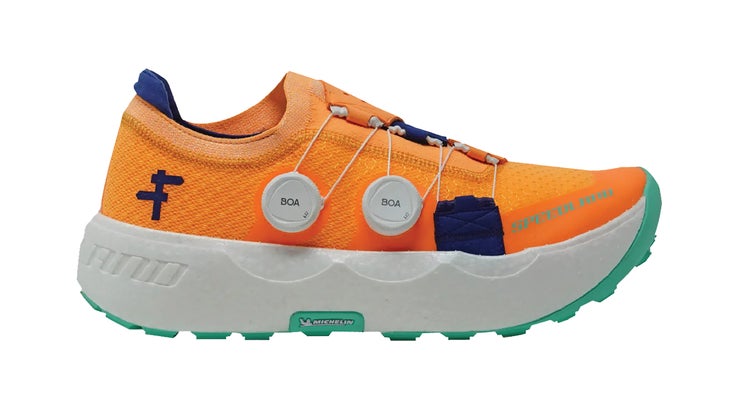 This is the only shoe in the test with an optional carbon plate; it can be easily inserted or removed depending on your mood or the terrain you're running on any given day, making the shoe highly versatile. A custom-like fit comes from two BOA dials that fine-tune the tension on the instep and ball of your foot independently and can be adjusted mid-run, accommodating for foot swelling or terrain (dial tighter for technical trails, looser for comfort on smooth terrain). The outsole base is notably wide under the forefoot, which creates a stable-feeling platform despite the high stack (37mm heel/30mm forefoot) of soft, bouncy Pebax foam. 10.5 ounces (unisex); 7mm drop.
The North Face Summit VECTIV Pro ($250)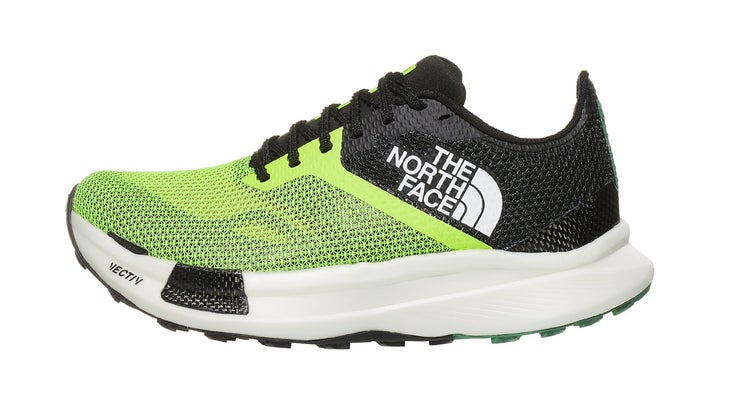 The VECTIV Pro has an aggressive rockered midsole that can feel downright strange when standing still. But on the run, its intention becomes clear: "I could feel it helping me spring off my toes," said a tester. The carbon plate within has "wings" that are visible on the side of the midsole. The effect is a stable platform on flat to moderate trails, but we found the shoe slightly tippy on off-camber terrain or when stepping on pointy trail protusions. The traction excels, grabbing loose dirt with aplomb. It's built for race day—and we can tell. "I felt superfast in these shoes, due to lightness, springy cushioning, and curved sole that helped propel my running motion forward," said another tester. That said, it seems best suited for fast, runnable terrain rather than technical rambles. 10.1 ounces (men's), 8.54 ounces (women's); 5mm drop.
The North Face Vectiv Sky ($199)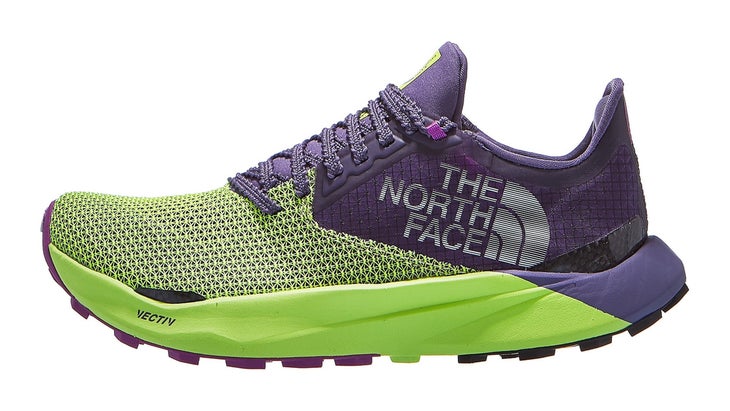 This is the lighter, faster, lower-to-the-ground version (21mm/17mm) of the Vectiv Pro. The ground feel ranks high here, especially for a plated shoe. I appreciate the low stack height of these and love them for long, sustained climbs where light weight is a welcome commodity. Like the Vectiv Pro, the traction is amazing. It grips steep slabs of rock and loose dirt equally well. But like the Vectiv Pro, there's hardly any protection on the upper, making them (and your feet) susceptible to hard knocks from rooty jabs and ragged rock edges. We do like this shoe for fast efforts, though. The off-set lacing—which never came undone—is mostly comfortable, though some reported slight digging on the top of the foot after hours of wear. 9.6 ounces (men's), 8.0 ounces (women's); 4mm drop
Craft CTM Ultra Carbon Trail ($260)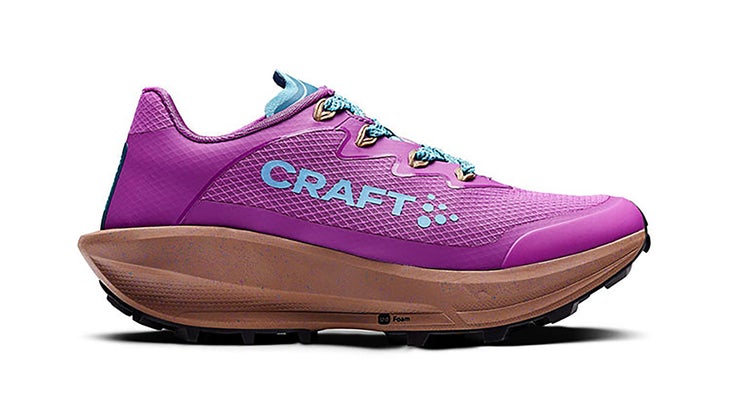 This shoe feels different. With a thick stack of foam (40mm/30mm M, 38mm/28mm W) it rides high off the ground, almost like running in platform shoes. We preferred the sensation on smooth terrain over rugged, as the stiff sole and plate combo made us feel somewhat disconnected from the ground beneath our feet, reducing agility. But we love how the nylon mesh upper with supportive overlays wards off snags and even dirt, making these feel "bomb-proof," as one tester put it. And the traction is superb. "Grips like octopus suckers!" another tester said.  If you like feeling unscathed while bushwhacking and almost like hovering while running you'll love this shoe. (I'm looking forward to using these in snow.) 12 ounces (men's), 9.7 ounces (women's); 10mm drop
Saucony Endorphin Edge ($200)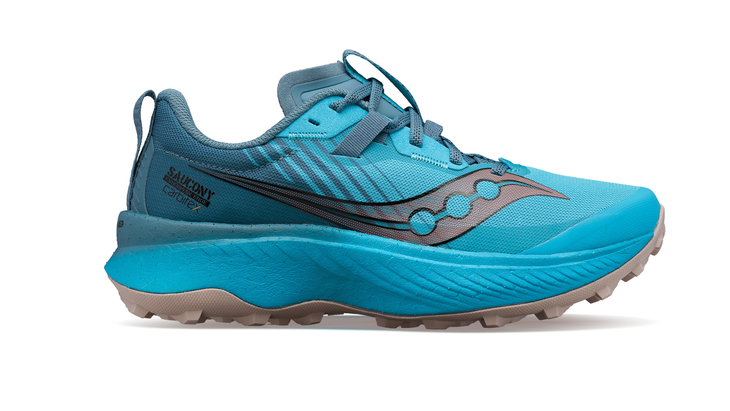 This shoe's adaptive Carbitex plate is pronged under the toes and flexes upon footstrike to handle uneven terrain, but stays stiff in the other direction for peppy push-offs. The cushioning around the plate—the same Pebax-based foam found in their marathon-racing Endorphin Pro supershoe—feels energetic and shock-absorbing, and a rockered shape helps encourage forward propulsion. A full-length rockguard, combined with the three-quarter-length carbon plate, makes this shoe ride on the stiff side, but ensures underfoot protection. Next to the Hoka Tecton X 2, this is the lightest shoe in this roundup, and we appreciated its slight profile, which didn't detract from its durability or ability to handle rugged terrain. 9.0 ounces (men's); 7.8 ounces (women's) 6mm drop
Scott Ultra Carbon RC ($230)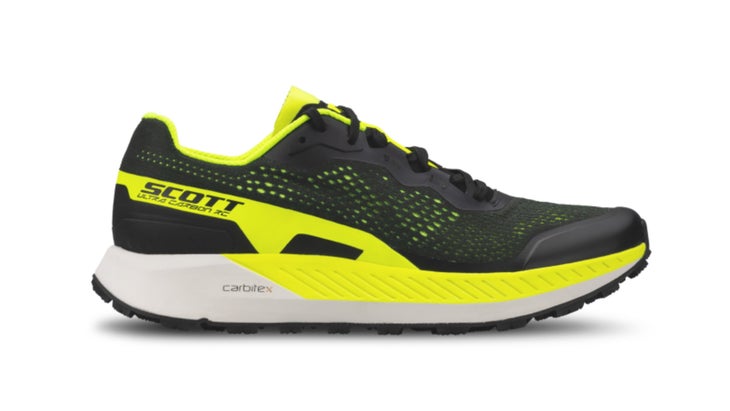 This is a fast-feeling shoe. The EVA-based cushioning rides on the firm side underfoot, which translates into responsiveness that made us want to turn our legs over as fast as possible, and helped us to do so. The Carbitex carbon plate is forked on both ends, which seemed to help the shoe's agile ride, as it's not as tippy as some others. The plate also flexes at slow speeds and gets stiffer with increased pressure, which translated to a propulsive feel when we stepped on the gas. We reach for this shoe over soft, squishier, higher-riding shoes for short trail races on varied terrain, given its ground feel and agility. 10.6 ounces (men's); 8.1 ounces (women's); 5mm drop
Lead Photo: Kody Kohlman/Speedland