Do Hilma's New Running Shoes Deliver a Personalized Fit?
We put the brand's fit tool—and the shoes' runabilty—to the test  
Courtesy Hilma
Heading out the door? Read this article on the new Outside+ app available now on iOS devices for members! Download the app.
Last October, the new women's-specific running shoe brand Hilma hit the market touting a semi-customized buying experience. Its online fit tool promised to dial in your best size and shoe shape from among the brand's whopping 45 different options for each style: three fit options in each size from 5 to 12, with half sizes. Fit 1 has a narrower heel hold, narrower midfoot hold, and narrower toe box. Fit 2 retains the narrower heel hold and midfoot hold, but features a wider toe box fit to better accommodate a more rectangular toe shape. Fit 3 boasts a wider heel hold, wider midfoot, and wider toe box for a more full-volume foot.
I wrote about the brand when it launched, and in the six months since, I've had a small team of testers go through the fit system on the Hilma website, order the shoe prescribed to them, and evaluate the fit and ride.
Here are the results of our testing. (Cue the dramatic Law & Order "dun-dun.")
Painful Hammer Toe: Tester Katie
One of my regular shoe testers, Katie, had a bunion operated on years ago and subsequently developed a hammer toe. "Certain shoes will bug the sh*t out of me because of the hammer toe," she says. Running on a cambered road often bothers her feet, especially if the last is too narrow. A wide toe box accommodates her hammer toe, but if it's too wide, her foot slips around. "My big toe and second toe move around too much and I don't like that," she says. "I like something that's not too snug, not too wide, but just right."
Katie took Hilma's "Find Your Fit" survey, answering questions on brand and fit preferences, like: "The brand of your best fit running shoe in your size is: [with various brands listed]"; and: "With regular, or average width running shoes, which of the following statements is most true for you: Most brands regular fit running shoes…[with options like "Don't feel wide enough; Don't feel narrow enough; Feel comfortable on me."]
Katie was prescribed Fit 2 in a size 7.5 (interestingly, as she's usually a woman's 8). She chose her color, Evergeen. And she loved her new Hilma shoes from the get-go. "It really did feel meant for me," she reported. "From heel to toe and laterally, this shoe felt just right."
Katie tested the shoe on roads and trails around Boulder, Colorado, and on a trip to North Carolina. She raved about the cushioning, the lightweight feel, and the breathability of the upper. She liked being able to tuck away the laces in the simple band on top of the tongue. She loved the traction, and, although she said she wouldn't use her Hilma's for rugged mountain runs, she likes them for virtually everything else. For local trails and flat, predictable trails," she says, "this shoe would definitely be a go-to for me."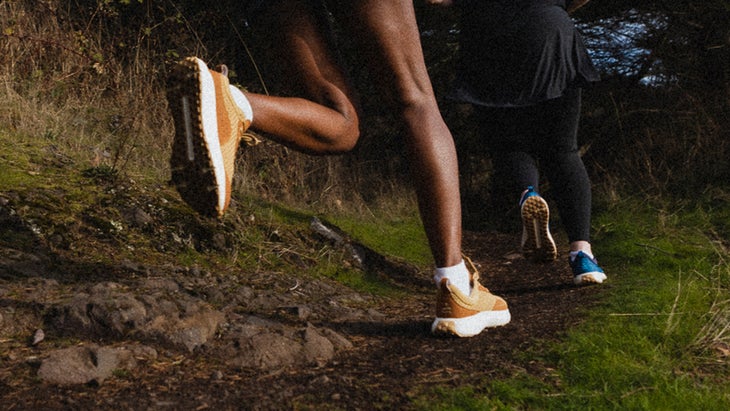 Longer Second Toes: Tester Sara
A second tester, Sara, has a longer second toe that can make fit length difficult for her, and was also prescribed Fit 2 but in size 8.5 (her usual size). She chose Mirage Grey as her color and says she "really loves the aesthetic and the color she chose."
She also liked how the toe box was "plenty wide," as a roomy toe box is "a priority" for her. But she felt her Fit 2 shoes were, overall, "too wide, too bulky, with not enough shape." And while she thought the shoes felt "nice and comfy," she felt they fit and ran more like a "sneaker" than the performance/technical running shoes she's used to wearing from many other brands.
She felt the materials used—like the gum rubber outsole and soft but "too thick" mesh upper were—"interesting," almost "lifestyle" features. When I asked her what kind of workout she thought the shoes were best for, she replied (often the joker): "Running errands."
Fallen Arches, Narrow Feet: Me
I have very narrow feet with fallen arches that are pronounced when unweighted. I've worn hundreds of models of running shoes over my 15-plus years of shoe testing and writing.
When I took the survey, I craved more detailed questions like the height of my arches weighted vs. unweighted and if my right and left feet are the same size (mine are slightly different). When asked "What about your brand shoe worked well for you?" I thought, "It's not so much the brand, but the model."
But I appreciated being asked anything at all during the online selection process, and the survey accurately prescribed Fit 1 for me (since I received and was able to try on all three fits through the testing process, I was able to confirm that Fit 1 works best for my foot). They felt great out of the box, and have gotten increasingly comfortable over time. I'm not sure they feel more personalized than all other brands/models, but I'm unique in that I have access to a multitude of shoe models where others do not.
I broke in the shoes on dog walks and, Sara would approve, running errands. I enjoy the Mirage Grey's neutral, monochromatic styling; they go with everything.
I then took them on a steep, dusty, trail run with my dog. I purposely stepped onto sections of loose dirt and directly onto rock slabs. The traction worked remarkably well. I didn't slip on the trail at all. My foot moved a tiny bit within the shoe, which I chalk up to a lack of structured overlays on the upper. But the fit proved comfortable and secure.
On road runs, the cushioning wasn't as responsive or lively as other shoes I've tested recently. And the flat last—lacking support from a pronounced arch or a broad midsole/outsole silhouette—was noticeable for me. (I feel like more support and/or more cushioning keeps my regular aches and pains in check.)
But these shoes perhaps shouldn't be compared to more technical running models. Hilma touts its shoe as a "Go-anywhere" shoe, and the tagline, "Any place at your pace" dons its website. To test the "anywhere" claim, I happily, comfortably wore them out to a sushi dinner on the same day I had worn them on a run. (This is Boulder, Colorado-casual.) I do love their versatility.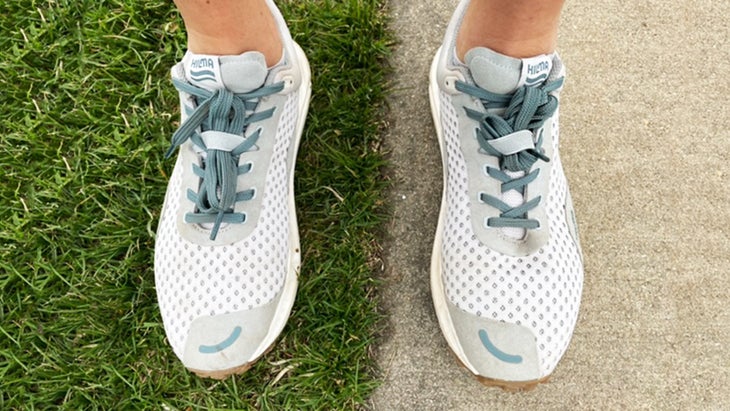 Who Is Hilma For, and What's Next?
This first model that Hilma came out with in the fall—and that we all tested—was designed as a road-to-trail hybrid. After running in them, I can confirm that they work on both types of surfaces—which isn't easy to achieve. I personally prefer them on trails, especially mellow hikes where I might run a bit, and still marvel at the efficacy of the traction. On roads, the ride is a personal preference as our varied evaluations attest.
Hilma founder Brooke Torres says that the three fits, which the company put years of research and development into, have been resonating well with customers. She says the company's next move will be launching into a new category of running shoe, continuing to build on what she calls their "proven fit models." And she explains that the brand's future plans include doing more in-person activations. "There's a real magic in seeing our customer find her perfect fit when given the opportunity to try on all three," she says.
They Might Make You Feel Special
Whether or not you find the brand brings unique value most likely depends on how well the fit survey dials in your preferences. Our experience was mixed. When I told Katie that I wasn't feeling like the shoe excelled at anything in particular (e.g., cushy long runs, uptempo workouts, or technical trail running), she disagreed. "They excel at making me feel special!" she contended.
Lead Photo: Courtesy Hilma
Trending on Outside Online