Four Great Do-It-All Running Shoes for Every Terrain and Workout
These versatile trainers can handle everything from speed work to recovery jogs, on road, track, and trail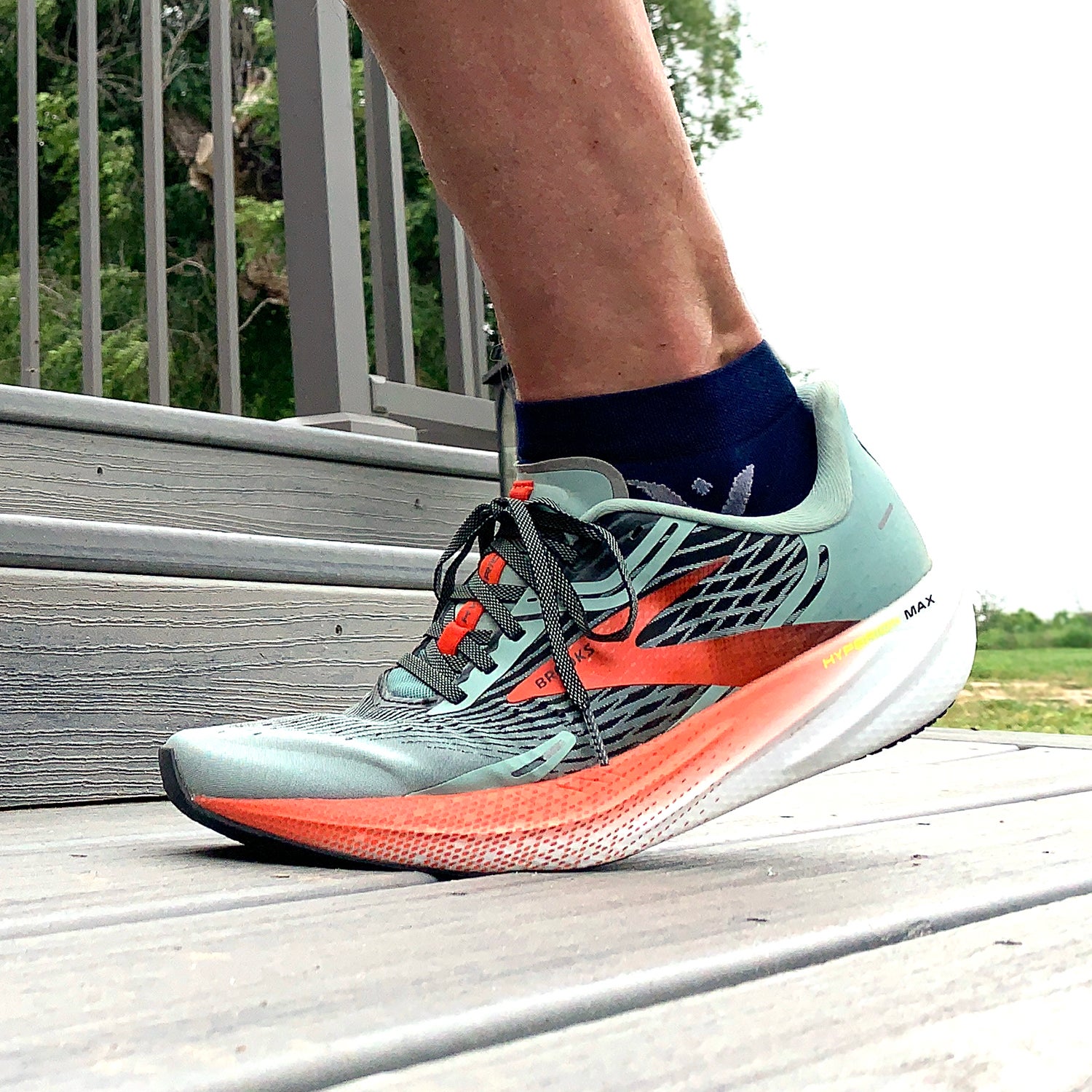 101 Degrees West
Heading out the door? Read this article on the new Outside+ app available now on iOS devices for members! Download the app.
It's often said that running shoes are specialized tools. The best ones for racing a 5K probably aren't also great for exploring trails or doing an easy long run on the roads. "The right tool for the job" has certainly been my shoe-selection method for the 125,000 miles I've run over the last 40-plus years.
While there isn't one shoe that handles every situation perfectly, there's something to be said for do-it-all shoes—ones that work well at nearly all paces and on nearly all surfaces. Maybe you can't afford to buy three pairs of shoes at once. Maybe you're a minimalist who wants to keep your gear shed simple. Or maybe you're about to go on vacation for a week and don't want to pack four pairs of running shoes.
Even those of us who own a variety of models value a shoe that feels good on several surfaces and at different paces. After all, most of us don't regularly drive to parks to run, or have trails out our back door. Similarly, as access to tracks gets increasingly scarce, we appreciate a shoe that's responsive enough to wear for hard workouts on roads or bike paths, but protective enough for the warm-ups and cooldowns that sandwich those workouts.
Over the past year, I tested 10 shoes with potential as standout do-it-all models. These shoes aren't marketed as one-stop-shopping, crossover models; their versatility is an added-value bonus. Four showed enough promise that I put in at least 200 miles on each. I wore them for every type of run on every type of surface available to me: asphalt, dirt roads, New England forest trails full of roots and rocks, crushed gravel paths, packed snow, and outdoor tracks. Here are my picks for the best do-it-all shoes, in descending order of preference on my admittedly subjective scale.
Brooks Hyperion Max ($170)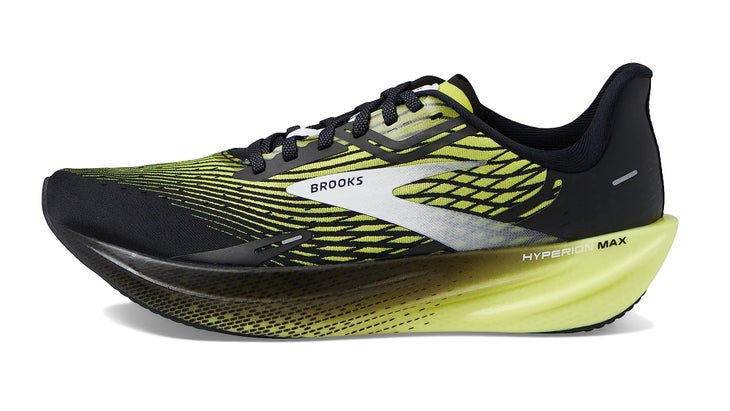 This was a clear overall winner in my test because of its ability to do everything well. I enjoyed it more than any of the others for every type of run and on every surface.
Disregard the "max" part of this shoe's name if you associate that word with copious amounts of cushioning. With stack heights of 34 millimeters in the heel and 26 millimeters in the forefoot, this is a medium-height shoe by current standards. Brooks markets it as a lightweight trainer (6.7 ounces in a women's size 8, 7.5 ounces in a men's size 9) for fast road running. It certainly shines in that regard. But it's also great for, well, pretty much everything. I enjoyed it on workaday hour-long "normal" runs, short hill repeats, two-hour trail outings, tempo runs, and short recovery jogs.
The nitrogen-infused midsole is firm but not harsh (and after 300 miles feels the same as it did after 30). The rockered geometry encourages good turnover but doesn't force you into an unfamiliar rhythm or gait. The woven upper combines with the rest of the shoe to provide a surprisingly stable platform on even muddy trails. I'll keep buying this shoe as long as Brooks makes it. (Which means, with my luck, it will be discontinued next month.)
Skechers Razor 4 ($135)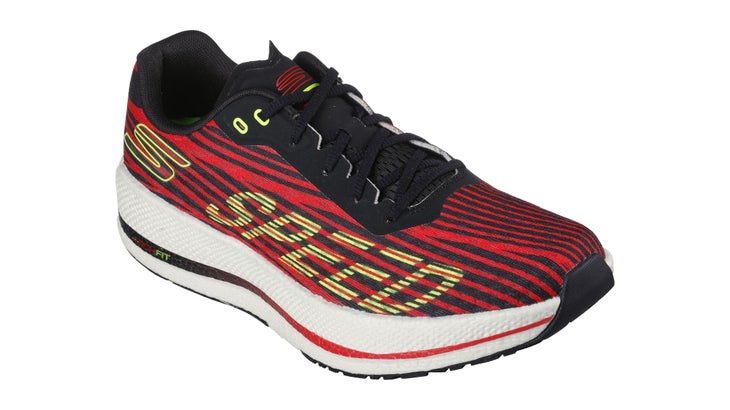 It should no longer be surprising that Skechers makes top-quality running shoes; they've been doing so since 2011. This shoe's predecessor, the Razor 3, was an all-time favorite: I used it for everything, even though it was billed as a lightweight trainer/racer hybrid. Its one shortcoming? Its outsole lasted less than 200 miles.
The Razor 4 has significantly better durability, and while I find running in it a little less fun than I did the Razor 3, it's still excellent. It's also a better do-it-all option for most runners. At 6.4 ounces in a women's size 8 and 8 ounces in a men's size 9, it's still light, but less minimal than the Razor 3 (which weighed less than 7 ounces in most men's sizes). The stack heights (30 millimeters in the heel, 26 millimeters in the forefoot) are a little higher. Perhaps most significantly, the midsole, made from treated TPU beads, is softer and springier, making it more forgiving for daily use, and it doesn't feel stiffer when temperatures are in the teens or colder.
For me, the Razor 4's ride is enjoyable at everyday pace, excellent at tempo-run pace, and acceptable down to 5K pace. Once I go much faster than that, the midsole's bounciness detracts from an efficient turn-over. Still, it's more than adequate for short bouts of faster running, such as striders. The Razor 4 is also a great choice for long runs. I experienced no shoe-related fatigue, and the midsole and structure worked with my form to keep me moving well as I tired. That was true on road-only long runs as well as ones with lots of trail sections, where the small forefoot lugs in the Goodyear rubber outsole provided surprisingly good traction.
Puma Velocity Nitro 2 ($120)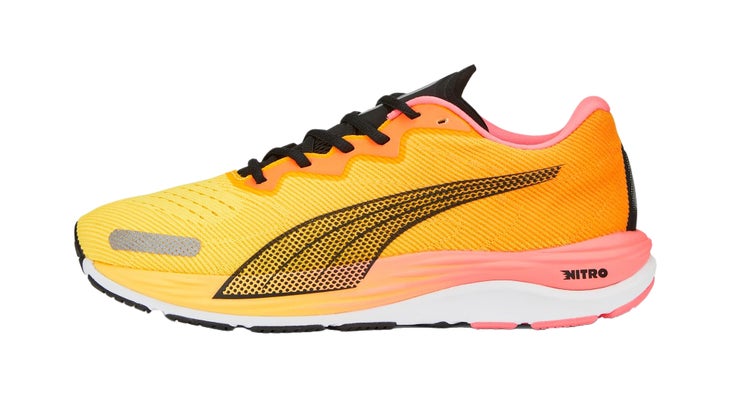 This Puma model is an underappreciated value. I've had two pairs that each lasted for more than 500 miles. I retired the first pair only because the left heel counter had lost too much structure; the midsole and outsole were still in top form.
On foot, they don't feel as heavy as the listed weights (8.1 ounces in a women's size 8, 9.2 ounces in a men's size 9). Puma's nitrogen-infused midsole material sits atop a firmer bed of EVA for balanced cushioning. The lighter-than-expected feel and the adaptable midsole configuration combine with moderate stack heights (34 millimeters in the heel, 24 millimeters in the forefoot) to make a true do-it-all trainer. There's plenty of cushioning for long runs (I've gone up to 34 miles in them) but enough pop for tempo runs and end-of-run pickups. For me, they're fine for short segments at 5K pace, but after more than two minutes at that effort I start thinking too much about the shoes.
The Velocity Nitro 2 is fantastic for road/trail mash-ups, thanks in part to a surprisingly grippy outsole that keeps you moving over and around trail obstacles but doesn't interfere with good road mechanics. Of the four shoes I tested, it's also simply the most comfortable on the run.
Tracksmith Eliot Runner ($198)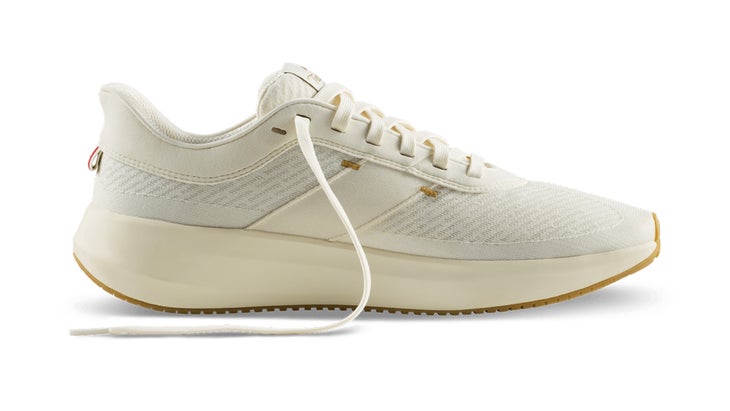 Tracksmith's first running shoe is in line with its New England retro prep-inspired clothing line. There's nothing flashy about it, just top-quality craftsmanship and materials in an understated aesthetic. The last is fairly straight and tapered. There's no dramatic lateral heel bevel, rocker, or adoption of any other current design norms to encourage quicker roll through the gait cycle. At 9.2 ounces in a men's size 9/women's size 10.5, it's neither superlight nor off-puttingly heavy. The stack heights (33.5 millimeters in the heel, 24.5 in the forefoot) give good ground feel without dipping into minimalist shoe territory. These elements result in a classic daily trainer feel.
The Pebax midsole is on the firm side; the ride is definitely not super bouncy, as you might have come to expect from the super-foam. The removable insole is also made of Pebax, but tuned a little softer. As with much else about the Eliot Runner, the effect is a middle-ground experience, neither too coddling nor too severe. I found the shoe most enjoyable at normal training pace. As with the Puma Velocity Nitro 2, it was fine on tempos and striders, but the weight and structure started to announce themselves more on something like 800-meter repeats at 5K pace.
The full-contact, slightly lugged rubber outsole works well on every surface. My only wish on trails was for a slightly wider platform to absorb lateral movements. The Eliot Runner was superb on packed snow. The thicker-than-average mesh upper is also a winner in winter: It kept my feet warm even in sub-zero temperatures.
Finally, the price. We're used to more bells and whistles for $200 shoes. A counter-argument is that, if it lasts substantially longer than a $150 model, it's eventually a decent value. As of this writing, I have almost 300 miles on my Eliot Runners. The uppers and overall structure are as good as new, the midsole feels the same, and I have less outsole wear than usual for that many miles. I would be surprised if things rapidly deteriorated over the next couple hundred miles.
Lead Photo: 101 Degrees West
Trending on Outside Online