The Gear Junkie Scoop: Inov-8 Road Shoe
Heading out the door? Read this article on the new Outside+ app available now on iOS devices for members! Download the app.
Inov-8 Ltd. is a U.K.-based shoemaker known for its trail-running shoes. The company's line — which spans from traditional supportive runners to footwear made for orienteering and equipped with carbide spikes — is one of my favorite brands. I've worn the company's shoes for years training and racing at home and around the globe.
New this year, Inov-8 debuted a line strictly made for road running. There are five models, from the "steady, comfortable and natural" Road-X 255, which is the most traditional shoe in the line, to an uber-minimal silicone "foot glove" made with individualized toes.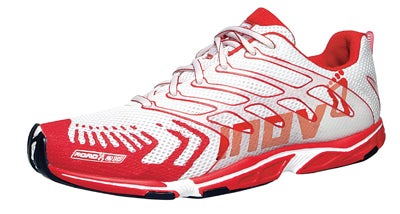 In between these extremes, the Road-X 233 model is touted (with some great British vocab!) to offer "scintillating performance as a race day shoe for club runners, whilst also providing sufficient under foot protection for the elite to use regularly."
For the past week, I've been running in these "scintillating" Road-X 233 shoes. My initial reaction is positive, as the shoe is minimal and fast, though not harsh when you're on a long run pounding the pavement for an hour or more.
The shoe has a 6mm differential or drop height from heel to toe and a neutral fit. It's a unisex model, made for women and men. Shoe weight is less than 9 ounces per foot in most sizes, which is light. (Official weight is 8.2 ounces in a U.K. size 8.)
A smooth, non-treaded sole and a meshy, lightweight build set the Road-X 233 apart. Like the company's trail runners, the sole has grooves and flex points made to mimic your foot's anatomy, including the "Dynamic Fascia Band," which is a design feature between the midsole and outsole that Inov-8 says offers "power transfer with each stride."
Is the shoe as "scintillating" as the company touts? Time will tell. So far, I like the shoe a lot. Indeed, this weekend I will run a marathon in the Road-X 233s, the National College Blue Ridge Marathon in Roanoke, Va., a hilly course touted as "America's Toughest Road Marathon."
Wish me luck on the 26.2 this weekend! I'm going to need it. And watch here for a follow-up report soon on Inov-8's unique new road-running shoe.
–Stephen Regenold is founder and editor of www.gearjunkie.com. Connect with Regenold at Facebook.com/TheGearJunkie or on Twitter via @TheGearJunkie.