The Gear Junkie Scoop: Manzella Running Glove
Heading out the door? Read this article on the new Outside+ app available now on iOS devices for members! Download the app.
Snow is on the ground. The temps are dropping. Winter has set in true and full in Minnesota, my home state, where the natives try not to let the dreary days of December get them down. One solution: Winter running! Indeed, endorphins are a very good thing this time of year, as is a bit of (fleeting) sunlight during the day in these dim northerly latitudes.
All this is to say that I have been running a lot lately. This includes in temps down to about 10 degrees F so far this year, and at distances that range from four to 10 miles through the ice and snow at a stretch. A litany of products go into play to make wintertime running comfortable and safe. Of that gear, handwear is among the most important.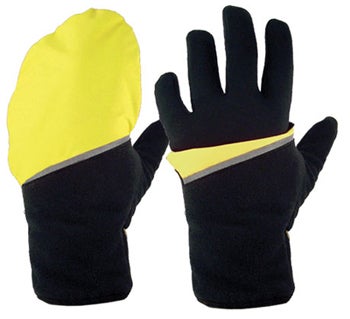 This winter, I have been testing gloves from a few companies, one of which is Manzella Productions Inc. of Buffalo, N.Y. Now, Buffalo is a place that sees even more snow than Minnesota, so I assume its product designers get some good honest testing in at this time of year. The Hatchback Convertible Running Glove is a testament to some well-thought design.
At $30, the Hatchback Convertible gloves are a fair deal for what you get. It's a basic fleece glove with a wind-proof "finger hood." The hood — the namesake for the "convertible" play in the model name — is essentially a tight-fitting mitten top. It's a thin hardshell-like fabric that offers water and wind repellency via Schoeller's NanoSphere treatment and a breathable polyurethane film.
Sounds fancy. But the Hatchback Convertible is a simple product. The company (www.manzella.com) touts wind- and water-proofness, however the true value to this convertible's "hood" is its warmth. You can start out a cold run wearing the Manzella in mitten mode. Once you warm up, peal back the hood and fold it away in the pocket on the back of the hand.
For me, and for running in Minnesota this time of year, the "convertible" design works. As a bonus, the high-visibility yellow is a nice touch for use around traffic or for crossing roads. I wear the gloves to temps down to about 20 degrees Farenheit, and then I need to upgrade to a thicker glove or a mitten that stays a mitten and doesn't have a hood to drop.
–Stephen Regenold is founder and editor of www.gearjunkie.com.