The Gear Junkie Scoop: Yurbuds Sports Earphones
Heading out the door? Read this article on the new Outside+ app available now on iOS devices for members! Download the app.
Music is quick motivation for untold millions of exercisers running to stay in shape or training for that next big event. With its Ironman Series Earphones, Yurbuds, a company based in St. Louis, Mo., touts "a perfect fit even during the most intense workouts."
The red, rubbery tips of Yurbuds' earphones squeeze and "lock" into your ear. I have been testing the tight-fitting buds for a couple months, mainly while running on roads and trails. During my test, they have never fallen out.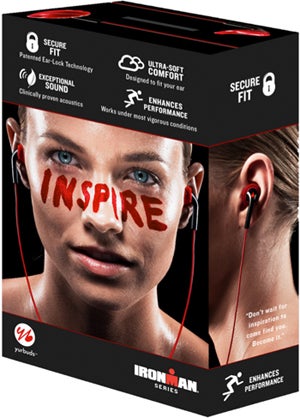 The company (www.yurbuds.com) uses a soft medical-grade silicone for the tips, which are removable from the "bud" part of the earphones. The setup is cited as "sweat-proof," and indeed the silicone does stay pretty tacky even when wet.
There's a 4-foot cord to let you snake the line to your device stashed in a pocket or pack. The plug-in, a 3.5mm jack, is the standard size to fit MP3 players, iPods and phones.
One caveat: The cord is rubbery and thin. I don't think durability is an issue, but the cord can tangle up and tie itself in knots if not stored away with care.
Yurbuds touts its product was created "by athletes, audiologists, and engineers to stay in place, avoid pressure points, and provide a pain-free listening experience." I found this mostly true. But after long runs, when the buds were in for an hour or more, they became slightly uncomfortable, like any bud will, and I was ready to take them out.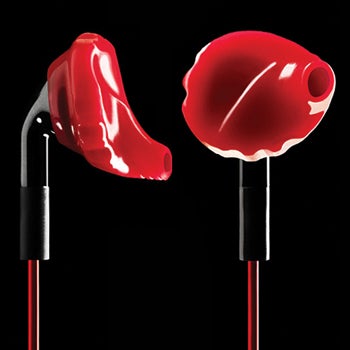 To assure the best fit, the company has different size tips. You can take a photo of your ear and send it to the company. Yurbuds scans the ear image and sends the correct size tip. (I went through this "Size yur Ear" process to test, and the company sent me its standard size tip plus a larger replacement tip to switch out in case of a fit issue.)
Audio sound, for a sports-oriented earphone, was great with the Yurbuds. For safety, they are not noise-canceling or sound-isolating earphones, though they do block ambient noise. As with any headphones, be extra careful running around cars or cyclists with these buds in your ears.
For $49.99, Yurbuds' Ironman Series Earphones are a fair deal and a nice product for runners and exercisers in need of music on the go.
–Stephen Regenold is founder and editor of www.gearjunkie.com.