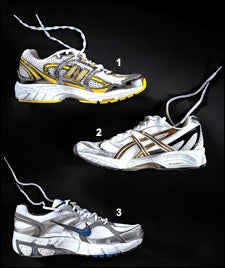 Heading out the door? Read this article on the new Outside+ app available now on iOS devices for members! Download the app.
1. CUSHIONING
BEST FOR: Those biomechanical marvels whose ankles don't roll inward—or pronate—much at all when running.
HOW IT WORKS: Because they don't require heavy braces to correct pronation, cushioning shoes can be lighter—the New Balance 1063 ($125; new­balance.com) is just over 12 ounces—without sacrificing padding. That makes them remarkably smooth, comfortable, and efficient. Most have a thicker pad of foam in the heel, to absorb the extra shock that a pronator's wobbly ankle would otherwise absorb naturally, and fewer straps across the upper, increasing breathability.
2. STABILITY
BEST FOR: Mild to moderate pronators, who roll their feet inward on impact and account for about 75 percent of runners.
HOW IT WORKS: It's like billiards. Stability shoes take a foot's off-kilter pronation, bounce it against a sidewall of hard foam—a "medial post"—and send it in the right direction. In ASICS's 12.8-ounce Gel Kayano 15 ($140; asicsamerica.com), pads of gel and deep slits in the rubber outsole also compress on impact to slow the inward roll of the foot. The midsole is built wider and closer to the ground than in cushioning shoes, and the arch is supported by a stiffer piece of plastic.
3. CONTROL
BEST FOR: Heavier runners with moderate pronation and lighter ones with severe pronation; 5 to 10 percent of all runners.
HOW IT WORKS: Basically, a control shoe is a stability shoe on 'roids. Nike's Zoom Nucleus MC+ ($115; nike.com) has a substantial block of dense foam on the inside heel—longer and thicker than in stability shoes, with a plastic buttress to make it even more firm. Plus both the heel pocket and shank (the plastic piece under the arch) are especially stiff. That support can help some runners beat chronic knee pain or shin splits and often comes with a weight penalty, but not here: This shoe weighs just 12.6 ounces.