Gear Guy
Help! I Need a Burly, Minimalist Trail Shoe
I'm looking for a minimalist shoe for running on trails with a lot of rocks and brush. What do you recommend?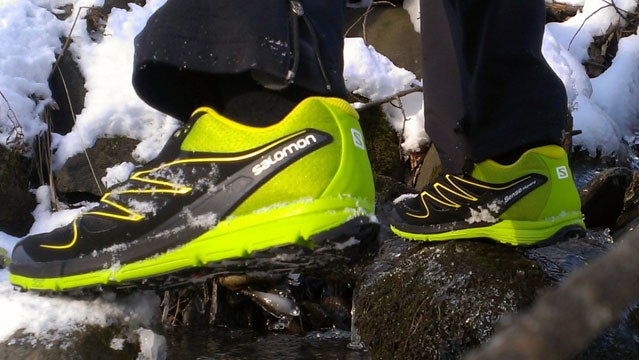 Heading out the door? Read this article on the new Outside+ app available now on iOS devices for members! Download the app.
We've tried a lot of strange running shoes over the last year, and the Salomon Sense Mantra certainly pushes into new territory. The $120 Mantra, which came out earlier this month, is designed for minimalist trail runners. But there's more to it than that. After training in the Mantra for a few weeks now, I've realized that the shoe is something like a cross between a minimalist running shoe and a hiking boot. Really: It's a lightweight shoe that enables a fast midfoot stride, but at the same time provides protection and stability when negotiating demanding mountain terrain.
A minimalist shoe usually has to meet three criteria: It weighs under 10 ounces. (The Sense Mantra checks in at 9.2.) It's flat or nearly-flat across the bottom, without the big "crash-pad" heel of a conventional shoe. (Check: The Mantra has a drop of only six millimeters.) Finally, it should be flexible enough to let you feel the ground. No check there: The Mantra felt like running on plywood slippers, and this basic lack of ground feel will turn off some runners. Holding it in my hand, the sole felt even harder to bend than a traditional stability shoe like the Asics GT-2170s. Not that that's always a bad thing, mind you. In our tests, the Mantra provided great stability and protection when tearing up granite-laden trails.
In tests, the outsole's sharp triangular pattern, which Salomon calls Contagrip, really held onto rock surfaces. (The company has redesigned the lugs in this shoe for better traction in mud, as well.) For a fit that really grips your foot, Salomon created an internal sleeve in the upper. As an extra bonus, the shoe gave my forefoot plenty of room in the toe box, even though the review shoe was a 1/2 size smaller than I usually wear.
I do have some criticisms. I didn't like the hardness of the foam: I needed a softer landing when running at an interval pace down rocky slopes, even compared to other minimalist shoes. And while I appreciated the stiffness on rugged trails, it limited how I used the shoe; I usually like to feel the ground better, and my running style depends on it.
WEIGHT: 9.2 ounces
HEEL-TOE DROP: 6mm
PRICE: $120
Lead Photo: Courtesy of Bob Parks