1,500 Miles Reviewing the Suunto Ambit3 Peak GPS Watch
Ultra runners and backpackers, take note: this tool offers unmatched performance for the price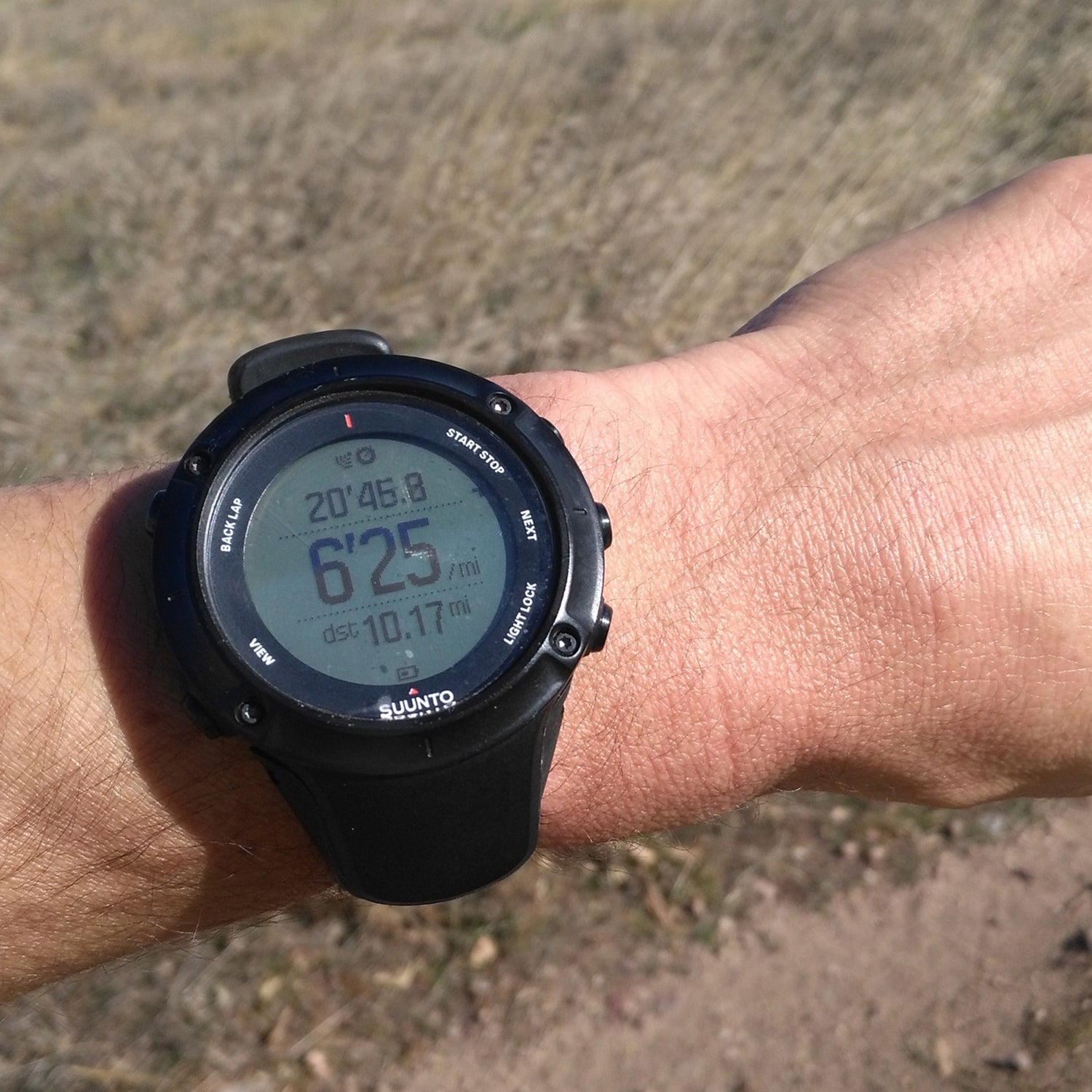 Andrew Skurka(Photo)
Heading out the door? Read this article on the new Outside+ app available now on iOS devices for members! Download the app.
Last August, I upgraded to the Suunto Ambit3 Peak after four years with its predecessor, the Suunto Ambit2 (read my longterm review). Since I train regularly based on heart rate, I bought the HR package, which includes the Smart Sensor Belt. (More on this below.) 
So far, I've worn the Ambit3 Peak for more than 150 runs and hikes, totaling over 1,500 miles and 300 hours. Most significantly, I used it for racing the Ultra Trail du Mont Blanc (UTMB), guiding backpacking trips in Sequoia-Kings Canyon National Park, hunting big game in Colorado, and training for the Houston Marathon.
Here are my impressions after that prolonged test. 
How I Use the Ambit3 Peak
To put this review in context, I'll explain how I use a GPS sport watch. I'm a two-sport athlete (running and backpacking) and use the Ambit3 Peak for both. 
Running (roads, trails, ultras)
The Ambit3 Peak records my current and average pace, lap and cumulative times, lap and cumulative distance, current and average heart rate, and net vertical ascent and descent, plus some other data. Its screens can be customized to display the data of greatest interest to me. For example, during an ultra marathon, I rotate between four screens, each dedicated to a specific data group: pace, heart rate, vertical, and cumulative.
All that information may sound overwhelming, but I think it's allowed me to train and race smarter. I was able to accurately compare my Houston Marathon training against my Boston Marathon training (from nine to 12 months earlier), despite my workouts not being on the track or on standardized routes. And at UTMB, my watch provided accurate pace and heart rate data, which helped me run evenly from start to finish.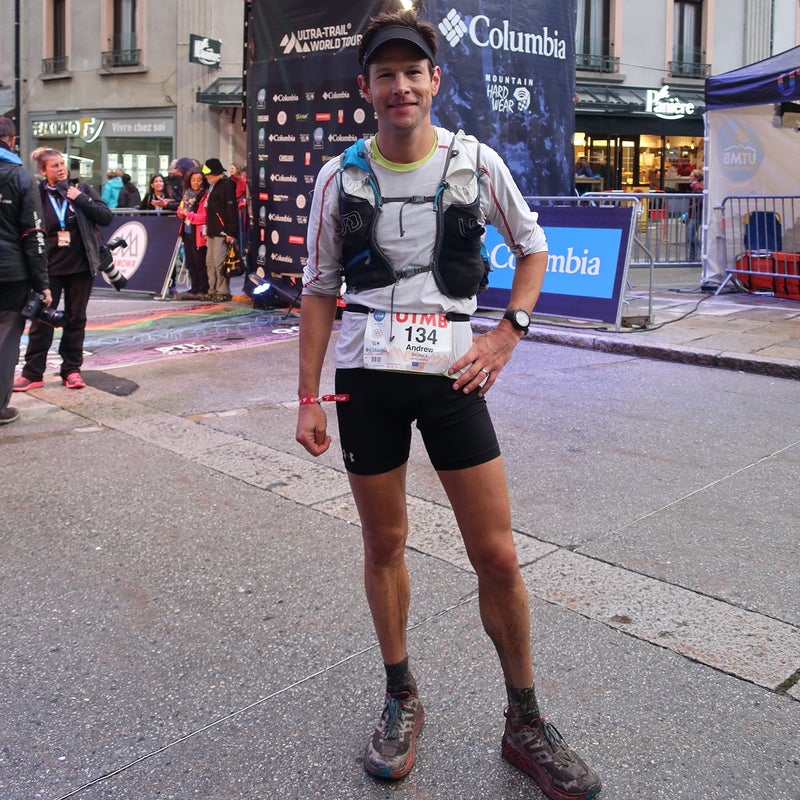 Backpacking
The Ambit3 Peak makes the traditional outdoor ABC watch—like the Suunto Core, which has only an altimeter, barometer, and compass—obsolete. The Ambit3 Peak includes all this functionality and much more. For example, it can:
Calculate the distance I've hiked from a trailhead or camp, or some intermediary point like a trail junction;
Measure cumulative vertical gain and loss. In mountainous terrain, vertical change is a better indication of my effort (and limits) than horizontal distance;
Perform basic GPS functions, like showing its coordinates, storing waypoints, and navigating to a pre-programmed landmark;
Create a GPX track of a route that can be shared or published later.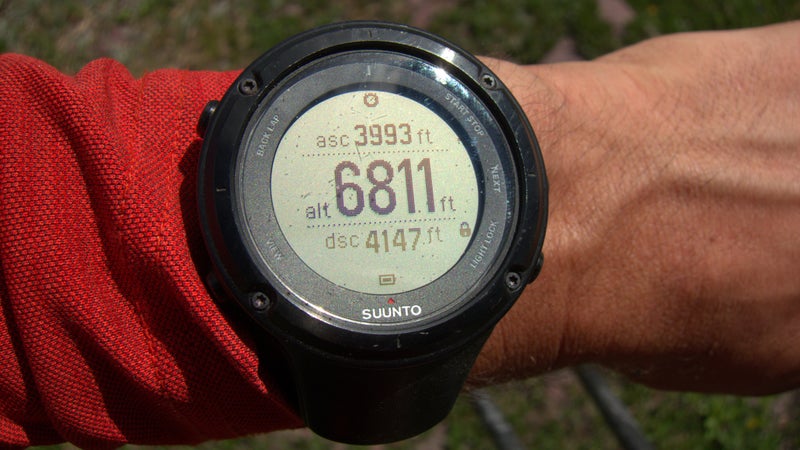 Why You Should Buy One
For ultra runners and backpackers, the Ambit3 Peak beats the competition in three important ways:
#1. Long-lasting battery
The Ambit3 Peak will run for 20, 30, or 200 hours when the GPS ping interval is set to 1, 5, or 60 seconds, respectively. It will last for the duration of most ultras (including 100-milers like Western States and Leadville, even for cutoff-chasers) and provide reasonably accurate data on backpacking trips up to about 20 days long (10 hours of run time per day X 20 = 200 hours). On longer trips, it can be quickly recharged in town or with a portable battery like the Anker Powercore 5000.
#2. Barometer
This instrument accurately measures altitude, vertical gain, and vertical loss, regardless of the GPS-ping interval setting. It also forecasts potential weather changes, which normally coincide with changes in barometric pressure. During long intervals between GPS pings, watches without altimeters can miss out on vertical movement, like in rolling terrain. And barometer-less Suunto devices won't even display cumulative vertical change, due to accuracy concerns.
#3. Price
When the Ambit3 Peak was released in mid-2014, it retailed for $500. Now, it's available from authorized dealers in the low-$300's, with an up-charge of about $30 for the heart-rate belt.
Ambit3 Peak V. the Competition 
Most other GPS sport watches—even newer, glossier, and more expensive models—fail to match the functionality of the Ambit3 Peak for ultra running and backpacking. Take the Suunto Ambit3 Vertical, which has half the battery life. The Ambit3 Sport and Ambit3 Run have shorter battery lives and no barometer. Ditto for the Suunto Spartan Sport and Spartan Sport Wrist HR.
The Garmin Fenix 5 and Garmin Forerunner 935 have barometers but short-lived batteries, from 24 hours to 60 hours (when using the fickle UltraTrac mode). Plus, they retail for $500 and up. 
For my purposes, the only watch that rivals the Ambit3 Peak is the Suunto Spartan Ultra HR. Its battery life is estimated at 18, 35, and 140 hours, depending on the GPS ping interval. And it has the same outdoor functionality as the Ambit3 Peak. However, at the time I wasn't willing to pay $600-ish, just for a sleek color touchscreen, vibration alerts, and some activity tracking. 
Ambit3 Peak V. Ambit2
The Ambit3 Peak is an evolutionary improvement over its direct predecessor, the Ambit2. My long-term experience with the Ambit2 was excellent, so I was curious how the simple, small upgrades would bear out on the trail. 
The Ambit2 and Ambit3 Peak share nearly identical bodies. They're about the same size, have the same buttons, and use the same GPS antenna. The menu system is the same, but has a few new options related to new Ambit3 Peak features such as Bluetooth pairing. The font is slightly different. Indeed, the most noticeable physical difference between the Ambit2 and Ambit3 Peak is the wrist strap. The Ambit3 Peak strap is softer and more pliable, which makes it more comfortable and more accommodating of various wrist sizes.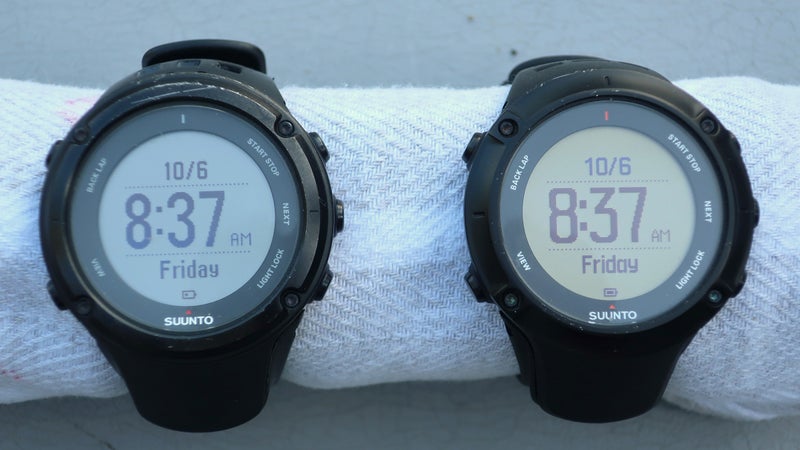 The USB charger is also carried over. It works, but it's a bit finicky compared to chargers for the Garmin Fenix 5 or the Suunto Spartan family.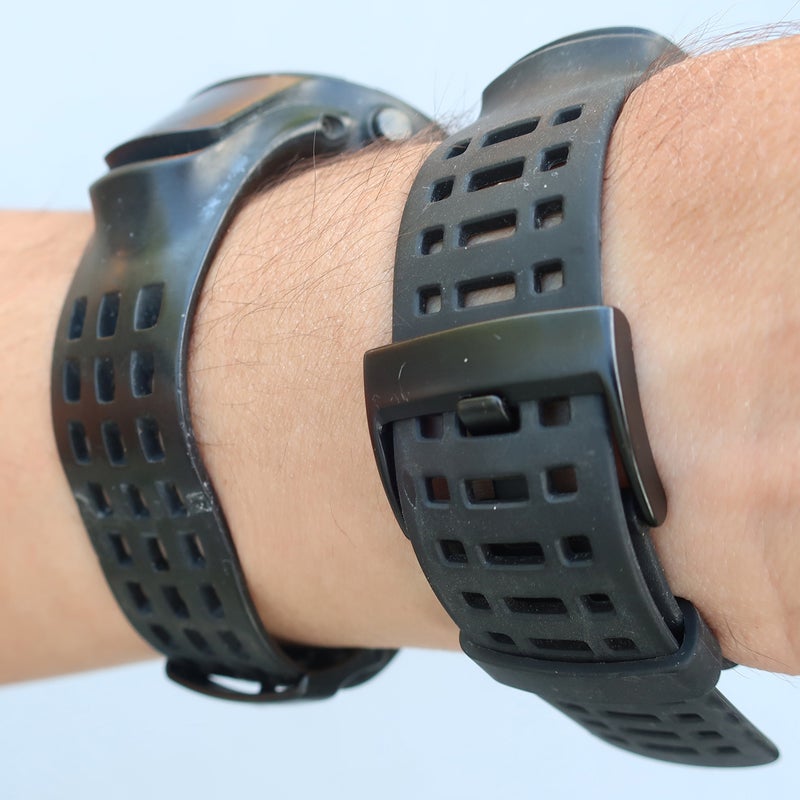 Under the hood, the Ambit3 Peak battery has been upgraded. The Ambit2 rates at 16, 24, and 100 hours at 1-, 5-, and 60-second GPS pings (described as "Best," "Good", and "Okay" in Movescount settings). During multiple ultra marathons up to 23 hours, I found these estimates to be accurate. Suunto estimates battery life for the Ambit3 Peak at 20, 30, and 200 hours.
Unlike the Ambit2, the Ambit3 Peak has a Bluetooth chip. By pairing it with my phone, I can now transfer activity data wirelessly (rather than needing to connect it with my computer using the USB cord), change sport mode settings using the Movescount app, and get notifications on my watch about incoming text messages, emails, and phone calls. 
Finally, when connected with the USB cord, data download speeds are noticeably faster on the Ambit3 Peak.
Should You Wait for the Ambit4 Peak?
The Ambit3 Peak was released in mid-2014, and I wondered last August when I purchased it if an Ambit4 Peak would soon replace it. My concern was partly irrelevant, since I wanted a new watch in August, not sometime this year. My Ambit2 was suffering from a sticky Start/Stop button and, more importantly, I thought its battery might die before I crossed the finish line at UTMB.
But I also checked in with Suunto. In January 2017 at Outdoor Retailer, they told me development of the Ambit4 was uncertain. That seems to still be the case—in a November email, its PR firm told me that, "We will be keeping the Ambit3 Peak in the line for the foreseeable future." And they also reported that, "There isn't another watch in the pipeline that closely rivals the Ambit3 Peak in terms of battery life and price point."
These comments leave open the possibility of an Ambit4 Peak. But it will almost certainly be more expensive and its battery life may decrease, perhaps due to a color screen, touch screen, or wrist-based optical heart rate monitor.
About That Smart Sensor Chest Belt
The Ambit3 Peak cannot communicate with ANT accessories, like the Dual Comfort Belt (my longterm review). Instead, it communicates only with Bluetooth-enabled heart rate straps, power meters, and foot pods.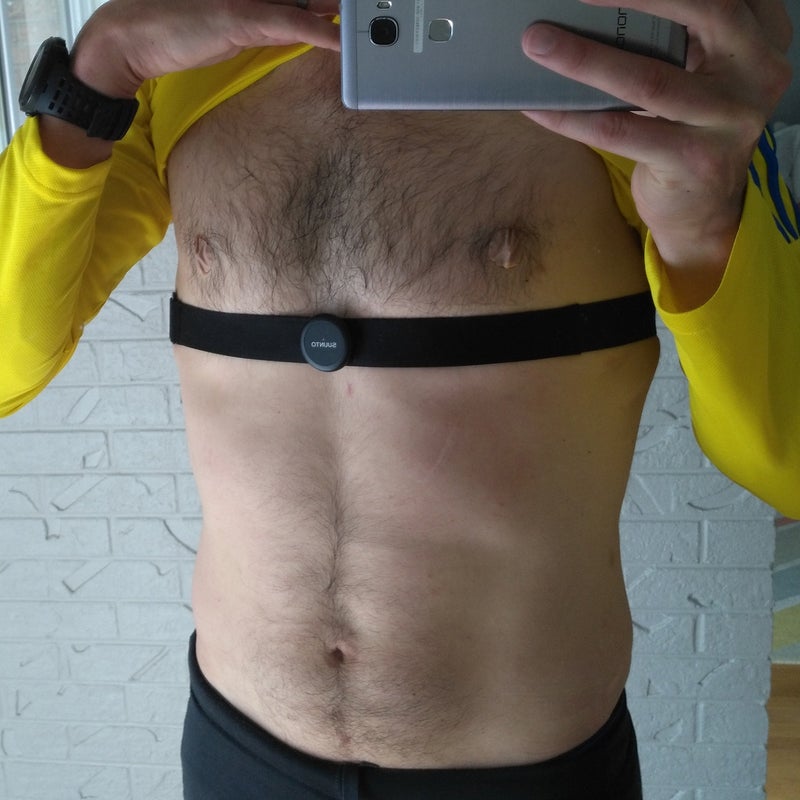 The Smart Sensor Belt can be packaged with the Ambit3 Peak or purchased as an accessory. I recommend the former, to save on long-term costs.
It has the same black 30-millimeter-wide elasticized belt as the Dual Comfort, but with a different attachment mechanism and receiver. The two loose ends connect with a metal hook, rather than clipping into the receiver. The girth adjuster has been moved toward the side, rather than on the spine, so it no longer uncomfortably presses into your back under a pack. 
The receiver is smaller and not easily removed from the belt. Since it's waterproof to 30 meters, I haven't been concerned about washing it off with the strap. 
Here's a shot of the Dual Comfort Belt (top) versus the new Smart Sensor Belt (bottom).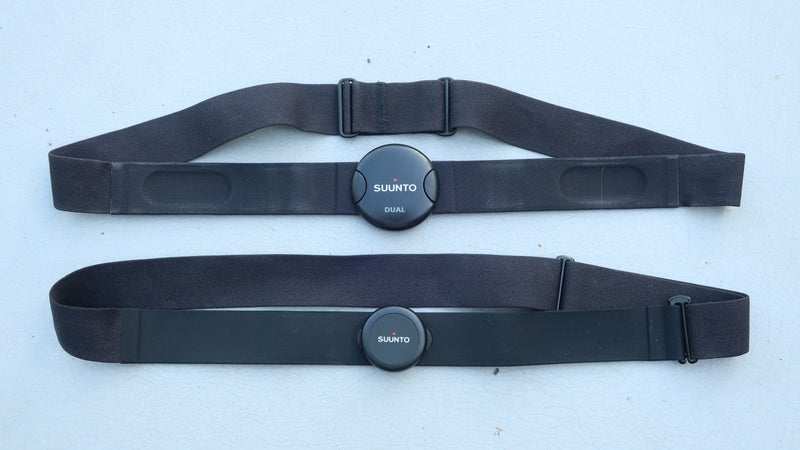 Other Pros
A long-lasting battery and a barometer may not be as crucial to some prospective buyers as they are to me. Here are some other important observations about the Suunto Ambit3 Peak performance that might help inform your purchase:
GPS accuracy is very good when the GPS ping interval is set to 1 or 5 seconds. (Just look at my runs on Strava using the satellite layer.) At 60-second pings, it will miss meanders, by the order of about 20 percent, consensus says.
It quickly connects with GPS satellites and my HRM.
It's comfortable, thanks to a soft and pliable wrist strap, and rounded edges on its base.
The stock screen (non-Sapphire) is amply scratch-resistant. I abused my Ambit2 for four years, and it had very few scratches when I replaced it.
Recorded data is reliably and quickly transferred with the USB cable. It can be transferred via Bluetooth, too (using the Movescount app), but it's slower and less reliable.
The Movescount website and app are functional and generally user-friendly.
I have found just one area for improvement: the buttons, which are a touch slow.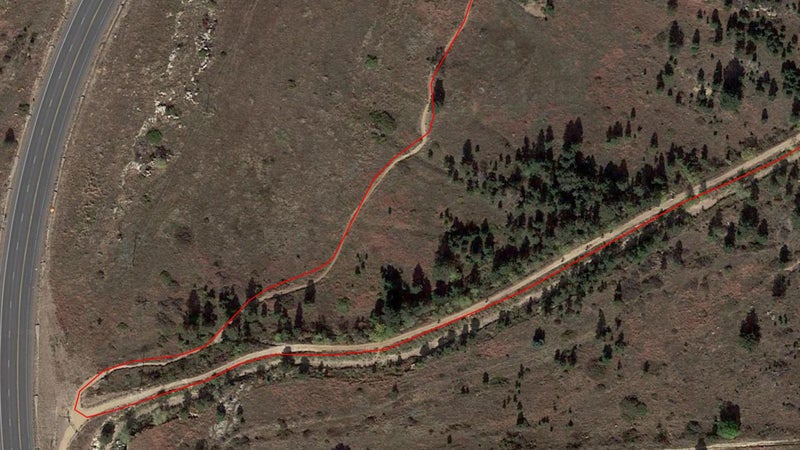 Cons
There is only one feature that I wish the Ambit3 Peak had: vibration alerts. When running in loud places (imagine running down Broadway with University of Colorado buses pulling out of campus) or when lots of layers over the watch, it can be difficult to hear the beeps. A vibration alert would confirm operations, like Start/Stop or Lap.
A WiFi chip would be a nice-to-have, but it's not a must. I appreciated this feature with the Fenix 5X—my activity data uploaded as soon as I walked into the house, instead of only when I connected the watch to my computer (via USB) or phone (via Bluetooth).
Otherwise, I haven't found missing must-have features or functionality:
Activity tracking and smart watch features: I don't care.
Wrist-based HR: The technology is not there yet. For serious HR training, this feature is worthless. A chest belt is still required.
Color- and/or touch-screen: An additional expense with no meaningful value.
Topographic maps, such as with the Garmin Fenix 5X: I much prefer paper maps or the larger screen on my smartphone (which has a great mapping app, GaiaGPS).
I suppose the Ambit3 Peak could be prettier and less utilitarian, but I have yet to see a GPS sport watch (including the Garmin Fenix 5 series) that looks good enough to replace a dress watch or an everyday watch in professional work environment.
Lead Photo: Andrew Skurka