Know Whose Land You're Running on with Gaia GPS
The Native Land Territories map on Gaia GPS shows users the Indigenous land they're on and includes information about the area's past and present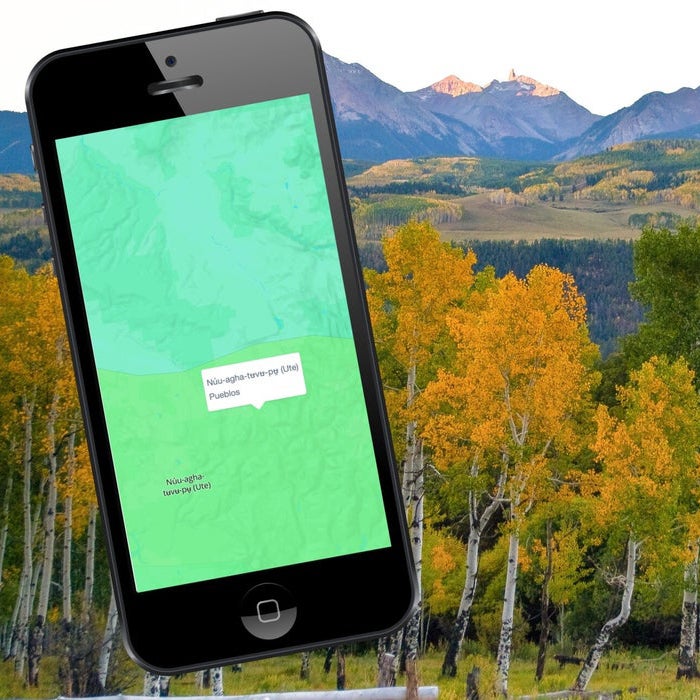 (Image: Gaia GPS)
Heading out the door? Read this article on the new Outside+ app available now on iOS devices for members! Download the app.
As members of the running community become more aware of the history of their public lands, and as land acknowledgments become the norm during outdoor pursuits, resources for learning about Indigenous areas are becoming more numerous and accessible. One such tool was recently introduced by Gaia GPS to help outdoor enthusiasts be more cognizant of where they're recreating.
The Gaia GPS web and mobile apps introduced the Native Land Territories map in 2020; they were created by Canadian nonprofit Native Land Digital. Gaia GPS, which is free with an Outside+ membership (though this map layer is free for all users without a subscription), now allows users to overlay the map on the area where they live or explore, see both the current and historical Indigenous stewards of that land, and learn more about those peoples, including their culture, language and involvement opportunities. 
RELATED: "You Cannot Erase Us": A Letter from an Indigenous Runner
"I think it's great that people are finally acknowledging where they're running, where they're biking, but I feel like in some ways it's becoming a trend," says Verna Volker, an ultramarathoner, founder of the online community Native Women Running, and a member of the Navajo Nation. "I feel very strongly that there needs to be more behind that land acknowledgment. When you look into that area where you're doing that land acknowledgment, see how you can support the Native communities." 
Volker works to increase the visibility of Indigenous runners and draw attention to the historical and continued contributions of such peoples to outdoor recreation and public lands. She also works with race directors to increase the number of Indigenous athletes competing in trail races and to raise awareness of the legacy of the lands where many trail races take place. 
But she would like to see a deeper engagement with honoring and welcoming Indigenous athletes, both at races and every day. While it can be easy to feel uncertain and afraid of using the wrong words, Volker thinks the best way to deal with that fear is to step toward it head-on.
"[The] Boston [Marathon] did a land acknowledgment, which was huge," she says. "I think more big, popular races need to do it. I think a lot of people may want to do it but they don't know how to, or they feel uncomfortable. It's a reality that, wow, this is not our land."
To further that goal, intersectional advocacy organization Rising Hearts created the Running on Native Lands initiative to encourage greater involvement by race organizers in Indigenous communities and to make land acknowledgements a universal practice at both road and trail races. But how should those of us who aren't race directors move past our discomfort and fear of making mistakes? 
RELATED: Verna Volker Finds Healing in a Community She Built
Going Further
While learning who the historical inhabitants of public lands were is a starting point, Len Necefer says it's important not to get complacent. Necefer, who is an assistant professor of American Indian studies and public policy at the University of Arizona and the founder of Natives Outdoors, encourages users to look beyond simply knowing the names of their regional tribes.
"I always say it's kind of a first start," says Necefer, who is also a member of the Navajo Nation. "Getting the names of tribes that are from these different landscapes is an important first goal in understanding the history that we weren't taught in schools. We have to understand also that those layers can be limited in what they can provide in terms of knowledge."
Natives Outdoors began as a social media program designed to highlight the stories of Indigenous people in the outdoors. It has since blossomed to include a team of over a dozen people telling Indigenous stories, working with tribal governments and outdoor brands to maximize visibility of Indigenous athletes and artists, and educating outdoor enthusiasts about the athletic contributions of Indigenous people. Necefer wrote about his perspective on land acknowledgements for Outside Online and about preventing the practice from becoming performative and superficial. 
RELATED: Land Acknowledgements and How We Relate to the Trails We Run
"In my work, we've been trying to move more toward the long-form land acknowledgement, connecting the contemporary stories of Indigenous peoples to these lands," Necefer says. "I think it goes both ways. If people don't know who the Ute people are, for example, or that they're still around, I always say it's kind of in one ear and out the other. But it provides an opportunity to say, 'Hey, is there an opportunity to add some depth to this map?'"
"I think people's interest can be primed to learn more about that. It's going to interest some," he says, "and for those that want to learn more and go further, it's going to be useful."
Accessing the Native Land Territories Map
Gaia GPS users with a premium membership can download the map to use it offline in the backcountry. Native Land Digital also provides a teaching guide that highlights the importance of Indigenous lands and peoples and offers guidance for using the Native Land Territories map. For Volker, recreationists taking the extra time to educate themselves shows a genuine interest in and care for Indigenous peoples that goes beyond a pin on an Instagram post.
Native Land Digital notes that tools like the Native Land Territories map are only one part of the puzzle when it comes to educating ourselves about the history of colonialism in our outdoor spaces. Maps themselves are often inherently flawed, and the intent of Native Land Territories is to provide a starting point for being an engaged land user. Fully understanding, recognizing, and highlighting Indigenous history and how it connects to the present is a complex and evolving endeavor, and runners interested in pursuing true connection should look to Indigenous communities who continue to steward the land they're running on.
"Oftentimes Indigenous people are put in one pot, that we're all the same," Volker says. "It's great that this program has a lot of resources. Seeing that we're all different from each land, having those connections and collaborations, is really important. And if you decide to partner and collaborate with us, listen to our voices."
Lead Photo: (Image: Gaia GPS)
Trending on Outside Online