How the Nike Invincible 3 Finally Made Me a Swoosh Zealot
After two months and 400 miles, I've found road trainers that keep my feet happy like no others and are worth every penny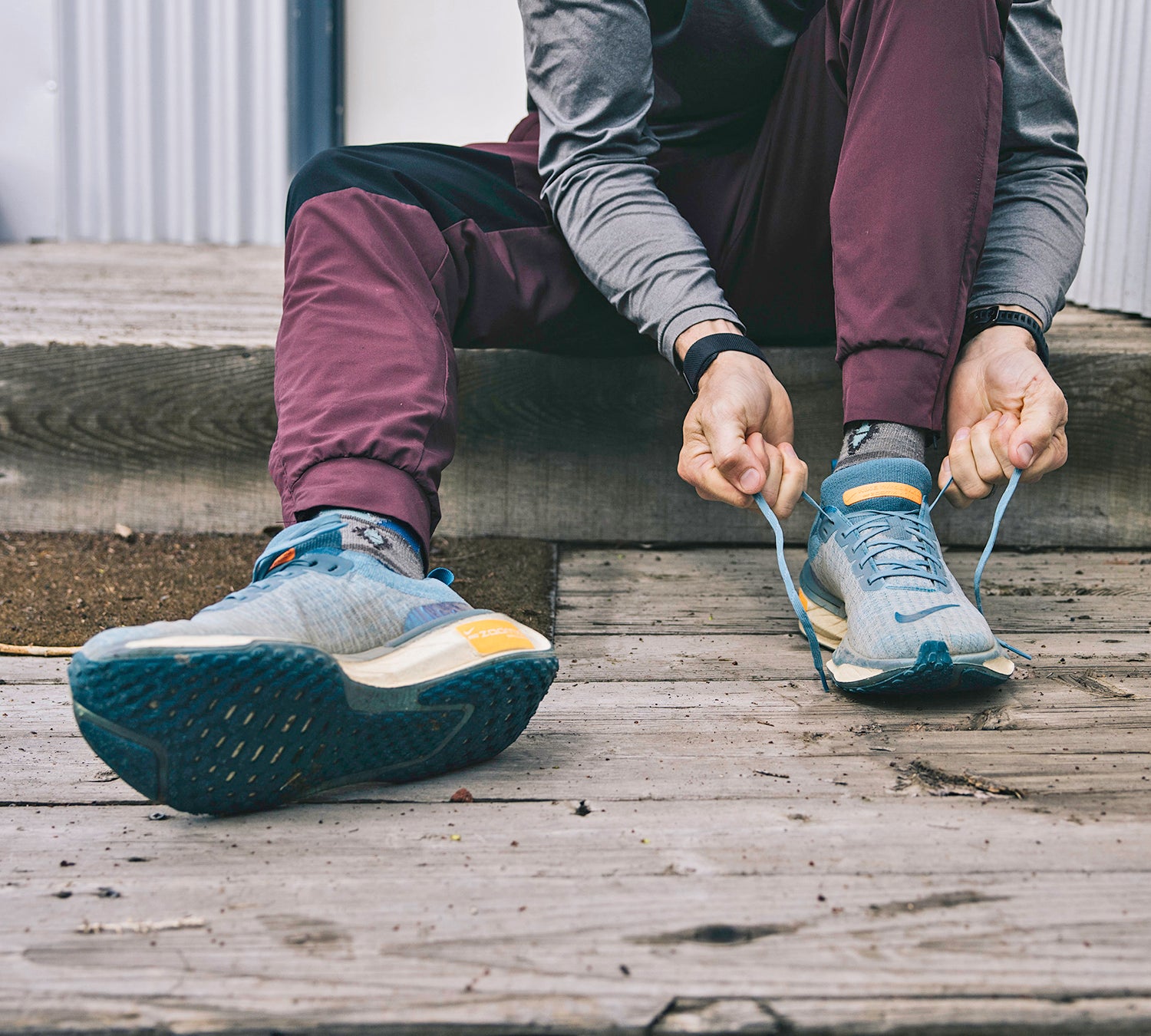 Heading out the door? Read this article on the new Outside+ app available now on iOS devices for members! Download the app.
I have never been a Nike fanboy, even as a young, impressionable kid. I started running consistently in middle school cross country and have worn a wide variety of shoe brands for the last twenty-odd years, but I rarely sported a swoosh. The juice was never worth the squeeze– similar quality shoes were always cheaper. All that changed two months ago when I started running in a pair of the Invincible 3.
After a couple decades of pounding pavement, gravel, and dirt, I've learned a few things. Namely, if my body is going to run big miles week in and week out, I need a well-designed, well-cushioned shoe to stay healthy. I prefer a big drop and a lot of foam, but I also like the feeling of a little pop beneath me, as opposed to the lifeless stack of rubber, plastic, and dense foam that comprises the sole of most max-cushioned models. Enter the Invincible 3, stage right.
After running 400 miles in this pair, I'm sold—even with a $180 price tag. Previous iterations were cushy and comfortable, but this one takes the leap because it also has a stiff, fast, and snappy feel. The midsole is filled with 40 millimeters (three millimeters more than the Invincible 2) of ZoomX, Nike's proprietary Pebax-based compound that absorbs energy and bounces back quickly. This foam paired with a redesigned upper provides the feeling of springing forward, making it the first max cushioned shoe that I find fast and truly fun to train in.
What Makes the Shoe Unique
The Invincible 3 is Nike's most cushioned shoe, designed to reduce fatigue for high-mileage runners. The secret is the sheer volume of the foam under your foot. It has the largest amount of ZoomX in any shoe without a supportive shank or plate.
Bret Schoolmeester, senior director of running footwear at Nike, says the Invincible flips the industry shoe-making philosophy on its head, prioritizing cushion first, then creating stability around it. The key, he says, was starting with the right ingredient. ZoomX—a foam first rolled out in 2016 in the original Vaporfly marathon-racing super shoes—softens your landing and provides better energy return and responsiveness, making miles feel easier. It's also half the weight of traditional foams.
Charles Han, the lead designer behind the shoe, was tasked with creating stability while sticking with a 40-millimeter stack. He did so by revising the geometry of the shoe in this third version, pushing the form out to create outrigger zones around the toe and heel. These provide a larger landing and push-off surface, enhancing stability. The midsole rocker was also revised to help make your gait more efficient, reduce ground contact, and prevent overpronation. The slightly lateral rocker found in the previous version, which was intended to further smooth the transition through the stride, was removed to add stability, says Han.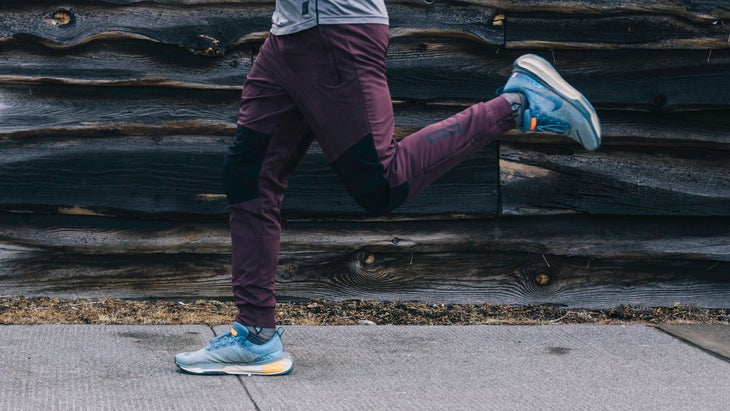 Why No Plate?
One of the fastest growing trends in running—spearheaded in a large part by Nike—is the addition of supportive plates in the midsole of shoes to help improve running economy. Lightweight, stiff, curved carbon plates work together with advanced midsole foams to help you run faster and more efficiently, reduce fatigue, improve form, and provide a more stable platform. So, why make shoes without them?
"Plates provide a faster shoe. They allow the foot to do less work across more miles, but that's not right for everyday runners, all the time," Schoolmeester said. Nike wanted to bring a softer shoe with race-like technology to the masses. Han agreed, saying that the goal was to create a different feel for a different customer. Without a plate, the Invincible 3 puts less stress on your feet and ankles, reducing the risk of overuse injuries that growing anecdotal evidence shows is a downside of super shoes.
What's New in Version 3
Interestingly, the new Invincible 3 is slightly heavier than previous versions and, generally speaking, is one of the heaviest in the max cushion category (the weight adds up with this much midsole volume—even when the foam is ultra-light ZoomX). Thanks to its springy attributes, however, it doesn't feel heavy when running. It also has a smaller heel clip, which is not missed due to the enhanced geometry. It's currently the only non-plated, max-cushion, Pebax foam shoe on the market. A few other models use essentially the same foam without a plate—Tracksmith Eliot Runner, Topo Cyclone 2 and Nike's re-released Pegasus Turbo—but all have a notably lower stack.
The base has a modern waffle tread with a break in the rubber under the midfoot, which Han says improves the feel. The rubber cradles the ZoomX foam to stabilize the shoe, but the upper is even more important. The Flyknit upper offers a snug and secure fit, while allowing your foot to move in a natural motion. "Flyknit cables stabilize specific zones and provide structure, while offering breathability in spots," Han says."We use locked out cords to create stability in the shoe." These sections of the Flyknit upper are stiff and rigid to maintain the form of the shoe and keep your foot locked in snugly.
Who Is It For
The Invincible 3 isn't for everyone, and not for every run. If you're looking to set a PR or prefer a stiffer ride, you'd be better off in something like the Alphafly. However, if you're just putting in base miles and don't care about a few lost seconds, the Invincible 3 is a great option. I'm currently logging over 80% of my mileage in them—even some speedwork and tempos.
If you prefer a shorter stack but like ZoomX foam and the Nike fit and ride, the Pegasus Turbo Next Nature is a good option at a similar price point. It's not as cushioned (32–22mm stack height), or as supportive as the Invincible 3, but it is lighter. Considering options that don't come out of Beaverton, Oregon, the new Brooks Glycerin 20 has a comparable 38-millimeter stack, also without a plate. It's five ounces lighter than the Invincible 3, and uses a new foam in the midsole, DNA Loft3, which feels like it supports and pushes back as soon as it starts to compress—but it lacks quite the same responsiveness and springy feel as Nike's ZoomX. The same goes for other max cushion shoes I've tested, Asics Superblast, Saucony Shift 3, and Hoka Bondi 8. They all feel cushioned and comfortable, but, for my stride, none induce the same type of fun feeling when running as the Invincible 3.
Bottom Line
If you've also found yourself in the max-cushion stage of your career but are still seeking some excitement, the Invincible 3 is worth an extra look. Its 40mm stack of super-foam, snug upper, and stable base offer a fun and fast feeling that brings smiles to the miles.
MSRP: $180
Weight: 10.6 oz (men's); 9.1 oz (women's)
Stack height: 40 mm (heel), 31 mm (forefoot); 9 mm drop
Lead Photo: Andy Cochrane