Would You Pay for a Subscription for Running Shoes?
Swiss footwear company On Running is betting on it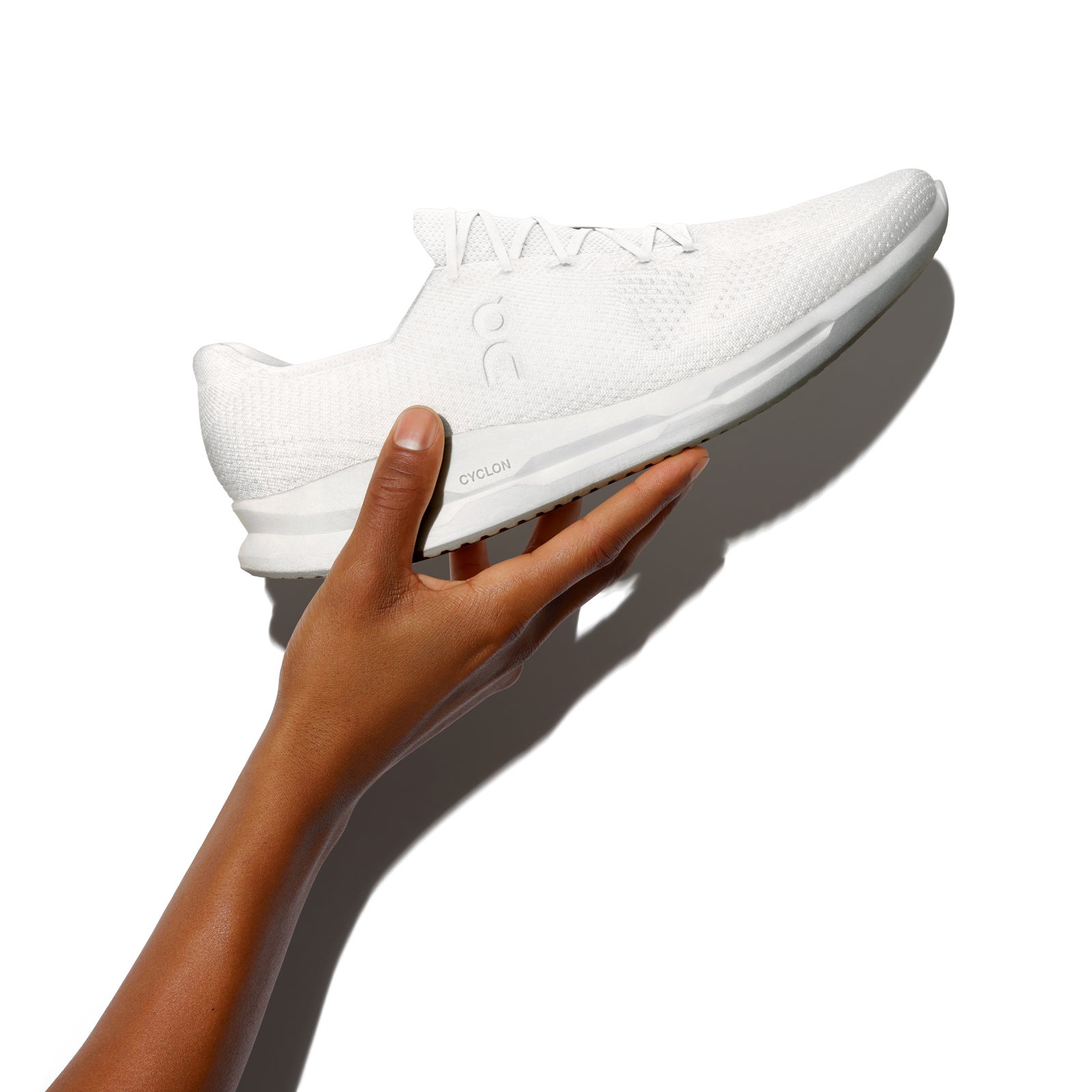 Courtesy On Running(Photo)
Heading out the door? Read this article on the new Outside+ app available now on iOS devices for members! Download the app.
The life cycle of a running shoe, familiar to every runner, is a sad slide to oblivion: you start with a sparkly new shoe that puts a bounce in your step, which eventually becomes a weathered one that—even though it might cause you pain—you're reluctant to throw in the trash. The lifespan for its intended purpose is short, and its eventual destination, more often than not, is the landfill.
Swiss footwear company On Running aims to change that with the introduction of Cyclon, a new subscription service built around a fully recyclable plant-based road shoe that runners never own in the traditional sense. Instead, customers pay a $30 monthly fee, receive new pairs as they need them, and send their old pairs back to the company to be recycled into new running shoes. It's a novelty in the footwear sector and a huge leap into the unknown. "We want to show that it is possible if a company really wants to do it," says Caspar Coppetti, one of On's three founders. "Whether our consumers will adapt and really like it, we don't know yet, but that's part of this really big experiment."
If you've seen some of On Running's more popular shoes around—sleek, minimalist uppers married to a footbed uniquely riddled with hollow cavities reminiscent of, yes, Swiss cheese—you may already have an inkling that this is a company that does things differently. The shoes' different look started with an idea from former pro triathlete Olivier Bernhard, who was aiming for a feeling of "running on clouds." He joined with his friends Coppetti and David Allemann to develop the prototype and found the company in 2010. Even as the brand has seen steady growth for a decade—now stocked in 6,000 stores in 55 countries—it has retained the feel of a small, founder-driven company, preferring word-of-mouth, organic growth over advertising and media coverage and staying close to the founders' ethics, particularly around sustainability.
"These are not traditional shoe people," says Matt Powell, an analyst at the consumer trend research firm NPD Group. "They're coming at a whole lot of things very unconventionally, and it's working for them."
Sustainability has been at the core of On's ethos since its founding, but when the team started looking at the company's carbon footprint a few years ago, they quickly realized that upwards of 80 percent of their environmental impact came from the materials they used in their products—packaging, shipping, and everything else paled in comparison. "So we said, 'OK, let's reassess the impact of the material we use,'" Coppetti says. "Basically what we're doing is disrupting our own business in a way, but the question for us became how do we go from a linear industry to a circular industry?"
The circular economy model has been a popular topic in sustainable business discourse since at least the early 2000s, when William McDonough's book Cradle to Cradle helped popularize the idea of moving from a "cradle to grave" model—produce, use, dispose—to one that emphasizes closed-loop reuse and upcycling. But that's easier said than done. "The circular economy business model is something a lot of people talk about but very few actually do," says Eban Goodstein, director of Bard's MBA in Sustainability program. "It's not just tinkering on the margins. You're actually building a whole new business model that's centered around efficiencies associated with the recycling process."
There have been some similar efforts in the clothing realm, with companies like Patagonia focusing on repair and reuse of older products and new launches like For Days (which gives you credit for sending in your used clothes) and Recurate (which lets you sell your used products for credit) trying versions of a circular model. In the footwear world, recycling athletic shoes has long been a goal but not a priority. Nike's reuse program downcycles running shoes by grinding them up to be used in rubberized surfaces on tracks and playgrounds. Adidas created a recyclable shoe, the Futurecraft.Loop in 2019, but the idea hasn't advanced beyond the pilot stage. Earlier this month, Salomon announced a fully recyclable shoe to debut in 2021, the Index.01, and while customers will be able to print a label to ship the shoe back to Salomon for free, the company hasn't settled on incentives for returning them, although a representative says they're working on some. So, while there's an increasingly strong feeling that the circular idea's time has come, no shoe company has yet been able to close the loop.
When On began seriously developing the Cyclon about three years ago, it focused on addressing two primary challenges: creating a fully recyclable shoe and making sure it got the shoes back. For the latter problem, Coppetti says, the subscription model was perfect. "Other industries have gone from owning to renting," he says. "So once we started thinking about the subscription model as a tool, a means to an end, we got pretty excited."
Consumers are increasingly accustomed to subscription-based products (think Netflix, Dollar Shave Club, Blue Apron) and to renting rather than owning (cars, bikes, phones), and they're increasingly aware of the environmental footprint of their consumption. "Now more than ever, people are looking to companies who stand for something and have actual values behind them, and climate change is obviously a big dimension of that," says Bard's Goodstein. "Who knows if they'll get it right, but they're committing to something that's a systemic change. Growing these ethical brands is changing capitalism."
So far, the response has been good. On signed 2,000 subscribers in the first 48 hours after launching on September 15.
As for the shoe, what On came up with is undyed and unadorned, made with a minimum of 50 percent plant-based content derived from castor beans (a number the brand hopes to drive up to 70 or 80 percent before the shoes ship), every part of it recyclable. On also knew it could not risk sacrificing performance—no matter how much people value sustainability, they first and foremost want a product that works—and claims the lightweight, seven-ounce road shoe performs so well that some of the same components will be used by On-sponsored athletes in the 2021 Tokyo Olympics.
And as bad as 2020 has been for most businesses, it may be a good time to launch a new shoe: the pandemic has seen an uptick in interest in running and other more self-contained exercise options. On and its competitor Hoka are among a handful of brands that, rather than being hurt by COVID, have seen impressive growth throughout this year.
Running is in some ways the perfect category to trial this model: unlike a bike or a kayak, most serious runners replace their shoes frequently, and at this price point, you'd have to run pretty regularly to get your money's worth. On's website recommends that runners replace their shoes every between 310 and 465 miles, which means if you run 20 miles per week, you'd need three replacements a year. The yearly subscription cost ($360) divided by three ($120) is in line with the starting point of other high-end offerings in the marketplace (including On), which start around $130 and often run up to $180.
That turnover would provide the company with another interesting opportunity: the subscription model will let On continue tweaking the product. "It's almost like a software business model," Coppetti says. "You'll always get the most up-to-date version. It's a much more contemporary way of doing business."
But first, On has to get runners to buy in. "I think the two real barriers are can you make a product that performs and is also recyclable, and second, can this scale to the point where they can make money from it," asks sports market expert Powell. "Runners are very specific about their shoes, so it's going to depend on how many people find this a great running shoe for them, and whether that scales to a level that they can make it work." On says it needs 5,000 people to sign up per region before it ships the shoes to reduce the carbon footprint of the transportation. (The brand defines regions by where it has warehouses. The United States is the only country with two warehouses.)
So far, the response has been good. On signed 2,000 subscribers in the first 48 hours after launching on September 15, and its ambitious goals give some idea of the scale it's aiming to achieve: the company hopes for 30,000 by the end of the year and 200,000 by the time the first shoe ships in the second half of 2021.
Whether the brand can build that kind of momentum or not remains to be seen. On knows it's taking a big risk. "We're going in a little naive," Coppetti told me. "We're not saying we found the holy grail. We're saying we have an obligation to try things, and we might fail, and we're aware of it, but if everyone's too scared to try, we never move forward."
Lead Photo: Courtesy On Running