Sponsor Content
The Rebirth of Running
How Hoka One One invented a revolutionary type of shoe, turned an entire industry on its head, and ushered in a new era of running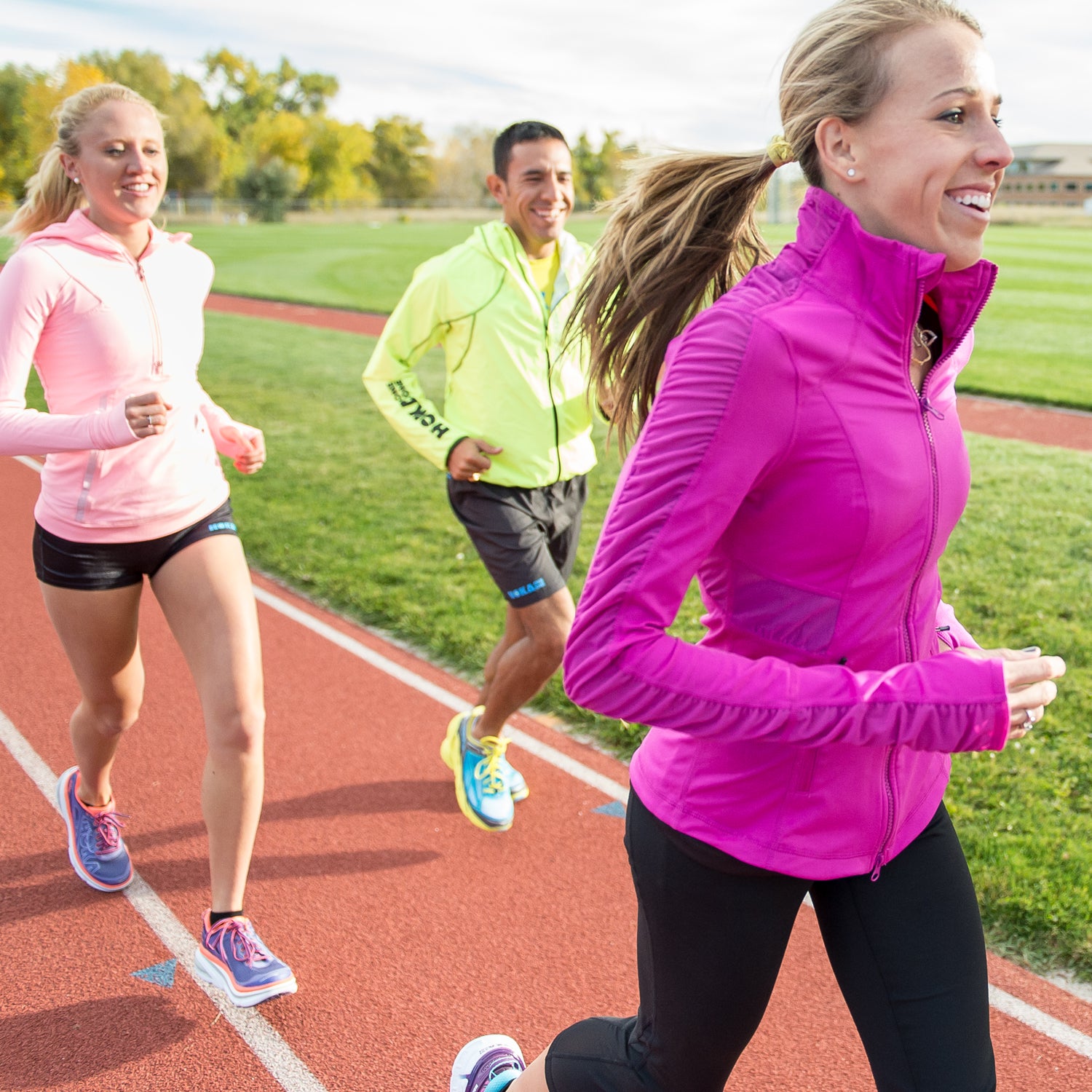 Two days after running and winning her first 100k ultra race last winter in the mountains above Malibu, Olympic marathoner Magdalena Lewy-Boulet, 42, did something she's never been able to do the week after any distance race she's finished: she went for a run. "I used to need a full week off my feet," she says from her office at sports nutrition company GU Energy Labs (guenergy.com) where she heads up R&D. She relies on her shoes, a pair of Hoka One One's, for keeping her on her feet. She believes Hoka's have allowed her to make the successful transition from world-class distance runner to winning ultrarunner.
"I've been a marathoner for more than 15 years, but the Hoka's are allowing me to be more aggressive on trails and my training than ever," says Lewy-Boulet, who is sponsored by the shoe company. "In two years, I'll go from marathoner to 100-miler (at the Western States 100 race later this summer). I never thought my body could do that."
Lewy-Boulet's experience with Hoka shoes echoes comments from a growing chorus of hardened running pros and citizen runners of all stripes that swear by them. Hoka-sponsored athletes range from 47-year-old Karl Meltzer (karlmeltzer.com), the ultrarunning godfather, to speedster Leo Manzano (leomanzano.com), 30, 2012 Olympic silver medalist in the 1,500 meters. They're all drawn to the shoes' extra cushioning, stable platform and rocker profile that lets them roll through their stride. It's a combination that has brought a new lexicon to running, one that has more in common with cycling than pounding the pavement. Both Manzano and Meltzer describe their first experiences in the shoes as "going for a ride." Lewy-Boulet calls running in the shoes, "cruising."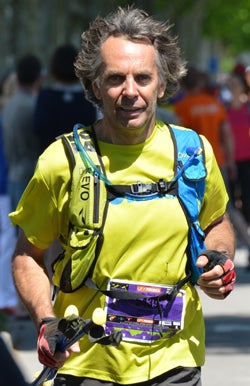 According to Hoka's co-founder, Frenchman Jean-Luc Diard, the cycling connection is by design. Hoka's development came from Diard's 26 years of experience at Adidas-owned Salomon, where he oversaw development of its ski and snowboard lines, golf equipment, adventure-racing gear, and cycling products through the acquisition of Mavic. "I had an advanced team working on new products based in Boulder, Colorado, and we were looking at all the gear that an adventure racer uses and trying to make them better," Diard says. "Our first aha moment was looking at bikes. Bikes had evolved into downhill bikes, full-suspension bikes, hard-tail bikes—no matter the terrain there was a bike purpose-built for it. Plus, the suspension bikes made going downhill fun. Running downhill hurts, yet there were no shoes for going downhill. I come from a skiing background, where going downhill is the best part. That's where I thought there was an opportunity."
Diard's next aha moment was another link to cycling. "The wheel is the most efficient shape, and we wondered if there was a way to make a shoe that could roll through the stride," he says.
During this time, every sport was going through an over-sized revolution: golf drivers got bigger every year, tennis racquets grew larger, skis got fatter, bikes got more suspension. The go-big movement made sports easier for everyone. "Take fat skis," Diard explains. "All of a sudden you could ski where you couldn't before."
But not the running world. In fact, minimalist shoes were ascendant, the ultra-light footwear with little support that supposedly allowed runners to better tune their bio-mechanics to find their natural stride. That didn't bother Diard or his team, but there was one problem, Adidas already had an extensive shoe lab in Germany and didn't need Diard to reinvent the running shoe.
"I set out in 2008 to do something different and rethink the running shoe from scratch, so I assembled a small team and we set out on our own. All we knew was that the shoe was going to be oversized, and we wanted to target the ultrarunners," he says.
[quote]"We figured that if our shoe would work for 100-milers, it'd probably work just fine for two-mile runs around the neighborhood."[/quote]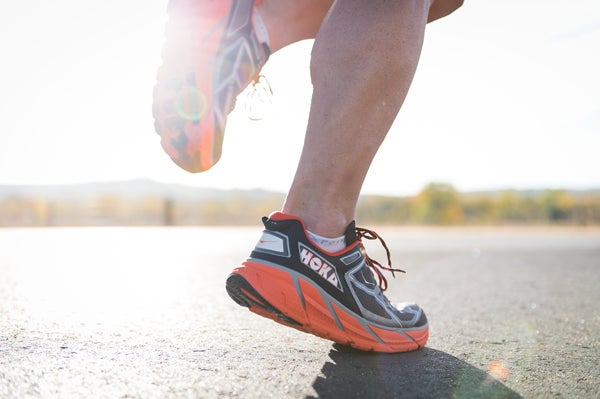 The result was the original Hoka, which put the foot into the midsole, not on top of it, for added stability, "like the molded seat in a racecar," says Diard. The shoe also featured the aforementioned rocker, which allowed the outsole to roll forward and make each stride efficient. And unlike the minimalist-shoe trend, which preached landing on the mid-foot or forefoot, and to avoid heel-striking at all costs, Diard's team determined that heel-striking was inevitable no matter what. "We looked at the 5,000-meter runners in the 2008 Olympics and saw that by 3,000 meters, most of them were heel-striking," he says. "These are the strongest runners in the world, and it's only a 5k. Imagine what the best marathoners are doing? Look at the finish line at Boston: 90 percent of the runners are heel-striking and they know better."
Armed with a shoe that he believed could help runners win, not by helping them run faster, but by keeping their legs fresh until the end, Diard teamed up with Frenchman Nicolas "Nico" Mermoud to introduce the shoes at the 2009 Ultra-Trail du Mt. Blanc in Chamonix (ultratrailmb.com), a 105-mile circumnavigation of Europe's highest peak. "We let five runners take our prototypes for an hour-long run beforehand, and they came back and asked if they could do the race with them," recalls Diard. "That's when I knew we were onto something."
That fall Mermoud convinced Meltzer to take a spin in the shoes, and now, the winner of 35 100-mile races depends on them. "The rocker effect is genius. The soft sole mushes out sharp rocks underfoot—it softens out the whole trail, really, so I can keep cruising."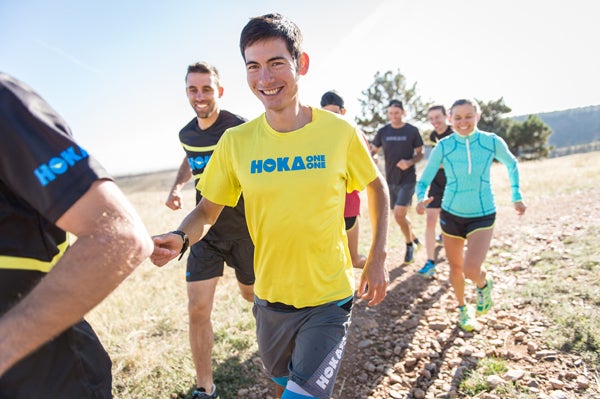 By 2012, Hoka was struggling to meet demand, and not just from ultrarunners. Striders of all types laced up the early models, helping many get back into running after turning away from the sport, and inspiring others to take up running for the first time. "They're a good choice for cyclists who are transitioning into triathlons or runners who are looking for a more cushioned, supportive ride," says Jason Koop, a running and triathlete coach at Colorado Springs-based Carmichael Training Systems (trainright.com).
An early proponent, the Boulder Running Company in Colorado, couldn't keep the shoes in stock and was taking pre-orders with no idea when the shoes would come in. That attracted shoe industry veteran and former All-American runner Angel Martinez, CEO of Deckers Corporation (deckers.com), to buy the company. Martinez appointed Jim Van Dine, also an industry veteran and long-time runner, president of Hoka. "They started by re-inventing the running shoe," Van Dine says. "They didn't even look at what had come before. I mean, it's laughable to think about it, but 10 years ago everyone pretty much made the same shoes. Everyone seemed to be asking the same questions and getting the same answers. Diard's team took a maverick point of view and asked totally different questions, starting with the idea of treating the shoe as equipment, not a piece of apparel."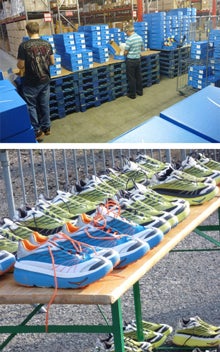 Since then, Hoka has exploded into a $48 million running shoe company, up from just $2 million in 2012. That success is just the beginning according to Diard and Van Dine. This July, Hoka is launching its first dedicated hiking shoes with rugged Vibram soles and waterproof uppers. Continuing their maverick streak, Diard and co. are also targeting the track, developing a low-profile spike with input from Manzano. "I took a pair of their training shoes, the Stinson, for a test drive when I first signed with them in 2014," Manzano says. "I noticed that even after long runs, my legs felt really fresh; they were tired, but not aching. That's never happened before."
Since then, he's trained through the year and last summer ran a PR in his signature event, the 1,500 meters and ended 2014 ranked number one in the U.S. and eighth in the world. This year marks his first racing season in Hoka's new spike, and he's already a believer. "Hoka figured out that 60-70 percent of a track race is run through the turns, so they put the spikes at an angle to line up with the natural lean of the runner. I love that they're thinking of this stuff. They're revolutionizing everything."
Back in France, Diard and his team are hard at work continuing the revolution. "Our attitude is that we never believe that we've done it right, that we're on a never-ending quest to do it better."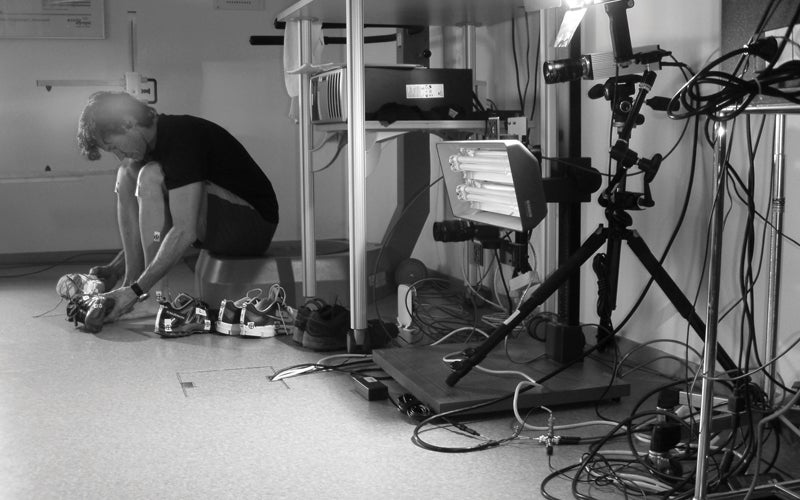 Find the perfect pair of Hoka One One's for you at hokaoneone.com.