Review: Hoka One One Challenger ATR 4
An excellent shoe for easy singletrack and mixed runs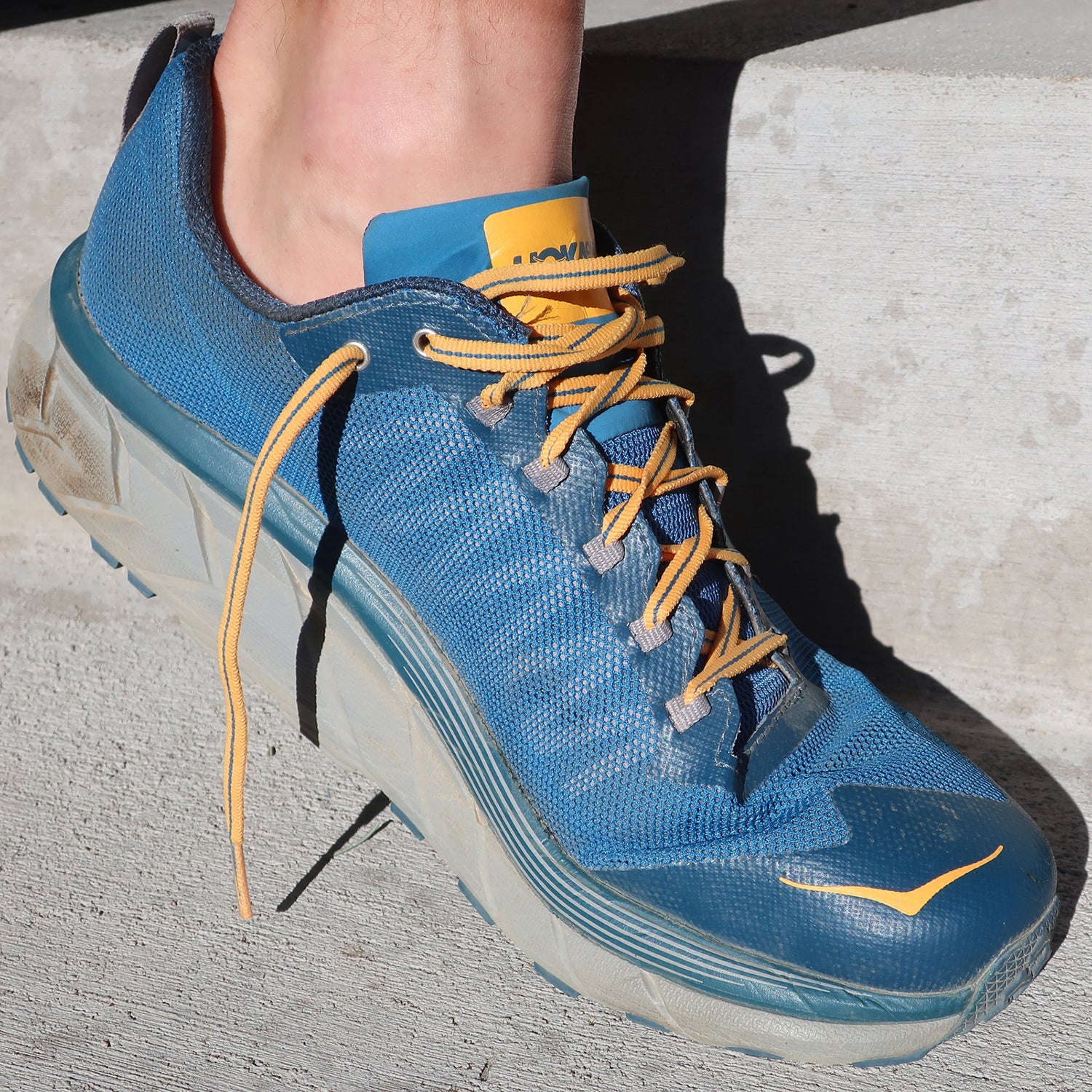 Heading out the door? Read this article on the new Outside+ app available now on iOS devices for members! Download the app.
My shoe du jour changes with the season and the training cycle. Last summer, while training for 100-mile mountain ultras, I was most excited about the Salomon S/Lab Sense Ultra (my review) and La Sportiva's Bushido (my review). In the lead-up to the Houston Marathon in January, I put hundreds of miles on the Hoka One One Cavu (my review). Most recently, while recovering from Houston and building my base for 2018, I've been running several times per week in the Hoka One One Challenger ATR 4, in which I just surpassed the 300-mile mark.
Review: Hoka One One Challenger ATR 4
The fourth-generation Challenger ATR is consistent with the vision for the previous three: a well-cushioned and versatile running shoe that's designed for trails but can also successfully take to the roads. With a roomy toe box, breathable mesh upper, and generous underfoot cushioning, the ATR 4 could also be an excellent hiking/backpacking shoe, although I did not test it for that.
Many of the ATR line's characteristic specs apply to the 4 as well: that breathable mesh upper, a 31-millimeter stack height at the heel with 26mm at the toe for a 5mm drop, mixed rubber/foam outsole with shallow 4mm lugs, and a $130 price point. Hoka is learning as it goes, however, and with the ATR 4, the company tried to remedy some of the known fit and durability issues.
I have found the Challenger ATR 4 to be most at home on easy rolling singletrack. Because of those 4mm lugs, this shoe has also become my go-to for bike lanes, pea-gravel trails, and dirt roads that are muddy or covered in snow.
The toe box is roomy but not clown shoe–like, and the midfoot overlays keep the foot comfortably secured. The midsole foam has a better balance of cushion and responsiveness than the classic Hoka marshmallow midsole.
The Challenger does fine on gnarly trails, but there are better shoes for that terrain. That's in large part because the Challenger's center of gravity is too high and its midsole too insensitive, and rubber covers only half the outsole. Similarly, the Challenger performs okay on dry pavement, but it's overkill due to the luggy outsole and structured upper. In between these extremes or on runs that span the spectrum, the Challenger excels.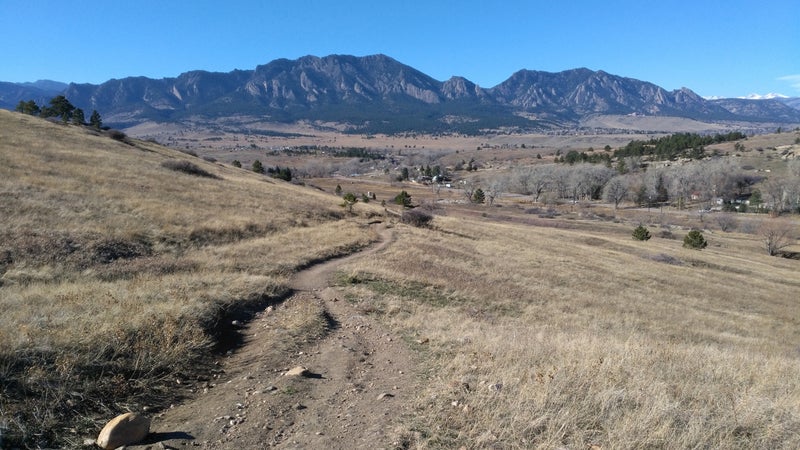 Key Product Specs
Breathable double-layer mesh upper
Neutral support
Weight: 9 ounces (men's size 9)
31/26mm EVA midsole
5mm drop
MSRP: $130
Comparisons
Challenger ATR 4 vs. Challenger ATR 3
The ATR 4 is the first Challenger I've worn, so I can't comment with firsthand experience on iterative changes from previous generations.
Challenger ATR 4 vs. Clifton 4
A better place to start is with the Clifton 4 (my review), since Hoka describes the Challenger as "a Clifton for the trails." The two shoes have identical lasts, their midsoles have similar consistency, and both are rockered.
But the ATR 4 is not just a Clifton with a trail-worthy outsole. The upper is fundamentally different, with less padding in the heel cup and tongue, a more robust toe cap, and more secure midfoot overlays. It fits differently: I ride over the inside edge in the Clifton, whereas I'm perfectly centered in the ATR 4. Finally, in my men's size 11.5, the ATR 4 is 1.1 ounces lighter.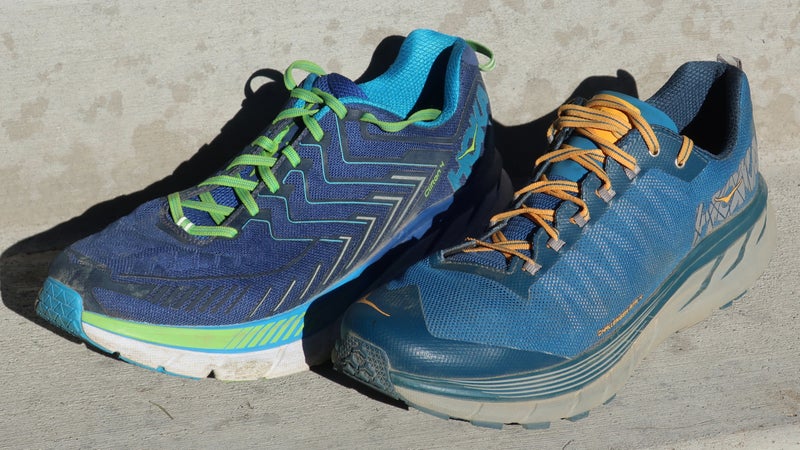 Challenger ATR 4 vs. Speedgoat 2
Despite its high stack height, I consider the Speedgoat 2 (my review) to be a full-on trail shoe. The Challenger ATR 4 is for a different application, with much better performance on roads and easy trails. It has a much roomier toe box, firmer midsole, and less sticky and aggressive outsole.
Fit
In my size 11.5, the Challenger ATR 4 is true to size. I also wear an 11.5 in other Hoka shoes (including Clifton 2, Clifton 4, Speedgoat 2, and Cavu) and in models from Altra, Merrell, Salewa, and Salomon. In La Sportiva, I wear size 45.5.
I have narrow and small-volume feet and feel that I'm at the lower end of the fit range in the Challenger ATR 4. The toe box is roomy but not exceptionally loose-fitting. My midfoot is mostly secure when the laces are tight, although I will slip forward slightly on extended downhills.
Midsole
The first two Hoka models that I wore were the Clifton 2 and Speedgoat 2, both of which have very soft and forgiving EVA foam midsoles. It was classic Hoka and what originally set them apart from other brands.
The three models I have tested most recently—the Clifton 4, Cavu, and Challenger ATR 4—are notably firmer and more responsive. But they're not "thin"—they still have about 30mm of foam underfoot, more than enough to swallow gravel or reduce the pounding on long road runs.
Overall, I prefer the "new" Hoka. The firmer foam feels less energy-sapping when I'm trying to run fast and more stable when I'm on uneven terrain.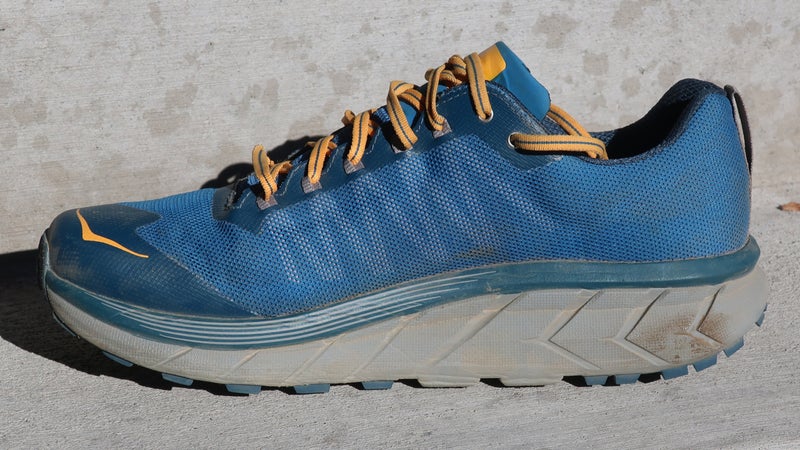 Outsole
After 300 miles of wear, the 4mm lugs have at least half their rubber (except at my landing and push-off zones, where they're more worn), and no lugs have torn off. Frankly, the durability has surprised me, since the lugs aren't very substantial and the rubber isn't from a name brand like Vibram.
The outsole's purchase is decent on mud, consolidated snow, wet leaves, and ball-bearing sand and more than adequate on rolling or flat terrain. On paved surfaces, the rubber is not annoyingly sticky, as is the case with the Vibram Megagrip on the Speedgoat, which sounds like dozens of little suction cups underfoot while you're running.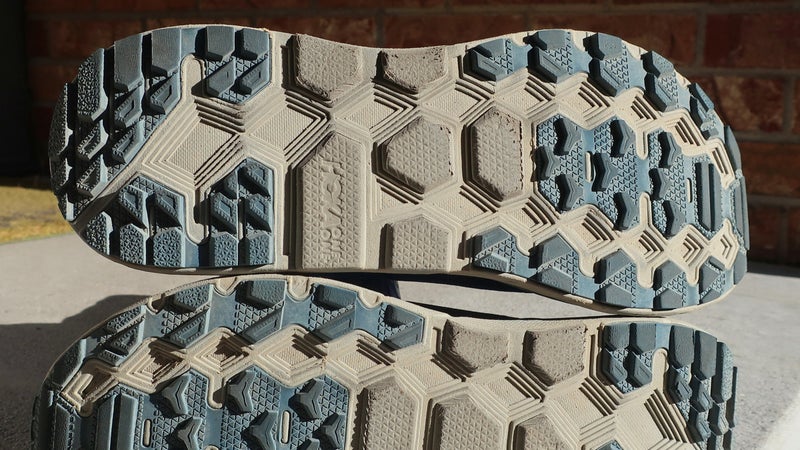 Upper
The double-layer mesh upper is moderately breathable and so far shows no signs of abrasion or fraying. It's reinforced with more durable TPU around the toe box, which also offers some protection against stubbed toes.
Hidden between the mesh layers are midfoot overlays, which help to secure the foot. Without these, my foot would likely slip from side to side in the shoe.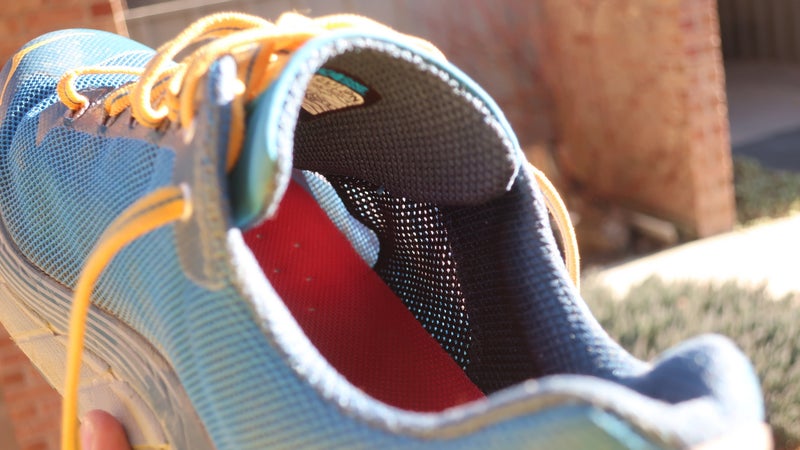 Aesthetics
What the hell is happening at Hoka? No more marshmallow midsoles or obnoxiously loud colorways?
My review pair was a pleasant blue and gray, with a dull orange accent for graphics and the laces. I don't feel like I need to run fast to wear this shoe, which can be comforting.
Room for Improvement
Overall, I have really enjoyed using the Challenger ATR 4 and think I'll run in them until they fall apart. But I'd like to see two small tweaks in the Challenger ATR 5:
The TPU pattern on the toe box should wrap cleanly around the perimeter of the toes. The "point" that extends over the ATR 4 toe box is stiff and interferes with the natural crease line, causing mild irritation. If it has a purpose besides aesthetics, I haven't figured it out.
Replace the laces. The linguine-shaped laces are more difficult to tie than conventional styles and are susceptible to twisting.
Lead Photo: Andrew Skurka