The Best Road Shoes of 2013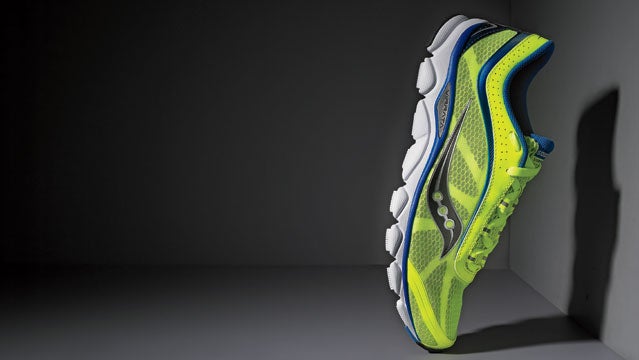 Heading out the door? Read this article on the new Outside+ app available now on iOS devices for members! Download the app.
Saucony Virrata
No shoe better represents the blending of new and old like this year's Gear of the Year–winning Saucony Virrata—a flat-striking, zero-drop shoe with enough padding to give a fundamentalist barefooter seizures.
The Virrata is a gateway shoe—and a potent one. On one hand, it's a zero-drop trainer, meaning it's perfectly flat for midfoot strikers, and the upper is built like a minimalist slipper—almost no overlays, just a touch of a heel counter, and barely anything but laces and mesh. But unlike other zero-drop shoes, this one has a thick midsole, much more like a traditional road shoe or Saucony's 2010 Gear of the Year–winning Kinvara. That means it encourages the biomechanics of flat-foot running without stinging on concrete. It's effortlessly smooth, light—a mere 6.5 ounces—and supremely comfortable. The first shoe we've seen that makes zero-drop running seem almost… easy. And value? You can't get a better shoe at this price. 6.5 oz.
EFFICIENCY: 4
COMFORT: 4.5
Skora Core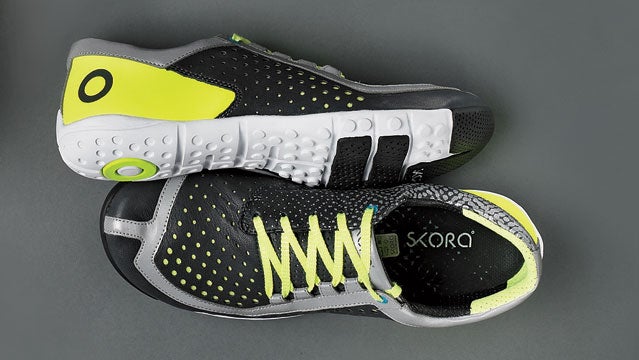 BEST FOR: Barefooters who want every foot muscle to get a workout.
THE TEST: These had the most flex of the zero-drop shoes we tested—all your ground-sensing foot nerves will immediately go on full alert. The shoe rides on an eight-millimeter-thick mashup of foam and bouncy rubber. It's a bit more durable than compression-prone foam alone but still plenty bendy. We liked it best on pavement; when we took a few laps off-road, the smallest rocks announced their presence. The goatskin uppers feel great, but you pay a weight and breathability penalty.
THE VERDICT: Overpriced and light on protection, but the most durable and comfy minimalist shoe we tested. 8.1 oz.
EFFICIENCY: 4 
COMFORT: 5
Ecco Biom Lite Helion
BEST FOR: Paleo runners who venture off pavement.
THE TEST: For those just dipping into minimalism, the Helion is a pretty good pick. It has a sparse 11 millimeters of foam in the forefoot but more structure in the heel than most other zero-drop shoes. Purists may pooh-pooh the slightly stiffer outsole, but we mortals preferred it: your foot muscles don't need to work as hard as they do in a shoe like the Inov-8, and the thick rubber offers a little extra protection on gravelly dirt paths. Narrower and snugger fitting than the Skora Core, the Helion's meshy upper also makes it the most breathable shoe here.
THE VERDICT: Versatile enough for roads or light trails. 7.7 oz.
EFFICIENCY: 4 
COMFORT: 4
Inov-8 Road-X-Treme 138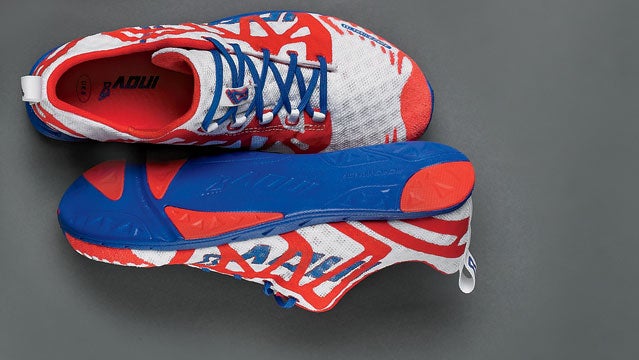 BEST FOR: Seasoned minimalist runners.
THE TEST: Inov-8 shoes were the biggest surprise hit this year. The narrow last is snug, responsive, and anatomically perfect, like a race flat, and the four-millimeter EVA foam midsole and thin fabric overlays hark back to the ur-minimalism of 1970s Onitsuka Tigers (read: low, flat, fast, and fun). While heel strikers will be heartily spanked, efficient midfoot landers will find this to be the smoothest rolling of any of the zero-drops here. The best part: at less than five ounces, this shoe is begging to hammer.
THE VERDICT: Best zero-drop road shoe we tested this year. 4.9 oz.
EFFICIENCY: 5 
COMFORT: 3.5
Newton Gravity Shoe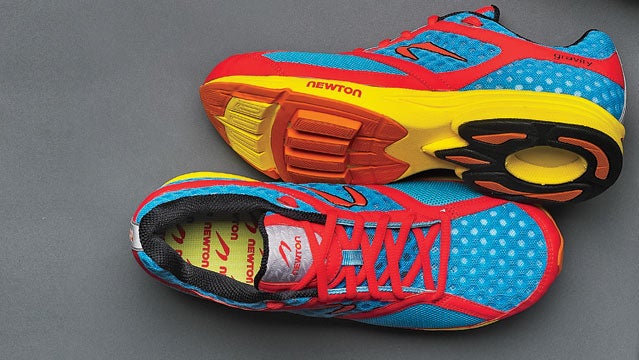 BEST FOR: Fast and neutral training, early adopters.
THE TEST: Newton seems to break all the rules and get away with it. These are the stiffest road shoes here, the priciest, and the most eccentric—a block of firm lugs protrude under the midfoot, which serves as a kind of propulsion lever. And yet they proved to be among the most responsive, speedy, and efficient shoes in our test. The firmness of those lugs does boost this shoe's forward motion and energy return, although it might take some getting used to—for some that's one run; others may never get over it.
THE VERDICT: If you like the feel of the lugs, you'll love these low-profile shoes. 9.1 oz; 3 mm drop.
EFFICIENCY: 5 
COMFORT: 3
Merrell Mix Master Move Shoe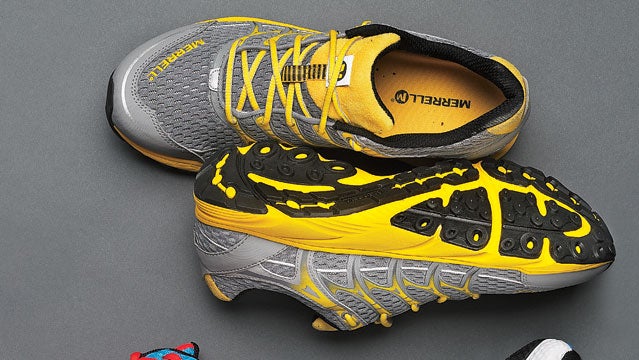 BEST FOR: Semi-minimalist running on roads and mellow trails.
THE TEST: The cheapo-looking mesh and cheesy rivet grommets didn't make a great first impression, but after weeks in this shoe, our whole team came away impressed. "It looks like a Ford but runs like an Audi," reported one tester. Built low to the ground with a four-millimeter drop, it feels more like a trainer than the slipperlike PureDrift, with just enough cushioning to take out the sting but not enough to slow you down. Our speedier runners loved it for mile repeats on grass, cool-down jogs, short intervals, and long tempo runs—in other words, everything.
THE VERDICT: A pleasant surprise. 8 oz; 4 mm drop.
EFFICIENCY: 4.5 
COMFORT: 3.5
Brooks PureDrift Shoe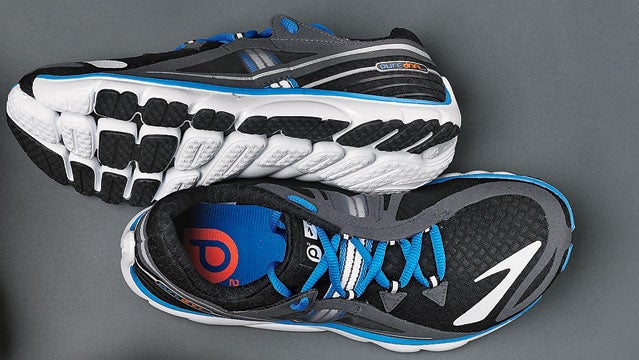 BEST FOR: Ultraminimalist midfooters.
THE TEST: Frankly, most of the slipperlike shoes out there are pretty darn similar. What made the PureDrift stand out is that it's convertible: with the removable insole in, it's a four-millimeter-drop shoe; take it out and you've got a zero-drop shoe. Testers liked the PureDrift best in four-millimeter mode, as removing the sole only increases the shoe's already high-volume fit. (The upper has a tendency to fold and buckle on narrow feet.) We did appreciate the eight-millimeter midsole, which helps to slightly soften the slap
of concrete.
THE VERDICT: A smooth take on a barefoot slipper, with an innovative twist. 5.6 oz; zero or 4 mm drop.
EFFICIENCY: 4
COMFORT: 3
ASICS GT-2000 Shoe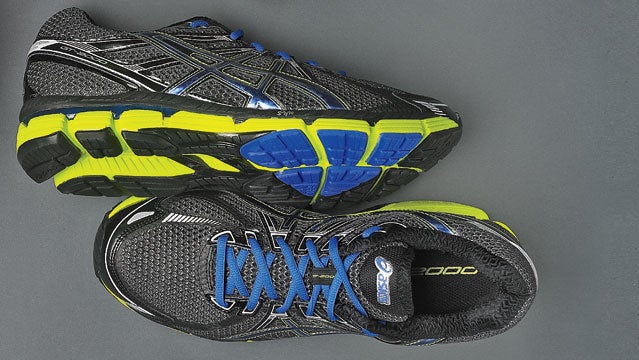 BEST FOR: Cruising in ultimate comfort.
THE TEST: If your idea of a perfect running shoe is the softest, fluffiest, most luxurious thing you can put on your foot—well, welcome home. The GT-2000 is an extremely high-quality, classic neutral-cushioning shoe with a big slab of marshmallowy foam (11 millimeters in the front and 21 in the back), a thickly padded heel, and a pillowy tongue. Speedy? Energetic? Not exactly. It rides like a luxury minivan and is ideal for runners who, due to injuries or inclination, prefer a plush ride.
THE VERDICT: We affectionately dubbed this the best hangover shoe because of its soft embrace and reluctance to push the pace. 11.4 oz; 10 mm drop.
RESPONSIVENESS: 2.5 
COMFORT: 5
Adidas Energy Boost Shoe
BEST FOR: High-mileage training runs; heel strikers.
THE TEST: This season, Adidas ­unleashed a new proprietary foam it calls Boost and trotted it out on this soft, neutral trainer. All our testers noticed it immediately—there's a lot of bounce to this shoe. "Instantly likeable" and "totally uninhibiting" popped up on test forms. The shoe has a remarkably quick turnover, although the foam is a bit soft for really efficient running, and the ten-millimeter drop caters heavily to heel strikers. Testers' one universal gripe: there's not nearly enough room in the upper near the laces—and only four lace crossings total.
THE VERDICT: Energetic cruiser. 9.7 oz; 10 mm drop.
RESPONSIVENESS: 4.5 
COMFORT: 3
Mizuno Wave Rider 16v Shoe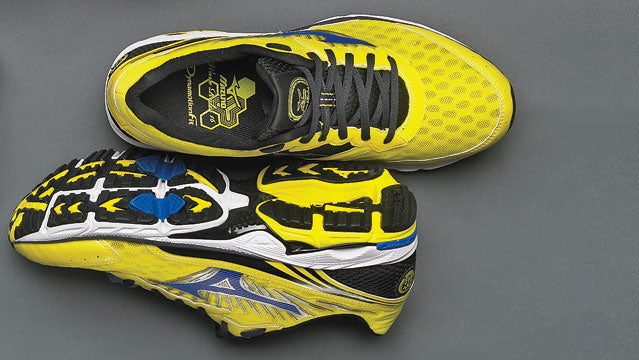 BEST FOR: Traditionalist-shoe fans and heel strikers who like to boogie.
THE TEST: While it remains a steadfastly heel-oriented trainer, the new Wave Rider also felt firmly energetic both fore and aft—a favorite for our higher-tempo runners on long runs. Mizuno's plastic Wave Plate, which substitutes for foamy, wobbly cushioning, has an unmistakable spring—a firmer and more efficient feel than the similarly built Adidas Energy Boost. "Great energy return," commented one tester. The wide-pore mesh allowed good airflow, and it's one of the most breathable shoes we tested this year.
THE VERDICT: A firm, traditional trainer for long runs. 9.9 oz; 12 mm drop.
RESPONSIVENESS: 4 
COMFORT: 3.5
Lead Photo: Inga Hendrickson