Ten Things You Didn't Know About Saucony Running Shoes
The brand with the hard-to-pronounce name has been making industry-leading sports shoes for 125 years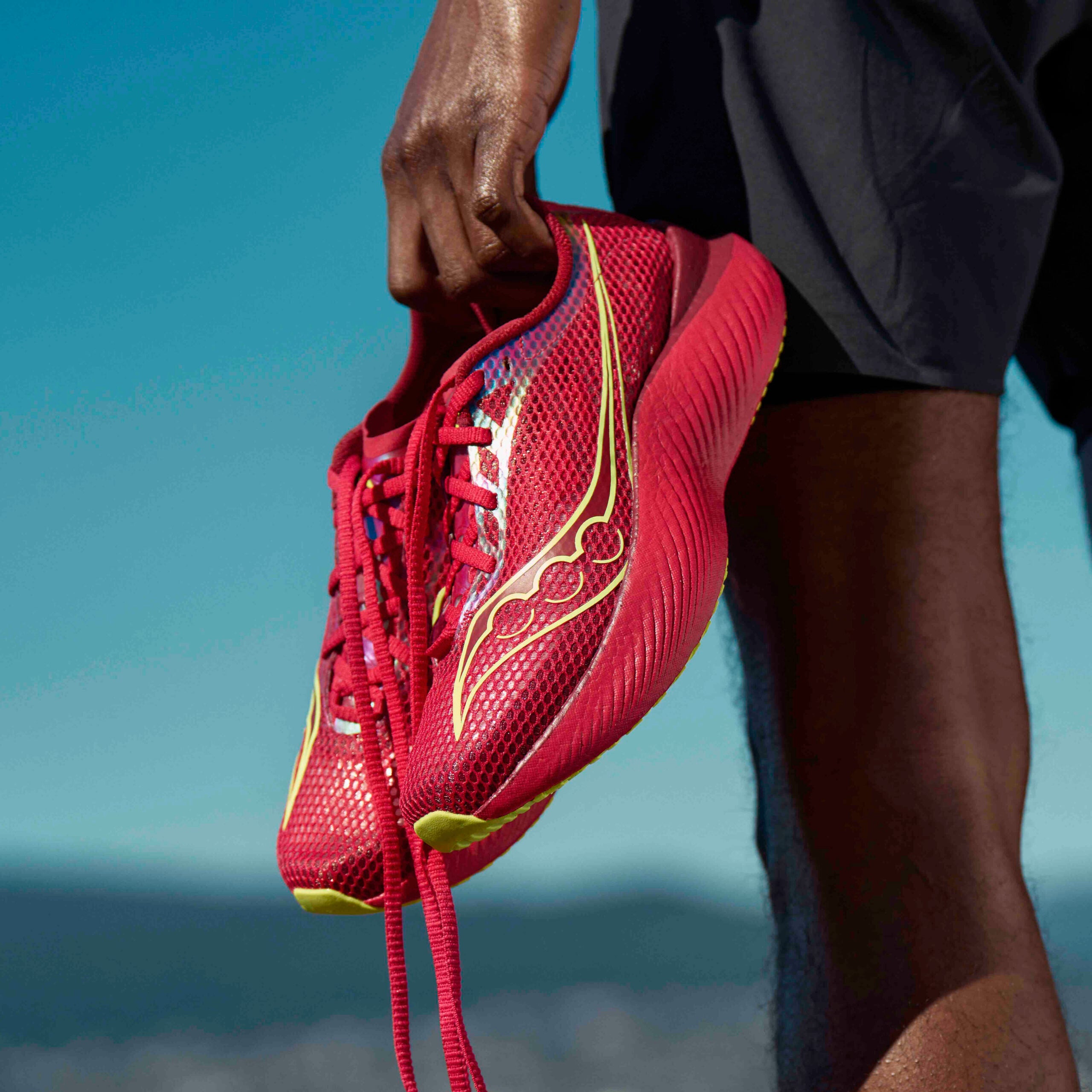 Courtesy Saucony
Heading out the door? Read this article on the new Outside+ app available now on iOS devices for members! Download the app.
With a history that predates the 1970s running boom, Saucony has been one of the top brands in the U.S. for as long as consumers have been buying running shoes. Today, their shoes are found on the feet of marathon, triathlon, track, and trail running champions, and are loved by dedicated runners of all levels. Here are ten facts you may not know about the brand.
1. The company is 125 years old.
Saucony is one of the original American sports footwear companies. Its roots date back to 1898 when the Saucony Shoe Manufacturing Company, which specialized in children's footwear, was opened in a three-story brick building by four businessmen in Kutztown, Pennsylvania. The brand's origin story also includes the 1910 inception of A.R. Hyde and Sons in Cambridge, Massachusetts, a small footwear brand founded by Russian immigrant Abraham Hyde that, in the 1930s and 1940s produced a variety of athletic shoes (including ice skates and roller skates) and footwear for the U.S. military. In 1952, Hyde purchased the ​​Athletic Shoe Company, which made Spot-Bilt baseball, football, and track shoes and also had a small government contract to make the boots for NASA's first astronauts. In 1968, Hyde Athletic Industries dove deeper into the athletic shoe business by purchasing the Saucony Shoe Manufacturing Company, which had recently started to make running shoes.
In the ensuing decades, the company continued to sell shoes under the Hyde, Spot-Bilt, and Saucony trademarks. The Spot-Bilt brand famously made football shoes for O.J. Simpson and, with Simpson's help, nearly landed Michael Jordan to wear its basketball shoes. It continued making running, basketball, and tennis shoes until the early 1990s, when it was fully absorbed under the Saucony name. (Spot-Bilt basketball shoes have recently returned in the Saucony Originals lifestyle line of footwear.) Since 2012, Saucony has been owned by Michigan-based Wolverine Worldwide, a footwear brand conglomerate that also owns Merrell, Chaco, and Sperry, as well as Hush Puppies, Harley Davidson Footwear, and Caterpillar's CAT-branded shoe brand.
2. The brand's name is pronounced sock-a-knee.
For years runners have stumbled over how to correctly say the brand's name. The brand is embracing that confusion in its marketing efforts this year. On April Fool's Day, they posted on social media:  "After 125 years of mispronunciation, we have decided to change our name so you can finally say it right," with a link to a press release announcing its formal name change to Sock-A-Knee, and a certificate of proper pronunciation. Saucony shoe boxes for this year's models loudly spell out the Sock-A-Knee moniker.
3. The brand's logo represents water flowing around boulders in Saucony Creek.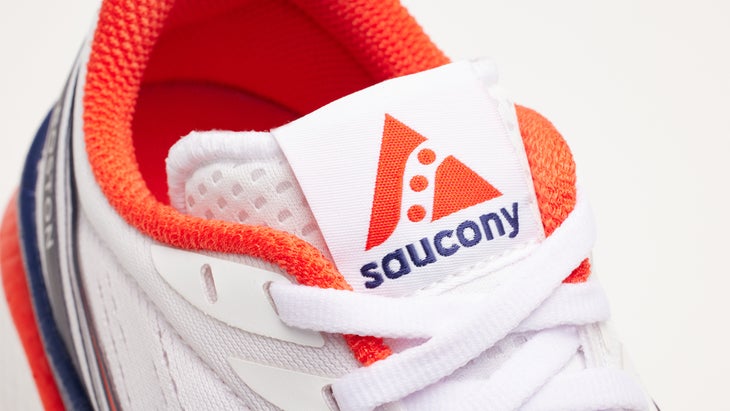 The Saucony name references the Saucony Creek that flows through Kutztown, not far from the original factory building. The creek's name is derived from a Native American word meaning "a place of outlet," describing its 17-mile journey into Maiden Creek. The brand's unique logo is said to be a depiction of the bubbling waters and boulders found in the creek (and, more metaphorically, the three "boulders" represent the brand's foundational values of good performance, good health, and good community). Several other modern businesses in Kutztown are named after the creek, including Saucony Creek Brewing Company + Gastropub, Saucony Book Shop, and Saucony Café.
4. Saucony's iconic models have led in innovation since the advent of the running shoe.
In 1958, Saucony unveiled what some consider to be one of the world's first high-performance running shoes, the 7446, a lightweight, kangaroo leather track shoe with six long spikes under the forefoot. Although Saucony remained a small brand at the start of the 1970s running boom, it gained national appeal in 1977 when Consumer Reports gave Saucony its "Best Quality" accolade. Two years later, Runner's World gave the Saucony Hornet and Ms. Hornet a five-star review and reported they were "rated No. 1 for rear-foot impact absorption." Continuing with innovative enhancements, Saucony's Trainer 1980 shoes were among the first to replace the firm board-like foundation with a durable cardboard and foam layer between the midsole and sockliner to create a smoother ride.
Saucony made its biggest splash in 1981 at the zenith of the original recreational running boom with the launch of the Jazz and Lady Jazz training shoes that were developed with the help of renowned Boston podiatrist Frank Santopietro. By today's standards, they might not seem like revolutionary shoes—they weren't much more than an EVA midsole, a nylon upper with suede overlays, and a unique rubber outsole with triangular lugs Saucony called the "Maxitrac outsole." At the time, however, they were lighter, more flexible, and more comfortable than most of its contemporaries. The fit, feel, and ride were well-received by runners—particularly praised by women for their narrow heel—and the Runner's World shoe-testing team gave Saucony yet another five-star review that helped catapult the shoe to one of the best-selling shoes of the era and made Saucony one of the most popular running shoe brands in the U.S.
In 2009, during the minimalist shoe revolution, Saucony unveiled the first Kinvara, a shoe that was lightweight, flexible, and provided a proprioceptive feel for the ground like other minimalist models of the day, but which bucked minimalist design geometry with moderate cushioning and a four-millimeter heel-toe drop. Shoes like the Kinvara—still selling strongly in its 14th version—outlasted the fall of minimalism and have become one of the movement's lasting legacies.
In 2015, the Saucony Triumph ISO model featured a new lightweight and extremely responsive EVERUN midsole foam made from steam-fused TPU pellets. That material later evolved into the highly energetic PWRRUN PB midsole compound that was featured in the brand's carbon-plated Endorphin Pro racing shoes in 2020.
The real game-changing shoe of the Endorphin line, however, has been the Endorphin Speed. The Speed was the first model to embed a more forgiving, slightly-flexible curved nylon plate in a high-stack, superfoam midsole (rather than a rigid carbon-fiber plate)—creating and setting the standard for a new category of hyper-responsive training models that has become known as semi-supershoes. Now in its third incarnation, the light and fast Endorphin Speed has earned rave reviews and numerous awards from shoe-review experts.
5. Saucony shoes were on the feet of Rod Dixon in one of the most iconic marathon finishes in history.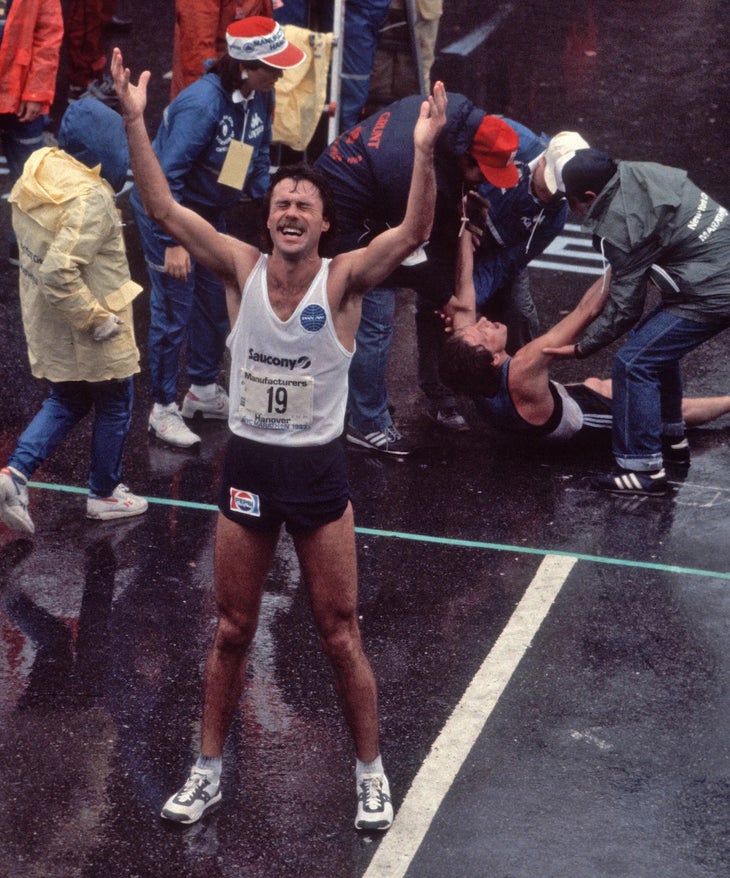 Saucony-sponsored athlete Rod Dixon won the 1983 New York City Marathon, overcoming a 2½-minute deficit with six miles to go and overtaking British runner Geoff Smith at the 26-mile mark to win in 2:08:59. The race, which was nationally televised by ABC Sports, produced one of the most dramatic marathon finishes of the original running boom and made Dixon, known as "The Flying Kiwi," a household name, catapulting Saucony into a new realm among the world's most popular running shoe brands.
Saucony used that momentum to develop, with Dixon's input, the first signature model running shoe. Called the DXN Trainer, it came out in 1984. Lighter than the Jazz, the shoe had a triple-density EVA midsole that included the "Dixon Mattress"—a softer foam wedge in the heel that had tiny holes drilled through it to provide more absorbent cushioning upon impact—and a small, soft and resilient segment of foam embedded under the metatarsal heads for a more springy sensation at toe-off. Another unique feature was the "Dixon Window," a collapsible heel tab designed to ease pressure on a runner's Achilles tendon during long runs. Saucony now makes a modern version of the DXN Trainer as part of its Saucony Originals retro-inspired lifestyle shoe line.
6. The brand immersed itself in triathlon in the 1980s and 1990s.
Saucony also got a big boost in popularity and sales from embracing triathletes in the early days of the swim-bike-run sport. It found a niche as an original running shoe sponsor of several top athletes, including Dave Scott, who won the Ironman World Championship in Hawaii a record six times in the 1980s. For years, Saucony used the tagline "Loyal to the Sport" based partly on its long-term commitment to triathlon. It developed a triathlon-specific shoe called the Aya in 1994 that Aussie Greg Welch wore on his feet to win that year's Ironman championship. In 1995, it acquired triathlon bike and apparel brand Quintana Roo. While it's not necessarily known as a triathlon brand in 2023, Saucony has continued to support professional triathletes through the years—including Jarrod Shoemaker, Sarah True, Tim Reed, Melanie McQuaid, Sarah Piampiano and Linsey Corbin. At the 2022 Ironman 70.3 World Championships in St. George, Utah, Denmark's Thor Bendix Madsen wore a pair of bright pink Saucony Endorphin Pro 3 shoes and ran one of the fastest 13.1-mile running splits (1:14:14) en route to an eighth-place overall finish.
7. Some of America's top runners train and race in Sauconys.
After placing second in the U.S. Olympic Trials Marathon in Boston in 2008, Magda Boulet became a Saucony-sponsored athlete en route to competing in the marathon at the Beijing Olympics and later running a personal best of 2:26:22. On the track, sprinter Wallace Spearmon Jr. was a two-time Olympian (2008, 2012) in the 200 and also a two-time world champion in sprint relays wearing Saucony racing spikes. Molly Huddle, a Saucony athlete since 2007, also raced on the track in Sauconys, competing in the 5,000m at the 2012 Olympics and the 10,000m at the 2016 Olympics, and now, as a new mom, is currently preparing for the 2024 U.S. Olympic Trials Marathon. Jared Ward placed third at the 2016 U.S. Olympic Trials Marathon in Los Angeles and sixth in the Rio Olympics wearing a pair of Saucony A8 racing flats. Ward has continued to be one the top American marathoners, with several top-10 finishes in Chicago, Boston, and New York. At the 2020 U.S. Olympic Marathon Trials in Atlanta, Molly Seidel wore a pair of first-generation Endorphin Pro shoes when she finished second (2:27:31) and earned a chance to run in the Tokyo Olympics. Grayson Murphy won the 2019 World Mountain Running Championships in Argentina wearing a pair of Saucony Peregrine trail running shoes. She'll be lacing them up again as a member of the U.S. team competing at the 2023 World Mountain and Trail Running Championships from June 6 to 10 in Innsbruck, Austria.
8. Olympic marathoner Jared Ward helps Saucony develop fast new shoes.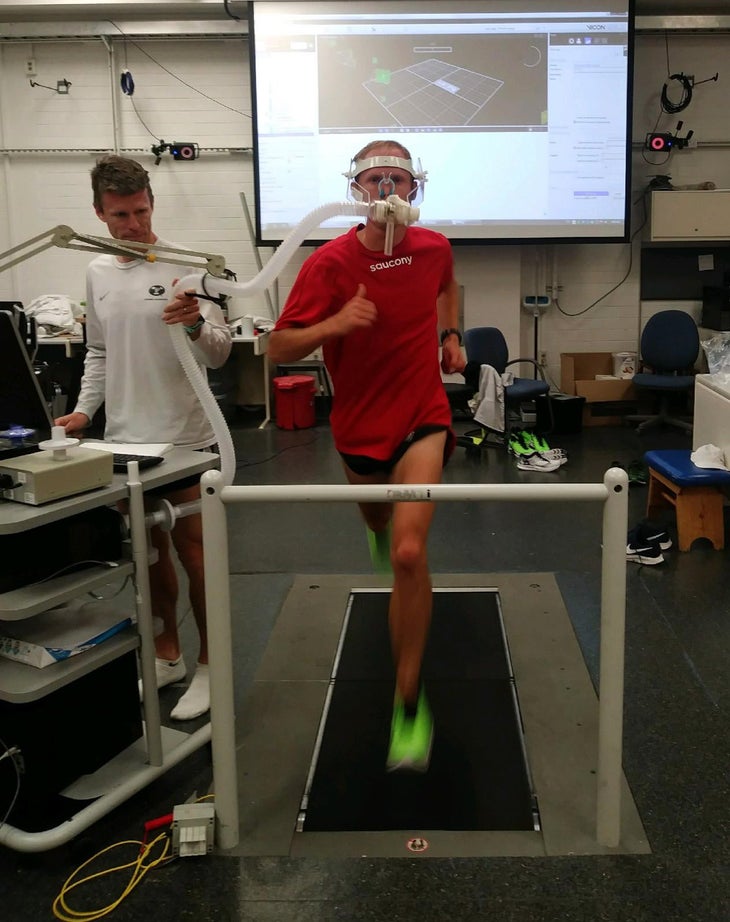 When Nike unveiled its marathon shoes with carbon-fiber propulsion plates embedded in the midsoles in 2017, Saucony was developing its own version of next-generation racing shoes. At the time, Jared Ward was working with a BYU biomechanics lab led by Iain Hunter, Ph.D., studying the science behind the new shoe design paradigm. With important input from Ward, Hunter, and the analysis from the lab, Saucony fine-tuned its prototypes and in 2020 released the original Endorphin Pro, which incorporates a curvy carbon-fiber plate embedded in Saucony's proprietary PWRRUN PB midsole compound made of beaded PEBA (Polyether block amide) thermoplastic elastomer foam.
Ward famously ran in prototype models en route to finishing sixth at the 2018 New York City Marathon (2:12:24) and eighth in the 2019 Boston Marathon (2:09:25). (Legend has it that fellow Saucony athlete Brian Shrader snatched a pair of Ward's prototypes, even though they were a size too small, and wore them to run 2:13:27 in his debut at the 2019 Chicago Marathon.) With Ward's help, Saucony has continued to evolve its top-tier Endorphin shoes, including the newly released Endorphin Elite, which features a new carbon plate geometry and an even more responsive PWRRUN HG midsole foam—and won a best shoe award from our gear team this year.
9. Saucony has dipped its toe into hip-hop shoe couture.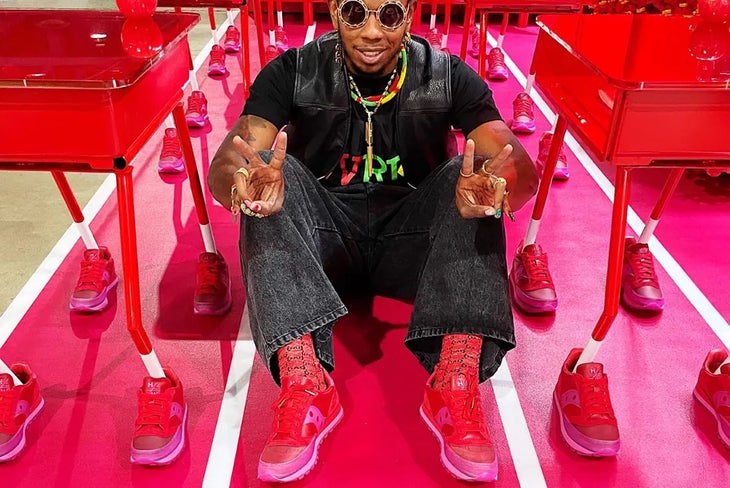 Saucony has created numerous collaborative models of lifestyle shoes over the past 20 years in its Saucony Originals line, typically design riffs of its popular road running shoes of the 1980s and 1990s. One of those collaborations has been with Trinidad James, a Trinidadian/American rapper, songwriter, fashion enthusiast, and noted sneakerhead, and has produced several colorful editions of the Jazz 81, a retro-style lifestyle shoe modeled off Saucony's popular Jazz running shoe of the early 1980s. So far, the Hommewrk x Saucony Jazz 81 incarnations have included red and pink "Sorrel Red," two-tone blue "Maxi Taxi,"  gray and black "Carnival Black," and mustard yellow "Lunch Pail" colorways.
10. Saucony has entered a new partnership to support nursing students.
This spring, Saucony launched a unique program to support Galen College of Nursing students. As part of the sponsorship, Saucony is outfitting four high-achieving student nurses at the school's original campus in Louisville, Kentucky with the brand's latest performance gear—including the brand's newly released Triumph 20 and Endorphin Shift 3 running shoes—to help in their physically demanding jobs and studies. The high-GPA student nurses selected for the program will be featured on both Saucony and Galen's social platforms through imagery that "emulates athlete portraiture in advertising and showcasing their heroism and performance to inspire others to pursue a career in nursing." It's believed to be the first Name Image and Likeness (NIL) sponsorship program not aimed at student athletes.
Lead Photo: Courtesy Saucony