Sponsor Content: HOKA
The Long Game: How Motherhood Bolstered My Confidence as an Athlete
Writer and outdoor adventurer Elisabeth Kwak laces up her HOKA Anacapas and embarks on a challenge that helps her redefine success and discover a new identity as an outdoor athlete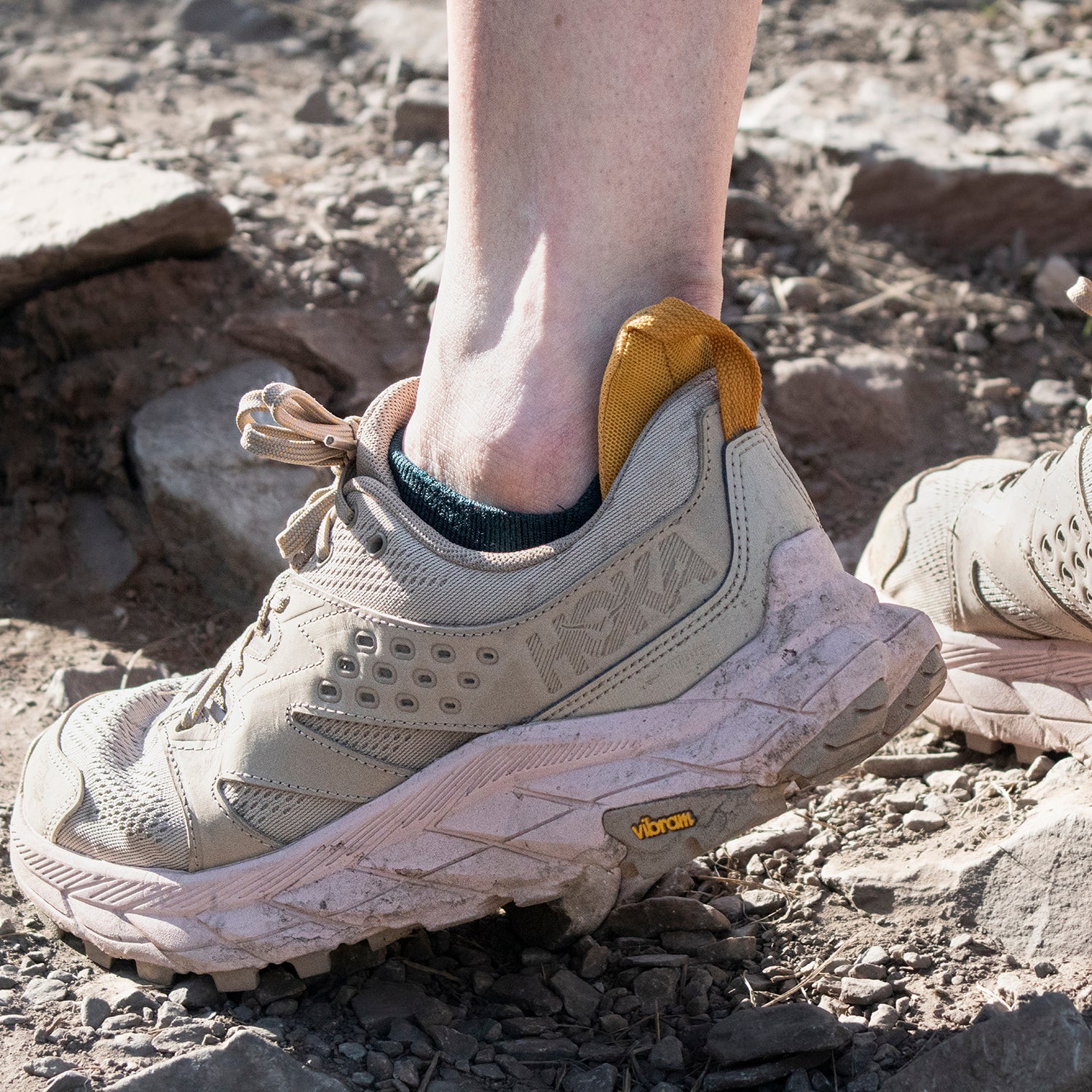 Blair Osgood
Ten minutes into the race up Mount Sentinel—high enough to enjoy the view yet still far below the summit—I worry I'm not up for this challenge after all. It's too early to doubt myself, but my legs feel heavier than they should. "You've done this hike dozens of times," I pep-talk myself. And I have, just never twice in a row, and with a time limit. 
Why turn a favorite local hike into a race against the clock? I wanted to challenge myself and simultaneously help a climate action nonprofit in my hometown of Missoula, Montana. The Running Up for Air race series challenges participants to complete as many laps as possible up and down a beloved local peak—Mount Sentinel for us Missoulians—while raising money for clean air initiatives. Wildfire smoke and winter inversions regularly make our valley's air quality nosedive, so the cause drew me in. But the chance to take on a real physical challenge again, after a years-long hiatus dedicated to raising my kids (now five and three), is what sealed the deal. 
The Mount Sentinel course rockets up the northwestern face of the 5,158-foot peak, gaining 1,900 feet in less than two miles. Racers choose from three events: three, six, or 12 hours. I signed up for the three-hour version, figuring anything else would be far too extreme for me. Leading up to the challenge in early February, I felt reasonably sure I could do two laps in three hours. Then, with the race mere hours away, I tested positive for Covid. 
So I'm doing it today instead, on a sunny and warm early spring morning. Ten minutes in, it's clear I've overdressed; I stop and stuff my midlayer into my pack. At least I have the rest of my gear dialed: sunblock, trekking poles, and traction spikes for the still-snowy upper reaches of the trail, and cushy, grippy footwear for mixed conditions. This morning I deliberated over which pair of HOKAs to wear, finally choosing the Anacapa Breeze Low because breathability would likely serve me better than waterproofness, even with the lingering snow. Plus, I figured I'd need to run a bit to stay on pace, and the low-cut version and Hubble® heel geometry—built for smoother heel-to-toe transitions—could handle a faster clip.
I don't have to be here today. My donations were still good, even with my Did Not Finish result. But I was looking forward to testing myself on the mountain. I used to do that kind of thing all the time. In high school and college, there was competitive volleyball. Then I moved west and started making up my own physical challenges outdoors. How many miles could I hike in this national park in one day? How quickly could I trail run around that lake?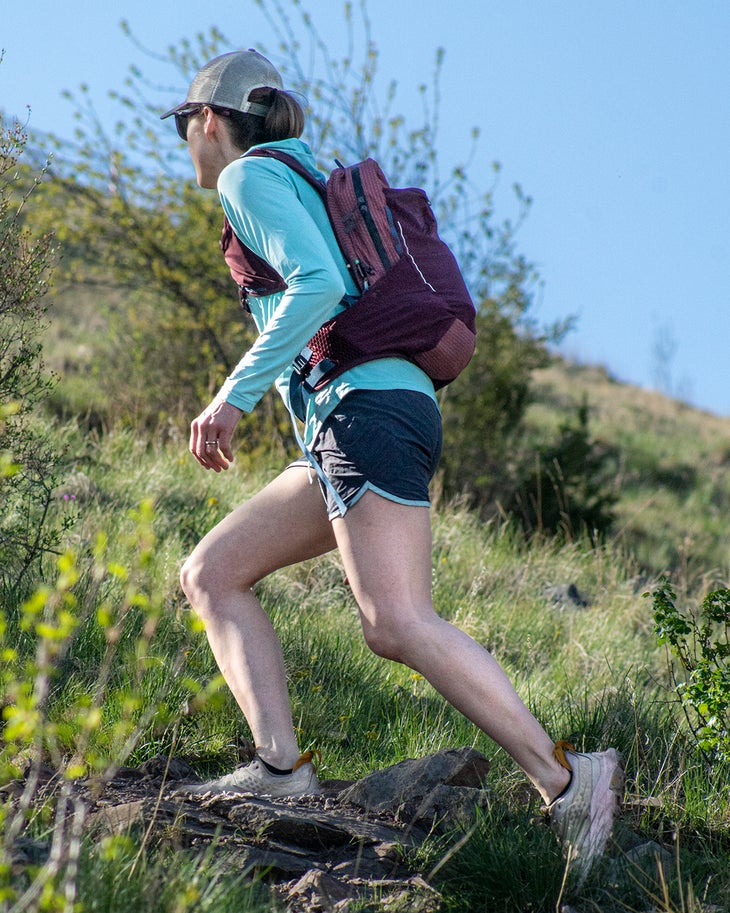 Then I had a kid. And another one, in quick succession. Parents can guess what happened next: outdoor challenges faded away, replaced by midnight feedings, countless diaper changes, and the exhausting joy of raising babies. I still got outside, even frequently, but it wasn't the same. I no longer had entire days to test myself against arbitrary adventure goals. Instead, I snuck away for hour-long hikes and skate-ski sessions. It all balanced out for the most part. But my kids are a little older now, and I find myself itching to see if I can do those two laps in three hours.
Now that I'm actually on the trail, the outlook remains cloudy. After a tough warm-up—the first part of the route mercilessly switchbacks up to a giant concrete M about a third of the way up—my legs have kicked into gear a bit. My steps are steady as I propel myself up the dirt track, but things slow down considerably as soon as I hit the snow and ice and the trail gets significantly steeper. I can see where people before me have slid, their skid tracks preserved in the ice. Leaning on my trekking poles, I pick my way up, slowly but without slipping. Eventually the incline eases, and I get into a steady albeit still sluggish rhythm. Sweat pours down my brow, but at least I feel steady on my feet thanks to the traction and stability of the Anacapa Breeze.
I hit the summit and check the three-hour countdown on my phone: 2:02:34. It's taken almost an hour to get up here. I need to move. I grasp the trekking poles in one hand and take off running. Luckily, the route down loops around the southwestern side of the peak, and within seconds I'm back on dirt. I pick up the pace—this is more like it. I'm just getting into a rhythm when I run into another deep snow patch. Dirt and snow alternate, in fits and starts, until I'm back to the M and can count on an uninterrupted descent. I just might pull this off.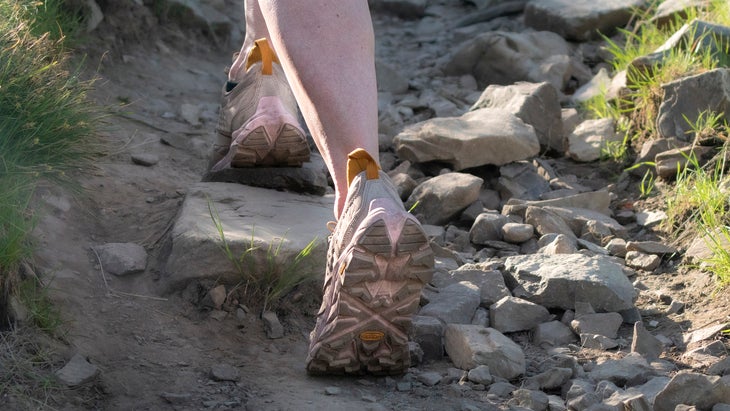 When I reach the bottom, though, my timer says 1:20:55. A good 11 minutes slower than I need to lap Sentinel twice in three hours. I turn around and start grinding uphill again, but I can immediately tell there's no way I'll do a second lap faster than the first. I feel okay, cardio-wise, but my quads are struggling. How disappointing, I think as I force myself up the next switchback. I'm a shadow of my former self. 
But then it dawns on me: Speed isn't my game anymore. I'm in my endurance era. In many ways, I've been training for an endurance event for the past five years—getting up after yet another sleepless night; changing diaper after poopy diaper; handling tantrums, meltdowns, and more. If there's anything I'm prepared to do, it's put one foot in front of the other and keep on moving. And as exhausting as it is, I love to do it. 
I guess I better make it the 12-hour challenge next year.
---
HOKA empowers a world of athletes to fly over the earth. With a problem-solving ethos and a bold approach to footwear and apparel, HOKA empowers all folks to meet their running, walking, fitness, and outdoor goals; to feel invited to and welcome in those spaces; and to engage in those activities more easily and more enjoyably than they thought possible.
Lead Photo: Blair Osgood