The One Running Shoe You Need to Pack in Your Summer Trip Bag
Whatever terrain you encounter the Salomon Ultra Glide 2 can handle with its cushioned, stable, and nimble ride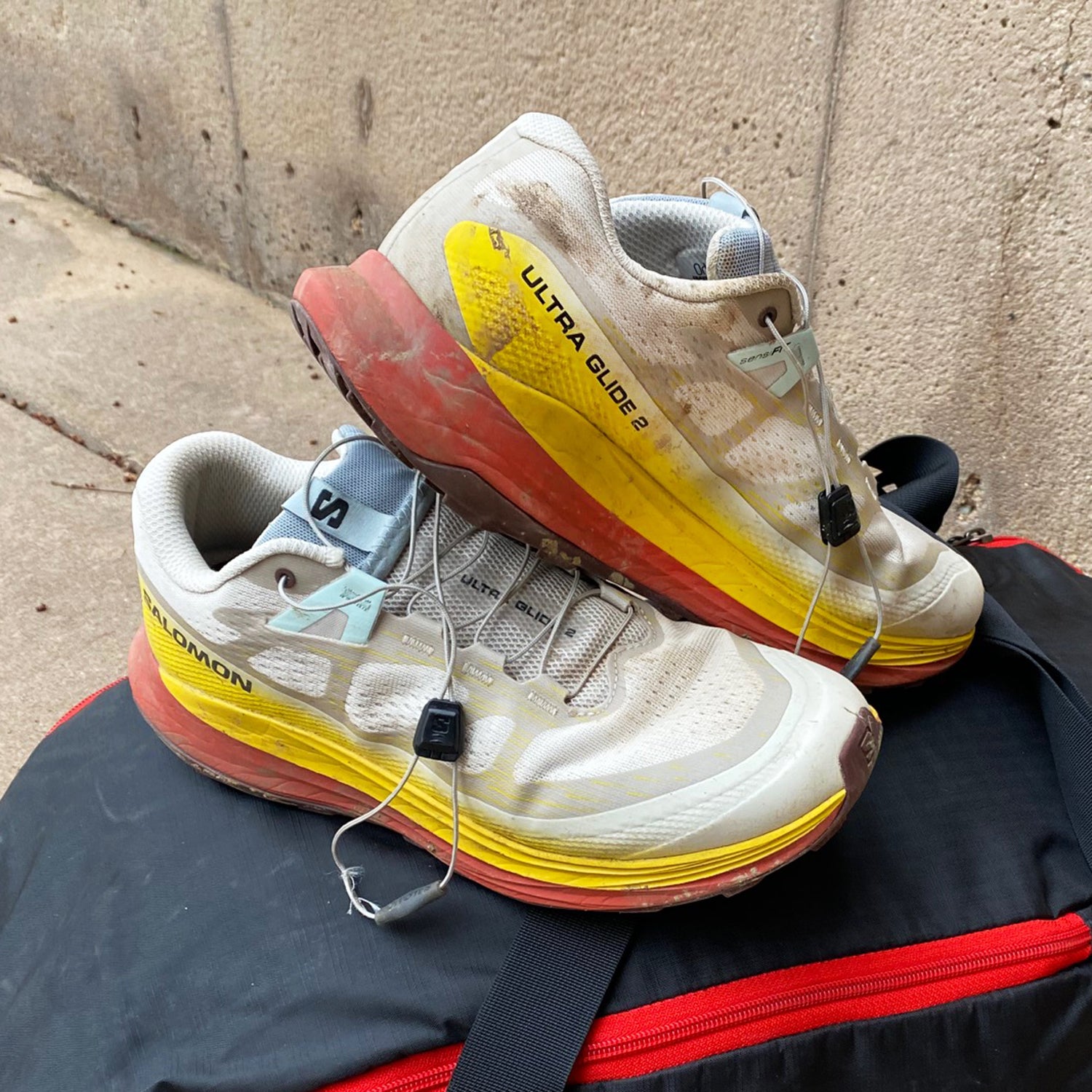 Adam Chase
Heading out the door? Read this article on the new Outside+ app available now on iOS devices for members! Download the app.
Call me elitist, but it irks me when people in airports block the escalator or moving sidewalk with their rolling luggage, clogging the flow of traffic toward the shuttle train's sliding doors, the departing bus, the loving embrace of a significant other. To avoid being that person—and to ensure my bag fits in the overhead compartment so I don't have to play the checked bag lottery—I make a point to travel light.
To keep my bag small enough to carry, I limit myself to just one pair of running shoes. Given that I normally select a different pair from my garage-full of shoes every day to match my planned run's terrain, conditions, and pace, narrowing the choice to one that will work for all the runs on the trip takes careful consideration. The one pair has to have a special set of characteristics:
What Makes a Great Quiver-of-One Travel Shoe
1) Versatile on multiple surfaces
Wherever I travel, I look for running trails close by, yet, often, I need to cover several road and sidewalk kilometers to access a path. So I require a trail shoe that is tolerable on paved surfaces or, harder to find, a road shoe that is adept off-road. The shoe also has to handle any kind of trail surface, from smooth paths to tricky technical terrain.
2) Adaptable to multiple activities
My one travel shoe has to feel comfortable and capable in hotel gyms, ease the impact of cobbles and pavers during city exploration, scoff at Alpine scrambles, and not get in the way when putting cocky nephews in their place, should an impromptu challenge present itself.
3) Light and flexible
The shoe has to fit easily into cramped luggage quarters, thus have a relatively thin, flexible sole, unlike the oversized shoes that fill half the bag or need their own luggage for their stiff expanses.
4) Presentable in (nearly) any context
In addition to taking them on wide-ranging runs, I'll want to wear the shoes in a variety of non-athletic settings that are necessary evils of travel—think museums, shopping malls, brunches—and not feel out of place in garish footwear. And a bonus if the shoe doesn't stain easily, or retain odor.
In light of such demanding requisites, my ideal summer travel shoe this year is the Salomon Ultra Glide 2. Here's why: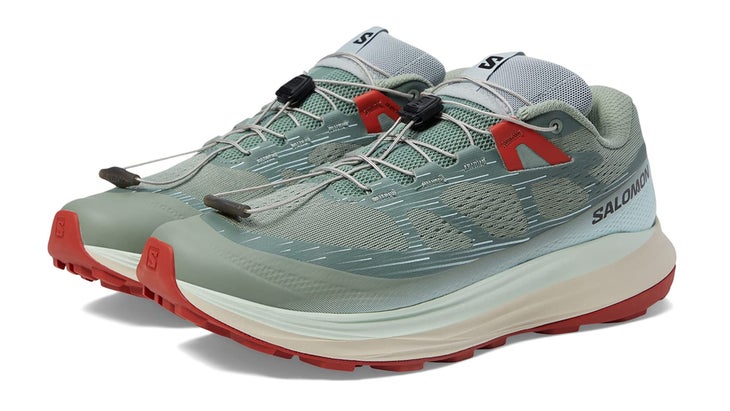 Salomon Ultra Glide 2 Review
MSRP: $150;
Weight: 9.2 oz (men's), 8.4 oz (women's)
Stack Height: 32–26 millimeters (6 mm drop)
Smooth Strider
The Ultra Glide 2 checked a slew of boxes in qualifying as the ultimate travel companion. Throw what you may at this shoe—be it hard or soft ground; airport halls, malls, twisted ancient trails, or even more treacherous terrain—it can handle it with aplomb.
Some of its versatility comes from the shoe's midsole foam, a combination of long-lasting EVA with Olefin that creates the most cushioned ride in Salomon's trail running line. The soft and bouncy material is shaped into a curved reverse camber geometry—a fancy way of saying "rockered"— similar to that of a rockered ski with raised tips and tail, inspired by Salomon's Alpine heritage. A protective film, called Profeel, sits between the midsole and outsole, obstructing underfoot protrusions while smoothing out the stride on technical terrain. The material and geometry combo delivers a fluid heel-to-toe transition that I rarely experience from trail footwear. And, while the light and cushioned midsole foam provides sufficient protection and comfort on rough terrain, it is flexible and responsive enough that the shoe also works well when I pick up the cadence on flatter surfaces.
With 3.5mm lugs on Salomon's proprietary sticky-rubber outsole, the shoe kept me upright on mud, snow, and other semi-slick surfaces. Fortunately, the tread isn't so aggressive that it drags or feels clunky when moving over paved roads or paths.
Friendly Fit
While the bottom unit—the mid and outsole—is largely unchanged from the original Ultra Glide, the fit of the Ultra Glide 2's updated upper is what really stood out as remarkable—and seals the shoe's spot atop travel shoe contenders. The forefoot space is somewhat higher volume than I'd expected from Salomon, which tends to fit more European narrow, and will please all runners with wider toes or those whose feet swell during longer outings.
The fit is enhanced by a stretchy internal midfoot sleeve that embraces the foot and secures it to the midsole for lateral stability. The Ultra Glide 2 also uses Salomon's traditional quick-pull speed lacing which snugged my foot with a hold that felt customized. Combined with the adept grip of the tread, the foothold gave me confidence when maneuvering through patches of rocky, sloppy, and otherwise tricky footing of Boulder's foothill and mountain trails where I tested the shoes. The fit will be familiar to those who've worn the brand in the past, and made me nostalgic for "the good old days" when I raced for Salomon in the early 2000s (back when I was able to run a lot faster).
Upgrades to the upper on this new version of the Ultra Glide make it more comfortable, versatile, and better suited to be a travel shoe. The fabric is more breathable and quick drying, should your travel running route encounter a stream or river crossing. The shoe is slightly lighter, with a slimmed-down collar and tongue. And, regarding their appearance when not running (criteria number 4), the look is a presentable snappiness, giving you a sporty demeanor without being obnoxious or flamboyant.
Aside from the exceptional fit, the Ultra Glide 2 doesn't stand out in any one area—but that's what makes it so well suited to pack on summer trips. It appeals for its dependability as a one-shoe-does-it-all selection for the trail, road, or whatever else you may face along the way.
Lead Photo: Adam Chase
Trending on Outside Online