Sponsor Content: HOKA
Upgrade Your Running with HOKA's Speedgoat 5 GTX
This trail shoe was designed to provide comfort, stability, weather protection, and speed no matter what terrain you're tackling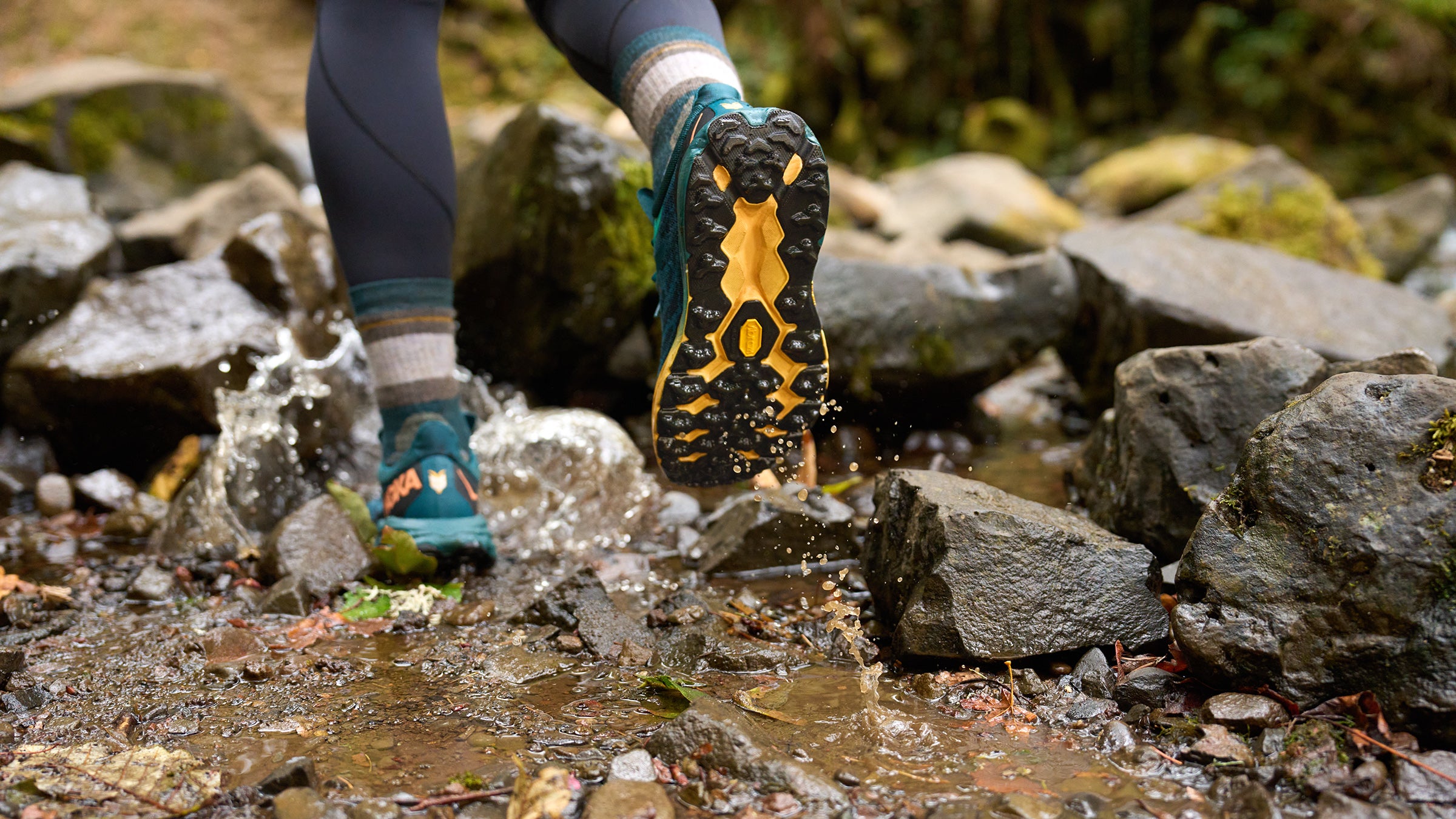 Annie Hughes, a 23-year-old trail runner from Leadville, Colorado, hasn't been competing for very long—she ran her first ultramarathon in 2019—but for as many years as she's been racing, she's been doing it in the HOKA Speedgoat. 
"I just felt like other shoes didn't have the cushioning that I need for longer runs," says Hughes, who recently won the women's division of the 2021 Leadville 100. "To me, that's what sets HOKA apart from other brands—that lightweight padding. It's so helpful on my heels and the balls of my feet, which are the areas that are the most uncomfortable at the end of 100- or 200-plus miles."
Most people aren't logging the kind of mileage Hughes is, but cushioning has always been an essential part of HOKA's DNA, with stability and reliability inherently built-in to the shoes' wider, bigger platform, says product line manager Jared Smith who worked on the Speedgoat.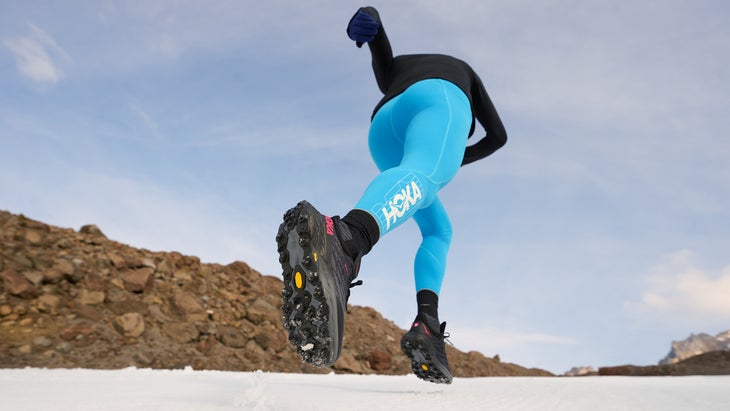 That pillowlike underfoot experience has only improved in the Speedgoat 5 GTX, the latest iteration of the brand's popular trail running shoe. "When you're traveling 50K, 50 miles, 100K, 100 miles, you want to minimize or mitigate the amount of weight you're carrying as much as possible," he explains. To that end, the brand introduced lightweight and breathable double-layer jacquard engineered mesh sides made with recycled materials to the Speedgoat 5 GTX Low, Speedgoat 5 GTX Mid, and Speedgoat 5 GTX Spike.
Yet, HOKA's athletes and ambassadors find the shoe is more responsive than ever. "I feel like I could run forever in this shoe," says Brandon Dugi, an outdoor adventure photographer and trail runner based in northern Arizona. "With every step, it feels like it's giving energy back. As I hit the ground, the foam moves with me, but as soon as I push off, I can feel it bouncing back into place." That resilience helps the shoes last longer, he says; think 400 or even 500 miles compared to 200. 
Despite all the cushion, "I never feel like I can't feel what's going on on the trail," says Hughes. Navigating technical terrain that can change from slick rock to loose dirt to mud over the course of a run requires a sense of groundedness in your feet, and the Speedgoat 5 GTX delivers on that with a new-and-improved outsole that uses Vibram® Megagrip and Traction Lug technology for tacky traction. 
"It's this microtextured element that circumvents the lug itself," explains Smith. "Think of stairs building up on the lug, with protrusions that increase the surface area of that lug." The results: Increased grip, especially on drier, looser terrain like gravel and soil, so you don't have to worry about losing your footing. 
And with a waterproof GORE-TEX membrane—your feet will stay protected and dry even on wet or soggy trails so you can comfortably focus on your pace. The shoe's GORE-TEX layer is made with recycled material for premium moisture-protection with an eco-conscious element.
For those who've been running in previous versions of the Speedgoat, there's no need to be nervous; you can still wear these straight out of the box and know what you're getting, says Hughes. "It's really about improving on what are already high-performing features," explains Smith.
From the mountains of Colorado to the deserts of Arizona, there's really no terrain this shoe can't handle—whether you're a pro or casual trail runner. "It provides the cushioning, the responsiveness, and the stability you need," says Smith, "so you're not fixated on what's happening on your feet—you're just doing what you love."
---
HOKA empowers a world of athletes to fly over the Earth. With a problem-solving ethos, and a bold approach to footwear and apparel, HOKA empowers all folks to meet their running, walking, fitness and outdoor goals; to feel invited to and welcome in those spaces; and to engage in those activities more easily and more enjoyably than they thought possible.
Lead Photo: HOKA