Where can I find a trail-runner that doesn't look like an exotic bird?
Where can I find a trail-running shoe that does not look like a space shoe or some exotic bird? I want something that looks at home outdoors while serving the needed function. Doug Pocomoke City, Maryland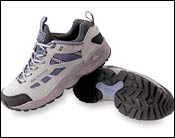 Heading out the door? Read this article on the new Outside+ app available now on iOS devices for members! Download the app.
Space shoes? Exotic birds? I admit that some trail shoes have a variety of swoopy stripes, along with straps and laces of questionable value, but they surely aren't all that bad. I even think some shoes, such as the gray-and-orange Asics Gel-Trekker ($70; www.asicsamerica.com), look pretty cool. But it does raise the question: Why do shoemakers contrive to outdo one another with shoes that have colors and design features with no apparent function? Simply put, marketing. Most people buy shoes in part because of how they look, and shoes that appear "fast" or "functional" are going to have a leg up—particularly when the prospective shoe-buyer confronts a display stand with 20 different shoes that, from the standpoint of what's inside, aren't all that different from one another. So you've gotta at least cut shoemakers a little slack, as they have to eat, too.

Vitesse II

Anyway, some shoes certainly are lower-key than others. Montrail's Vitesse II ($85; www.montrail.com) are strictly business. Think non-flashy blue and gray uppers, and useful features such as a Phylon midsole (a little stiffer and more durable than EVA) and grippy outsoles. New Balance's 976 runners ($99; www.newbalance.com) don't even look like a trail-runner, and in fact they're billed as a "country walker." But their tough sole and well-placed cushioning make them perfectly appropriate for running on trails, and their brown leather uppers won't even look that out of place in the office. Lastly, I think Salomon's XA Comp 2 XCRs have a look that says "serious about trail running" but not one that's too over-the-top. They're $100 (www.salomonoutdoor.com), have uppers of synthetic leather and mesh, and have Gore-Tex liners to keep your feet dry.
In any event, a light coating of mud and dust will help your shoes blend in to the environment, so maybe a little color out of the box isn't a bad thing.
For a look at more trail-runners oozing form and function, check out Outside Online's Trail Runners Buying Guide.