Are ski boards a good way for intermediates to hit the bumps?
Your Gearness: I've been hearing about ski boards/ski blades as a good way for terminal intermediate skiers like myself to get on the bumps. What is your take on them, especially for casual skiers looking to cover more of the mountain? Greg Dallas, Texas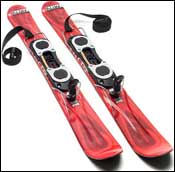 Heading out the door? Read this article on the new Outside+ app available now on iOS devices for members! Download the app.
Sounds like you've got the right idea, but maybe the wrong piece of equipment. "Ski boards"—or the Salomon version of these devices, called Snowblades—are super-short, super-wide skis. Small snowboards, really, which can be used with or without poles (lots of users skip the poles). They are popular among skiers who don't want to completely ditch their two-stave ways, but who want to have some of the fun they're missing by being unable to use long skis on the new generation of "fun parks," where snowboards rule.

K2 Fatty Ski Boards

They come in two basic flavors: really wide short skis, such as the popular Kneissl Big Foots ($199 per pair, and easily recognizable due to the whimsical "toes" at the front), and devices that look a little more like traditional skis, such as K2's Fatty Ski Boards ($199) or Salomon's Snowblades ($299; www.salomonski.com).
And yeah, they're great fun. You can do all sorts of things that are possible but difficult on trad skis—jumps, swooshing through powder glades, bumps, you name it. That's because they're much lighter than regular skis, and their short length makes them more maneuverable. More like having on big feet than skis.
The downside? Models such as the Snowblades track and glide reasonably well, but you're not going to get the big-slope smoothness and carving ability of a regular ski. So while you'll be able to cover some of the mountain currently off-limits to you, you'll also find that parts of the mountain you knew and loved just aren't as much fun. Life, as always, is full of compromises.
That said, I highly recommend you try a pair, either through a rental or borrowing some from a friend. And even if you buy a pair, you aren't out that much money—eBay, for instance, has Snowblades for under $200. Add them to the gear arsenal you haul to the slopes, all the better for more fun!
For the season's slickest ski gear, read Outside's January reviews of 2006's top skis and snowboards.