This Is the Best Ski Bag Ever Made
The Douchebag Snowroller. Awful name, totally dialed product.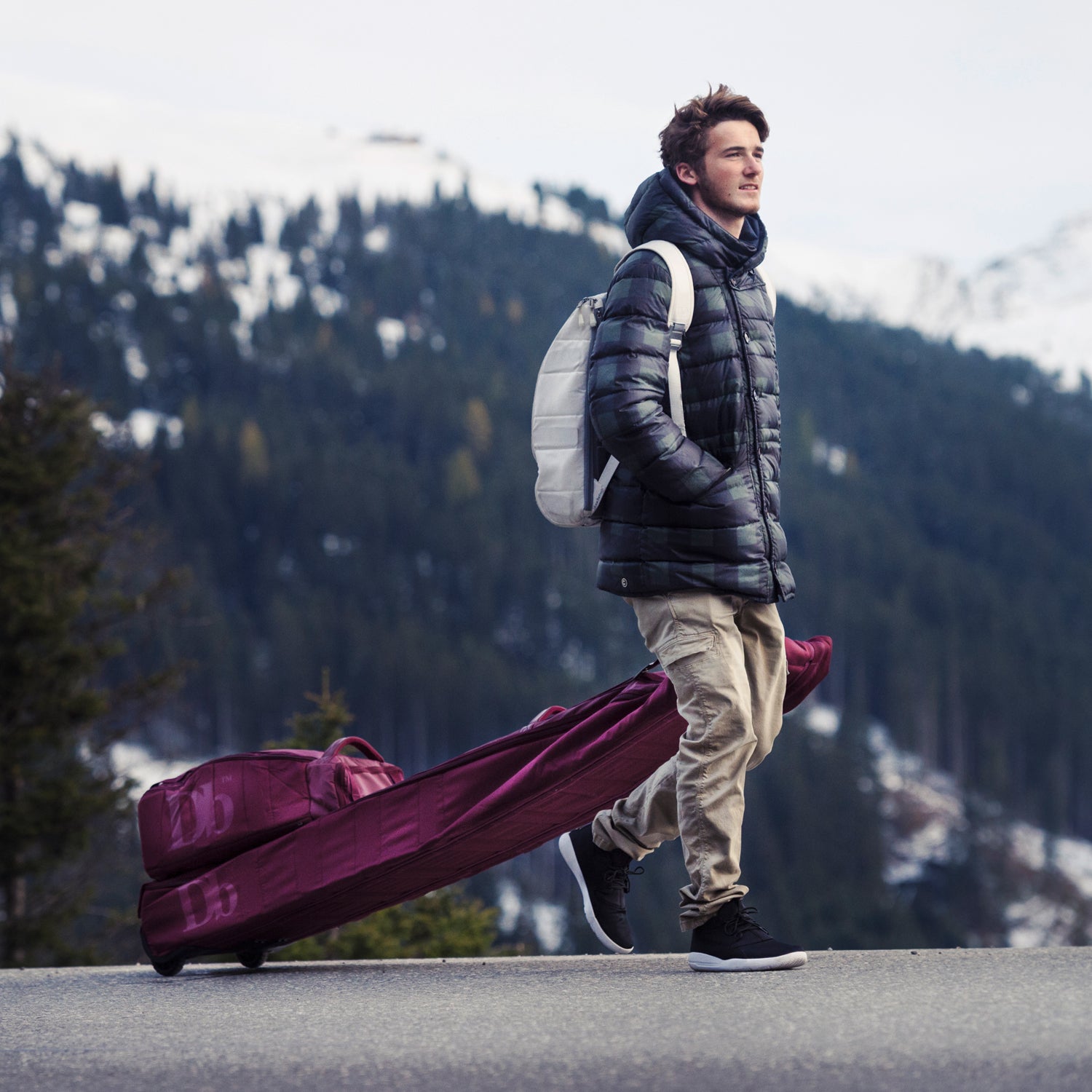 Douchebags(Photo)
Heading out the door? Read this article on the new Outside+ app available now on iOS devices for members! Download the app.
Most soft-case ski bags are terrible. Even if they have wheels, they're just shapeless oversized sacks. Dragging them through airports and train stations is like towing a lethargic gator by the tail. Your model doesn't have wheels? Good luck with that.
The Douchebag Snowroller ($249) solves all these problems. (More on that name below.) Dreamed up by legendary Scandinavian pro skier Jon Olsson and designer Truls Brataas, it took two years of R&D and countless conversations with other skiers and baggage handlers to get right. The end result is a bag that's adjustable length-wise so your skis are always cinched tight, creating a rigid towing platform without any extra material to drag on the ground. The top of the bag folds down like a roll-top backpack and it will accommodate skis as long as 205 centimeters. If you're hauling shorter skis, just roll the bag 'till it hits the tips, then secure it with the daisy chain and hook system. 
The bag's also wider near the wheels, meaning it stays stable and planted no matter how much gear and clothing you stuff into it. It's large enough to fit two pairs of skis (one pair laid side by side along the bottom and the other, separated, along the walls), and, at 150 liters, voluminous enough to stow every other piece of gear you'd need for a ski trip (think: helmet, outerwear, gloves, base layers). When you're not using the bag, it rolls down to the size of a watermelon.
The 8.4-pound Snowroller is exceptionally well made, with double stitching, burly Velcro closures, heavy-duty Cordura, and thick, supple fabric around the zippers, where I've seen lots of other ski bags eventually blow out. There are ribs every foot or so to protect your boards, and if the bag is well organized, you shouldn't have to add any extra padding. (I have one impetuous friend who frequently tosses hers down train station stairways, and she's yet to snap any skis.) 
The Snowroller, which was released last year, is now available with the Hookup system—basically a separate daypack that piggybacks via hooks to the ski bag's daisy chains. We like the Hugger 30L ($159), which fits in an overhead bin, has a laptop sleeve and pack straps, and can easily swallow a pair of ski boots and some extra clothing. There are also 15- ($129) and 60-liter ($179) units available.
As for the name, apparently it was submitted for a naming contest, and perhaps, addled by too much Norweigan death metal, it won. For the puritanical American market, they're rebranding simply as DB. 
Lead Photo: Douchebags