2024 Winter Gear Guide
The Best New Ski Bindings of 2024
These new alpine and touring bindings come packed with exciting features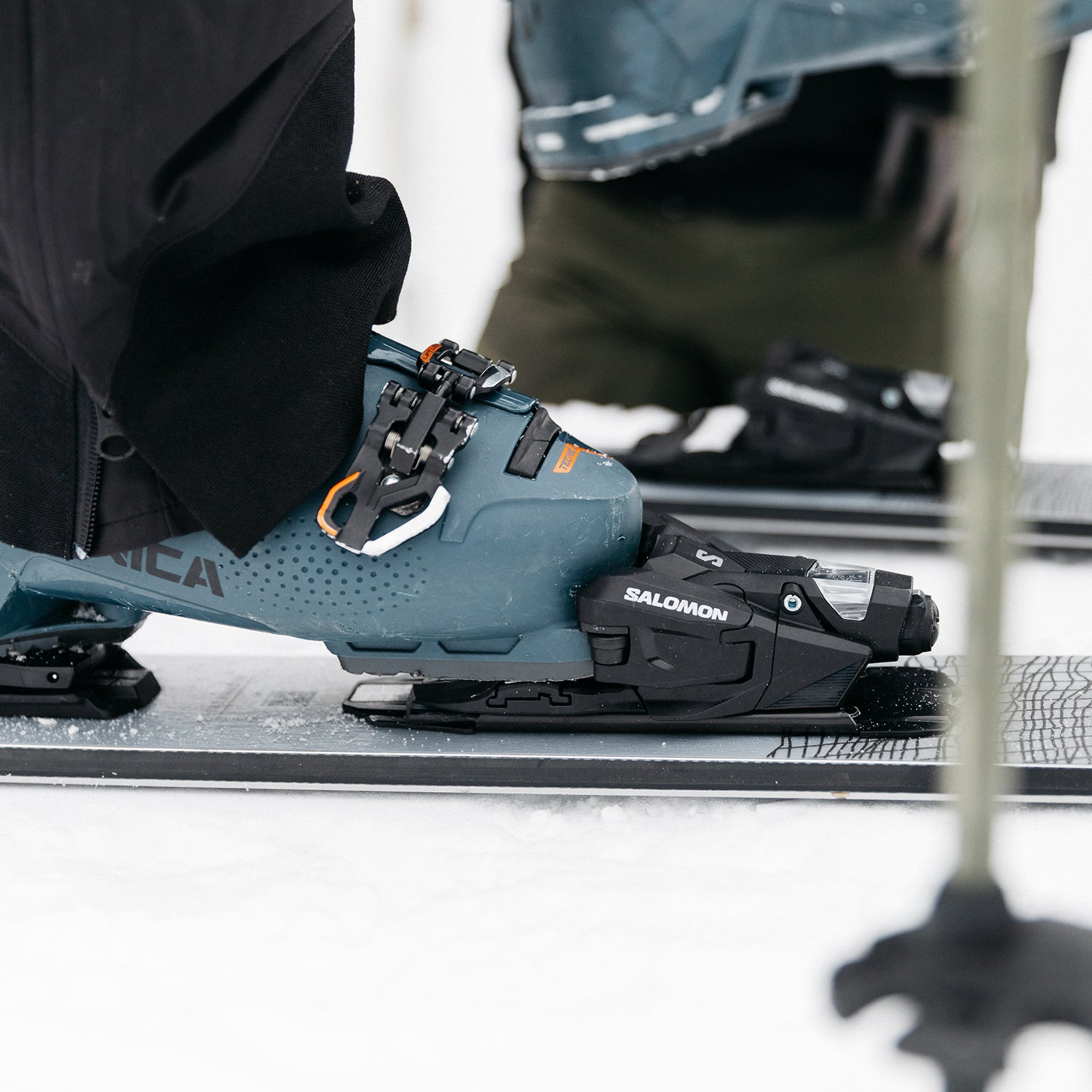 Ray J. Gadd
Heading out the door? Read this article on the new Outside+ app available now on iOS devices for members! Download the app.
This article was first published by SkiMag.com.
Bindings aren't the most exciting piece of ski gear, but they're one of your most essential. With all the changes to ski boot technology in recent years—like the invention and proliferation of GripWalk soles and tech toe inserts—it's never been more important to consider the bindings you're clicking into. Not all ski bindings are created equal. These days you can choose from dedicated downhill bindings, hybrid bindings that let you tour uphill but are also burly enough for resort use, as well as dedicated and minimalist alpine touring (AT) bindings.
With great choice comes great responsibility, since not all ski bindings and ski boots are compatible. So do yourself a favor and spend as much time considering your ski bindings as you do the sexier pieces of gear (like those shiny new skis). Determine what type of binding you're in the market for—alpine or alpine touring—and what will work with the ski boots you're eyeing or you already own. Refer to the ISO norms listed with each binding to determine what type of ski boot sole each is compatible with. The International Standards Organization (ISO) defines three types of ski boot sole standards : ISO 5355 (Alpine), ISO 9523 (Touring), and ISO 23223 (GripWalk).
With this in mind, peruse the following list of the most exciting new ski bindings to hit the shop shelves in 2024.
Related: What you need to know about ski boot and binding compatibility 
Alpine Bindings
Tyrolia Protector SLR 11 GW ($425)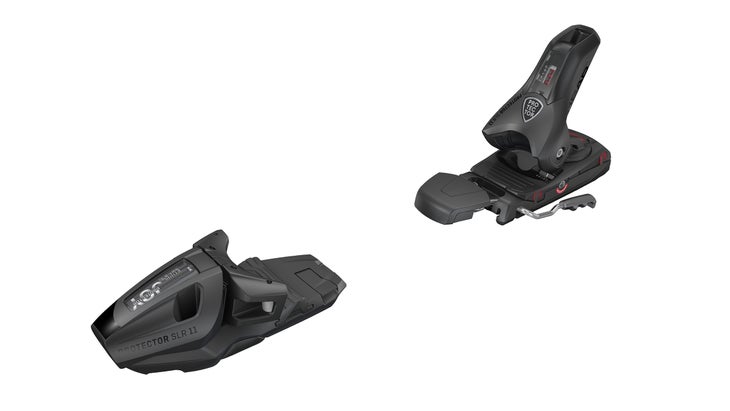 ISO: 23223 (Alpine), 5355 (GripWalk)
Release Value Range: 3-11
Weight: 1,950g per pair
Brakes: Included (available widths: 80, 90, 100mm)
Female skiers have a higher chance of tearing a ligament than male skiers, thanks to several factors including the likely connection between high estrogen levels and a loosening of ligaments, like the ACL. Head addresses this issue with the Tyrolia Protector SLR, the newest addition to the Tyrolia Protector line. Considered a women's all-mountain binding, the Protector SLR purportedly reduces the force on the ACL at the point of release by up to 50 percent. The technology offers an alternative to traditional bindings, thanks to Head's Full Heel Release (FHR), which uses a heel piece that can release horizontally, thus reducing torque on the knee. The binding has a 3-11 DIN range, suitable for smaller skiers. All Head Joy skis are compatible with the Protector SLR, but the binding can also be purchased with the SLR plate and used on a flat ski.
Salomon Strive 16 MN ($350)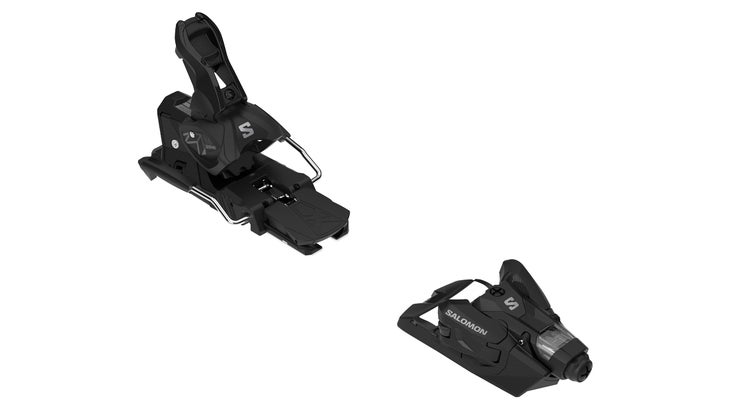 ISO: 5355 (Alpine), 23223 (GripWalk), 9523 (AT)
Release Value Range: 7-16
Weight: 2,250g per pair
Brakes: Included (available widths: 90, 100, 115, 130mm)
Want to wear alpine boots? No problem. Touring boots? Go for it. How about your GripWalk soles? Yes, yes and yes. Inclusivity is the Strive 16's MO. As a Jack-of-all-trades, the Salomon Strive 16 MN offers all-mountain and freeride-oriented skiers a choice for boot compatibility as well as a wide DIN range (between 7-16) that suits a variety of skier builds and ability levels. Connectivity is key, and the low-profile toe piece and extra wide AFD (anti-friction device) keep skiers closer to the snow with better contact between the boot and binding, resulting in a more precise feel when leaving railroad tracks down steeps or groomers.
Salomon Strive 12 GW ($220)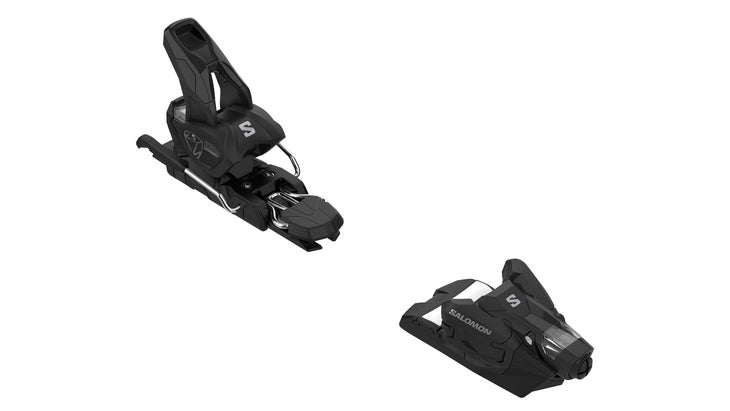 ISO: 23223 (GripWalk), 5355 (Alpine)
Release Value Range: 4-12
Weight: 1,840g per pair
Brakes: Included (available widths: 90, 100, 115mm)
Lightweight and agile, the unisex Strive 12 GW is designed for intermediate all-mountain skiers looking for a binding with a DIN of 12 or under, plus compatibility with either alpine or Gripwalk boots. The 3-piece heel is easy to step in, and the neutral toe piece brings skiers lower to the snow for a close connection with the surface. The super wide toe pedal (yes, it's called a pedal) and long wings (wings!) hug and stabilize the boot tip, so skiers can hug the corners at speed or huck a favorite jump with confidence.
Alpine Touring Bindings
Marker Cruise 12 ($650)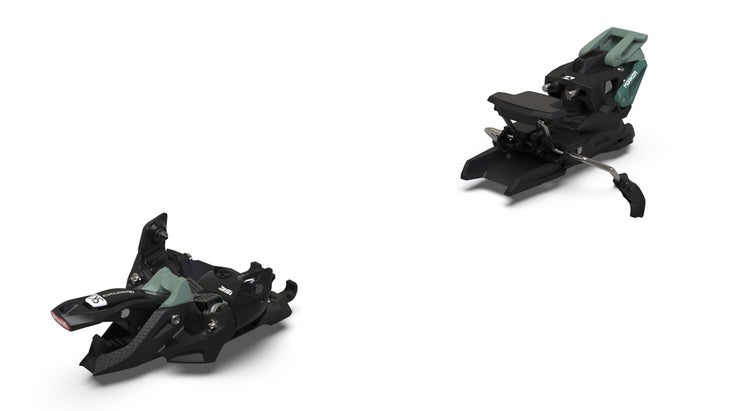 ISO: 9523 (AT)
Release Value Range: 6-12
Weight: 950g per pair
Brakes: Included (available widths: 90, 105mm)
New for 2024, the Cruise binding (available with a max release value of both 10 and 12) is Marker's answer for younger, lighter skiers and those new to touring who may struggle with the finicky process of stepping into tech bindings. The Cruise isn't quite as light as Marker's Alpinist bindings, which weigh 670 grams per pair including the brakes, but they're easier to use thanks to a few key features. First, the toe piece has a rubber stop pad and a wider platform insert, which helps position the toe of the boot correctly to click in more seamlessly (rubber is more flexible than metal, so it allows the skier to wiggle their boot around with less precision). Second, Marker claims that the Cruise requires 30 percent less force to step into the toe piece than the Alpinist, which is nice for lighter athletes. The heel also rotates by 180 degrees with an automatic brake release. Though the highest DIN setting is 12, we tested the Cruise on a 10-mile tour with over 5,000 feet of elevation gain in the Austrian backcountry in heavy, wet snow, and didn't accidentally click out or pre-release from the binding once. Thoughtful details like the two color-coded heel-risers—one that elevates to 8 degrees and the other to 12 degrees—made using the Cruise a breeze. We give Marker bonus points for incorporating 85-percent recycled or bio-based plastics in the Cruise.
Salomon MTN Summit 12 BR ($600)
ISO: 9523 (AT)
Release Value Range: 6-12
Weight: 790g per pair
Brakes: Included (available widths: 80, 90, 100, 110, 120mm)
New backcountry skiers may suffer from choice overload when trying to figure out what binding is best. Enter the Salomon MTN Summit 12—a touring binding designed to provide an entry way into the tech binding world. All levels of experience can appreciate the easy step-in, no matter how steep or flat the terrain is. And when the going does get steep, the MTN Summit 12 BR's heel ramp increases edge grip and stability on variable snow. Salomon's Flex-absorption system optimizes a natural flex pattern with the ski, so skiers work less on the downhill after earning their turns. The carbon-infused plastic base plate reduces weight without sacrificing any performance.
More from the 2024 Winter Gear Guide
The Best Backcountry Ski Boots of the Year
The Best All-Mountain Skis of 2024
The Best Backcountry Skis of 2024
Lead Photo: Ray J. Gadd