2023 Winter Gear Guide
The Best New Ski Bindings of 2023
These new alpine, hybrid, and touring bindings come packed with exciting new features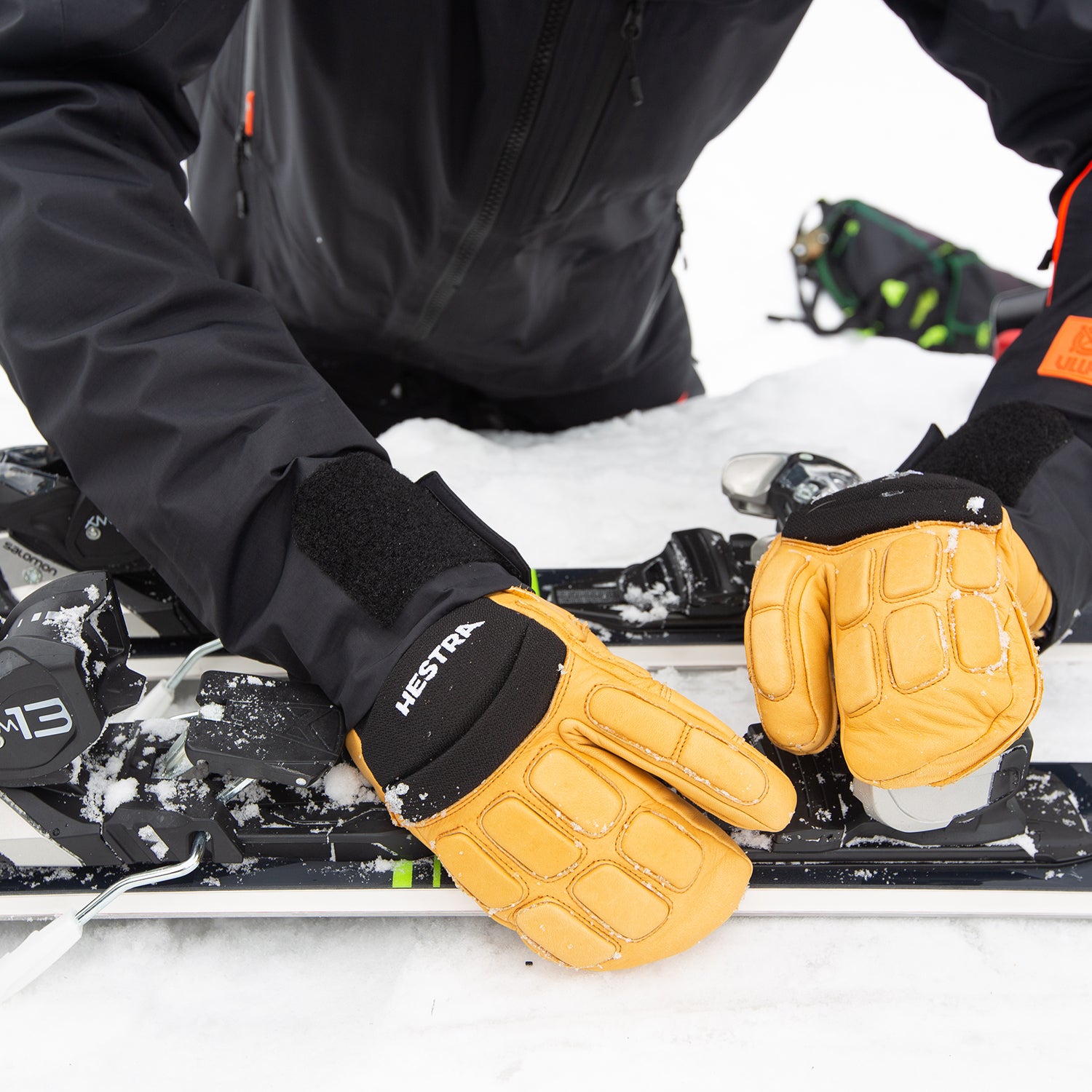 Heading out the door? Read this article on the new Outside+ app available now on iOS devices for members! Download the app.
This article was first published by SkiMag.com.
Bindings aren't the most exciting piece of ski gear, but they're one of your most essential. With all the changes to ski boot technology in recent years—like the invention and proliferation of GripWalk soles and tech toe inserts—it's never been more important to consider the bindings you're clicking into. Not all ski bindings are created equal. These days you can choose from dedicated downhill bindings, hybrid bindings that let you walk uphill and ski down, as well as dedicated and minimalist alpine touring (AT) bindings. Similarly, not all ski bindings and ski boots are compatible. Some ski boot soles are not designed to be used with certain types of bindings.
Consider this: Your bindings are what keep you attached to your skis when you're charging downhill; they're also the piece of equipment most likely to send you sailing (or cause serious injury) when they fail. So do yourself a favor and spend as much time considering your ski bindings as you do the sexier pieces of gear (like those shiny new skis). Determine what type of binding you're in the market for—alpine, hybrid, or AT—and what will work with the ski boots you already own. Below, we list the most exciting new ski bindings to hit the shop shelves in 2023 across each category. We think they're pretty sexy.
Alpine Bindings
Tyrolia Protector 13 GW ($500)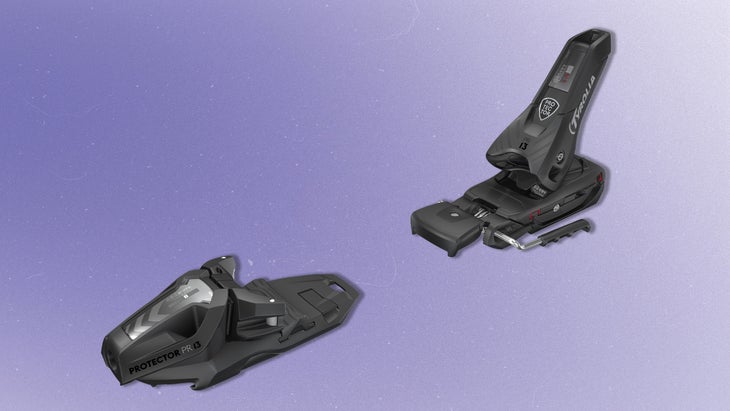 Category: Alpine (resort skiing)
Boot compatibility: GripWalk
Release Value Range: 4-13
Weight: 1,185 g
Brakes: Included (available widths: 85, 95, 110, 130 mm)
An alpine binding designed to decrease the chance of an ACL tear? Sounds enticing. While most bindings on the market feature vertical release in the heel, the all-new Tyrolia Protector 13 GW bindings has a 180-degree release spectrum and releases both vertically and laterally, which supposedly helps prevent knee injuries (Tyrolia reports that it reduces the forces on your knee and ACL by 50 percent). When you're charging inbounds, 7mm of elasticity plus 30 degrees of rotation in the heel absorbs vibrations for a smoother ride through crud, as well as helps to decrease the chance of a pre-release. An innovative addition to the resort scene, this binding gets us excited about the new safety-oriented features the Protector has going for it (though hopefully, we never have to truly put those numbers to the test).
---
Salomon Strive 14 GW ($300)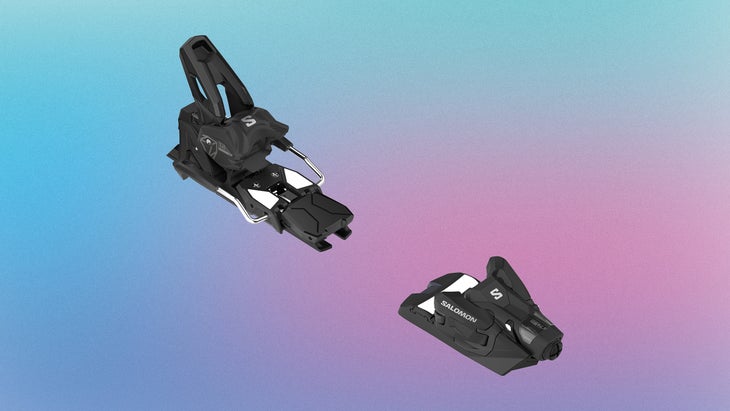 Category: Alpine (resort skiing)
Boot compatibility: GripWalk, Alpine
Release Value Range: 5-14
Weight: 980g
Brakes: Included (available widths: 90mm, 100mm, 115mm, 130mm)
An all-new lightweight alpine binding, the N Strive 14 GW is a sleek all-terrain option, featuring a low-profile LDN toe piece for enhanced response when you're laying it over at the resort. Keeping the boot lower on the ski optimizes power transfer, and shedding overall weight makes it easy to swing skis around, contributing to a solid all-mountain binding that intermediate and expert skiers will appreciate. The Strive 14 GW is reinforced with fiberglass to feel strong and stable while plowing through crud, and the friction-free release on the three-piece heel makes it easier for lateral escape from the binding. Keeping the boots in a more neutral stance helps skiers stay more balanced while absorbing variable terrain, and automatic wing and toe adjustments also eliminate the need to make adjustments when stepping in with different boots.
---
Hybrid Bindings
Marker F12 Tour EPF ($480)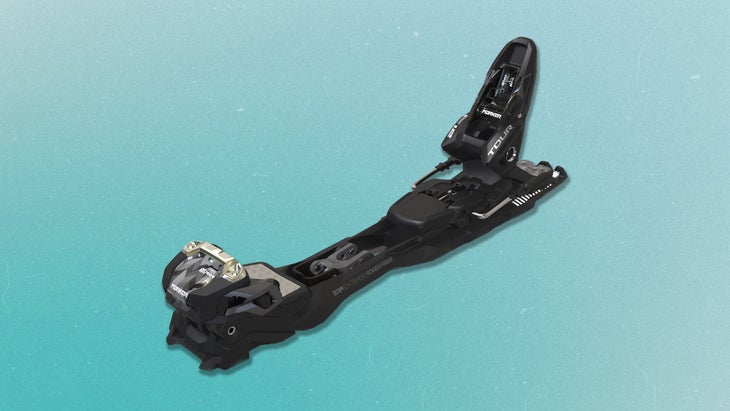 Boot compatibility: Alpine, GripWalk, Alpine Touring
Release Value Range: DIN 4-12
Weight: 1,096g
Brakes: 110mm
Sizes: S (265-325 mm), L (305-365 mm)
A beefy crossover binding for resort skiing and the occasional ski tour, the updated Marker F12 Tour EPF inspires trust and confidence on the descent, with an easy-to-use design that allows for quick transitions when you pop out of bounds. This year's F12 Tour EPF and F10 Tour are seeing some significant design updates, including a brand new toe piece with an anti-ice rail for keeping snow and ice out, as well as a new heel that requires less force to step into. Both are compatible with alpine, GripWalk, and alpine touring soles, so clicking in at the top is smooth and seamless. Marker's Extended Power Frame (EPF) is designed to optimize power transmission with the ski, which you'll especially notice in choppy and variable conditions as it performs like a true alpine binding. The F12 Tour EPF is ideal if you plan to spend most of your time inbounds, but want the ability to free the heel for short tours and backside laps. Don't expect to fly uphill—this binding isn't a lightweight touring binding—but the sacrifice in weight will be well worth it when you realize you can charge back down with confidence.
---
Alpine Touring Bindings
Marker Alpinist 12 ($550)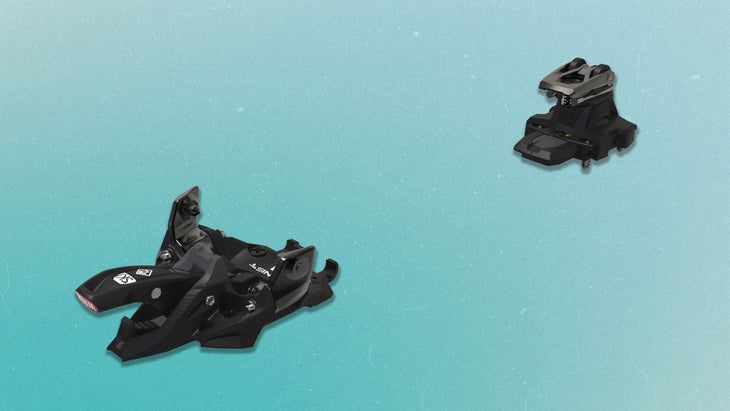 Category: Alpine Touring
Boot compatibility: Alpine Touring (Tech) only
Release Value Range: 6-12 non-ISO
Weight: 245 grams (w/o brakes)
Brakes: Not included but available as an accessory in 90, 105, 115mm
The Alpinist has long been a favorite among freeriders who are looking for a lightweight pin binding they can trust on descents, and it's been updated this season with Marker's new Intuitive Step In technology, making it easier to click it and rip it when you make it to the top of your tour. The new ISI toe (which you'll find in all Alpinists and Kingpin bindings starting this season) features a rubber stopper at the toe that requires less pressure to get the pins to latch onto the boot's tech inserts, allowing for easy foot alignment. If you care about looks, aside from the updated toe piece the Alpinist bindings see new colorways, with a neutral black color scheme available for the Alpinist 12, 10, and 8 models. Thanks to its durable rubber and composite design, the Alpinist 12 remains a solid choice for folks who put their gear through the wringer in the backcountry day in and day out. Active length compensation in the heel allows for up to 4mm of play while the ski is flexed, contributing to a smooth, damp feel that aggressive skiers will appreciate.
---
Dynafit ST Rotation 14 ($650)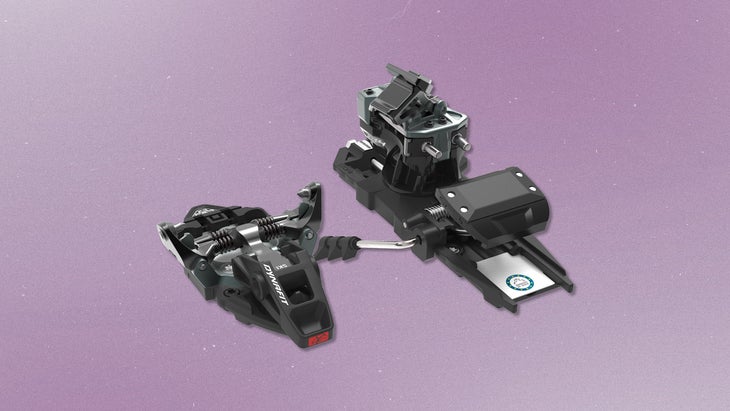 Category: Alpine Touring
Boot Compatibility: Alpine Touring (Tech) only
Release Value Range: 7-14
Weight: 605 grams
Brakes: 90mm, 105mm, 120mm
If you're after strong downhill performance and a tech binding that can take a beating, the new ST Rotation 14 is ideal for strong freeriders for its seemingly indestructible design. The new ST Rotation 14 features a toe piece made from forged aluminum, adding stronger springs for a higher release value. Ice breaker pins are designed to shed snow and ice when stepping into the toe piece, and the bayonet lock heel provides solid responsiveness and power transfer. For smaller skiers, the Rotation 14 might seem like overkill, but for heavier skiers and those who want to feel confident charging inbounds occasionally too, these bindings provide extra heft without the bulk of some of the other alpine-style touring bindings on this list.
---
Dynafit Mezzalama ($750 Without Brake, $850 With Brake)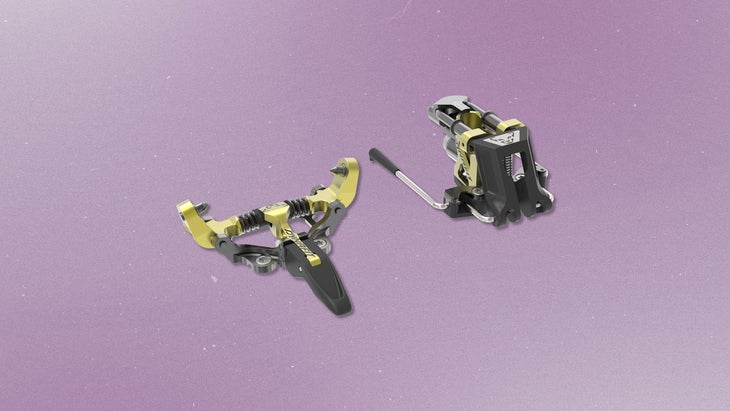 Category: Alpine Touring
Boot Compatibility: Alpine Touring (Tech) only
Release Value Range: 5-10
Weight: 125 grams
Brakes: Not included (available with the Mezzalama+ binding)
Super sleek and tailored towards uphill fiends, the all-new Mezzalama is Dynafit's lightest fully adjustable speed touring binding. Bindings at this weight typically don't allow the same customization that the Mezzalama offers (instead utilizing a fixed U-spring), but with the Mezzalama you can adjust the vertical and lateral release in the heel piece between 5 and 10, a serious step up in features and safety for race-weight bindings. Crafted with a mix of carbon and aluminum, Skimo racers and weight weenies alike will be thrilled with these featherlight bindings, which come with optional brakes (see the Mezzalama+), or fully slimmed down for crushing speed records. An integrated crampon slot makes it easy to slide in spikes for firm ascents, and the ultralight synthetic heel riser is simple to flick up with a pole. For uphill speed demons and racers looking to up the safety of an ultralight binding, this one's a solid choice.
Lead Photo: Keri Bascetta