2023 Winter Gear Guide
The Best Snowshoes of 2023
From lightweight racers to all-day trekkers to deep-powder plowers, there's something for everyone
Christopher Kimmel/Getty
Heading out the door? Read this article on the new Outside+ app available now on iOS devices for members! Download the app.
Snowshoes make winter accessible: Leave from your house and trek around your neighborhood. Stow them behind the driver's seat (no fancy racks required) and head to your favorite trailhead. Run fast on groomed surfaces, or slowly ascend a mountain in deep powder. Wherever your location—as long as there's snow on the ground—you can choose your own adventure.
Read more: The Best Puffy Jackets and Midlayers of 2023
How We Test
Number of testers: 11
Number of products tested: 15
Number of miles: 55
This year, I left a giant pile of snowshoes under my front porch, and emailed testers around my town to grab a pair (or two or three) at their convenience and take them out. Testers—who ranged from professional ultrarunners to data-driven scientists—took them out all over the place in all kinds of conditions, from total whiteouts to bluebird powder days in New Mexico (usually in the Jemez Mountains), and then sent me their feedback. This past season, my husky mix and I did most of our testing up at the Pajarito ski area, where the terrain varies from steep and deep on the slopes to mellow and groomed on the U.S. Forest Service trails maintained by the Southwest Nordic Ski Club.
Meet Our Lead Tester
Whitney Spivey
Whitney Spivey doesn't ski, which is why she started snowshoe running when she moved to New Mexico in 2010. Turns out, she's pretty good at it. A two-time member of the U.S. national snowshoe racing team, Whitney finished seventh at the world championships in Italy in 2016. She's also the race director of the Santa Fe Snowshoe Classic (You can register for the January 2023 race at runsignup.com.) When she's not snowshoeing, Whitney is running, camping, or wrangling her five-year-old identical twin daughters. Follow their adventures on Instagram at @teardrop4four.
Reviews: The Best Snowshoes of 2023
MSR Lightning Trail ($240)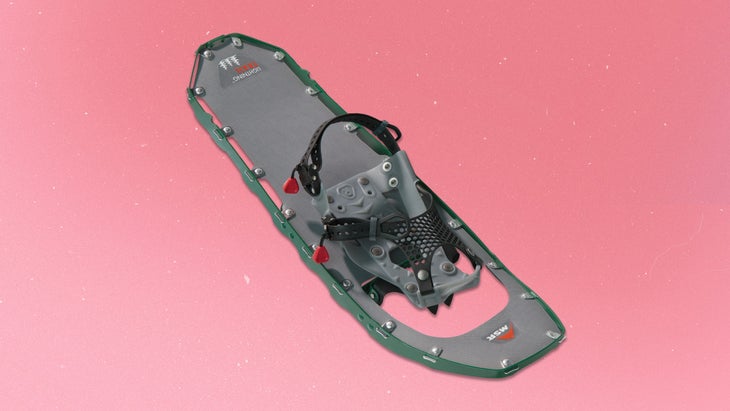 Weight: 3 lbs, 3 oz (22 in) 3 lbs, 5 oz (25 in)
Dimensions: 22×8 inches or 25×8 inches
This all-purpose snowshoe has made our list before thanks to its durability and dependability, and this year it's back with an updated binding:a thin, rubber mesh that wraps across the top of the foot as opposed to last year's straps. The stretchy material accommodates just about any boot shape and size without causing pressure points, and it's a piece of cake to fasten—even while wearing gloves—thanks to the buckle that cinches down via a hook. Underfoot, the aluminum frame—which, in the women's version, is slightly tapered to accommodate a narrower gate—offers built-in traction throughout the entire sole.
---
Retrospec Drifter Lightweight Snowshoes ($64)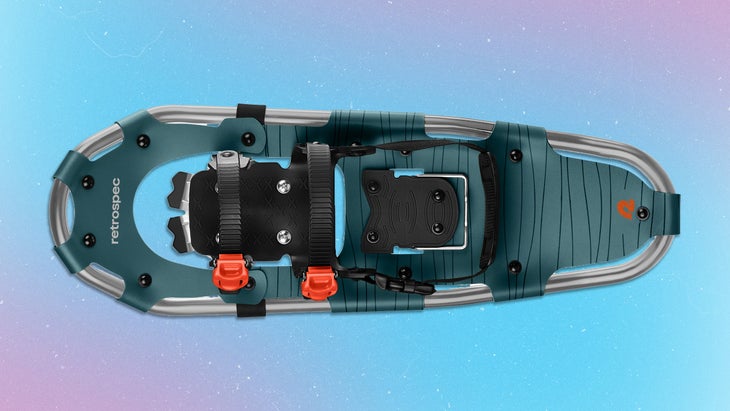 Weight: 4 lbs (21 in), 4 lbs, 3.2 oz (25 in), 4 lbs, 11.2 oz (30 in)
Dimensions: 21×8 in, 25×8 in, 30×8 in
If you're a couple-times-a-year snowshoer, look no further than the aluminum-framed Retrospec Drifter, which will get you outside at half the cost of most of the other snowshoes on this list. Two simple straps comprise the ratchet binding, which is easy to tighten, secure, and release. Toothy crampons and a heel lift underfoot mean these shoes are grippy and dexterous enough that you'll be able to tackle sketchy terrain. If you want to make a statement, choose one of the more vibrant color options of the six available. When you get off the snow, store them in the black mesh bag that's included.
---
Wildhorn Outfitters Delano X2 ($160)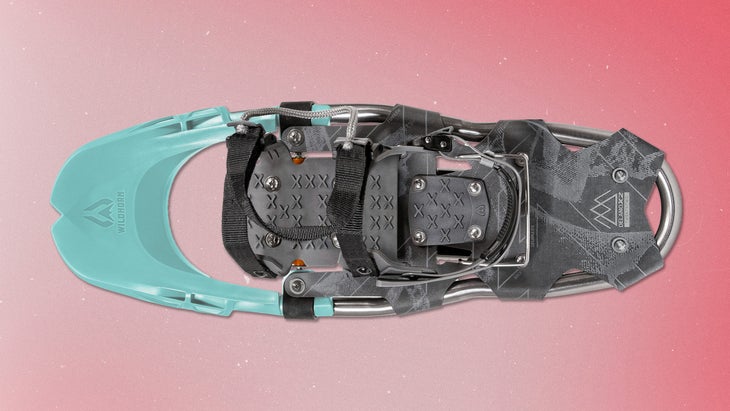 Weight: 4 lbs, 2 oz (22 in); 4 lbs, 8 oz (28 in)
Dimensions: 22 x 8 in, 28 x 8 in
Can't decide between a composite and metal-framed snowshoe? The Delano X2 from Utah-based Wildhorn Outfitters is the best of both worlds—composite (choose from six colors) in the front and aluminum in the back. The composite decking is coated with a cold resistant resin that stands up to frigid temps, and the aluminum back decking is strain- and stress-resistant. The quick-release cinch is easy to use: pull one way to tighten, pull the other way to loosen. They come in 22- and 28-inch lengths; the smaller size offers more mobility, but go with the larger size if your pack weighs more than 160 pounds.
---
TSL Symbioz Hyperflex Instinct ($330)
Weight: 3 lbs, 8 oz (Small), 3 lbs, 11.2 oz (Medium), 4 lbs, 3.2 oz (Large)
Dimensions: 20.5 x 7.5 in (Small), 23.5 x 8 in (Medium), 27 x 8.5 in (Large)
Bring on the ice! This new snowshoe from French company TSL has eight very large, very sharp claws spread across its bottom, plus toothy crampons right below the toes. The composite frame flexes slightly as you walk, allowing for a more natural stride on variable terrain. One tester took them out in below-freezing temperatures after a previously warm day, and didn't slip once. Best of all are the bindings, which can be adjusted to fit the exact length of your foot and use a Boa system to tighten evenly and easily across your toes and around your heel. Pair them with TSL's new-to-market ergonomic Connect Carbon 3 poles ($140-160) to add a little balance and power to your adventures.
---
Evvo Toree ($170)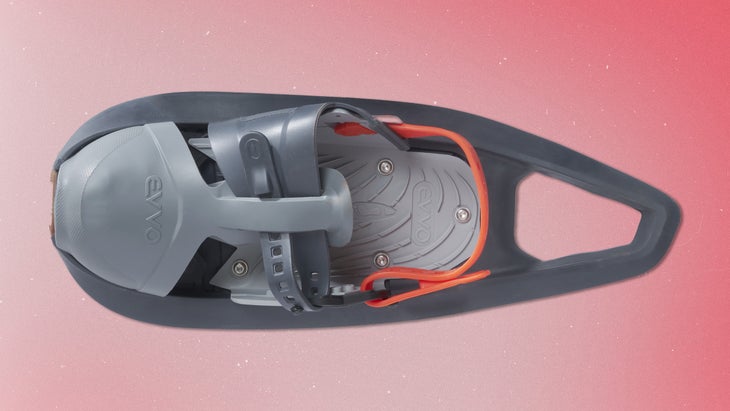 Weight: 1 lb, 12.8 oz (16.5 in), 2 lbs, 8 oz (19 in)
Dimensions: 16.5 in x 6.7 in, 19 in x 7.3 in
Evvo has raised the bar in sustainability with the Toree. Ninety percent of the soles of this all-rubber snowshoe are made from biosourced components developed in collaboration with Michelin. Like all of Evvo's snowshoes, the Toree's upper is clog-like and the bottom is the snowshoe equivalent of a snow tire. The Toree offers improved traction over other Evvo models thanks to seven ice spikes embedded in the grippy rubber sole. "These should definitely be part of an arsenal of equipment in snowy places," says tester Jonas Kintner, a scientist who notes that the smaller footprint has its advantages. "I liked how easily it can be put into a backpack in case the conditions up the trail change." Choose from four colors, and get your kid a pair, too (check out the kid's version, the ShoShibaa model, for the little ones).
---
Yukon Charlie's Minimalist Lift ($193)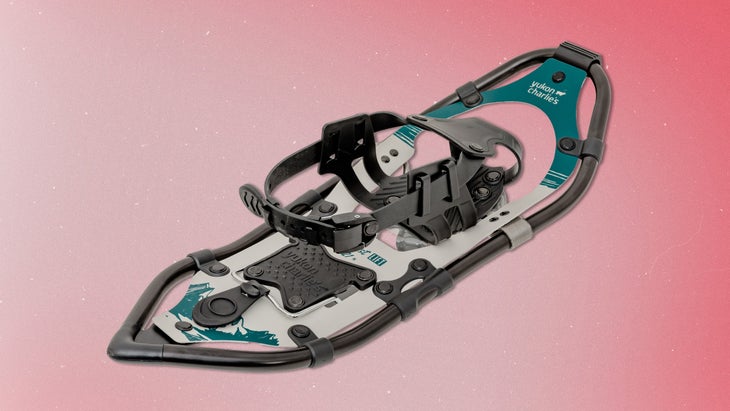 Weight: 4 lbs
Dimensions: 25 x 8 in
When Denver-based Yukon Charlie's rebranded last winter, it debuted a new logo: the silhouette of a caribou. An intentional choice because the word caribou comes from a blend of French Canadian and indengenous words that translate to "snow shoveler." And although you might not be literally shoveling snow in these snowshoes, you can definitely use them to break trail in several feet of snow. With metal crampons under the toes and metal teeth under the heels, the Minimalist Lift offers fairly aggressive traction. The binding is super simple (just pull the heel strap, and the entire binding tightens around the foot with only one buckle required), and a heel lift reduces calf strain as you go uphill. Included in the price are poles and a bag for keeping everything together when you travel.
---
Northern Lites Timber Wolf ($362 for Tru Trak binding, $379 for Speed Binding)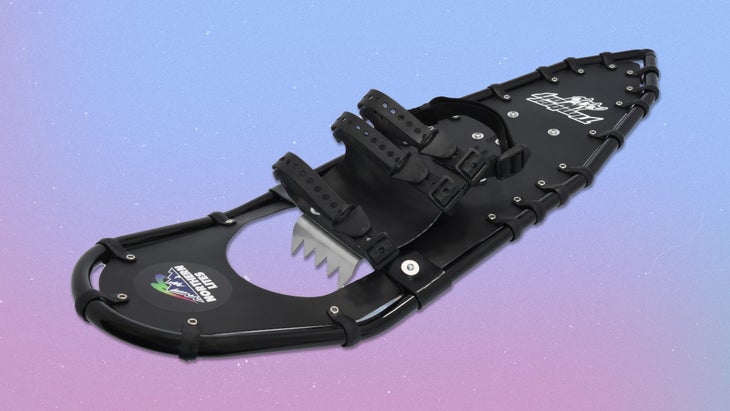 Weight: 4 lbs, 4 oz (Timber Wolf 33" with stainless steel crampons), 3 lbs, 2 oz (with ultralight Duraluminum cleats)
Dimensions: 33 x 9.5 in
and Crescent Moon Denali 37 ($289)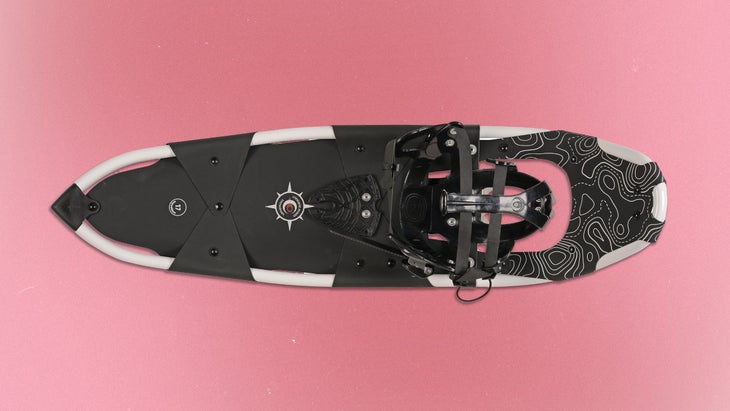 Weight: 5 lbs, 4.8 oz
Dimensions: 37 x 10 in
Colorado brothers Tanner and Wesley Dunn recently acquired Northern Lites and Crescent Moon, and the duo is not only committed to keeping their snowshoes made in the U.S., but also offering snowshoes for all body types. Snowshoes for big people (250 pounds or more) and those who wear big boots (men's size 13 or more) are hard to find, but these brands offer two excellent options. At a whopping 37 inches long and 10 inches wide, the Denali 37 "pretty much keeps you on top of anything," Wesley says. At 32 inches long, the Timber Wolf is a bit lighter but no less aggressive—its stainless-steel cleats are similar to those on ice crampons.
---
Garneau Course Boa Arc ($199)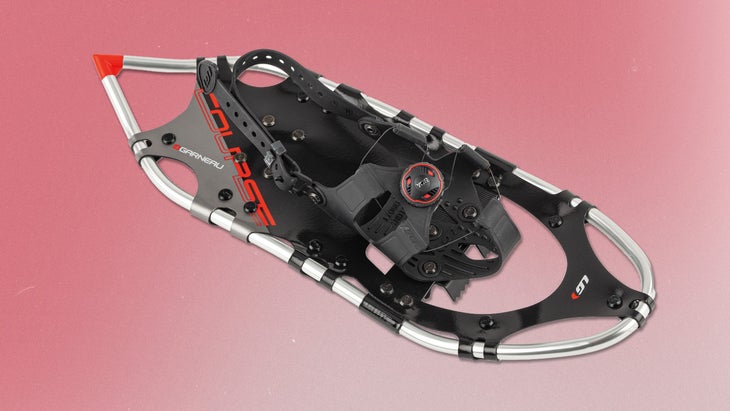 Weight: 1 lb, 12 oz
Dimensions: 21 x 7 in
If you're one of those people who has to get in a daily run, look no further than the Course Boa Arc, a lightweight, running-specific snowshoe made by cycling giant Garneau (we know a snowshoe made by a cycling company seems weird, but just trust us). At only 7 inches wide and 21 inches long, the Course Boa Arc allows for a natural running stride and performs best on groomed trails or a mellow surface like your local golf course. They don't have the surface area to keep you afloat in deep powder or the traction to keep you upright in super slick and steep conditions.
---
Komperdell Carbon Air Frame ($500)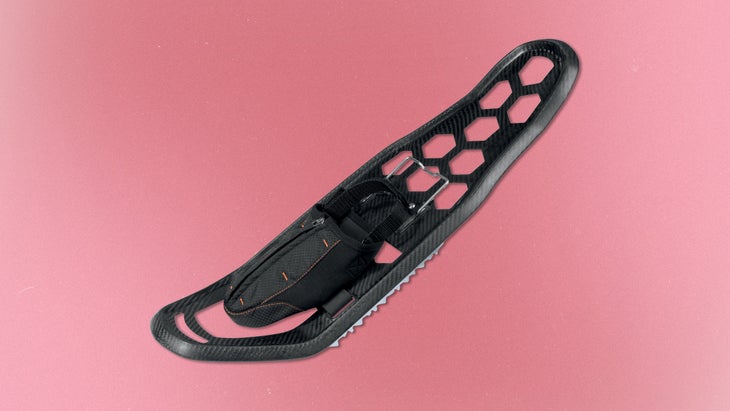 Weight: 3 lbs (Medium)
Dimensions: 25.5 x 8.5 in (Medium)
Austrian company Komperdell has created a snowshoe with a carbon deck, which is great when it comes to saving weight but not so great when it comes to noise. "These things sound like bongos!" said tester Jeff Corwon, who wore them on the Cañada Bonita tail in the Jemez Mountains. But if you can get over all the sound, the insulated neoprene toe covers will keep your feet warm and dry. We liked them for hiking up our local ski hill, Pajarito, New Mexico, before strapping them to our packs for the ski down.
---
How to Buy
Before you drop a couple hundred dollars on snowshoes, you should first see if you like the sport. Consider borrowing a pair from a friend, or renting them from REI or your local outdoors store. If you decide you do want to buy a pair, we recommend trying on various models with the same footwear you plan on wearing while using the snowshoes in the field. Fiddle around with the different types of bindings to see what feels right—really, it all just comes down to personal preference.
More 2023 Gear Guide Reviews
Lead Photo: Christopher Kimmel/Getty