How do I get my skis slope-ready?
My skis have been sitting in the closet for about a year. How can I get them ready for the slopes?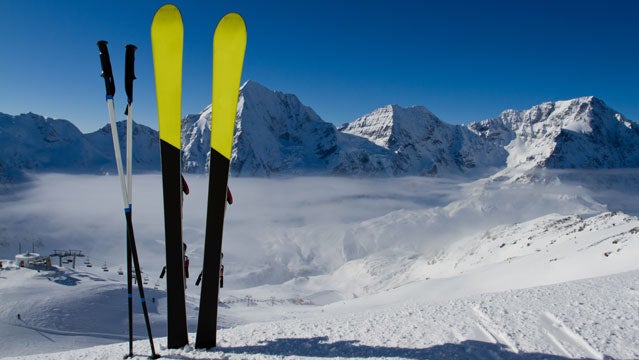 Heading out the door? Read this article on the new Outside+ app available now on iOS devices for members! Download the app.
Rumor has it there is snow falling in the Cascades as I write this, so skis are much on my mind.
Ethica Terra Nova Ski Wax

Ethica Terra Nova Ski Wax
How much you do to your skis depends a lot on your willingness to tackle what can be a messy task. But there are several things you can do to make sure your skis are ready to go.
For equipment, you ll need:
Some kind of work bench or a pair of sawhorses
Metal putty scraper
Scotchbrite pads
Fine sandpaper (180 grit)
Small metal file or sharpening block
P-Tex candles
Old iron (don t steal your motherwife s good one)
Base wax
For starters, place your skis on a bench or some other support, bases up, so you can have a good look at them. Have enough light handy so you can easily see what you re doing. Get a stiff brush brass brushes work well and give the base of the ski a good scrubbing to get rid of old wax and dirt. Follow that up with a polish, using a Scotchbrite pad (like you use to wash dishes). Then run your hands over the base of the ski, looking for dings and gouges.
Do the same for the edges, and look for burrs or hooks that can snag on snow and ice. Feel for dull spots as well. Use a small metal file or sharpening stone to take down the burrs and other small imperfections. I wouldn t suggest trying to sharpen the entire edge unless you re game to buy the right tool (such as an SK Ergo side edge file guide and files, about $70) and fully understand what edge bevel is best for you.
To fill in gouges on the base, you can use a P-Tex drip repair candle (50 cents each) to drip material into the dings. First, clean the damaged area with a citrus solvent or other cleaner. Next, score the dent with a sharp razor so the P-Tex has something to grip. Do NOT score the good" base, just inside the ding. Then, light the candle and drip enough material into the hole to fill it. Scrap away the excess with a clean metal scraper, then sand smooth with the sandpaper.
Once that is done, it s time to wax the base. You can do this easily with paste or liquid wax just rub it on, then wipe off. But hot wax lasts longer. You ll need an old iron, the scraper you used for the base, and wax. Get the iron hot enough so the wax melts on contact but doesn t smoke. Put wax on the iron, and as it melts dribble it on the base. Then, well, iron it out. Once the wax is cool, scrape off the excess and buff lightly with the Scotchbrite pad.
Bindings are fairly low maintenance. Mainly, inspect them to make sure they re clean, and check to ensure that the boot clicks in easily.
So, that about shoots your Saturday. But man, you'll be fast!
Lead Photo: gorillaimages via Shutterstock