Gear Guy
Why I Never Ski Without a Skigee
This dorky little windshield wiper is the world's most effective tool for cleaning your goggles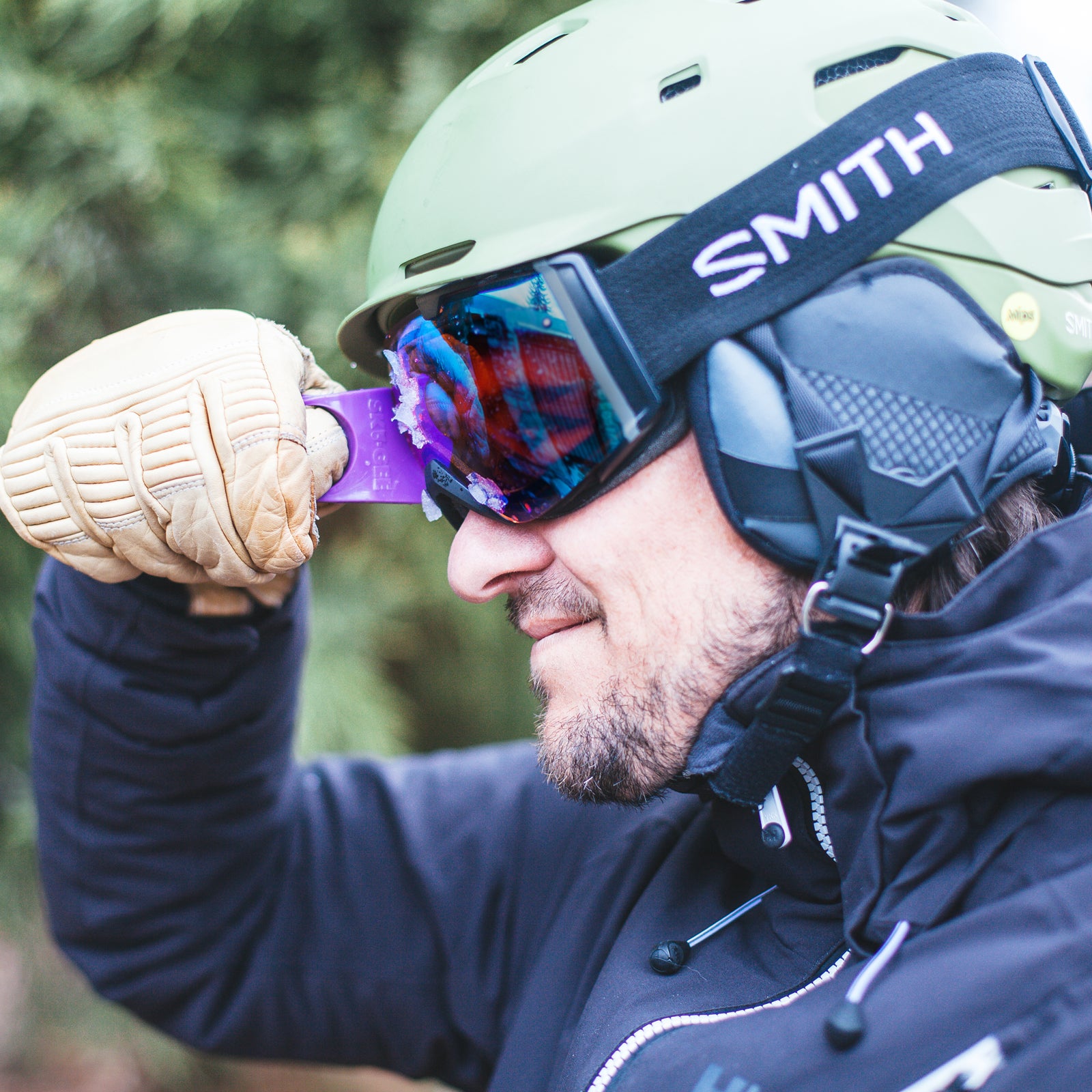 Sarah Jackson(Photo)
Heading out the door? Read this article on the new Outside+ app available now on iOS devices for members! Download the app.
For a seemingly simple piece of gear, ski goggles have some serious tech, from heated membranes between lenses that fight fogging to invisible filaments that change tint when hit with electricity. Designers have come up with brilliant ways of combating most of the potential visual maladies facing skiers, but there is one issue up here in the Pacific Northwest that no goggle can battle alone: Cascade concrete (a.k.a. really wet snow). It clings to my lenses and can render me blind during a serious storm. The good news is there's a surprisingly low-tech fix that costs less than a cup of coffee: the Skigee ($3).
As the name implies, it's essentially a squeegee in miniature. The rubber fin has a ring on one end for grip and a curve on the other end that contours for wiping snow and rain residue off spherical goggles. That rubber build doesn't harden in the cold, meaning the Skigee won't turn into an ice scraper and scratch your lenses.
And it's considerably more effective than the other options. If you use a goggle bag to wipe rain or wet snow off your goggles, it quickly becomes saturated and worthless. Same with the finger of a glove. Plus, neither of those options creates the same squeaky, residue-free clean as the Skigee.
You will not look cool while Skigeeing your goggles. I admit I was self-conscious about it at first, afraid I'd look like a gaper. (I'd try to discreetly clean my goggles the way someone would wipe away tears while watching a rom-com on a plane.) This changed recently when I saw my buddy—undisputed cool guy and founder of Field Mag, Graham Hiemstra—pass a Skigee to pro snowboarder Austen Sweetin while we shared a gondola ride in Whistler. I tried to appear nonchalant as I asked them how long they had been Skigeeing. Their response: "Forever." Hiemstra added, "It's a staple of the Pacific Northwest. The day you get your first season pass, you get a Skigee. It's a right of passage."
Costing only three bucks, weighing damned near nothing, and taking up about as much space as a Ring Pop, a Skigee is easy to stuff in a jacket or backpack pocket. But it can be easy to lose. My suggestion: couple yours with a retractable leash like this one from Orvis. This might seem to up the dork factor even more, but don't worry, all the cool kids are doing it.
Lead Photo: Sarah Jackson