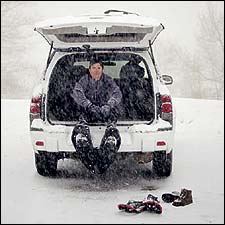 Heading out the door? Read this article on the new Outside+ app available now on iOS devices for members! Download the app.
Road Trips
skiing road trip

Snowshoe Break: on the road in Colorado
High-Speed Ski Safari
Why choose between Summit County's bounty, Jackson's steeps, Steamboat's trees, and Big Sky's big sky? On this nine-day, Denver-to-Bozeman Rockies odyssey, they're all yours. Day One: Rent a car for the 90-minute drive west from Denver to Summit County, then head to Keystone (877-625-1556, www.keystone.snow.com) for blue cruisers. If your quads can stand it, dive off Peak 7 at Breckenridge (800-404-3535, www.ski-breckenridge.com).
Overnight: Two nights at Galena Street Mountain Inn (doubles from $79; 800-248-9138, www.colorado-bnb.com/galena), a tidy, mission-style lodge in Frisco.
Day Two: Find that hidden powder stash off the Upper East Wall at Arapahoe Basin (888-272-7246, www.arapahoebasin.com). For long, tree-lined runs, drive up I-70 to Copper Mountain Resort (866-841-2481, www.coppercolorado.com).
Day Three: From I-70, head north on Colorado 9 along the Blue River. On U.S. 40, pass through the snowy spruce of 9,426-foot Rabbit Ears Pass before dropping into the ranch country of Steamboat Springs.
Overnight: Two nights at Vista Verde Guest and Ski Ranch ($250–$400 per person per night, meals included; 800-526-7433, www.vistaverde.com), where you can cross-country ski on 18.6 miles of trails.
Day Four: All Colorado resorts blow hot air about champagne powder, but Steamboat (877-237-2628, www.steamboat.com) delivers, especially between the trees. Or spoil yourself with a day of snowcat skiing with Steamboat Powdercats ($259–$359 for a full day; 800-288-0543, www.blueskywest.com).
Day Five: Head for the deserts of southwestern Wyoming, then north on U.S. 191 to Jackson, where the Tetons tower over the pancake-flat plains.
Overnight: The Alpine House (doubles, $125; 800-753-1421, www.alpinehouse.com).
Day Six: Check out the scary vertical of Jackson Hole (888-333-7766, www.jacksonhole.com) or head 45 minutes northwest through Idaho, on Route 33, and back into Wyoming to Grand Targhee (800-827-4433, www.grandtarghee.com). Averaging more than 500 inches of snow a year, Targhee's like the promised land.
Overnight: Alpine House, in Jackson, or Targhee's slopeside Teewinot Lodge (doubles from $59; 800-827-4433, www.grandtarghee.com).
Day Seven: Drive northwest to Montana, and pick up U.S. 191 to Big Sky (800-548-4486, www.bigskyresort.com).
Overnight: Two nights at the Summit at Big Sky (doubles from $144; 800-548-4486, www.bigskyresort.com), a ten-story high-rise.
Day Eight: Ski your heart out at Big Sky—with 750 miles under your belt, this is the end of the line.
Day Nine: Mourn your real-world reentry while driving north on U.S. 191 to the Bozemen airport, where you can ditch the rig and wing back to reality.—P.O.

Thrills
Zip, Don't Rip
Downhill resorts are going Disney with the ZIPRIDER, a nylon chair slung beneath a steel cable that zooms downhill at speeds up to 60 miles per hour. Don't worry: A brake system kicks in as the descent steepens. Park City debuted its ride two years ago ($17; 800-453-1360, www.pcski.com); Snowbird added a similar rig in August ($15; 800-232-9542, www.snowbird.com). —Ryan Brandt
Nightlife
Bright Lights, Big Mountain
With 15 runs and almost 300 illuminated acres, KEYSTONE's got the market cornered on Colorado night skiing. Use your day pass until the lights go off at 8 p.m. 877-625-1556, www.keystone.snow.com
Sure, it's New Jersey. But MOUNTAIN CREEK, near Vernon, is a rambunctious scene with both lights and music at full blast. The superpipe is serious enough to warrant a February Grand Prix event. 973-827-2000, www.mountaincreek.com
SKI NORQUAY, just outside Banff, is open for night skiing on Fridays only, but on other evenings you can assemble 50 or so buddies and rent the place—$40 per person—for a private party. 403-762-4421, www.banffnorquay.com—P. O.
exum mountain guides

I Lead, You Follow: Doug Coombs on the edge above Jackson Hole
Guided Descents
Go Way Out of Bounds
Widely viewed as the most challenging downhill slope in the lower 48, Wyoming's 13,771-foot Grand Teton is characterized by icy snow and lethal exposure. The two-day, 7,000-vertical-foot descent had never been nailed by a commercially guided client until June, when EXUM MOUNTAIN GUIDES' Doug Coombs, 44, and Mark Newcomb, 37, escorted Cameron Romero, 38, of Park City, down via a ski-belay system they developed that lets the client ski normally with a rope attached to his harness. Exum (307-733-2297, www.exumguides.com) maintains that the Grand is far too tough to open it to just anybody. "This is going to be a rare event," says Al Read, the company's co-owner. "Conditions have to be perfect." But if Exum is comfortable with your skills (that is, how you did on previous, tamer Tetons expeditions with the company), a guide will take you up and down Wyoming's most imposing mountain for a cool $1,650.—R. S.

Air Time
Go Huck Yourself
SUGAR BOWL, CALIFORNIA: The closest ski area to San Francisco, Sugar Bowl (530-426-9000, www.sugarbowl.com) is the proud owner of—in the immortal words of Web blogger C. Horn, from Granite Bay, California—"big rocks to huck 'n' chuck your wares." Horn knows what he's talking about. The mountain is rife with couloirs, spikes, boulders, cornices, and knobs, and a majority of its leaps are manageable by most advanced skiers. The area's average annual snowfall of almost 500 inches promises soft landings, too. What's more, Eric DesLauriers, a former ski-film star, runs Sugar Bowl's advanced clinics through All-Mountain Ski Pros (full-day, $390–$440; 888-754-2201, www.allmountainskipros.com) and can show you how to handle off-piste air.
SQUAW VALLEY, CALIFORNIA: Like to watch? Carve a seat at the Palisades, a 300-foot-wide cliff band that explains why Squaw (800-545-5430, www.squaw.com) is considered by many to be the birthplace of American extreme skiing. And the countless Arriflex-toting cinematographers who flock to this pilgrimage site explain why the resort has been dubbed Squawllywood. Scot Schmidt, Shane McConkey, and dozens of other pro freeskiers have made their name on the steep, narrow chutes striping the Palisades. It's a voyeur's delight, with prime, front-row viewing available from the runout zone, Siberia Bowl. Note: Catch the show on weekdays; Squaw often closes the Palisades on Saturdays and Sundays to keep weekend warriors from staining the snow an unsightly red.—R. S.
Terrain Park
One Smokin' Pipe
The crew that built the 492-foot-long, 66-foot-wide SUPERPIPE ON BLACKCOMB MOUNTAIN, in British Columbia, like to joke that it's so big you can see it from space. A slight exaggeration, but the action will be easy to spot when the likes of Shaun White, Ross Powers, and Danny Kass give the halfpipe its first test runs, in the Snowboard World Championships, January 15 to 23. Located at Base II, the pipe is easily accessible for both spectators and groms itching to give it a go. One caveat: This beast will attract a trash-talking crowd, so expect no mercy if you execute a flailing face plant.—R. B.