When Nordic Skiers Need Speed, They Turn to Zach Caldwell
Zach Caldwell is Vermont's homegrown ski whisperer, with the ability to almost magically divine a board's properties. Here's how he does it.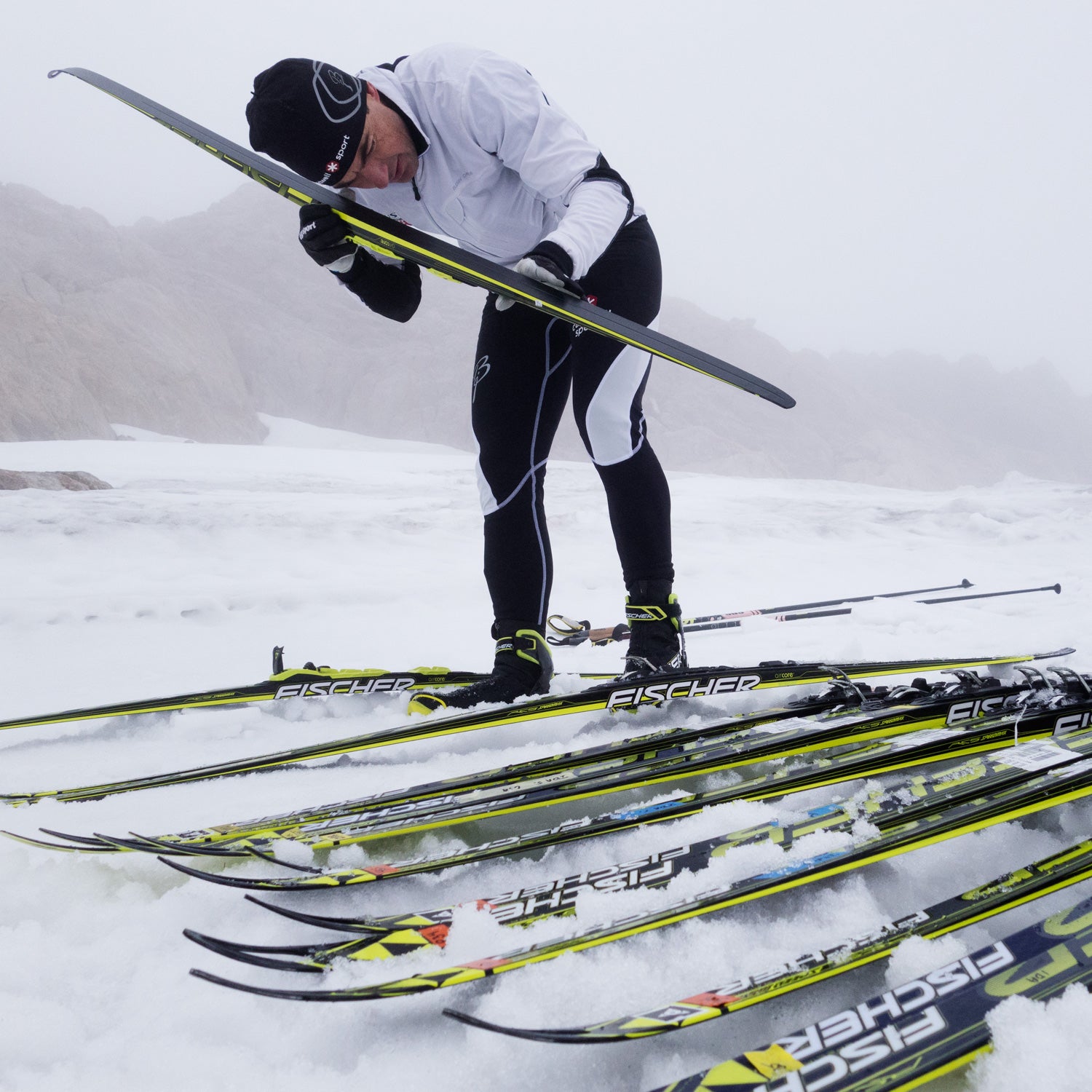 Nick Brown(Photo)
Heading out the door? Read this article on the new Outside+ app available now on iOS devices for members! Download the app.
The first leg of the 4-by-10-kilometer cross-country ski relay at the 1984 Sarajevo Olympics was the best race of Dan Simoneau's life. Sure, he had paced himself well and was in peak physical form. But it was the skis—a pair of Fischers with a unique experimental base, which, during the event, felt almost frictionless—that played the biggest role, as they were meant to do. Simoneau skied those planks only once, in Sarajevo. They were designed for a narrow range of conditions and those conditions only, and they had done their job well: Simoneau finished eighth that day.  
That race is just one example of the U.S. Cross Country team's obsession with finding and having its athletes compete on the world's fastest skis. And since 2008, top-ranked U.S. skiers have turned to one expert for guidance when it comes to this mission: Zach Caldwell, founder of Caldwell Sport, in Putney, Vermont. 
Caldwell is a legacy Vermonter with a legendary surname in the niche world of elite U.S. Nordic skiing. His cousin Tim raced with Simoneau during those '84 Olympics. Uncle John, a former national team coach and author of a bestselling cross-country ski book, remains a godfather of the sport. The current U.S. Ski Team includes two Caldwells. 
Caldwell Sport is no ordinary retail shop. In fact, it's a stretch to call it a retailer at all. The company selects and maintains skis for some of the top cross-country athletes in the country—both pros and dedicated weekend warriors—and Zach is its homegrown ski whisperer. His job, he says, is "to fill a tool box with tools that [skiers] are capable of using to best effect." 
Nordic skis are the Lambos of the ski world—precision and details matter—while alpine skis are a bit like your stock Mustang.
For pro Nordic racers, whose wins can be determined by fractions of a second, every condition—from snow-crystal shape, moisture content, air humidity, snow and air temperatures, and wax characteristics—matters on race day. It's Caldwell's job to take all those factors into account when picking the right skis. "The two things that can slow your skis down are dry friction, the interaction of particles with the ski base, and moisture-related friction, which is the combination of adhesion, or the tendency of water to stick to a surface, and cohesion, or the tendency of water to stick to itself," he says. 
Managing those factors is complicated, and the result is practically proprietary. In 2010, the U.S. Ski Team asked Caldwell to help prepare its athletes' skis for the Vancouver Olympics. So sensitive was his work that prior to the games, FasterSkier.com, the premier English-language cross-country ski website, ran a piece on Caldwell with a disclaimer: "Editor's Note: Portions of this article were removed at the request of the U.S. Ski Team, which believed that sensitive information included in the piece could impact its medal chances."
Caldwell's expertise is as much a result of science as it is art, and it has taken years of practice to develop his ability to pick the world's best skis by hand. In 2001, Caldwell invested more than $10,000 in a homemade ski-flex testing machine. By putting a skate or classic ski on the device and adding pressure, Caldwell was able to correlate numeric values with the ski's flex characteristics. Those characteristics help predict the conditions in which a ski will run fastest. He graphed the pressure distribution of thousands of skis. That machine has been idle for years: over time, Caldwell learned to get qualitative data with just his hands and eyes. 
He starts by analyzing a ski's camber, or the ski's curved shape. At its most basic level, for soft or wet snow, Caldwell looks for slightly softer tips and tails. For cold, hard snow, he looks for skis with a longer running surface. He'll consider the skier's weight, ability, and local snow conditions while squeezing skis—up to 10,000 per year—in the factory's race room. "I don't look at numeric flex values. I look at dynamic properties as indicated and predicted by camber," says Caldwell. "That's where it all happens. I can hold it in my hands and imagine the conditions, imagine the wax job it's going to take. I can tell a skier how to adjust binding position, how many layers of wax she'll need."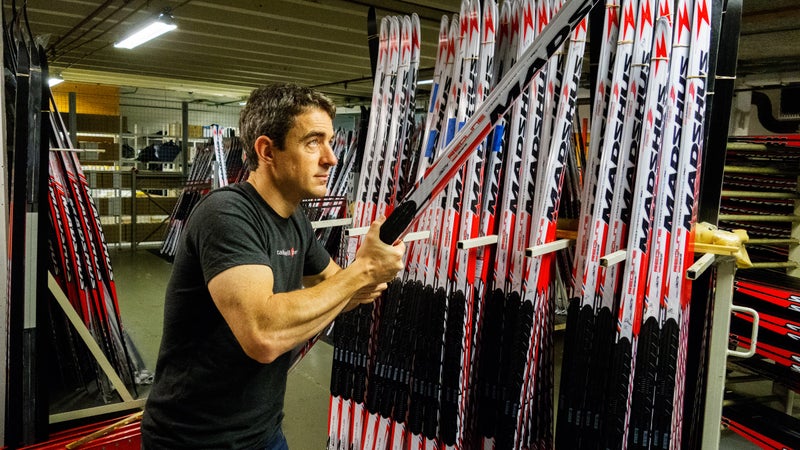 Hand-selecting cross-country skis can seem extreme, like having your bike fitter fly to Milano, Italy, and personally screen your Colnago when a spot-on beauty could be delivered direct to the weekend's Gran Fondo. So why does the cross-country ski industry need a guy like Caldwell? One reason is because Nordic skis are infamous for inconsistent performance. Skis with identical materials and construction methods can sometimes have different camber profiles caused by small inconsistencies in the raw materials, says Bjorn Ivar Austrem, head of cross-country ski development for Madshus. Everything from the temperature at which the materials were cut to differences in transportation and storage can affect the final products, he says. 
Alpine skis don't suffer from the same issues. Because they have much less camber than their Nordic relatives, the microvariations aren't as much of an issue, says Thor Verdonk, U.S. director of alpine product at Rossignol. Verdonk attributes alpine skis' relative on-snow consistency to basic alpine ski construction. Rossi alpine skis, for example, have a wood laminate core, NASA-grade epoxy for the laminates, a metal inlay for binding mounting, and metal edges running the ski's length. All of that stiffens the ski like a built-in skeleton and exoskeleton. With that rigid framework, there's less change to the camber when the ski is fully weighted—making skiability more consistent from ski to ski. Take two seemingly identical blazing-red Rossignol Hero FIS GS skis randomly off the shelf, one from Val d'Isere the other from Vail, and it'd be virtually impossible to tell the difference on snow. That's not the case with cross-country skis. It's possible for skis with serial numbers only 10 digits apart to be either magic or a slug. 
Hand-selecting cross-country skis can seem extreme, like having your bike fitter fly to Milano, Italy, and personally screen your Colnago.
For cross-country skis, there's more opportunity for small differences to be magnified. Nordic skis are the Lambos of the ski world—precision and detail matter—while alpine skis are a bit like your stock Mustang. ​
To some, what Caldwell Sport offers seems like a golden touch. Elite cross-country ski duo Team Gregg count themselves among the believers. Caitlin and Brian Gregg switched to hand-selected Caldwell skis in 2014. That year, Brian became an Olympian, while Caitlin, already a 2010 Olympian, won bronze at the 2015 World Championships. "I don't rule out any of my skis now. Since working with Zach, any one of my pairs of skis could be a winner on any given day," she says. Among Nordic cognoscenti, it's understood that each new day brings new conditions. Brian Gregg says Zach's process works because his ski choices reflect those dynamics. "You want someone to be so passionate about it that they essentially treat each ski as if it's a different person. It's got its own personality." 
Ultimately, Caldwell believes he's selling much more than skis. "So much of what we sell is psychology. So much of what we communicate is confidence. Like World Cup race service, when you hand an athlete a ski, you are handing them confidence," he says. In a lung-busting sport like World Cup cross-country ski racing, only results matter. Whether you're racing on a pair of magically fast skis or just believe you are doesn't—as long as you score the win.  
Lead Photo: Nick Brown