Which skis can handle Colorado groomers equally well as East Coast crud?
What skis would you recommend for me? I five-foot-four, 122-pound intermediate skier who skis mostly groomed blue runs in Colorado, as well as lots of places in the East. I want a versatile ski that's appropriate for my level but will help me advance to harder runs. Elizabeth Mii Beach, Florida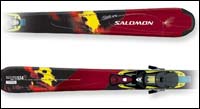 Heading out the door? Read this article on the new Outside+ app available now on iOS devices for members! Download the app.
Sure, we can find a ski for you. What you need is one of the new generation of "all-mountain" skis, which can take you just about anywhere, from icy crud back East to fresh powder in the Rockies to the "Cascade Concrete" we get in my part of the world.

Siam N° 10

I skied a few weeks ago at Crystal Mountain here in Washington and demo'd a pair of K2 Recon skis, part of that company's Apache series (www.k2skis.com). We had ice that day, some groomed runs, and some fresh, pretty deep, semi-powder. And I thought the Recons were great. They had good float in the soft stuff, tracked well at speed, and gave me a lot of confidence when busting through uneven snow. I thought they were perhaps a bit sketchy on icy stuff, but that could be because the edges needed sharpening. But generally I thought they were great skis.
You can find a pair for about $650 without bindings—maybe less on eBay or at an end-of-season sale. Take a look as well at the K2 Apache X's, which are designed for similar all-over skiing but are a bit more forgiving in the torsion box, which might be desirable in a lighter skier such as yourself. The X's go for about $350, sans binding.
Salomon also makes a good all-mountain ski—the Siam N° 10 ($720 with S810 binding; www.salomonskis.com). These also are a women-specific ski, meaning the flex and sidecut are tuned to better accommodate how women ski. They're also are a fairly light ski, so you can ski longer with less fatigue.
If you can, try a few different skis out at your local resort. This time of year you can probably even just buy the ones you like, right from the demo shop, at a hefty discount.
For a look at the year's flashiest skis and 'boards, check out Outside's 2006 Hot List.