Which skis will help me earn my turns?
Gear Man, it's been too long! Over the years your sage wisdom has been invaluable: jacket, check; watch, check; socks, check (my platoon says thanks, by the way). Anyway, I'm taking the winter off from sand, sun, and hostile fire and getting back in touch with my mountain roots here in Vermont, and I've decided to start earning my turns on Mansfield rather than riding that klunky old lift. Plus, I'm getting cheap. So, O Sage and Eminent Gear Scholar, please help me choose a good all-terrain ski. Now, I've got to get back to building my shrine to Ullr before the evening storm report. Larry Burlington, Vermont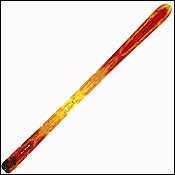 Heading out the door? Read this article on the new Outside+ app available now on iOS devices for members! Download the app.
Dude, you're too erudite for me! I had to Google Ullr—the Norse god of skiing. I like it! And good to hear from you. I actually found your sock question from '03—but now can't recall what the heck I told you. But glad to help the platoon!

Ethic

As for skis, well, you've got lots of good choices. The Black Diamond Ethic ($600; www.bdel.com) is an excellent all-purpose alpine-touring/telemark ski. It's designed with lightweight, sharp edges, flex for turning, and enough float for soft stuff and powder. The BD guys take their AT work very seriously, and these babies have been thoroughly vetted. Atomic's Kongur ($500; www.atomicski.com) is very similar, and is designed for the same all-purpose skiing. It's a tad heavier, though, and its metal edges aren't quite as tough as the Ethic's material. But a nice ski, and at a great price.
If you can swing the Franklins, G3's Ticket ski is, well, the ticket. It's got all the features of the Ethic and Kongur, plus a carefully designed sidecut that lets the uphill ski turn more tightly, helping to pull you through a turn. Very handy in trees or close quarters. Alas, it's also a $700 ski, so the money is getting serious (www.genuineguidegear.com).
So that's the word from here. Good luck with your stateside posting, and give Ullr his due.
For the latest quiver of expert-tested planks, read Outside's "2006 Ski & Snowboard Report" from the November '05 issue.