The Things You Carry
Outside readers send us their favorite gear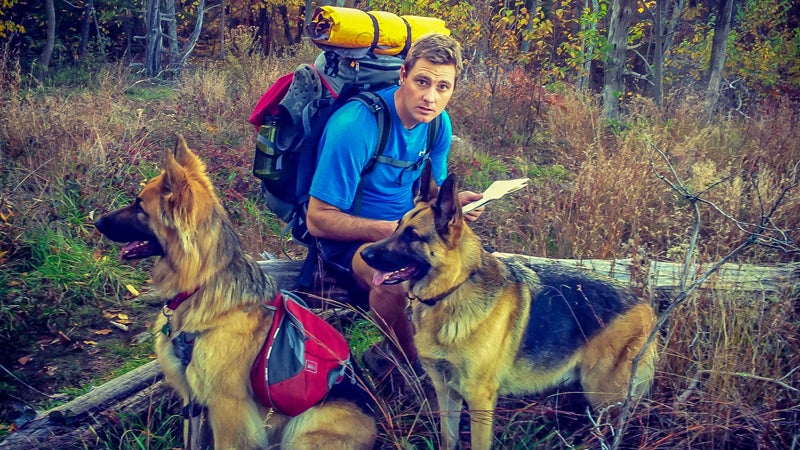 Heading out the door? Read this article on the new Outside+ app available now on iOS devices for members! Download the app.
Not only did you flood our inbox with love letters, sonnets, and odes to your most prized possessions, but you also agreed to send your precious belongings to us to be photographed. Here's the best of the best.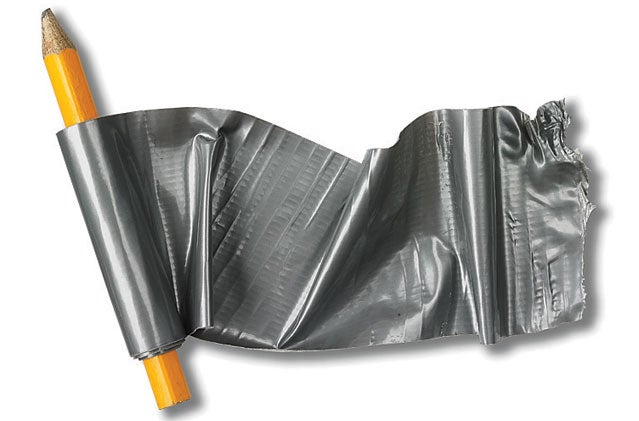 Vintage Button-Down
"Technical tees are great and all," says Ben Walker, of Madison, Wisconsin, "but you should never underestimate the value of a good polyester button-down, ideally with snaps, bought for a few bucks at your local thrift store. Unmatchable style and ventilation, and it dries in seconds. Don't be fooled by the cotton knockoffs peddled by the Gap and H&M. They get it all wrong."
Fishing Gear from the Seventies
Woody Osborne, of Granite Falls, North Carolina, adores his 1971 Abu Zebco Cardinal 4 spinning reel: "Flawless performance for 41 years. Never a problem, hitch, or flub." Tim Belmont, of Langhorne, Pennsylvania, prefers the 1970s Cortland five-weight fly reel he inherited. "It's not the prettiest or best performing," he says. "Every time I catch a big brownie, I'm testing my late grandpa's knots. But it hasn't failed me yet." 
La Sportiva Mythos Climbing Shoes
"That they're leather adds a whole new dimension to my love affair with them," says Zach Gubran, of Jasper, Georgia, about his Mythos. "I've had them for a year and a half, they fit better the longer I wear them, and the laces let me dial in a snug fit—whereas Velcro barely kept other shoes on my feet. And somehow they're immune to climbing-shoe funk. [Editor's note: We shot Zach's shoes in our studio; the smell is debatable.] One of the saddest days I've ever climbed was at Red River Gorge in Kentucky, where I discovered that they had sprung matching toe holes. The solution was obvious: I had them resoled." $140; Sportiva
Eureka Timberline Tent
Eli Lewis, of New Haven, Vermont, tells us that his tent "has fended off alligators and wild boar on Georgia's Suwannee River, taken in the sounds of Phish and the Grateful Dead, wheeled along on a two-week motorcycle journey from Toronto to Montana's Glacier National Park, and been strapped to a pack for a four-day snowshoe through the Adirondacks. All without one rip, drip, or stuck zip." From $170; Eureka Tent
Duct Tape
"The inventor should've won the Nobel Peace Prize." –Deborah Lewis, Norwalk, Connecticut. $5; Home Depot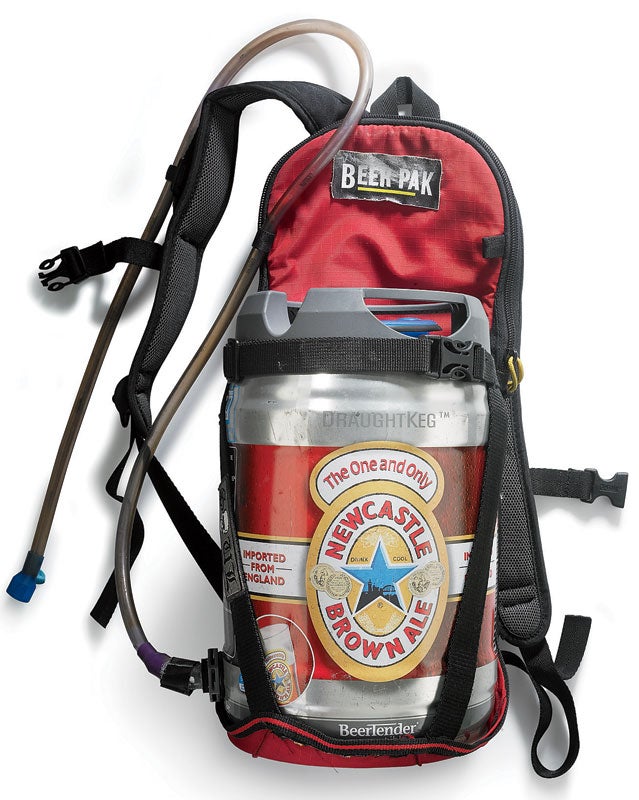 Foam Pad
"My two-foot square of gray Ensolite foam isn't much to look at," says Francisco Tharp, of Durango, Colorado. "The edges are jagged with marmot bites. One side is etched with melt rings from dinner pots. Its worn exterior speaks to its many uses: welcome mat, shower mat, yoga mat, chef's hat, cutting board, operating table, umbrella, skirt, fan." 
A Homemade Keg Carrier
Mario Correa, of Chino Hills, California, wanted to reuse a Newcastle minikeg after he'd carried it (uncomfortably) on a long bike ride in a big backpack. So he enlisted his more mechanically minded buddy Mike Caffery to design a purpose-built strap-on hauler. "Mike grabbed an old CamelBak I'd picked up at a bike swap meet, modified it, and restitched it. I've hiked with it, ridden with it, and even raced with it."
Kelty Pathfinder 3.9 Child Carrier
"It's been with us through four children," says Kovas Palubinskas, of Downers Grove, Illinois. "It has acted as a high chair, a napping station, a backpack, and so much more." $280; Kelty 
Chaco Sandals
One thing is clear: you guys have a thing for your Chacos. With some help from his dad, Luca Munson-Warnken, of Burlington, Vermont—at age three, possibly our youngest reader—writes: "My dad runs in his. We did the Catamount race series together—a 5K trail run every week from May to September—with me on his shoulders and Chacos on his feet." Will Beasley, of Chattanooga, Tennessee, says of his first pair: "I remember begging my parents to buy me some Chacos in the eighth grade. Navy blue size 10s with Colorado soles. I wore them almost every day." Kate Stanley, of Billings, Montana, uses hers as a familiar litmus test: "I judge how good my summer was on one thing and one thing alone: my Chaco tan." 
Banks Fry-Bake Cooking Pan
"Because the lid is designed to accommodate embers," says Ryan Wagner, of Boulder Junction, Wisconsin, "this lightweight aluminum pan allows you to bake bread, cinnamon rolls, and pizza on a backpacking trip without having to carry a heavy Dutch oven. The eight-inch Alpine model is perfect for two people. Just be careful at first—it doesn't bake as precisely as a Dutchy, and you will probably burn a meal or two before catching on." From $61; Banks Fry-Bake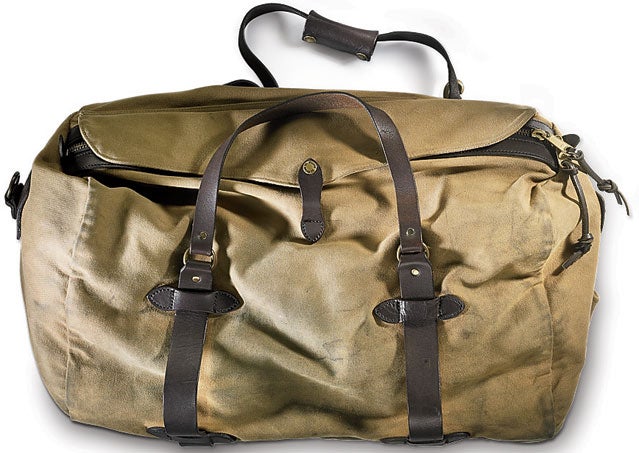 Black Diamond Trekking Poles
Aaron Spitzer, of Yellowknife, Northwest Territories, bonded with his last spring when he hiked Vancouver Island's notoriously rugged, 50-mile West Coast Trail. "I used them to tiptoe along balance beams of wet logs and trusted my life to them crossing flooded creeks. On steep ascents, I collapsed them and used them like ice axes. And in camp I had them prop up my tarp." From $42; Black Diamond
Pee Funnels
"For us gals they're important," says Viki Tracey of Chicago. "Mine was a key part of the arsenal that got me up Denali. It frees us from having to drop trou when it's blowing a gale and below freezing." Anne Hughes, of Madison, is especially fond of her Sports and Travel Freshette ($24): "It's particularly useful on belay ledges, ice climbing in layers of gear, and rock climbing at crowded crags with little to hide behind."
Benchmade Osborne 940 Knife
"After years of searching for the perfect knife, I finally found one that my grandpa would have loved," says Jeremy Vallerand, of Snohomish, Washington, about his Osborne 940. "Every detail, from the lock to the anodized aluminum handle, was designed to perfection." $220; Benchmade
Filson Duffel Bag
"No matter how much I try, I can't destroy the damn thing." –Tyler Riddle, Tifton, Georgia. From $225; Filson
Space Blankets
Jason Ford, of Midlothian, Virginia, has used his in the following ways: "as a tent footprint, a makeshift poncho, a beer-pong table, and a sled to evacuate an injured companion; to signal for a rescue; to protect stashed gear during a summit bid; and to keep an eight-year-old warm when his dad forgot to pack extra clothes."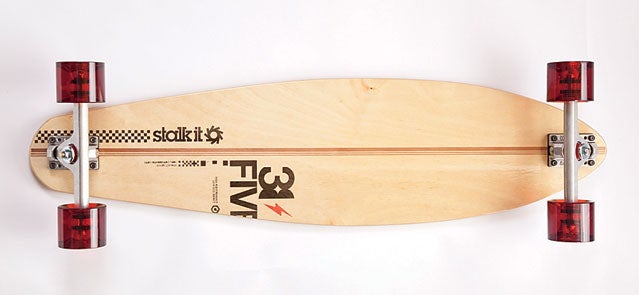 Seat Droppers
A friend recently asked Chris DiStefano, of Portland, Oregon: "If you could go back in time and change something, what would it be?" His reply: "To ride every mountain bike I've ever ridden with the addition of a seat dropper." He's currently happy with his RockShox Reverb ($370; SRAM).
Dana Design Terraplane X Backpack
"I just call her Dana," says Miami's Lyanne Abreu. "She's a cavernous one, with a 5,800-cubic-inch capacity. Sure, she can weigh 50 pounds on heavy days, and yes, she may have lost her elasticity, but she still carries on. Almost weekly, when I see her sulking and slouched on my bedroom floor, I know it's time to feed the beast."
Stalk It 38Five Longboard
"It bridges the age gap between me and my son." –Greg Ford, McKinney, Texas. $385; Stalk It
Garmin Forerunner 305
"I'm not exactly the best workout partner when I forget my Garmin," says Chris Lancaster, of Vincennes, Indiana. "The proof is in my email address: slave2garmin@xxxxx.com." $200; Garmin
CamelBak Rogue Hydration Pack
A little discoloration over the years hasn't fazed Jersey City's Brendan Dugan: "You were blue and gray new. Now your blue is turning greenish and your gray is turning brownish. You've hosted everything from water to Adirondack anti-freeze (Gatorade and whiskey). You've been filthy, crusty, and moldy. I scrub your bladder, pipe-clean your tube, and soak your valves in rubbing alcohol. My wife has begged me to replace you, but I can't." $65; Camelbak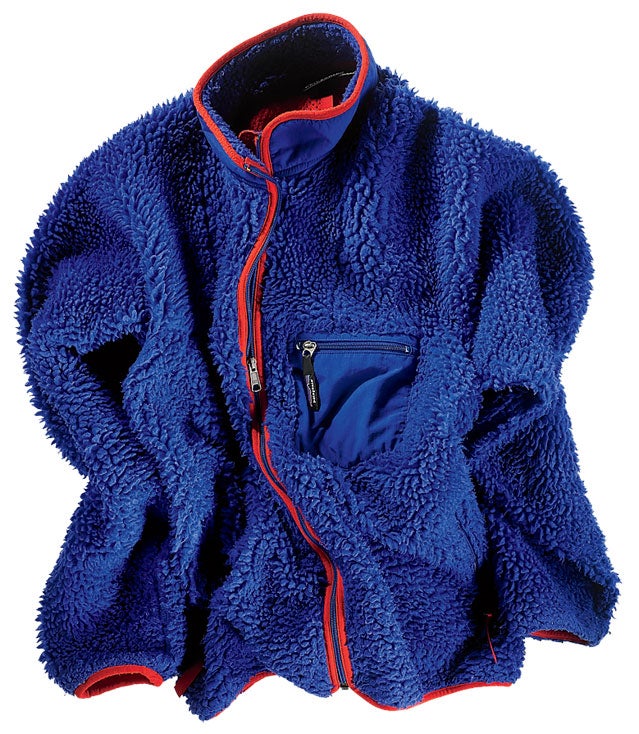 A Harf
"Or a scat," says Seattle's Devin Kleiner. "Either way, it's a two-in-one hat-scarf combo. My buddies made fun of the one I had in college, but I wore it with pride. I like to think of it as the Pert Plus of outdoor gear, elegantly combining two previously separate objectives—a warm neck and a warm head—with a single looping swath of fabric." 
A Packable Pillow
"My wife ridicules me," says Jason Straziuso, of Nairobi, Kenya, "but I'm always grateful to have one. You spend a third of your trip sleeping, right? So packing that one very small, very light, very crammable piece of gear is worth not having a stiff neck during the other two-thirds of the trip." 
Brooks Cascadia 7 Running Shoes
"I trust the design so much that I have become a better trail runner," says New York City's Deanna Culbreath. "I don't worry about what's under my feet. I don't overanalyze each step. I just run." $110; Brooks
Steripen Water Purifier
Basit Mustafa, of Boulder, Colorado, rationalizes his love of his SteriPen like so: "Yeah, I might be cold, wet, and miserable without the right symphony of fabrics and foods, but without clean, potable water on a long trail run or a backpacking trip, I can't get into the territory where I can enjoy that kind of exposure." Daniel Tobias, of Davie, Florida, is so enamored of his SteriPen that he gave it a name (Stan) and wrote a poem about it. Here are a couple of verses:
A bus through Mexico, twas our bed for the start
Water for sale, to be purchased a la carte
With Stan the SteriPen we had our water
We saved a few bucks and maybe a sea otter 
The water was fine, thanks to our friend Stan
But the food should have spent longer in the pan
If only the SteriPen could flash our food
The E. coli would not have altered my mood 
From $60; SteriPen
Patagonia
This company's fan club is undeniable—we got over a dozen submissions. Kris Barber, of Hood River, Oregon, says, "My Patagonia high-loft down sweater is my utility player—fly-fishing, snowshoeing, after surfing. It's become my Swiss Army knife of base layers." Cobey Williamson, of Corvallis, Montana: "What makes my Patagonia Capilene Expedition Weight Zip-Neck my favorite? I bought it in 1997, and although it's a little thin at the elbows, it's still going strong." George Bornemann, of Antigo, Wisconsin, bought his beloved Patagonia gloves so long ago that he "actually filled out an order form and mailed a check." They lasted 23 years. But in terms of pure passion, Rodolfo Gonzalez, of Fairfax, Virginia, is on his own level: "When I die," he says, "I would love to be reincarnated as my Patagonia Classic Retro-X cardigan."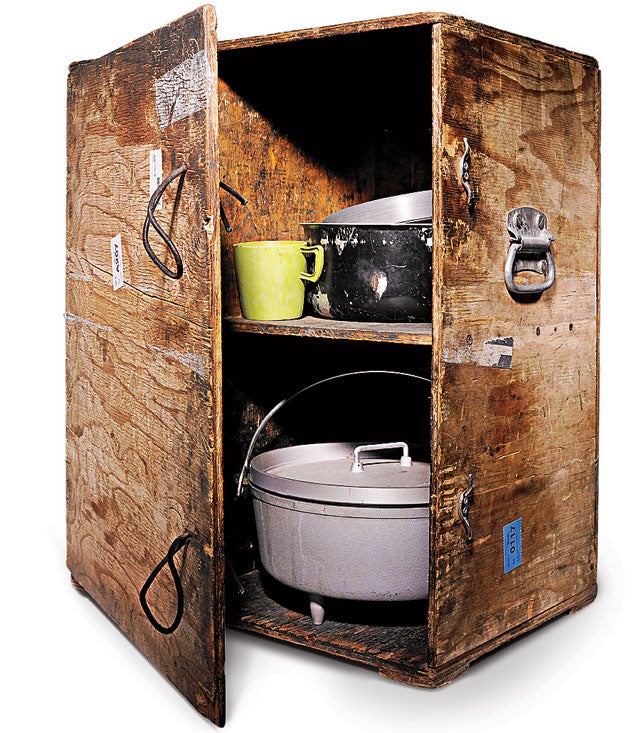 Black Diamond Wiregate Carabiner
"My keys are attached to it," says Kenton Lawson, of Ojai, California. "It also keeps my Nalgene bottle from rolling away under the seat of my truck and my hydration bladder from slipping down to the bottom of my pack. I've used it to secure a towline for a friend's car and to add extra mechanical advantage when pulling a slackline tight. Most important, the wire gate fits perfectly over the top of a beer." From $6; Black Diamond
A Wanigan
"We'd always say, 'It's like having mother's cupboard with you,'" says Brook Yeomans, of Jackson, Wyoming. "A wanigan is a traditional piece of canoe-camping gear with leather straps for portaging. You don't see 'em around much anymore. My buddies and I built this one to carry our cook kit and other fragile gear. Table, seat, cutting board, wind block, gear organizer—it was always the focal point of our campsite." 
MSR Dromedary Bag
"In the desert, water is king," says Chris Benson, of Moab, Utah. "If I'm expecting to go two or three days between water sources, I usually pack two—a four-liter and a six-liter. This gives you redundancy—in case one fails, which is rare—and lets you keep the weight in your pack, where you want it. These puppies are durable and make other hydration systems look like fancy ziplock bags. With any new drom, I recommend getting a little bit of plumber's tape to seal the threads of the two caps. Side note: a Nalgene lid works as a backup if you lose the original." From $30; Cascade Designs
Good Binoculars
"My Leitz binocs have been to Africa, the Arctic, Alaska, and Hawaii," says Rick Derevan, of Atascadero, California. "When I bought them 25 years ago, they cost a small fortune. But I've never looked back. For what amounts to about $20 a year, I have a super-sharp, perfectly built companion that brings the world closer every time I use them."
The Stregor
"For a rock climber, every piece in the rack has a story," says Erik Vance, of Oakland, California. "The Stregor was a tiny camming device, about a size smaller than a crack my fingers could fit in. I bought it at a store in Berkeley that was so classy it actually sold used climbing ropes. In truth, the Stregor was prone to sticking and hard to use, with questionable '80s-era print on the slings. It was always my last choice. So whenever we used it, I or my partner let out a familiar cry: 'Stregoooor!' We used to say, 'Stregor makes you stronger,' because the piece was so ugly, you would do anything not to fall on it. And yet that little piece saved my butt more than all of my other gear combined. I came to respect that scrappy little cam and looked forward to hearing that call. And when the Stregor finally got stuck in a crack from which it would not leave, we had a moment of silence. Today, looking at my shiny, refurbished rack, I sometimes think of that crappy little cam that could. And inside I say, Stregoooor!"
Solar Showers
"Because there's nothing like a hot naked shower outside." –Bear Carlson, Boulder
Limmer Standard Boots
Limmers were Matt Keating's standby kicks in college. Keating, of Littleton, New Hampshire, hiked all over South America in them, traversed the Grand Canyon, and even evaded a landslide on Vermont's Jay Peak. "Now I teach college courses in backcountry skills," he says. "I own my own gear shop. I've been through dozens of boots on hundreds of trips. The Limmers don't even fit anymore, but I still can't part with them." $345; Limmer