Apparel with an Integrated Fitness Plan
Earlier this week, The North Face launched a clothing line that includes free web training. It's shaping up to be a pretty great fitness ally.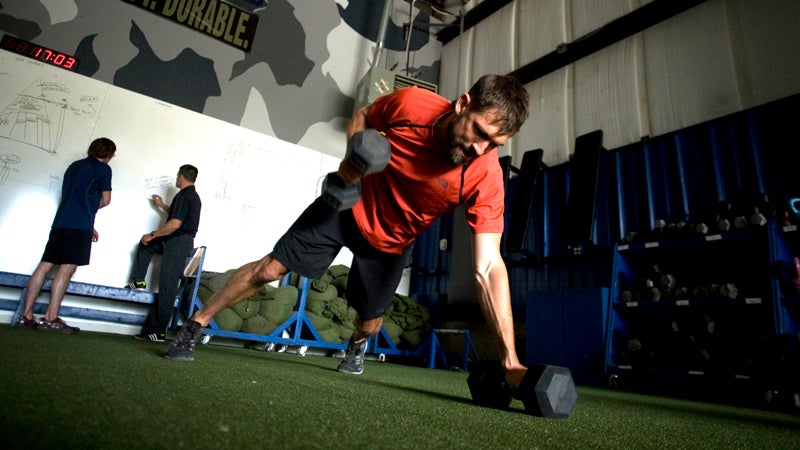 Brandon Joseph Baker(Photo)
Heading out the door? Read this article on the new Outside+ app available now on iOS devices for members! Download the app.
Most outdoor apparel comes with few written instructions—usually nothing more than an attached tag. But a new line from Mountain Athletics by The North Face goes beyond the clothes, offering an extensive web training program with video guides and a mobile app. Plus, you can tap into the training even if you haven't purchased any of the gear.  
The training materials are designed to make sure you get the most out of the new Kilowatt collection, which includes a jacket, shoes, shorts, and shirts. The $50 Ampere Hoodie features a new, layered ventilation system, while many of the products use FlashDry technology with its microporous additive to remove moisture. The $120 Ultra Kilowatt shoes are designed for rugged mountain trails and weigh about half a pound.   
The web training is designed to get you in shape for a host of activities, including skiing, climbing, and running. You might start out with a few quick push-ups, then work up to a short run. The Train Smarter videos—essentially demonstrations with fitness tips—follow a real athlete pushing to meet goals. And this summer, you'll be able to use an iPhone app to record results and track your fitness. 
Most of the training material comes from a partnership with the Wyoming-based Mountain Athlete gym that serves as a home base for TNF athletes. There's even a Mountain Athletics outdoor tour with hands-on demos set to roll through eight cities including Denver and San Francisco. 
Integrating a training plan with an apparel line is a good step forward—it means you'll be buying more than just a trendy jacket and shorts. There's also an element of accountability because you can print out the guides and record your progress. The complete package is shaping up to be a pretty great training ally, and we're excited to put it to the test.
The entire clothing line, web series, and several videos are available now. 
Lead Photo: Brandon Joseph Baker
Trending on Outside Online