Gear Guy
Our Gear Guy's Favorite Reusable Plastic Water Bottles
The best ones hit all the notes of lightweight, portability, and (relative) durability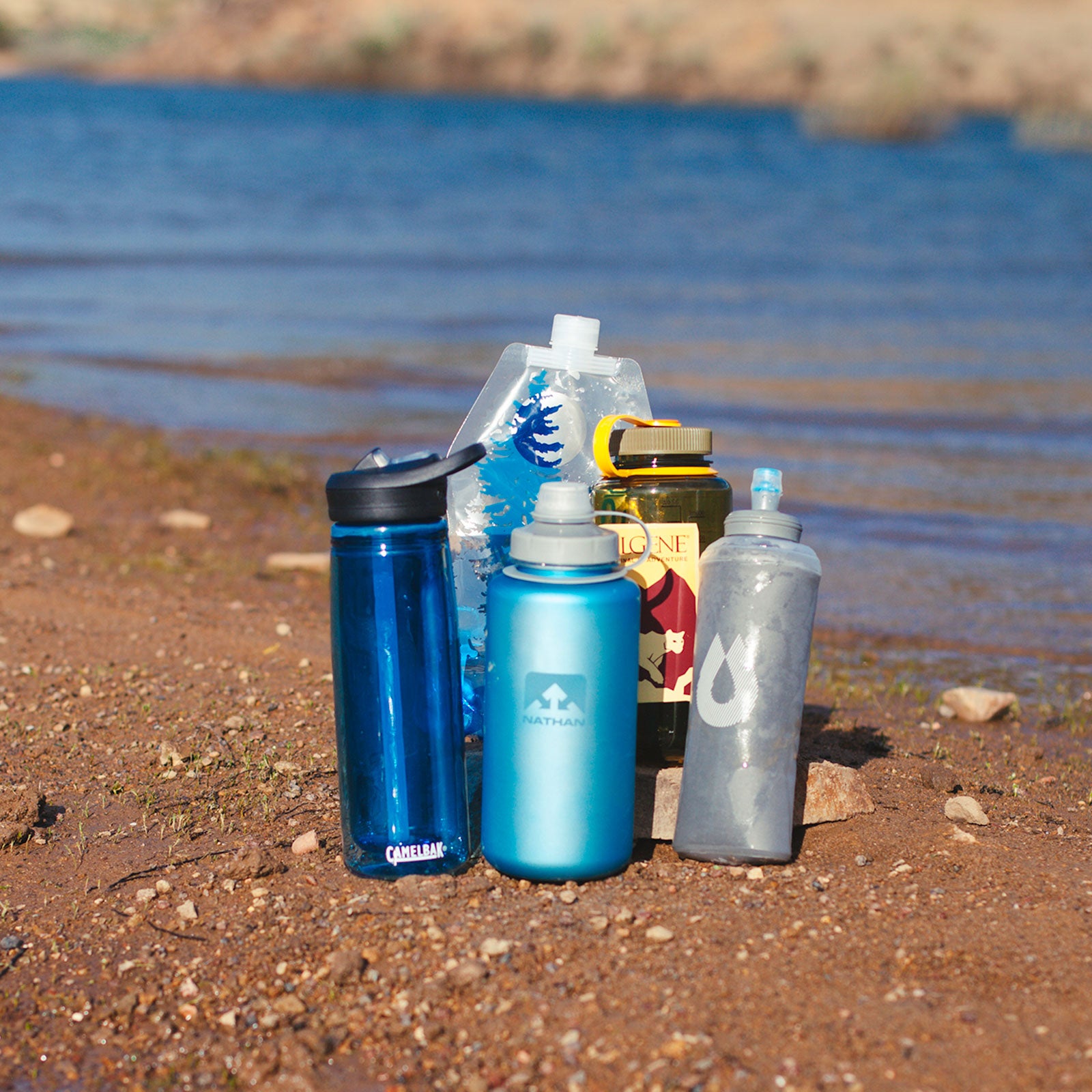 Sarah Jackson(Photo)
Heading out the door? Read this article on the new Outside+ app available now on iOS devices for members! Download the app.
Working as a river guide in the '90s, I developed a fondness for my Nalgene, which I used constantly on the water. But my love is more than nostalgia. Reusable plastic water bottles are 1) much more environmentally friendly than the single-use kind, and 2) usually lighter and less expensive than their metal counterparts. They won't keep your liquids as hot or cold, and they aren't as durable, but if weight and price are your concerns, there's nothing better. I pitted five of the newest against each other to determine the overall winner.
The Test
Usability
I used each of these plastic versions in place of my daily water bottle (currently a Yeti 36-ounce Rambler) for 48 hours, during which time I drank six liters of water from each. I used them at my desk, brought them on stroller runs, took them to the park with my daughter, and carried them around in my Fjällräven Kanken pack. Then I covered the bottles with muck from a lake and thoroughly washed each one at home in my sink. I also weighed each bottle empty on a kitchen scale.
Leak Prevention
I filled each bottle with as much water as it could hold, weighed it, and then placed it upside down on the lid. Five hours later, I weighed each again to see if and how much it had leaked.
Taste
One of the banes of these bottles is that they can impart an unpleasant plastic taste to whatever you're drinking. So I filled each one up with water and placed it in direct sun for five hours. Once time was up, I drank from them and noted if any of the plastic taste leached into the water.
Durability
I dropped each of the water bottles ten times on the bottom, side, and lid from shoulder height.
The Results
The Winner: Nathan Bigshot ($13)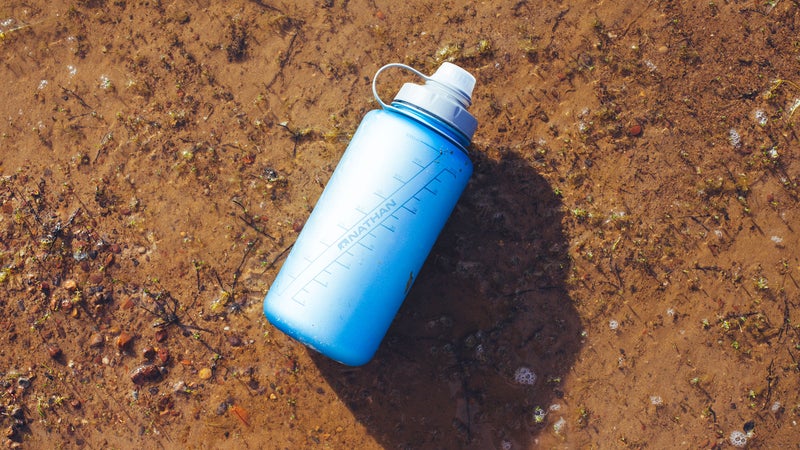 Weight: 6 ounces
Usability: 5
Leak Prevention: 5
Taste: 5
Durability: 5
The Nathan Bigshot was the clear winner, receiving top marks in every single category. But what I appreciated most was how easy it was to drink from. Credit the narrow spout on the otherwise wide (read: not a hassle to clean) lid with a silicone cap that felt soft and comfortable on my lips. This also controlled the flow, allowing me to pound water without spilling any on my shirt. Plus, the silicone cap meant that I could drink from the rigid bottle while running and not worry about dinging a tooth or lip if I brought it up to my mouth quickly. It didn't leak, left the water tasting crisp and clear at the end of five hours in the sun, and suffered only minor scuffing during the drop test. My one quibble is that the bulky Bigshot would be cumbersome to bring on a run.
---
#2. CamelBak Eddy+ .6L Insulated ($20)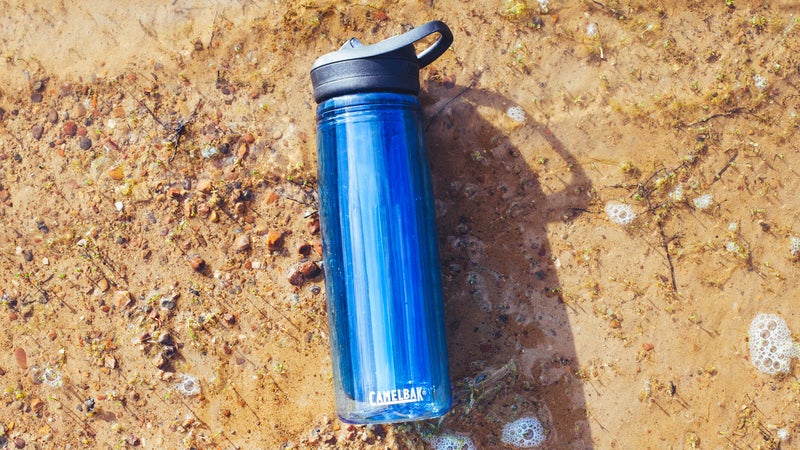 Weight: 9.8 ounces
Usability: 5
Leak Prevention: 3.5
Taste: 3.5
Durability: 4
Like the Bigshot above, the CamelBak Eddy+ was pleasant to drink from, due to its flip-up silicone valve attached to a straw. Drinking was so easy, in fact, that this was my toddler's favorite, and I noticed zero splashing during runs. But it took its lumps in the leak prevention and taste departments. The Eddy+ leaked five grams of water over five hours, which is a small amount but still made this the only vessel to leak at all. And after time spent baking in the sun, the water took on that noticeable plastic taste. I gave it points for the sturdy lid, which stood up impressively to being dropped. Sure, it looked like a chewed-up dog toy at the end, but it remained unbroken and functional.
---
#3. HydraPak UltraFlask 500 ($19)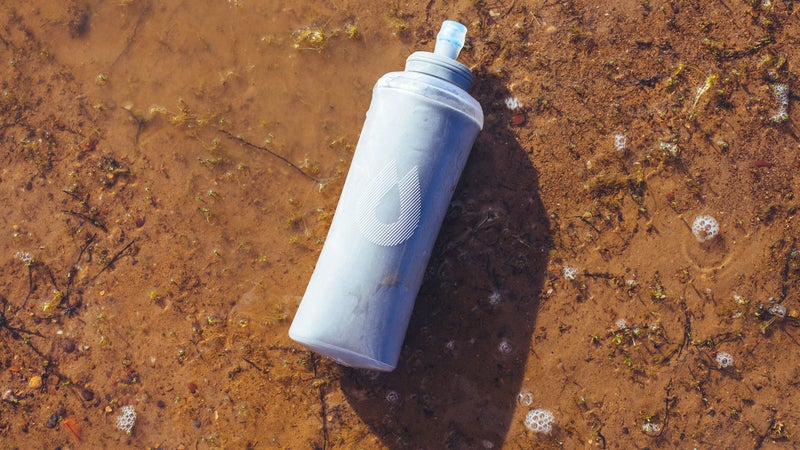 Weight: 1.9 ounces
Usability: 5
Leak Prevention: 5
Taste: 1
Durability: 2.5
For hardcore athletics, the HydraPak UltraFlask was unparalleled. After I replace the cap (more on that below), this will be my go-to bottle for my running vest and waist pack. The soft plastic exterior and air- and water-tight bite valve let the vessel shrink as I drank—I would suck down the water and then stuff the collapsed UltraFlask into a shorts pocket without much thought. But it performed abysmally in the taste category (my notes read "like drinking out of pool toy") and didn't make it through the durability test unscathed. A small plastic piece inside the lid broke on the fourth drop. The bottle was still usable, just more difficult to drink from.
---
#4. Platypus SoftBottle 1L ($9)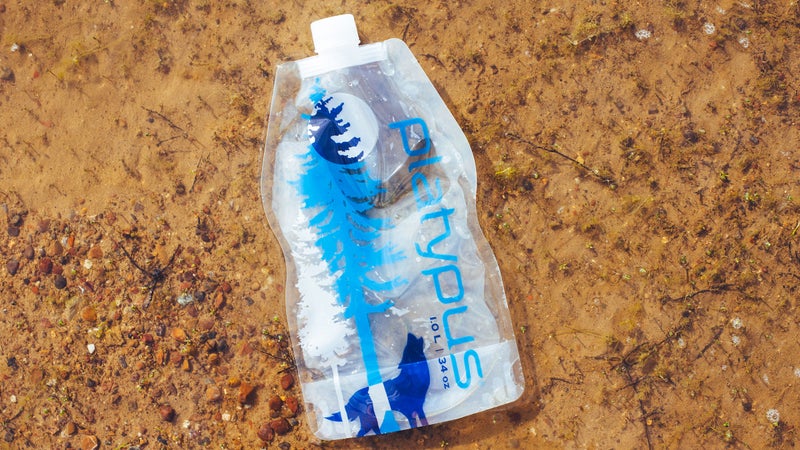 Weight: 0.9 ounces
Usability: 2
Leak Prevention: 5
Taste: 3.5
Durability: 3
If you're a backpacker who obsesses over ounces and grams, the Platypus SoftBottle is the one for you. It weighs less than half of the next heaviest bottle in this test, making it perfect for a fast-and-light setup. The fact that this Platypus is so stripped down, however, made it the most difficult to drink from and clean. The lack of structure and large size meant that I always needed to hold it with two hands, and the small opening made it impossible to squeeze in a sponge for a good scrub. It did take a beating admirably but developed a microtear just below the lid after the seventh drop. The tear was so small that I didn't notice it until water started very slowly leaking out. I still gave it a three for durability, because this wasn't a catastrophic failure, just enough to get other items in your pack damp.
---
#5. Nalgene 70th Anniversary Limited Edition ($12)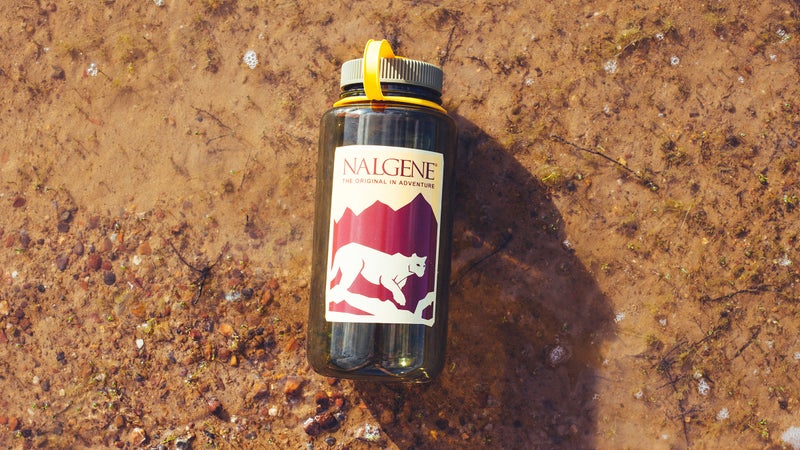 Weight: 6 ounces
Usability: 3
Leak Prevention: 5
Taste: 5
Durability: 0
I might have to reevaluate my opinions of Nalgenes. This one failed so thoroughly in the durability test—the bottom shattered on the second drop, rendering it completely unusable—that I had to rank it last. On a brighter note, the water tasted fine. And though I had to completely stop what I was doing to drink from it lest I spill on my shirt, the simple wide-mouth design made it the easiest to clean. In the end, the nostalgic side of me is bummed that the bottle broke so easily.
Lead Photo: Sarah Jackson