The Best Solar Lights for Road Life
Portable solar gadgets are better than a decade ago. But are they worth it?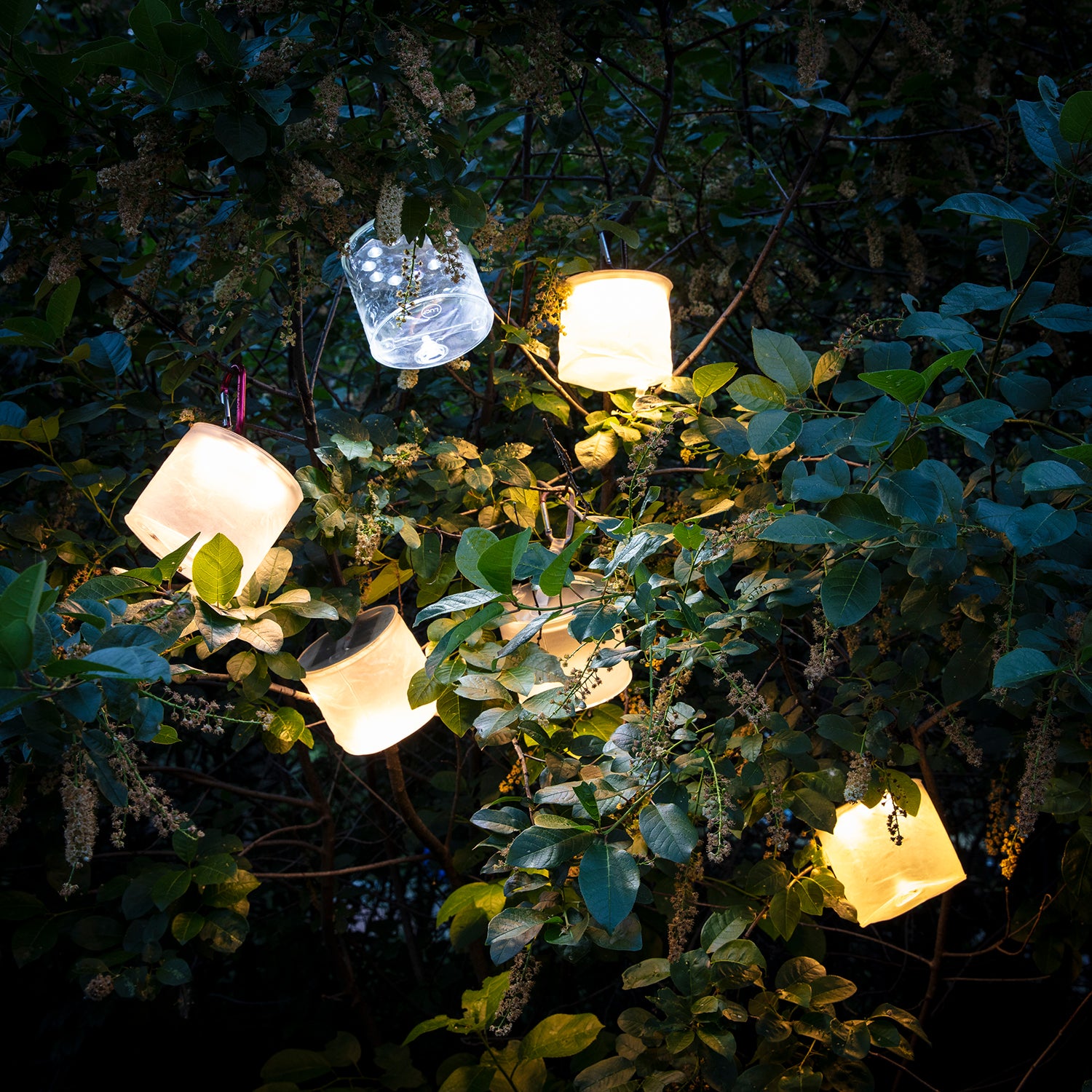 JJAG Media(Photo)
Heading out the door? Read this article on the new Outside+ app available now on iOS devices for members! Download the app.
After installing a rooftop solar system that has been easily powering our off-grid lives, Jen and I have become solar converts. But while I'm now convinced that a trailer-sized setup can be effective, I've remained ambivalent about smaller sun-fueled devices like lanterns and headlamps.
My objections probably go back to some early shortcomings in the category: A decade ago, I had a lantern and a few tablet-sized panels with poor batteries and tiny, underpowered cells that simply didn't work. The lantern's beam was dim, the charge times were glacial, and the devices' charge never lasted even half as long as their battery-powered counterparts. Granted, I had one of the first prototypes. Still, soured, I swore off the gadgets.
But after such a good experience with our trailer system—and having discovered that typical solar panels degrade slowly and have a useful lifespan of at least 25 years—I decided to give these portables another chance. Have the panel and battery technology come far enough to make sun-powered handhelds as good as their disposable-battery equivalents? We tested a range of devices through winter and spring to find out.
MPOWERD Luci Pro ($35)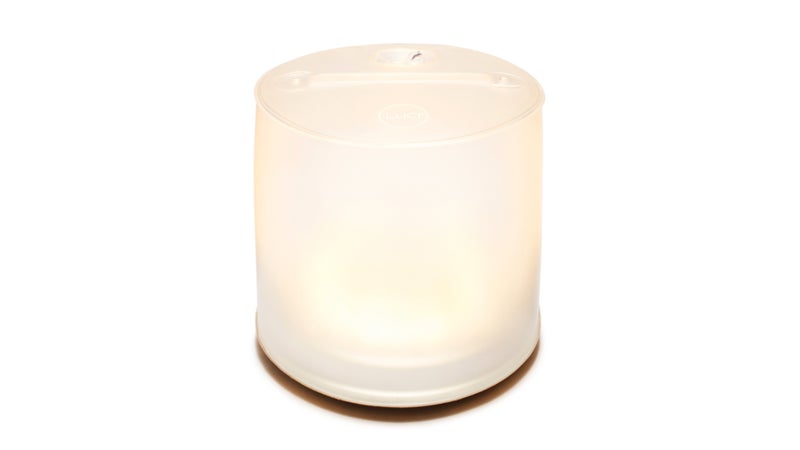 If a single device has helped to mitigate some of my ambivalence about portable solar contraptions, it's the original Luci Lux, a featherweight inflatable lantern that has become a staple of our road and backcountry setups. The latest iteration from MPOWERD keeps that original form but improves on it with a brighter, 150-lumen light (compared to the base model's 65) fueled by ten warm LEDs; four power settings (compared to three on the original) for even better battery economy; and a new adjustable snap strap for easier hanging. The light quality is as good as ever, courtesy of the frosted-plastic finish. (There's also a cooler clear version.) Though getting a full charge takes pretty much all day in complete sun, once the lantern gets that initial fill, we've had no problem keeping it topped up after a few hours of use per night.
But what really sets the Luci Pro apart from the original is its waterproof USB port, which allows for fast wall charging and serves as an emergency cellphone charger. The Luci Pro doesn't have enough juice to fully charge a modern smartphone, but I've gotten about a 30 percent increase on my iPhone X battery, which means you'll never be stranded in the woods without a way to communicate. Three years in, our original Lucis still shine as bright as ever, though one doesn't hold air quite as well as it did when new.
---
BioLite SunLight ($25)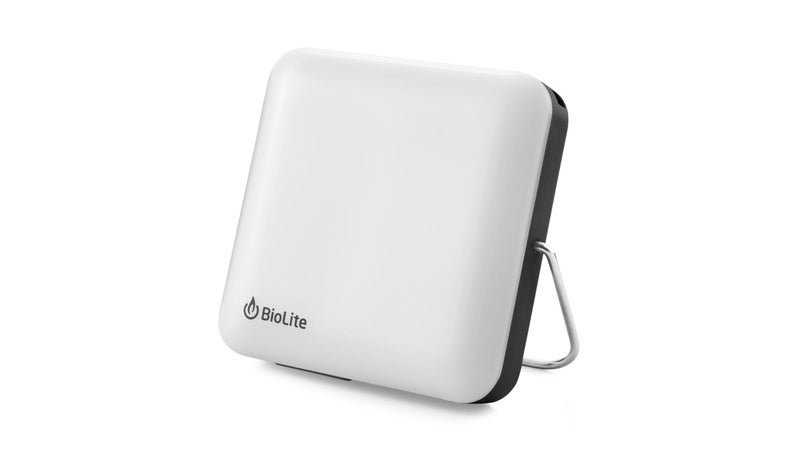 BioLite's first foray into the solar realm looks nearly as promising as its original stick-fired stove. Roughly the size of a single-serve box of cereal, the SunLight has a 100-watt LED lantern on one side and a solar panel on the other, plus a swiveling wire that doubles as a stand and a clip for hanging. The light is not as bright as the Luci, but charge times are shorter, with ours reaching full power in about half a day of full sunshine. The SunLight also has a USB port, though it's for alternative charging only, not powering up your devices. Light quality is soft and warm, making this another favorite. We don't like the SunLight as much as either of our Lucis, mostly because it's not as packable; however, the sleek design is certainly more appealing.
---
HybridLight The Headlamp ($25)
This is the one device I was most curious about, largely because I didn't imagine the matchbook-size panel could power much of anything. I was wrong. The micro-USB stick-style charger, which plugs into a waterproof sealed port on the side of this headlamp, indeed brought the device to full power, though it took two full days in the sun. The beam isn't as bright or powerful as other high-performance headlamps on the market, but the high setting is adequate for hiking, and the low setting takes care of around-camp duties. It's a pity there's no red beam, which would make the light useful for reading at night without disturbing a sleeping partner, and I wish the panel had a cord attachment rather than the rigid stick, which makes it difficult to charge from a backpack and is susceptible to breaking off.
Still, despite its cheap-feeling finish, the HybridLight performed surprisingly well, though not on a par with my rechargeable Black Diamond ReVolt, which has a brighter beam, far more refined settings, and the option to run off AAA batteries in a pinch. On the other hand, this headlamp uses completely regenerative power, so while it's slow to fill, you can truly stay off-grid. As a light to use around camp for a couple hours a night, it's a winner. But if you need something more powerful, a rechargeable that you can refill from a solar-powered bank may be a better option.
---
Goal Zero Torch 250 ($80)
One of the most expensive products we tested was also the most versatile. This three-in-one solar flashlight has a 180-lumen torch beam on the end, a 70-lumen floodlight on the main body, and two flashing red lights that can be used for emergency visibility. About the size and weight of a pint bottle of beer, the Torch 250 has a panel on one side that brought the 16 watt-hour lithium-ion battery to full charge in about one and a half days in the Southwest summer sun. There's also a USB cord that plugs into the wall for a much quicker fill (about six hours). That port doubles as a device charger with enough juice to power up two iPhones and still have a little battery left for light. Goal Zero even includes a hand crank, which you can churn to add power if all else fails. (It would take about ten hours of cranking to reach a full charge.) Still, this is a super-high-quality handheld light that would be great to leave in a sunny spot in your car or trailer so you'd have light whenever you need.
Lead Photo: JJAG Media
Trending on Outside Online