Can you rig a two-way radio hookup to a climbing helmet?
Would there be any advantage in having a small two-way radio system attached to your rock-climbing helmet? Basically so you and your partner can talk to each other easily while climbing. Tim Dunedin, New Zealand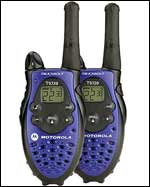 Heading out the door? Read this article on the new Outside+ app available now on iOS devices for members! Download the app.
That's not a bad idea, if you're willing to lug the extra gear. I've been in plenty of situations where voice communication while climbing was difficult or next to impossible, either due to the sheer distance between climbers or noise from wind or even a nearby waterfall drowning out shouts. While I was with a mountain-rescue group, radios were an essential part of our kit—we'd sometimes have complex litter raises or lowers of 200 and 300 feet, and there was just no way to yell loud enough to make yourself heard, least of all convey your message accurately.
T5720


One option would be to get a pair of Motorola T5720 radios—little two-way "walkie-talkies" that sell for $70 a pair here in the U.S. (www.motorola.com). They're very useful gadgets, and operate on both the short-range FRS (Family Radio Service) and the longer-range GMRS (General Mobile Radio Service) frequencies. To use the GMRS frequencies here in the U.S. at least, you need a Federal Communications Commission license, but that isn't a big deal—it costs $80 for a five-year license for GMRS use. Now maybe your Kiwi bureaucrats are a little less officious than our dear FCC friends, but New Zealand still has laws governing general-use licenses for the radio airwaves, so check before you buy.
Along with the radios, buy a pair of TalkAbout Speaker/Microphones ($40 each). These plug into the radio and then clip to a lapel or pack strap near your mouth. You simply press a button to talk, and hear the reply even when hands-off. It works pretty well for situations when you're arranging a belay or even halfway up a pitch.
None of the above equipment will really weigh you down that much—maybe a pound each for the radio, batteries, and speaker/mic. It won't be a fool-proof setup, as radio communications are line-of-sight and you'll be shocked at how easily the signals are disrupted by a rock or a tree. But for most situations it should work well.
Read reviews of a slew of other spangly trail electronics in Outside's
2004 Buyer's Guide
.