Covet: Dodocase Bighorn Sheep Endangered Species iPad Case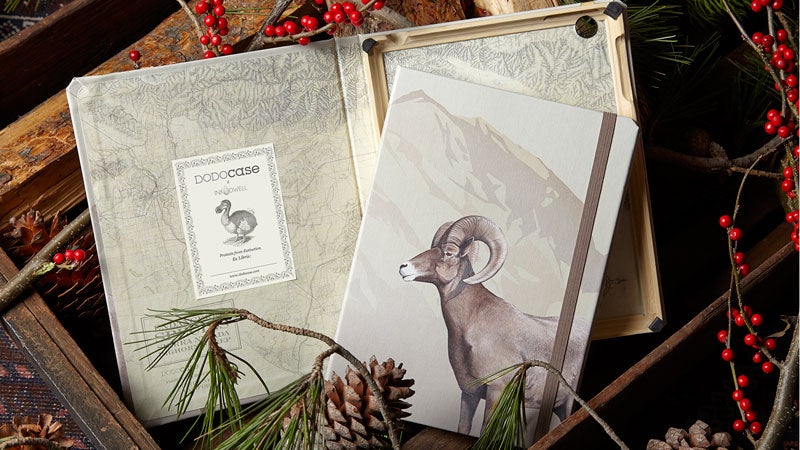 Heading out the door? Read this article on the new Outside+ app available now on iOS devices for members! Download the app.
The dodo bird went extinct. 


The Migrating Mural Project on Sage to Summit, a mountaineering store in Bishop, California.

One of two sheep painted on the Bishop Gun Club's wall. This bighorn represents the Wheeler Ridge herd unit; the arrow represents a temperature gradient, along which they migrate seasonally.
When the internet took off, many wondered if books would, too. When tablets became popular in 2010, San Francisco-based Dodocase realized these portable devices offered an oppotunity keep book binding alive. Each of the company's iPad covers are made locally using traditional bookbinding techniques. Dodocase has, essentially, given book bindings relevance in a world of technology.
And in an effort to prevent yet another extinction, Dodocase recently teamed up with Ink-Dwell, an art studio that "specializes in creating environmental campaigns, exhibitions, science illustrations, and fine art." For this particular collaboration, Ink-Dwell founder Jane Kim hopes to publicize the plight of California's endangered mega-fauna through limited edition Endangered Species Collection iPad cases. Each case looks like a hand-painted moleskine notebook, and the first in the series (available now) features Kim's oil painting of a rare and majestic Sierra Nevada bighorn sheep. 
The image comes from Kim's Migrating Mural project, a series of massive paintings of endangered animals displayed along the migration corridors they share with humans. The first chapter of the Migrating Mural showcases the Sierra Nevada bighorn sheep via six murals along a 150-mile stretch of Highway 395 in California's eastern Sierra.
Bighorn sheep were plentiful in this area until the 1990s, when they were nearly wiped out by a disease carried by domestic sheep. But with continued conservation, they could be off the endangered species list within a decade. 
Coming in 2014: the Dodocase/Ink-Dwell Coho Salmon case and Whooping Crane case. Proceeds benefit the Migrating Mural and the Eastern Sierra Interpretive Association.
$125, dodocase.com.