Meet the Creatives Who Make Your Favorite Things
We talked to design maverick Thomas Meyerhoffer about the importance of always exploring. Then we had him speak with four other visionaries building an ingenious new world.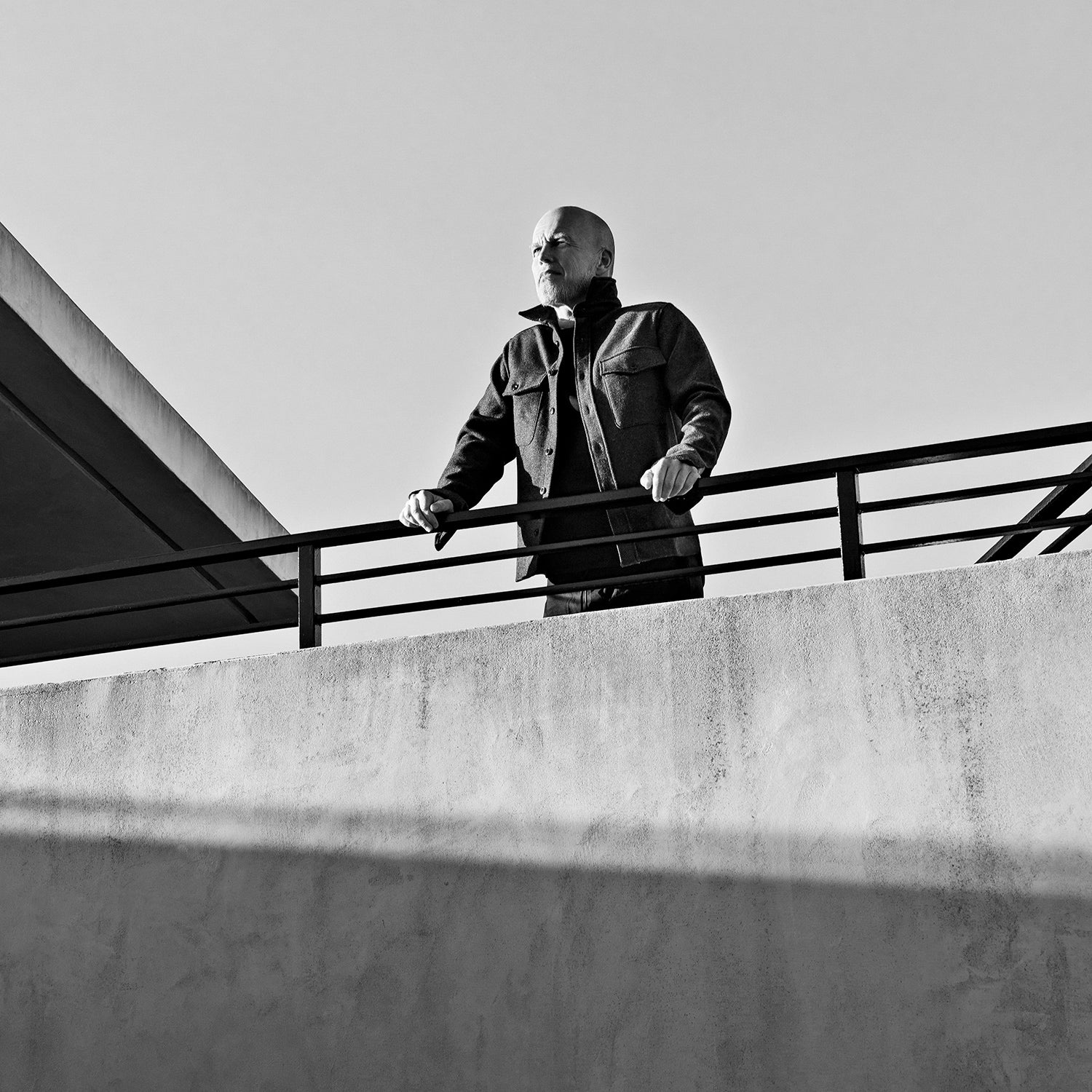 Brian Guido
Heading out the door? Read this article on the new Outside+ app available now on iOS devices for members! Download the app.
One morning this spring, Thomas Meyerhoffer had a breakthrough on the race track—which made him furious. In recent years, the acclaimed 52-year-old industrial designer has thrown himself into motorsports, training at the Porsche Sport Driving School and, beginning in 2016, competing in the Pirelli GT3 Cup, a series for elite amateurs. At the Thunderhill Raceway in Northern California, he dropped his lap time by three and a half seconds—an eternity. "I came out of the car and I was so angry," he says. "I was just thinking, Why didn't I do that before? It was so simple."
Meyerhoffer is obsessed with simplicity. The remarkably diverse range of mold-demolishing sports products he has created—the first wraparound ski goggles, the Smith V3; a no-fuss rear-entry snowboard binding for Flow that offered the control of a strap-in; award-winning Neil Pryde windsurf sails—have been celebrated for their elegant austerity. He has an uncanny ability to find the cleanest line connecting form and function. Even his show-stopping designs, like the translucent Apple eMate (an iMac precursor that the company's chief design officer, Jonathan Ive, tapped Meyerhoffer to develop) and his hourglass-shaped longboards, which he introduced nine years ago to great confusion in the surf industry, adhere to his Scandinavian aesthetic. (He was born and raised in Sweden.)
Early on, Meyerhoffer took positions at places designers dream of spending their careers: Apple, IDEO, Porsche. But he prefers an environment that's "more free," so for almost 20 years he has run his own in-home studio in Montara, California, overlooking a surf break south of San Francisco. Today, he works with a broad client base that includes brands in technology, medicine, and even politics. (He was one of three designers selected to craft the look and message of Michael Bloomberg's presidential bid, before the billionaire decided not to run.) His latest sports product is the one he's holding on the cover of this magazine—a break-apart travel surfboard that can be outfitted with several tail configurations and fits into a faux golf bag, which can be checked for free on most airlines.
Not long after his dramatic improvement on the track, I met Meyerhoffer at his studio to talk about his creative process and what fuels innovation. Surfing and racing top the list. As he explained it, cutting his time was the result of the kind of decidedly simple design solution that he seeks for everything. "I didn't need to be faster where I was fast," he said, his blue eyes flashing. "I needed to be faster where I was slow." Instead of gunning it on the straightaways, he focused on precise braking and turning going into corners. "I'd forgotten what really matters," he concluded, smiling.
---
I've always asked myself, What do I do? It's why I've put myself in so many different situations. When I was younger, my answers were mostly gut feelings: I don't want to work here anymore; I'm going to do my own thing. In the past two or three years, the question has taken on a broader meaning. Now it's: What can I do?
People ask why I left Apple. Once you start exploring, why stop? I was at Apple only because I'd left Porsche. And I was at Porsche because I'd left Sweden to go to a school somewhere else. You have to leave to take the next step.
The design process always starts with asking the right questions: What kind of experience do you want to create? What's the cultural context? Put yourself in the shoes of the user. Understand where the product will live.
In race car driving, there's no time to think about a mistake, because the next turn is in your face. You get reminded very quickly that you lost focus. It's the same with design: you have to understand what really matters and not be discouraged by all the things that don't.
It is so hard to get to simplicity. Then you get there and it's like, Why didn't we do that earlier? We had such a great idea—why did we spend two years with all this shit we tacked on?
I still use my pen and pencil.
Surfing is like dancing naked at a bar. You fall and everyone goes, "Ha ha!" That's what I went through with my first surfboard project. I had to paddle my boards out and stand up on them in front of these opinionated gentlemen. It wasn't a painless experience. They'd say, "What the fuck is that?" I had to learn not to care. To be innovative, you can't give a shit.
The last straw we cling to is our expertise. But if you continue to do that, at a certain point you can no longer go anywhere new. If there isn't a constant flow of energy and curiosity, you stagnate.
When utilizing new technologies and materials, the craft is in connecting things in unexpected ways—like translucent plastic on an Apple computer or using software to make surfboards.
I just went running for 45 minutes, and I really had to push to get through it. I do the same at work—the pleasure comes when you go all the way.
I ask everybody what they think. I ask my son a lot—he's 16, which makes him perfect for so many things. But I also need to understand where he's coming from. When someone shares their opinion, your job is to decipher what they are actually saying.
Great design doesn't need to be explained. People will get it just by experiencing it.
In a lot of sports, the dream used to be all about going faster. Now sports culture is driven by fashion and social media. I think that is very positive. People aren't searching for ultimate performance so much as the ultimate experience. There's a functionality side but also an emotional side. My job is to bring those together.
That moment when you come out of the cave to show what you've made, that's when you have to be fearless.
There are no shortcuts.
---
Read Thomas Meyerhoffer's conversations with other creatives below.
---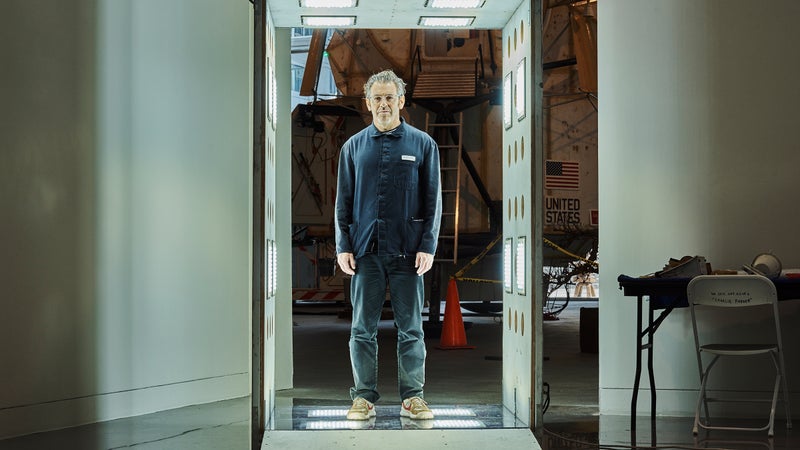 Crafter: Tom Sachs
"Innovation is a dirty word in my life. There are artists and institutions that are addicted to it and who innovate for its own sake. I consider innovation a privilege, not a right. It's a privilege for me to stumble upon a problem that needs a solution. I spend 99 percent of my time just doing push-ups, focusing on the basics. I'll go for long periods with nothing new happening, but I still have a lot of work to do. I clean my workshop, sharpen my chisels, tidy up. I make sure my equipment is ready so that when inspiration strikes, I don't have to go to the store to buy red paint. That's my number-one strategy: Be prepared.
"I used to carry around an 8.5-by-11-inch blank book with 212 pages. I would start from the back with a calendar, and from the front with sketches and to-do lists, and they would meet in the middle. That turned into computerized to-do lists and e-mails, and a lot of my ideas died. Now I use these cheap sleeved binders and do everything on paper—hotel paper, toilet paper, whatever—and I stick it in there. The more concrete the method of recording something, the more it lasts.
"We're living in this crazy time of associated value, where people want the watch Edmund Hillary wore on Everest or the one James Bond wore when slaying a villain. That kind of myth making is important. The Mars Yard sneakers I made with Nike are for the strongest minds in the aerospace community. If I'm going to aspire to be someone, it's one of my friends at NASA. Those guys are my heroes."
---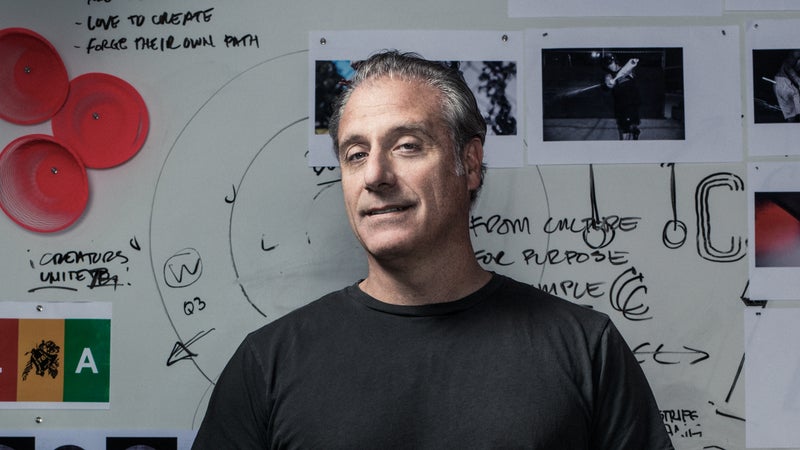 Connector: Paul Gaudio
Global Creative Director, Adidas
"In our organization, we look at sports as a lifestyle. The culture of sports transcends everything. The people we connect with most don't draw lines between 'He's a musician. He's an entertainer. He's an athlete. He's an artist.' It's all one big fluid world for them. That's our starting point. So everything we do must be born from some cultural insight. That is critical to how we bring technical and material innovation into our products. If you start with technical innovation, things might become too rational or cold, or maybe it's something that somebody buys to run a race but leaves in a bag when they're done training.
"When I came into my role, we were very calendar driven. In our effort to streamline efficiency, we had really stripped away a lot of our ability to create. That was one of the first things I worked on. Creativity requires space and time. We made a big investment to build three prototyping facilities with the sole purpose of trying stuff, making stuff, and breaking stuff. Now we rarely sit and look at sketches. Want to get my reaction on a silhouette? Bring something you stitched together.
"Sitting at our computers, we have all these capabilities, the power to do anything we want. Sometimes those things are too complex, fussy, overengineered, or overbuilt. You don't realize that until you start getting samples from a factory. Then it's 'What did we make?' Focusing on the method, on handcrafting—that forces you to reduce and refine. It's hard to do."
---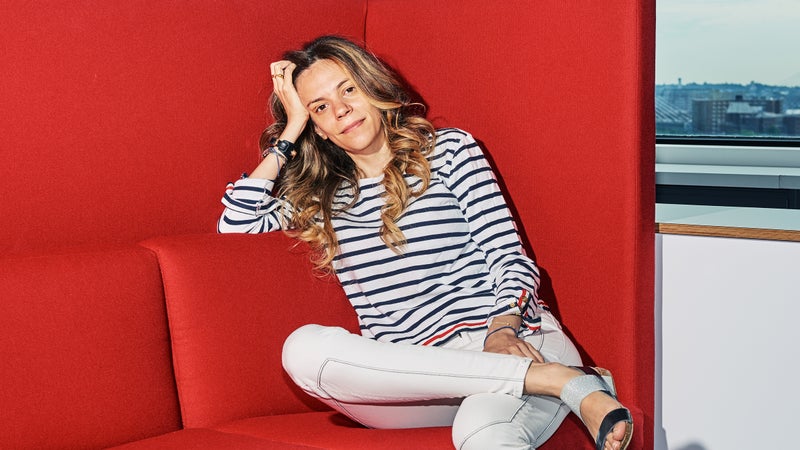 Fixer: Alex Amouyel
Executive Director, MIT Solve
"Solve was founded on the belief that there is ingenuity everywhere. We organize workshops around specific challenges to improve the lives of millions of people living on the margins. Then we issue a call for solutions. Anybody can submit. You can be at a university, a business, or a refugee camp. The proposals are judged by a diverse panel—experts like Lauren Powell Jobs, former Xerox CEO Ursula Burns, Yo-Yo Ma—that selects a class of up to ten solvers per challenge that we connect with people who have resources to really help them scale.
"There are lots of challenge models out there, but most of them say, 'We are looking for solutions that do X, and we'll give one person a million dollars.' That's not what spurs innovation. A check alone won't get you there. People require sustained input and resources. We spend time understanding our solvers' needs. Are they looking for experts to test their technology? For mentors? Distribution partners? Grant funding or investment capital? We call our approach crowdsolving. Our role is the matchmaker.
"The traditional top-down method of social- and environmental-impact innovation required a lot of capital and many years. Big institutions doing fundamental research and science. But what do people living on the edge do in the meantime? Even if you believe that everybody will eventually have access to the Internet through satellites or balloons, what about today? Solve is taking a human-centered look at these questions from the bottom up."
---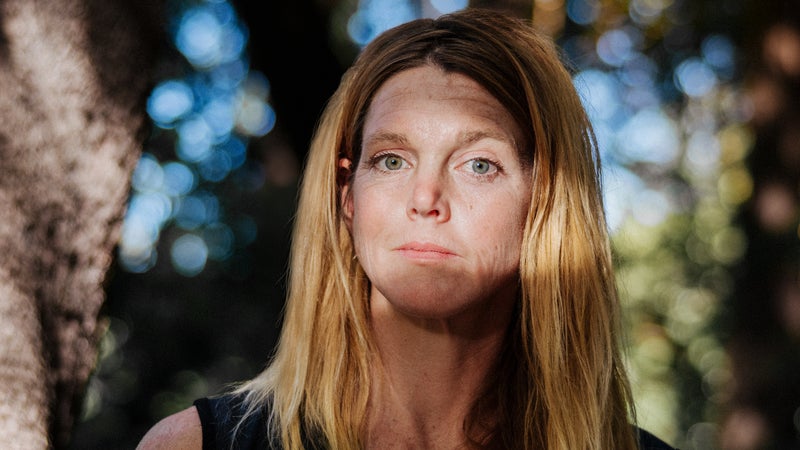 Performer: Stacy Sims
Exercise Physiologist, Author of Roar
"I've been an athlete longer than I've been an academic. I went through coaches, I competed at the Ironman World Championships, I raced bikes professionally. And I struggled, and saw my teammates struggle, with coaches putting us on the same training programs as men. That's been the driving force. I joke that my whole career has stemmed from questions I want answered for myself. Why are these things not working for women? Why are they just being handed down to us? I've realized this is very disruptive. It's a big shift not to view everything through a male lens.
"I'm one of four researchers at the University of Waikato's Adams Centre for High Performance in New Zealand, but I don't feel like a true scientist. The other three conduct research, then publish the outcomes in sports-science journals. I'm like, I have this question and it has to be applicable. Does it result in a new product or technique? Right now I'm looking at whether it's beneficial to have women athletes acclimatize in one phase of their cycle versus another, as well as how genetic and sex differences match up with different approaches to exercise and nutrition. This means redoing some of the pivotal hydration and nutrition work that's all been done on men.
"In human-performance research, you have to ask people to dig deep and face a lot of pain—pushing themselves to the edge, sometimes in hot or high-altitude conditions. I'm always a pilot participant in my studies, so I know what it feels like and the others know that they're not alone. It also helps me work out the bugs."
—Interviews by Thomas Meyerhoffer